Giving your employees a credit or debit card can be quite a responsibility for them and requires you to trust them. With a prepaid business expense card, it is not as daunting as they can only spend the amount of money that you have loaded onto the card so you don't have to worry about overspending.
Prepaid cards can also help you to manage your business expenses better with online management software to monitor spending and run reports, tag purchases and attach receipts. These are some of the prepaid business expense cards available.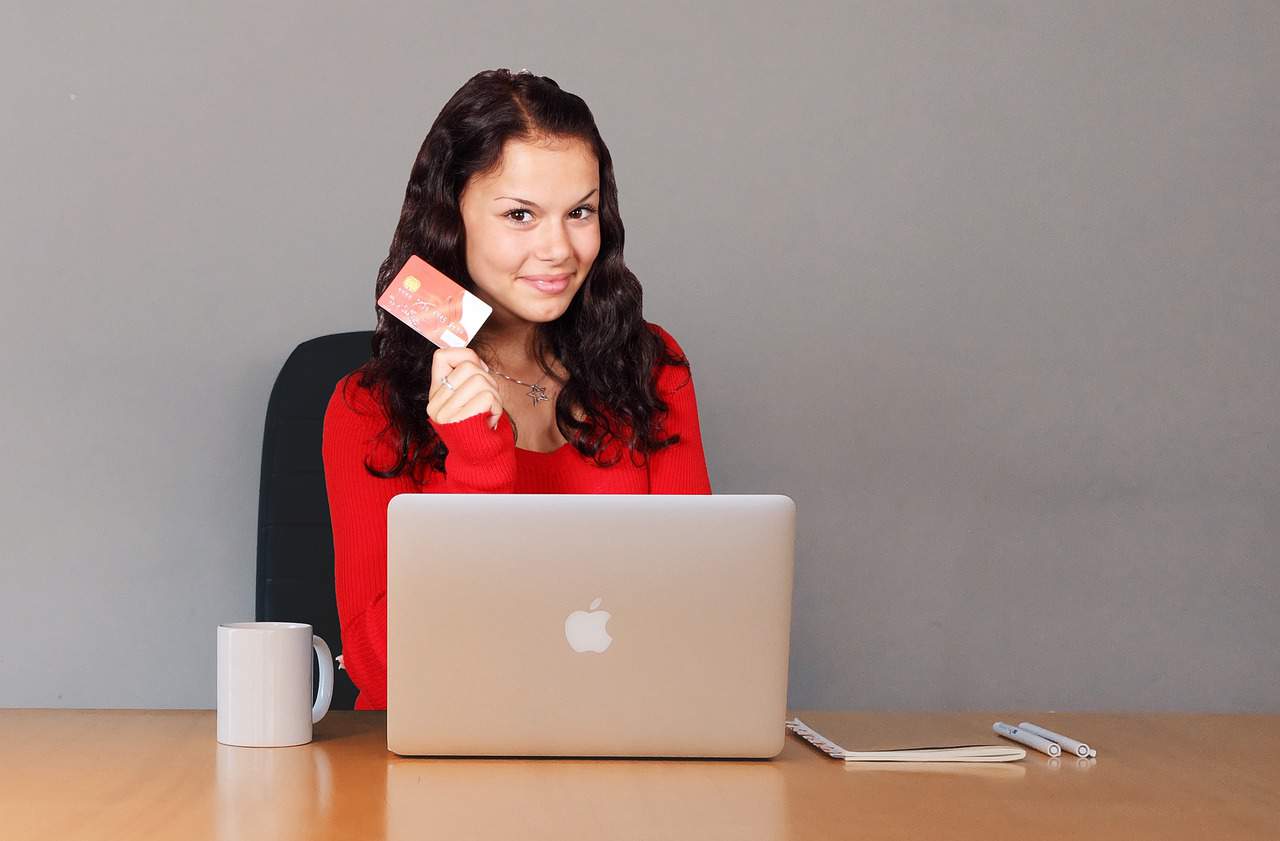 Companies are ranked in no particular order.
1. Soldo
Soldo offers businesses the following features:
Offers 3 prepaid card plans
Provides a free plan for a single card and paid plans from £6 per card per month
Individual cards connected to a shared account
Intuitive integrated app
Enables you to manage spending and expenses better
Offers physical and virtual cards
Fee applies per card
The Premium account provides advanced controls and reporting
No monthly fee on your 1st virtual card for 12 months
Capture receipts on the mobile app
Choose between individual or company, virtual or plastic cards Tooltip
On-the-spot receipt capture
Xero, Sage, Exact Online and QuickBooks integrations, plus accountant access for reporting
Allocate dedicated funds to users and set spending limits Tooltip
Virtual cards for ad hoc purchases and recurring payments Tooltip
Google Pay and Apple Pay
Standard approval workflows
Advanced card rules to control spend
Review and approve expenses Tooltip
Multi-currency: GBP, USD, and EUR
Customisable roles and permissions Tooltip
Auto classify transactions Tooltip
Custom multi-level approval workflows Tooltip
Organise your company in teams or departments using groups Tooltip
Advanced reporting Tooltip
Out-of-pocket expenses Tooltip
Set up spending policy limits Tooltip
Dedicated account manager and customer success manager
Custom onboarding and training
Dedicated support for custom integrations using APIs
Website Soldo Prepaid Business Expense Card
 Review: Soldo Review
2. Pleo
Pleo offers businesses the following features:
Prepaid Mastercard
Free for up to 5 users, paid plan starts at £10 per person per month
Issue card with individual limits with a click
Automate expenses
Overview of company expenses
Track purchases in real-time
Manage cards allowing you to disable and enable cards instantly
Capture and match receipts
Automatic categorisation of purchases
Integrates with accounting tools
Pleo employee cards (plastic/virtual)
Real-time expense tracking
Automated expense reports
Manage & pay invoices
Xero and more accounting system integrations
Apple Pay & Google Pay
1 % cashback (for eligible customers)
Spending limits per user or purchase
Spend analytics dashboard
Review spend per team
Reimburse employees with or without Pleo cards
Reimburse cash expenses and mileage
Track subscriptions and other recurring payments
Live chat support
Control recurring payments with Vendor cards
Open API access
Single sign-on with SAML
Chat, email and phone support
Assisted onboarding session
Dedicated Customer Success Manager
Website Pleo Prepaid Business Expense Card
Review: Pleo Review
3. Payhawk

Payhawk offers businesses the following features:
Provides smart Visa company cards
Physical and virtual credit and debit cards
Suitable for teams or individuals
Allows you to manage spending limits
You can set approval flows and agree fund requests through the app
Offers account automation
Allows you to see outstanding expenses
Can make international payments
Monitor spend in real-time
Offers a demo of their expense software
One-click card issuance and card freezing
Up to 6x better exchange rates than banks
EUR and GBP accounts
Apple Pay
Google Pay
Local invoice payments and reimbursements
Pre-accounting OCR in 60+ languages
Free transfers within SEPA and the UK
Smart inbox for receipts attachment
Bulk payments with 'four eyes' approval
Supplier management
Out-of-pocket cash management for employees without cards
International invoice payments and reimbursements
Group spend dashboard and workflows
ERP integration to NetSuite, and Microsoft Dynamics
Single sign-on with SAML
Customer Success Specialist
Online onboarding session
Success-based onboarding flow
"
Website Payhawk Prepaid Business Expense Card
4. Klippa

Klippa offers businesses the following features:
Submit through app, website and e-mail
The best OCR technology of Europe
Storage in the cloud
Use of categories, cost centers, cost units & projects
Reimburse travel expenses with the Google Maps integration
Approvals on web & app through digital workflows – From €50 per month
Implementation of expense policy via advanced business rules
Personal support via chat, e-mail and phone
Integration with standard bookkeeping system – From €50 per month
Automatic fraud detection
Dedicated account manager
Automatic VAT reclaim
Match credit card statements automatically
Custom connections and access to the Klippa API
User sync, Single sign-on and/or 2FA
In-app company logo
Custom SLA
Website:
Klippa Expense Cards
5. Wallester Business

Wallester Business offers businesses the following features:
300 virtual cards for FREE
Top up with zero commission
Instant issuance of an unlimited amount of cards
No card issuance fee, no card service fee
European BINs works perfectly with facebook, google, etc.
User-friendly app that allows you to monitor expenses, approve transactions and generate reports on the go.
Provides an API
Possibility to purchase a personal BIN
Fast registration and standard KYC, approval within 24h
Detailed reporting and analytics to track all transactions
Customer Success manager
Onboarding assistance
Custom contracts and better rates
24/7 priority support
Dedicated account manager
Open developer APIs
Website: Wallester Business
6. Tide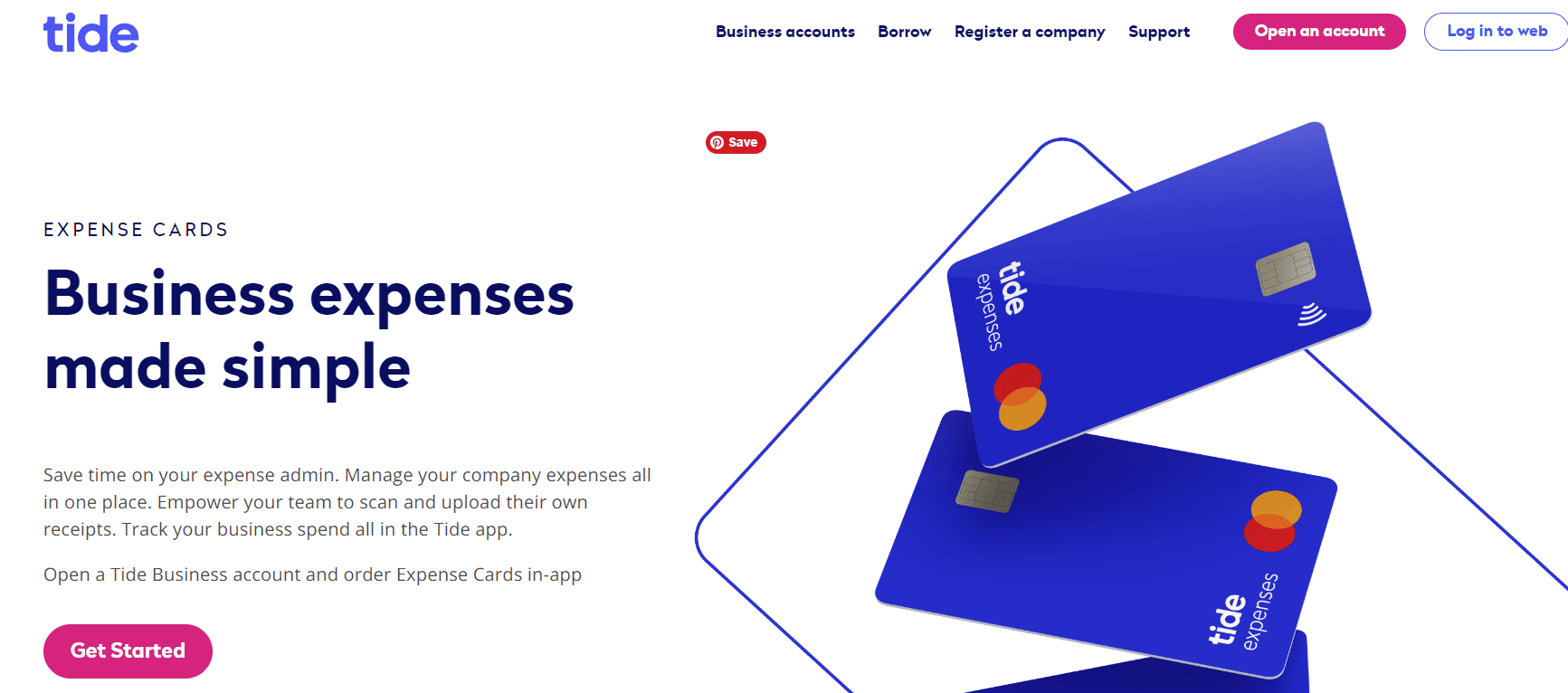 Tide Expense Cards offers businesses the following features:
Requires a free Tide Business account
Just £5+VAT per card per month
Ability to get free cards depending on banking plan
Your team can scan and upload multiple receipts at once
Ability to set individual spend limits per card to help control costs
See all transactions itemised by both person and spend category
App lets you freeze and cancel cards
Auto-match receipts to transactions
Easily Sync with your accounting software
Transfers in & out – Unlimited
ATM withdrawals
Read access for team members
Scheduled payments
Accounting integrations – Quickbooks, Xero, Sage and more
Multi-business – hold up to 5 business accounts
Create and send invoices for free
Priority in-app support
Phone support
24/7 legal helpline
Exclusive member perks
Support with trademark filing and disputes
Dedicated team of account managers
0.5% cashback with your Tide card
Website: Tide Expense Cards
Read the Tide Review
7. Card One Money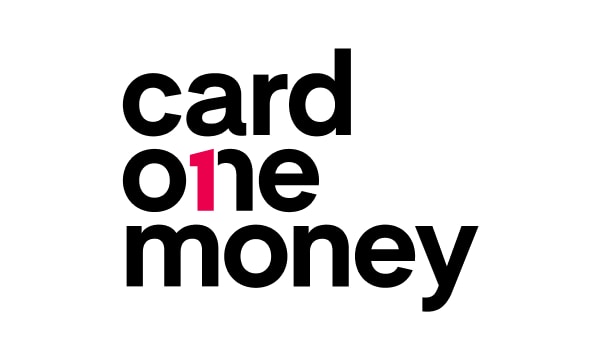 Card One Money Expense Card offers businesses the following features:
Current account with a prepaid business card with a monthly fee of £12.50
Mastercard
Can add up to 4 additional cards at £5 per person
No purchase transaction charges
Online account management
Accepted in over 35 million worldwide locations
Cards can be used abroad but transaction charges apply
ATM cash withdrawal charges at £1.50
No overdraft facility
Apply online in less than 10 minutes
No credit checks
Four additional cards for business use
Online and mobile account with 24/7 access
Manage Direct Debits and standing orders
Instant domestic payments
Manage and pay bills, invoices, wages and more
International payments in a range of currencies
Full control over permissions, balances and cards
Export statements for your accounting software
Receive free text alerts whenever bills are paid
Load cards directly online or through the app
View statements and monitor business spending
Use fast balance to quickly check your account
Pay cheques in at any Barclays branch
Prepaid cards that can pull from your balance
Your own dedicated account manager
Send payments in bulk
Set up multi-level approvals for payments
Open banking API integration
Multi-account view for all your brands
"
Website CardOneMoney Prepaid Business Expense Card
Read the full CardOneMoney review
8. Expend

Expend offers businesses the following features:
First 30 days free
Free Expend Mastercard (optional) with budget controls
Intuitive mobile app with instant notifications
Manage petty cash, out-of-pocket expense claims and third party cards
Mileage tracking with automatic VAT calculation
Expend Extract – instant data extraction from receipts
Organise employees into Teams for easier expense approvals
'Approve on the Move' reviewing employee expenses in the mobile app
Auto-chase missing expense receipts
Invoice management with automated document collection
Real-time insight and analytics of company wide spending
Invite your accountant to view company wide spending for reporting purposes
Securely sync expense data to your accounting software
Live chat, email and phone support
No credit checks
Unlimited users
0% FX for Expend card users
Dedicated Account Manager and Customer Success Manager
Personalised on-boarding sessions and 121 training available
Website:
Expend Website
9. Juni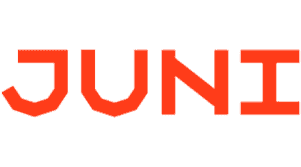 Juni offers businesses the following features:
Offers business expense cards for ecommerce
Gives 1% cashback
Provides physical and virtual cards
Offers cards in GBP, USD and EUR
Free ATM withdrawals on Visa cards
Auto-receipts
Integrates with global banks and payment gateways
FX fees capped at 0.25%
Offers credit limit up to £2 million with up to 60 day payment terms
Track all your funds through the integrated platform
Custom terms on cashback and capital
Custom number of cards, accounts and users
Dedicated account managers
Multi-entity management (coming soon)
"
Website Juni Prepaid Business Expense Card
10. Amaiz

Amaiz offers businesses the following features:
Business current account with a prepaid card
Mastercard
Hassle-free setup
Manage your card in the app
Single card included as standard with the account with a monthly fee starting at £4.99
Corporate accounts allow up to 3 cards
ATM cash withdrawal fee of 2%
Provides live customer support
Includes receipt management
Apply online
Website Amaiz Prepaid Business Expense Card
Read the full Amaiz review
11. B4B Payments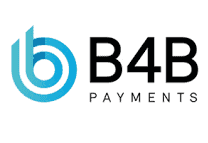 B4B Payments offers businesses the following features:
Prepaid Mastercard
Offers branded cards
Allows real-time monitoring of spend
Simplify and streamline expense management processes
Access to a digital management platform
Detailed reporting
Track all expenditure
Set spending parameters
Integration with Sage, Concur and Xero
Doesn't state the cost of the card
Website B4B Payments Prepaid Business Expense Card
Review: B4B Expense Card Review
12. Cashplus

Cashplus offers businesses the following features:
Offers business expense cards
Quick and simple to set up
One annual fee for all cards (not stated)
Individual limits on each card
Track spending in real-time
Offers up to 20 additional cards
Deposit money through electronic transfer
Allows better expense reporting
Integrates with accountancy software
Currently offer free additional cards
Card issuing fee-Contactless Mastercard
Payments & transfers-Sending money
Payments & transfers-Receiving money
Cash deposits-At any UK Post Office*
UK ATM withdrawals-Terms apply*
ATM withdrawals abroad-Terms apply*
Additional cards-Up to 20 cards
Cashback-On your card spend**
Creditbuilder-Improve your credit score
Accounting integrations-Inc. Xero, Quickbooks & Sage
Create invoices-To make payments easier
Spending reports-Categorise spending automatically
Export statements-PDF or CSV format
UK phone support-Liverpool based
Website Cashplus Prepaid Business Expense Card
13. Caxton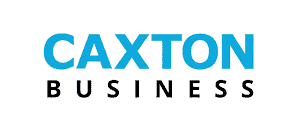 Caxton offers businesses the following features:
Two prepaid Mastercards
Card fees of £0 or £4 per month
Offers 3 month free trial
Track spending in real-time
Set individual limits
Choice of Sterling or Global cards
Manage cards on the app including block cards, approve expenses and top-up cards
Automatic top-ups
Integrates with accounting systems
Automation of expense reports
Website Caxton Prepaid Business Expense Card
Review: Caxton Review
14. EasyFX

EasyFX offers businesses the following features:
Corporate prepaid currency card
Offers zero fees on purchases, ATM withdrawals and transfers
Stores multiple currencies on one card
Manage funds in real-time
Access software from any device
Unlimited number of cards
Reduce spending abroad using a foreign currency card
Easy management including the ability to block cards
Can be used at over 35 million locations and 2 million ATMs
No pricing information is available
Website EasyFX Prepaid Business Expense Card
Review: EasyFX Review
15. Equals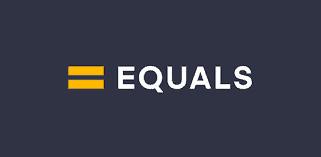 Equals Expense Card offers businesses the following features:
International prepaid expense card that can be used in 190 countries
Low rates for international transactions
Track and control spending
Single annual platform fee of £50
Customise access permissions for users
Manage cards including top ups, add users and block withdrawals
Produce expense reports
Integrate with accounting tools
Expert account manager
Earn at least 3.5% cashback at some high street brands
Website Equals Prepaid Business Expense Card
Review: Equals Reviews
16. WeSwap

WeSwap Expense Card offers businesses the following features:
Expense card designed for use abroad
No card fees, 2.49% fee for currency swaps
Avoid expensive fees and commission
Contactless Mastercard
Works in over 180 countries
Store money in 33 currencies in digital wallets
Easy to load from your bank account
Tag expenses in the app
Free cash withdrawals under £200 per month, then a 2% fee
Send money to colleagues through the WeSwap account
Website WeSwap Prepaid Business Expense Card
Review: WeSwap Review
17. Yordex

Yordex offers businesses the following features:
Prepaid Visa card
Physical and virtual cards are available
Branded cards available
Prices start at £3 per card per month
Offers tailored solutions
Full control and visibility
Automatically chase cardholders for receipts
Available in GBP, EUR and USD
Cards are delivered within 5 working days
Offers a trial period followed by 12 month contract
Website Yordex Prepaid Business Expense Card
Review: Yordex Review
18. Airwallex

Airwallex offers businesses the following features:
Offers virtual employee and expense cards
Multi-currency cards
Create cards for each expense category or subscription
Can be created in minutes
Track spend in real-time
Zero international card transaction fees
Get better FX rates
Hold multi-currency wallets
Auto-convert at best FX rates to save money
Reduce administration from chasing receipts
Website Airwallex Prepaid Business Expense Card
19. Spendesk

Spendesk offers businesses the following features:
Provides smart company cards
Offers physical and virtual cards
Connects with smart, trackable software
Adjustable budgets
Built-in spending rules
Combines with a mobile app
Offers subscription cards to manage recurring spend
Collect and submit receipts automatically through the app
Track spend in real-time
Offers a demo of their software
Website Spendesk Prepaid Business Expense Card
20. Jeeves
Jeeves offers businesses the following features:
Offers an all-in-one expense management platform
Corporate cards that earn 4% cashback
Can provide currency of your choice within 24 hours
No FX fees
Free unlimited cards
Offer higher limits
Suitable for international travel and businesses with international locations
Provides flexible financing
Allows you to track spend and gain insight
Provides 24/7 premium support
Website Jeeves Prepaid Business Expense Card
21. Silverbird

Silverbird offers businesses the following features:
Offers a global account with local details
Supports over 30 currencies
Enables easy payments all over the world
Hold, send and receive multi-currencies
Open your account online
Manage your account online
Transparent FX rates
Suitable for small to large businesses
Provides specialist international trade support
Support by chatbot and virtual assistants
Website Silverbird Business Bank Account
22. Intergiro

Intergiro offers businesses the following features:
Offers online business banking
Multi-currency IBANs
Hold and receive funds in eight currencies
Provides live FX conversion rates
Offers SWIFT and local payment networks
Save money when sending money abroad
Can open an account in seconds online
Transparent transaction costs
Suitable for small and scaling businesses
Also offers payment management, cards and merchant services
Website Intergiro Business Bank Account
23. GoSolo

GoSolo offers businesses the following features:
Provides online business bank accounts
Designed for small businesses
Includes a Mastercard debit
Manage online and on mobile app
Track spending
Save for taxes
Receive payments faster through FPS
App available on iOS and Android
Apply online within minutes
Not all bank account features are currently available, check for the latest features
GBP Business Account (Sort Code & Account Number)
Physical MasterCard Debit Card
Payments in and out in GBP
Multi Business – Add multiple companies
Multi User – Add users with read only access
24/7 Access via Web & Mobile apps
Model Articles of Association
Model Shareholders Agreement
UK Registered Company Address (for official use)
UK Virtual office location – for trade and business post
Mail Scanning
Online portal to manage mail and address
Partner Perks and Offers worth over £ 20 000
Invoicing
1 on 1 Personalised Advice
UK issued proof of personal address (Utility Bill, Bank Account Statement, Council Tax)
Website GoSolo Business Bank Account
24. 3S Money
3S Money offers businesses the following features:
Offers a multi-currency business bank account
Works in over 190 countries
Transacts in over 40 currencies
Caters for businesses of all sizes and structures
Provides local IBANs for certain countries
Pay between multiple local and international accounts
Intuitive interface
Available to non-residents
Provides you with your own Client Manager
Onboarding fees apply
Website 3S Money Business Bank Account
* Please note we have affiliate arrangements with Soldo, Pleo, Payhawk, Klippa, Tide, Wallester, Card One Money Expend and Juni.
Other Expense Card Platforms
FAQ
How do prepaid business expense credit cards work?
Prepaid business expense credit cards are a spending solution that allows you to provide your employees with a card for making purchases without worrying about how much they spend as they can only spend what you have loaded onto the card.
You can allocate a prepaid card to an individual or team/department and load the card with the amount of money you are comfortable them having on the card and then you can generally monitor the card online or through an app.
You can easily top up the card by transferring funds onto the card instantly when needed.
Many prepaid cards also provide online software that allows you to export data or run reports, tag purchases and add receipts to make expenses easier to manage and can help you to save time on expense management.
How much money can I put on them?
The majority of prepaid card providers don't state a limit on the amount you can load onto an individual card but as you can load funds at any time this shouldn't restrict your spending as long as you monitor the balance and top it up.
How much will a prepaid business expense card cost?
The cost of prepaid cards varies depending on the provider and the number of cards you have. There are several business current accounts that offer a prepaid card as part of their account at no extra fee.
Other providers offer the prepaid card for free for a single card or a small number of users. Another charge for platform access rather than a card fee.
It is also worth bearing in mind how you are going to use your card as there may be additional fees for some transactions such as cash withdrawals or international purchases which vary depending on the provider.
How to apply for a prepaid business expense card? 
Most prepaid card providers allow you to apply online for a business prepaid card account and you can often easily add further cards through your online account.
As the card is a prepayment card and not a credit card, there aren't as many checks that need to take place to approve your account so it can be set up more quickly as well.