Airwallex was founded in Melbourne, Australia in 2015 with the ambition to help small businesses to grow and operate across country boundaries without the constraints and high fees that they had traditionally faced. They now have 19 offices in 11 territories across the world to support their growing customer base. They offer multi-currency business accounts and borderless expense cards.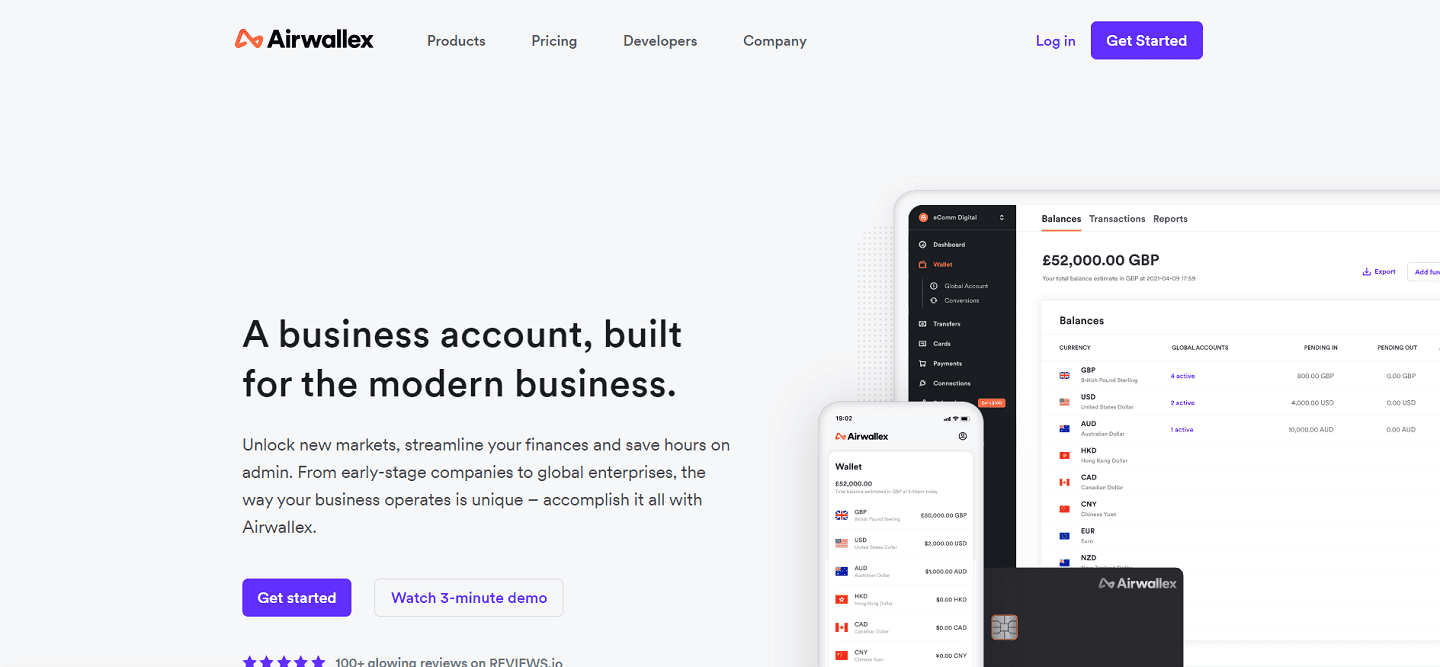 Airwallex Business Finance
Current Accounts
Airwallex provides a multi-currency bank account to businesses of all types that has no monthly account fee. It is designed to help businesses that make transactions in different currencies and to reduce the cost of these transactions. The account allows you to collect, send and hold money in a range of currencies and you can have accounts in GBP, EUR, USD and AUD.
They operate in over 34 currencies and over 130 countries across the world. They do not charge international fees for transactions, and they offer competitive exchange rates to keep the cost of international transactions down. You can make direct settlements in foreign currencies to reduce charges and fees.
Their account doesn't offer a lot of the traditional features of many business current accounts do but it does allow you to integrate with Xero accounting software and easily connect with popular online stores such as eBay, PayPal and Shopify.
Business Expense Cards
Airwallex offers virtual employee and expense cards that are multi-currency cards. These cards can be set up easily in minutes online and be ready to use. They allow you to have a range of cards to allow you to separate your business expenses into categories or subscriptions to make it easier to manage your expenses. You can also hold multi-currency wallets to reduce transaction fees.
Their cards can be monitored in real-time to give your greater insight and control of your expenses. There are no charges for their cards and no international card transaction fees just currency conversion rates. They help you to maximise the best FX rates by enabling you to automate your conversion of currency when the rates are favourable.
Airwallex Reviews and Ratings
There are a few hundred reviews for Airwallex on Trustpilot and Reviews.co.uk which are largely positive. Trustpilot reviews are 80% excellent rated with positive comments including good customer service, easy to use app, quick transactions and good onboarding. Some negative comments have included poor customer support, issues with transfers, delays with verification and issues opening an account.
Reviews.co.uk were also very positive with comments such as saving money on international transactions, helpful support team, supportive onboarding and easy to use platform.
Trustpilot – 4.4/5 (based on 218 reviews)
Reviews.co.uk – 4.93/5 (based on 134 reviews)
Pros
Offers a free account and card
Operates in multi-currencies
Competitive exchange rates and no international fees
Positive customer reviews
Cons
As a current account, it has limited functionality compared to other banks
Probably only suitable for those making foreign transactions
Offers no other banking or financial products
Website: Airwallex