Online payment platform PayPal offers a debit MasterCard account, giving business customers the ability to spend their PayPal funds with a debit card and gain interest. PayPal Debit isn't a replacement for a business bank account, but can be linked to a current account. Your PayPal debit account is managed entirely online or on the PayPal app.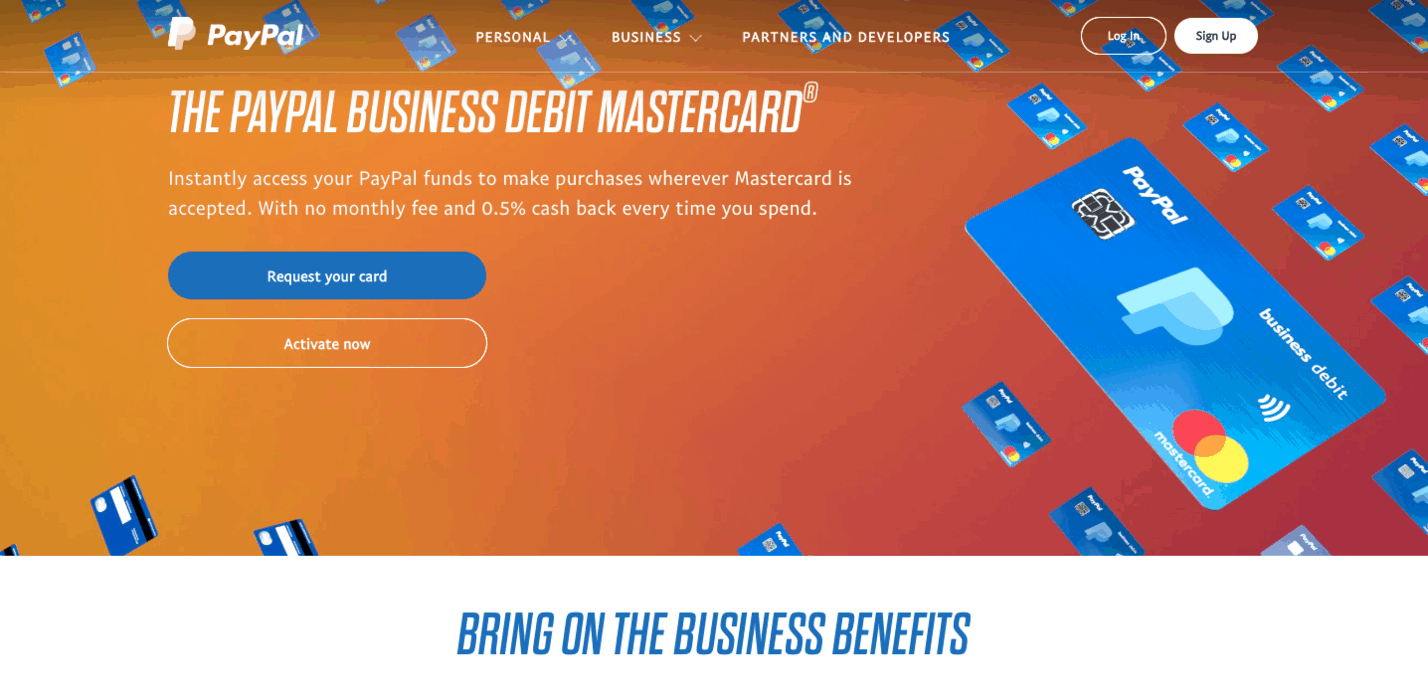 PayPal Debit Business Banking Services
Current Accounts
PayPal Debit isn't a current account. Instead, it's a way to spend your business' PayPal balance, or a linked business current account, using a business debit card. The account includes a PayPal branded MasterCard, which you can use to spend and withdraw at home and internationally. At the end of every month, you'll earn 0.5% interest on the total amount spent.
There are no monthly charges for using your PayPal debit card, but cash paid into your PayPal account is already subject to some charges. ATM withdrawals are charged at £1 per transaction, but there are no charges for foreign exchange fees, in-person, or online transactions. There is a £350 daily ATM withdrawal limit, and a £6,000 daily transaction limit. This could vary depending on your PayPal payment history.
You'll need a PayPal Business account to apply for a PayPal debit card. You can monitor all your transactions using PayPal.com or the PayPal app.
Savings account
Not available.
Overdrafts
Not available.
Business finance and loans
PayPal offers a credit account at 0% interest for 4 months on all purchases of £99 or more. After the opening offer, there's an interest rate of representative 19.9% APR (variable). 
PayPal Reviews and Ratings
The only public reviews available are for PayPal as a whole service – these reviews and ratings are supplied by both personal and business customers.
Trustpilot reviewers are unhappy with PayPal's overall service. Some criticise the exchange rates, think payments take too long to process, and the fees are too high. Reviews.co.uk are mixed, with some rating them highly for speed and helpful customer service, while others have had problems with time-consuming phone calls.
Smart Money People reviewers are much happier with the service. They think it's easy to use and a convenient way to shop online.
Trustpilot –  1.2/5 (based on 19,864 reviews)
Reviews.co.uk – 2.59/5 (based on 225 reviews)
Smart Money People – 4.57/5 (based on 35 reviews)
Which? – not included
Pros
0.5% interest earned on purchases.
Good reviews overall.
Convenient and easy to manage online 24/7.
Cons
Interest rates might not be worth it for businesses that don't already use PayPal.
Charge for ATM withdrawals.
You'll still need a regular business current account.
Website: PayPal Debit Business Account