Amaiz is a business banking service and accounting app aimed primarily at sole traders, contractors, and entrepreneurs. There are no branches, you can manage your account on desktop and on the app, and get support through the app from real people 24/7. Amaiz launched in the UK in June 2019, and offers a range of simple banking and accounting solutions in one place.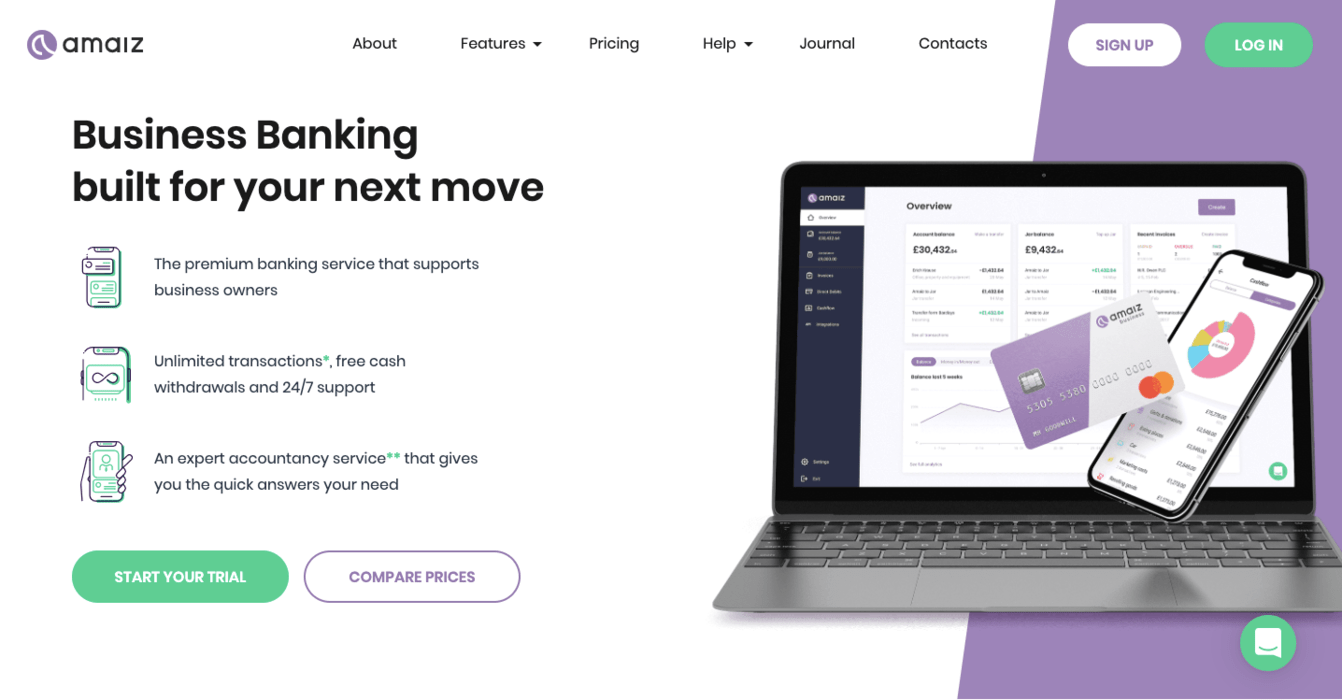 Amaiz Business Banking Services
Current Accounts
Your Amaiz business current account is managed entirely through the app or desktop site, where you'll see all your transactions, receipts, and payments in one place. Whenever cash leaves or enters your account, you'll get an app notification.
You'll be able to see how your cash flow changes and develops, as well as categorise your expenses and subscriptions. If you already use an accounting tool, you can sync it with Amaiz, so there's no manual data wrangling.
An Amaiz offers individual accounts for personal accounts and sole traders which costs £4.99 or £9.99 a month. They also offer business accounts for established and growing businesses which cost £24.99 or £99 per month.
Savings account
Not available.
Overdrafts
Not available.
Business finance and loans
Not available.
Amaiz Reviews and Ratings
Trustpilot reviews are pretty positive – 70% rate it 5/5. Reviewers think the account is easy to set up and manage, and the support and accountancy advice is genuinely useful. Currently, there are no negative comments, just a couple of people who've had some functionality problems.
Smart Money People reviews were largely negative based on issues with poor customer service and being unable to access their money.
There are no live reviews on Reviews.co.uk. Amaiz isn't included in the Which? list of 'Best & Worst Banks'.
Amaiz's Mastercard debit cards are provided by allpay.cards, a card provider specialising in UK challenger banks.
Trustpilot –  3.8/5 (based on 174 reviews)
Reviews.co.uk – no reviews
Smart Money People – 2.6/5 (based on 5 reviews)
Which? – not included
Pros
Transparent charges. The monthly fee includes everything.
Includes bookkeeping and accounting features.
Very good reviews.
Cons
Still a very new service, which could put traditionalists off.
Fewer features than other business current accounts (e.g. foreign transfers)
Website: Amaiz Business Banking