Tide is offers an online business current account designed to be faster and simpler to open and use than a conventional bank account. Over 500,000 small business owners, freelancers and sole traders currently use Tide and manage all their transactions and processes on the Tide app.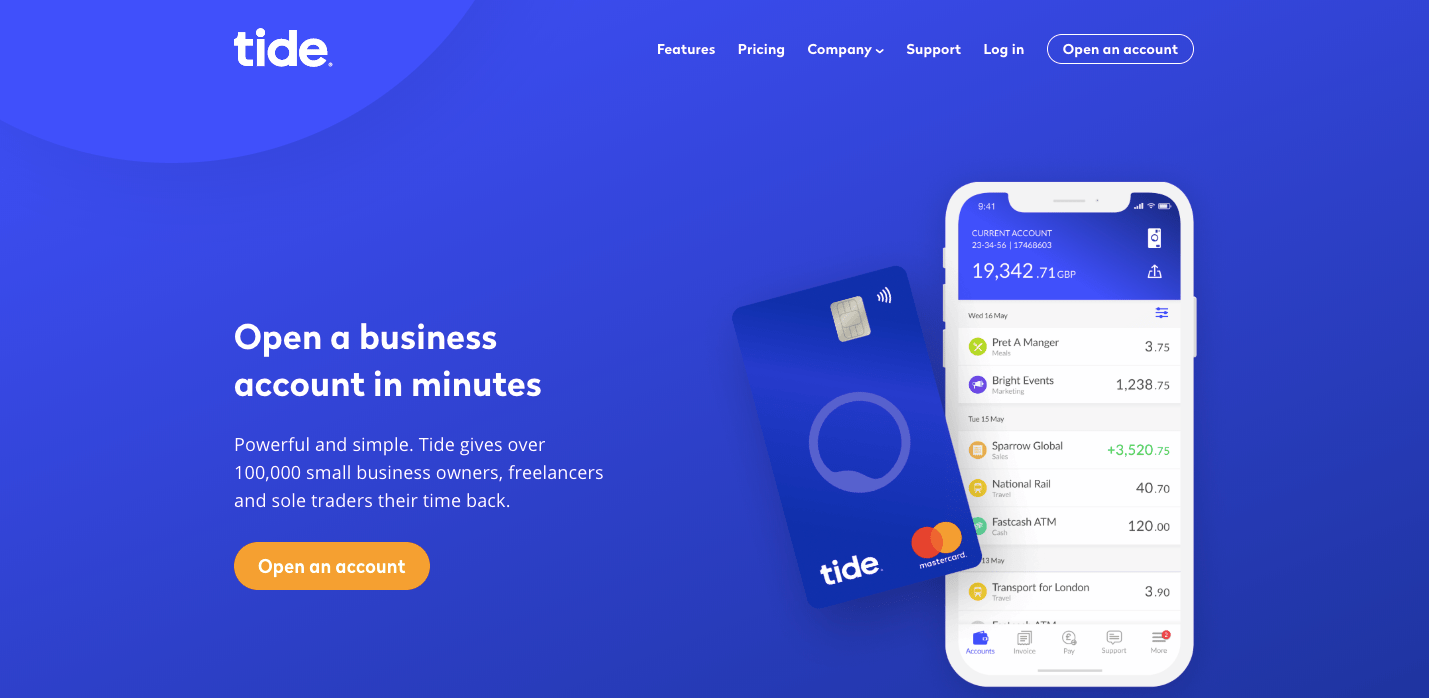 Tide Business Banking Services
Key Features:
Monthly fee: Free
UK Card Purchases: Free
ATM withdrawals: £1
Bank Transfers: 20p
Overdraft: No
Access: App & Online
Protection:
FSCS protected: Yes, up to £85,000 via Clearbank
FCA regulated: Yes
Pros
No monthly or annual fee
Deposits are FSCS protected
Accounting software integration
Ability to add up to 5 business accounts
Free built-in invoice software
Cons
Costs 20p to transfer in or out (free with paid plans)
Costs £1 to withdraw cash via ATM
Can't deposit cheques
£2.50 to deposit cash at PostOffice or 3% at PayPoint
Current Accounts
A Tide current account is managed entirely on the mobile or desktop app. You can schedule payments, set an account limit, and spend abroad for free on your contactless MasterCard. The account holder can pay physical cash into a Tide account via the Post Office.
Your Tide account syncs with popular accounting tools including Xero and QuickBooks. You can also use the app to categorise income and track expenditure. According to Tide, you can open an account in 5 minutes.
They offer a free account and two paid accounts that offer enhanced account features, other transaction fees may also apply.
Savings account
Not available. You can organise cash into separate accounts within your main Tide account, but there are no interest rate incentives.
Overdrafts
Not available.
Tide Reviews and Ratings
Tide has over 9,000 reviews on Trustpilot with 67% rating it 5/5. Many reviewers are impressed with how intuitive and easy to use it is, however, there are several reviews from concerned business owners who have struggled to process payments and think the app lacks accessible customer service.
Smart Money People reviewers are also pretty pleased, say it's efficient and low cost. Some reviewers claim it's all plain sailing until something goes wrong though, and then it's difficult to get through to someone who can help you. The few reviews on Reviews.co.uk are negative due to the poor experiences that they had received.
Tide isn't included in the Which? list of 'Best & Worst Banks'.
In October 2019, Tide secured £44.1 million in investment. According to City AM, "its goal (is) to increase its business banking market share to 8 per cent by 2023", so it's likely to become more popular and potentially introduce more sophisticated features in the next few years.
Trustpilot –  4.2/5 (based on 9,002 reviews)
Reviews.co.uk – 1/5 (based on 5 reviews)
Smart Money People – 3.87/5 (based on 39 reviews)
Which? – not included
Pros
No monthly account fee and low transaction fees
The app is intuitive and easy to use
Predominantly good reviews on Trustpilot
Cons
Some reviewers think customer service is patchy
Doesn't have the age and stability of a mainstream bank
No overdraft or savings products available
Website: Tide Business Banking
Tide Business Bank Account User Reviews
Review Summary
0.0 out of 5 stars (based on 0 reviews)
Recent Reviews
There are no reviews yet. Be the first one to write one.
Submit a Review
* Please note we have an affiliate relationship with Tide.