WeSwap is a specialist provider of travel money cards that can be used as expense cards for businesses. Their cards are multi-currency cards allowing you to use their cards in multiple countries but they could be used in the UK as well.
WeSwap User Reviews
WeSwap Review Summary
0.0 out of 5 stars (based on 0 reviews)
Recent WeSwap Reviews
There are no reviews yet. Be the first one to write one.
Submit A Review For WeSwap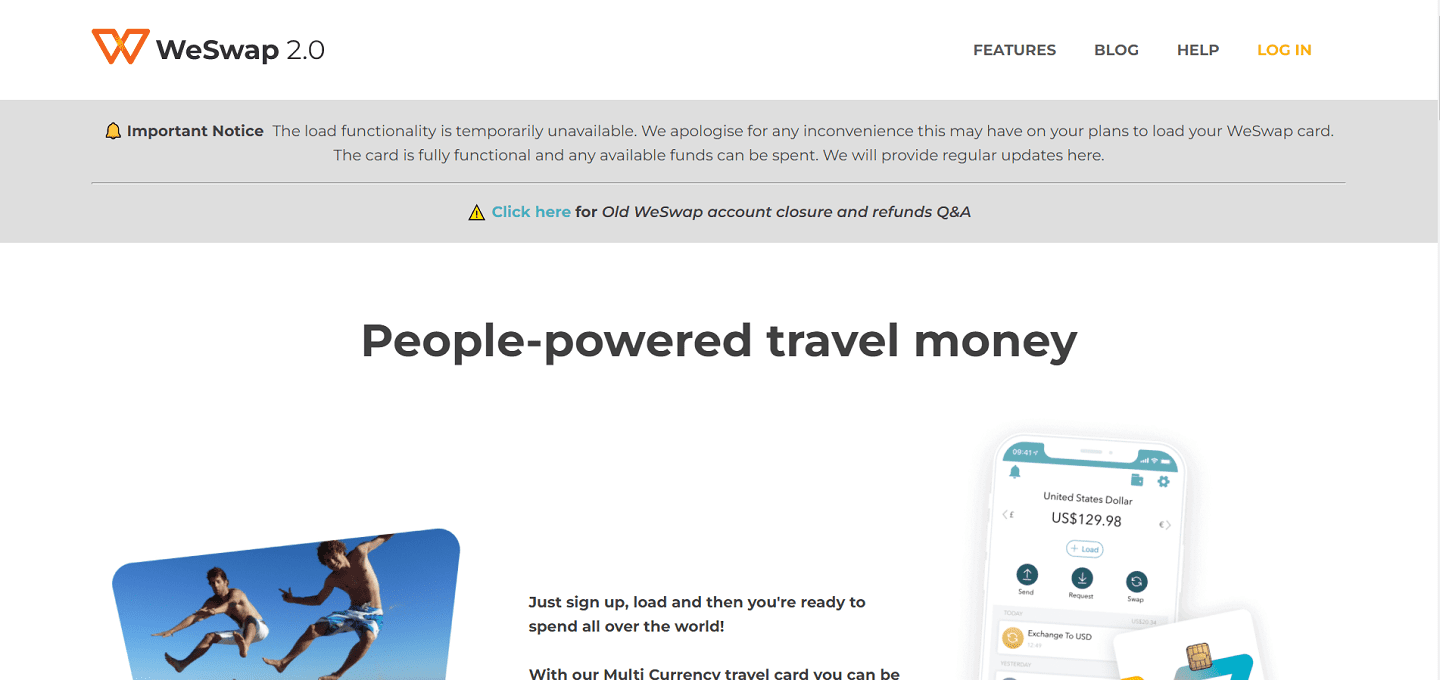 WeSwap Expense Card Options
WeSwap provides an expense card that includes:
Easy to load with a debit card and bank transfer
Spend all over the world in 180 countries
Mastercard
Physical and virtual cards
ATM transaction limit of 3 per 24 hour period to a maximum of £500 per day
Free cash withdrawal allowance of £200 per month then 2% charge
Store money in 33 wallet currencies
Swap currency instantly on the app
Track your spend in the app
Organise spending into categories and upload receipts
Lock your card easily in the app if you lose it and unlock it if you find it
High-level encryption
Cards arrive within 3-5 working days
WeSwap Expense Card Eligibility
WeSwap doesn't state the eligibility of its expense card.
WeSwap Expense Card Rates
WeSwap doesn't charge for their card.
WeSwap fees include a swap fee of 2.49% and bank transfers at £0.15 in GBP, EUR and USD and others from £0.40. ATM withdrawal fees 2% for amounts above £200 per month.
WeSwap Expense Card Calculator
WeSwap doesn't have an expense card calculator.
WeSwap Expense Card Reviews
There are a large number of customer reviews on WeSwap on some of the leading customer review sites which are very mixed in their overall scores. Trustpilot is rated as poor overall but the reviews scored them 72% excellent and 10% bad. The overall score has been impacted by the number of very negative recent reviews. The negative comments were in regards to issues getting refunds from the card, unable to load the card, unable to log into their account, the company going into reported administration and being taken over, and lack of communication.
Smart Money People also has quite a few poor reviews recently with similar comments as those on Trustpilot however this hasn't impacted their high score as much as on Trustpilot. Positive comments are from early 2020 and before which included simple to load and swap currency, good rates, accepted almost everywhere, easy to use app, transparent terms and fees.
Trustpilot – 2.3/5 (based on 4,197 reviews)
Google Reviews – no reviews
Reviews.co.uk – 5.0/5 (based on 1 review)
Review Centre – no reviews
Smart Money People – 4.91/5 (based on 1,875 reviews)
How To Apply For A WeSwap Expense Card?
If you want to apply for an expense card for WeSwap you will need to complete their contact form and they will get in touch with you.
Pros
Can hold 33 currencies wallets
Mastercard that can be used widely in 180 countries
Offers physical and virtual cards
Cons
No contact details for them
Many customer reviews raised issues recently which may be due to them being in administration before being taken over
Website: WeSwap Expense Card