Amaiz launched in June 2019 in the UK aiming to provide a simple banking solution incorporating accounting functionality. They offer business and personal banking services through an app available on phones and desktops. Their business accounts also include prepaid Mastercard. Business accounts are available to sole traders through to larger companies.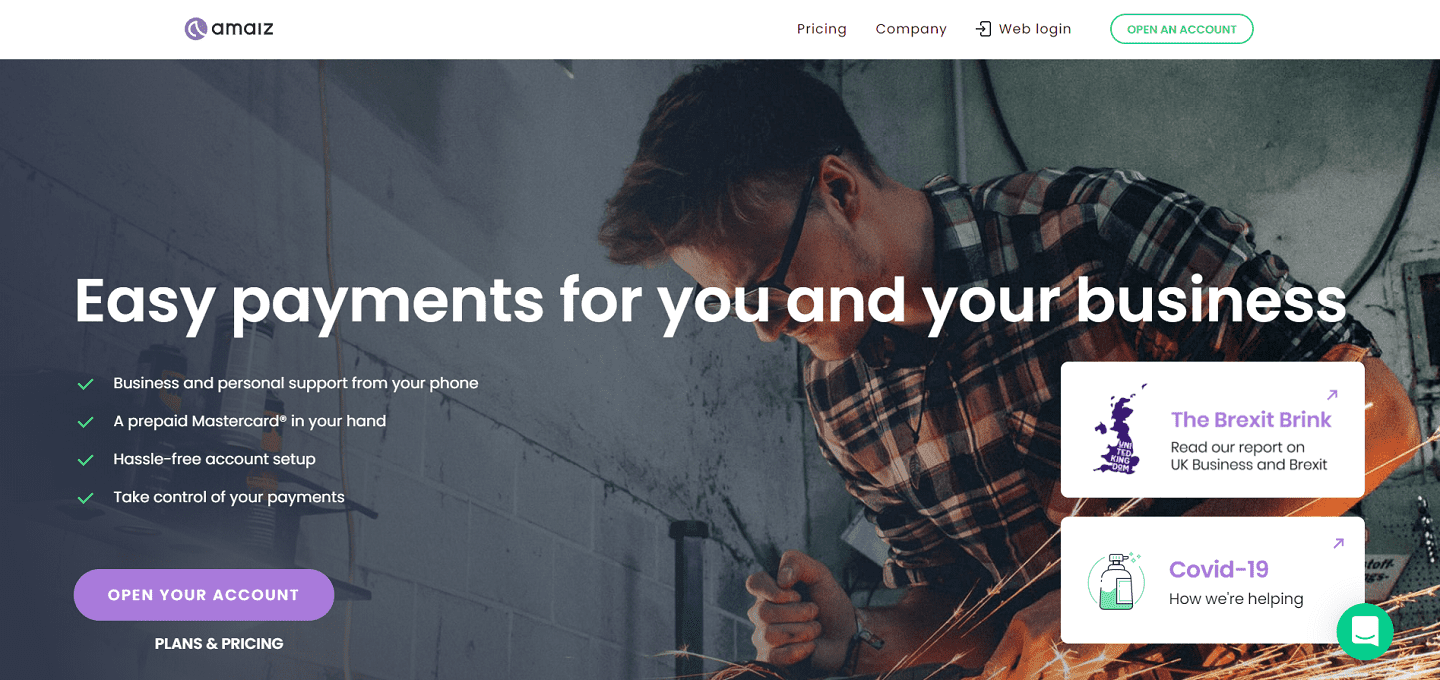 Amaiz Expense Card Options
Amaiz offers a business account that comes with a prepaid card that is a Mastercard. The prepaid card is only available with the bank account and not on its own. The card features include:
One card is included as part of the business account
Allows up to 3 cards
Easy to set up an account with the prepaid card
Management of the card is done in the app
Cash withdrawals at ATMs with a 2% fee
Provides receipt management support
Mastercard is widely accepted
Amaiz Expense Card Eligibility
Amaiz offers accounts to individuals and businesses including freelancers, SMEs and larger companies.
Amaiz Expense Card Rates
The prepaid card is part of the business account which is available at a monthly fee from £4.99 for sole traders to £99 for larger businesses with unlimited deposits.
Amaiz Expense Card Calculator
Amaiz doesn't provide any calculators for their expense card or bank account.
Amaiz Expense Card Reviews
There are only customer reviews available for Amaiz on 2 of the customer review sites and these are fairly positive. Trustpilot reviewers rate Amaiz positively with 71% of them scoring them as excellent. Comments include that the account is easy to set up and manage, and they are supportive. Most recent reviews have been negative with some comments about issues accessing their money, issues with the app and poor customer service.
Smart Money People has a small number of reviews that are split between highly negative and fairly positive with some issues with accessing money and poor customer service.
Trustpilot – 3.8/5 (based on 173 reviews)
Google Reviews – no reviews
Reviews.co.uk – no reviews
Review Centre – no reviews
Smart Money People – 2.6/5 (based on 5 reviews)
How To Apply For A Amaiz Expense Card?
You can apply for a Amaiz business account with a prepaid card by applying through their website.
Pros
One card is included free as part of the business account
The card is a Mastercard that is widely accepted
Cons
Not available without a business account with them
Only offers a prepaid card, no credit or debit card
Mixed customer reviews with some concerning reviews about blocked accounts
Website: Amaiz Prepaid Card