Barclays is one of the biggest and most well-known British banks, with 1,600 branches across the UK. As well as personal accounts, Barclays offers a range of business bank accounts and other banking products, including current accounts, finance, insurance, and foreign currency accounts.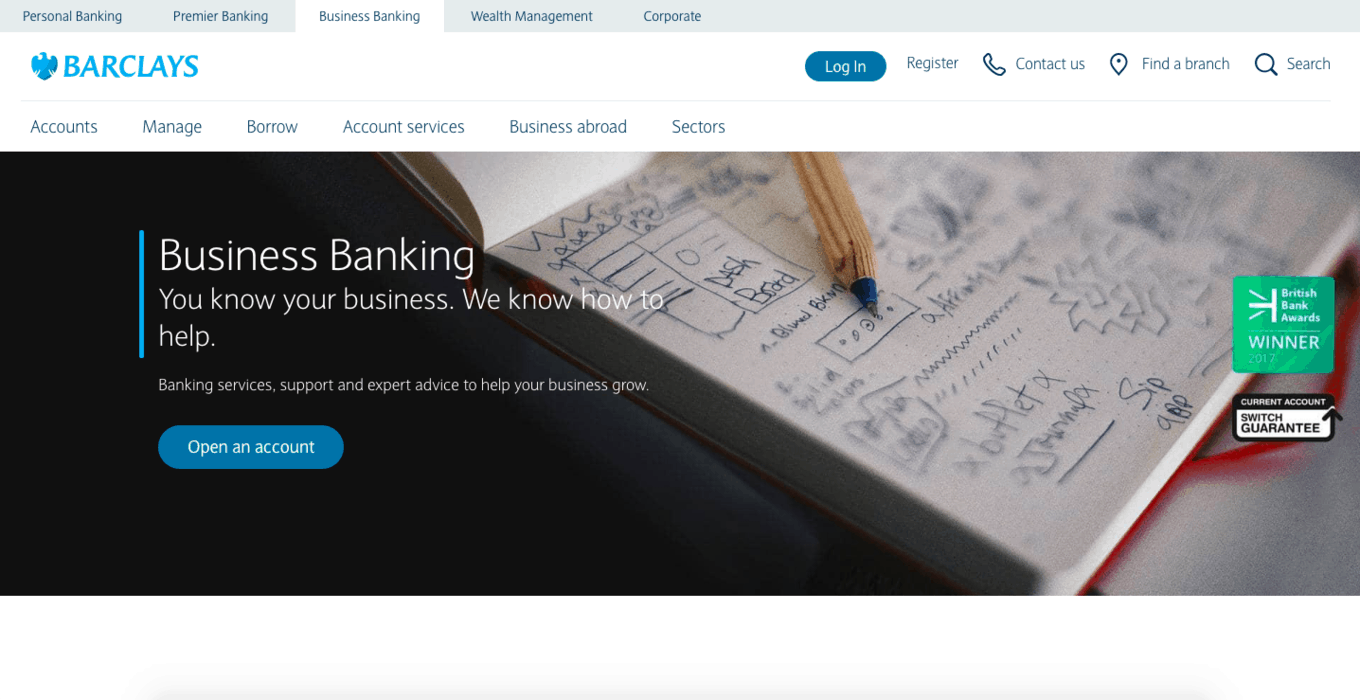 Barclays Business Banking Services
Current Accounts
Barclays offers current accounts to new startups, larger businesses with up to £400k turnover, corporate businesses with a turnover of £400k or more, and community enterprises and charities. Customers can manage their cash 24/7 using the Barclays app. Most current accounts cost £8-8.50 a month.
Savings account
Business customers can save their money in either an easy access or fixed-term savings account. Interest rates vary, depending on the account type and how long you save for.
Overdrafts
Barclays offers unsecured business overdrafts of up to £50,000 to help with day-to-day cashflow. Fees start at £95 with interest rates varying based on the amount borrowed and Bank of England base rate. And unlike other unsecured loans you only pay interest on overdrawn balances, which you can repay at any time.
Foreign currency account
This account is for businesses regularly trading in different currencies. You can deposit over 20 different currencies in your account, and it will reduce your exposure to exchange rate fluctuations, as well as speed up transactions in euros and dollars.
Business finance and loans
Barclays offers loans and commercial mortgages for businesses of all sizes. Your business could borrow up to £100,000 in unsecured finance. Interest rates can be fixed or variable, and repaid over 1-20 years.
More on Barclays Business Loans & Finance
Business insurance
Insurance is provided by Simply Business who offer tailored quotes from a panel of insurance providers. They offer a range of insurance cover which include public liability insurance, employers' liability insurance, professional indemnity insurance, buildings insurance, contents insurance and business interruption.
Barclays Reviews and Ratings
Barclays' online reviews are a very mixed bag. The majority of general banking customers (there are no separate reviews for business banking) on Trustpilot and Reviews.co.uk have significant problems with the service they've received, including account management and the quality of customer service.
Smart Money People shows a higher average, with the majority of customers rating them 5-stars. On Which?, Barclays scores 4/5 for online banking and 3/5 for its customer service, how they communicate with customers, in-branch experience and telephone banking.
In July 2019, Barclays was "censured by UK watchdog over its treatment of small businesses". The bank refunded 800 small businesses a total of £2,000, after it was revealed they were encouraged to open more expensive accounts with features they didn't need.
Barclays ranked 6th in a list of the 14 largest business current account providers for overall service quality in an independent survey.
In the same list of 14 business current account providers, Barclays also ranked 2nd for online and mobile banking services, 7th for SME overdraft and loan services, 4th for relationship/account management, and 5th for service in branches.
The Barclays app is one of 5 to have "most valued mobile banking features", according to Business Insider. It scored highly for digital money management features and its customer support chatbot.
Trustpilot –  1.5/5 (based on 5,722 reviews)
Reviews.co.uk – 1.44/5 (based on 450 reviews)
Smart Money People – 3.59/5 (based on 169 reviews)
Which? – 68% Which? Customer Score
Pros
Free banking for 12 months for new startups.
Can easily manage your account on the app and on desktop whenever you want.
Several current account and savings account options available for different business types and sizes.
Low monthly account fee (even for larger businesses).
Cons
Poor online reviews, particularly when it comes to customer service.
Too big and inaccessible, according to some reviewers.
App sometimes limits the number of transactions.
As well as a monthly fee, there are charges for some routine transactions. Depending on how you run your business, it could be expensive to manage.
Website: Barclays Business Banking
Comparison
Barclays vs HSBC
Barclays vs Monzo
Barclays vs Lloyds Bank
Barclays vs Natwest
Barclays vs Santander