Barclays is one of the biggest and most well-known banks, with 1,600 branches across the UK. As well as business finance products, Barclays offers a range of business bank accounts, savings, insurance products, and foreign currency accounts.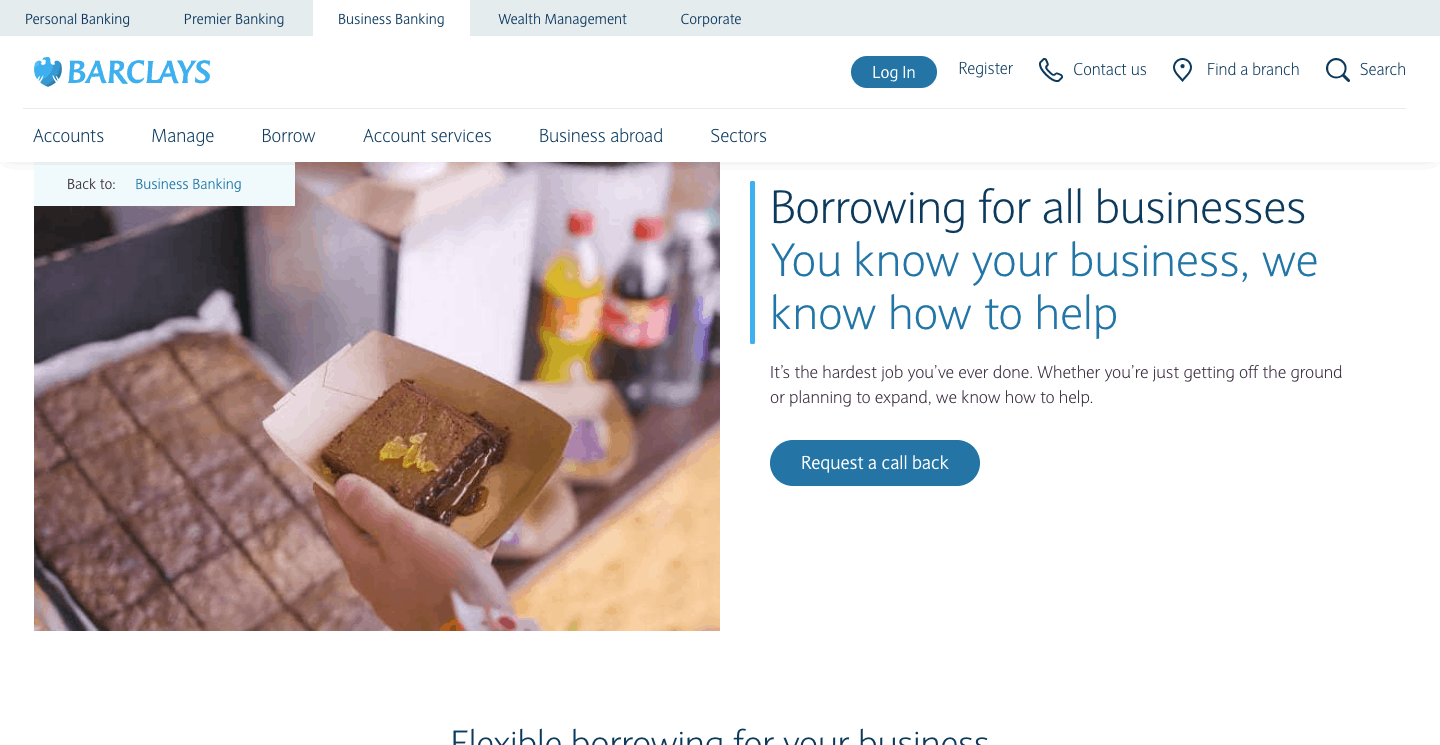 Barclays Business Finance
Business loans
Businesses can borrow £1,000 to £25,000 at 9.9 APR representative and up to £100,000 unsecured. Repayment is spread over 1 to 10 years and monthly payments are fixed. A 6-month repayment holiday is available at the beginning of your loan. APR for loans above £25,000 will be provided on application.
Business overdrafts
Unsecured overdrafts are available up to £50,000 for business customers with a Barclays business current account. To be eligible, your business needs to have managed its account well for the past 6 months. Barclays' business overdraft is charged at a Representative EAR* (variable) of 8.72% to 11.01%. Overdraft fees start at £95 up to £295 or 1.6-2.5% of the overdraft limit.
Business credit cards
Barclays offers three credit or charge cards that are available to Barclays business customers. These cards provide a range of card fees, interest rates and benefits including cashback.
Mortgages
Commercial mortgages are available for business premises, farmland, and commercial and residential property development. Variable and fixed rates are available over a repayment period of 1-25 years.
Asset finance
Financing available from £5,000 to £2 million for 1-7 years for the purchase of tangible, identifiable and removable assets for up to 100% of asset costs funded. To be eligible your business needs to be based in the UK and is open to new businesses.
Invoice finance
Barclays provide invoice finance in partnership with MarketFinance allowing businesses to access up to 90% of outstanding invoices values.
Barclays Reviews and Ratings
Reviews on Trustpilot and Reviews.co.uk are mainly negative. 85% of Trustpilot reviewers rate Barclays 1/5 and have experienced long waiting times for telephone banking, high charges, and poor service in-branch. Across the review sites, business customers have had specific problems with account set up and waiting a long time for loan approval. Many of these comments are post-Coronavirus so it's worth bearing in mind that big banks will have had an unusual number of queries to deal with, however, some customers had issues with this before the crisis.
Barclays business accounts get a 68% Which? Customer Score 4/5 for online banking and 3/5 for its customer service, how they communicate with customers, in-branch experience and telephone banking.
The bank ranked 7th in a list of the 14 largest business banking providers for SME overdraft and loan services in an independent survey. In the same survey, Barclays ranked joint 2nd for online and mobile banking services and joint 5th for overall service quality.
Trustpilot –  1.5/5 (based on 5,722 reviews)
Reviews.co.uk – 1.44/5 (based on 450 reviews)
Smart Money People – 3.59/5 (based on 169 reviews)
Which? – 68% Which? Customer Score
Pros
Fixed and flexible repayment options for most loans and finance types.
Ranks well for mobile banking in an independent survey. Handy for businesses managing their accounts remotely.
Specialist support for property development projects.
Cons
Poor online reviews, particularly when it comes to customer service and waiting times.
Average rating for SME overdraft and loan services in an independent survey. Other big banks rank far better.
Website: Barclays Business Finance
Comparison
Barclays vs HSBC
Barclays vs Monzo
Barclays vs Lloyds Bank
Barclays vs Natwest
Barclays vs Santander