Discover the significance and definition of turnover in business in our comprehensive UK guide. Gain insights into how turnover helps your business.
What Is Turnover In Business?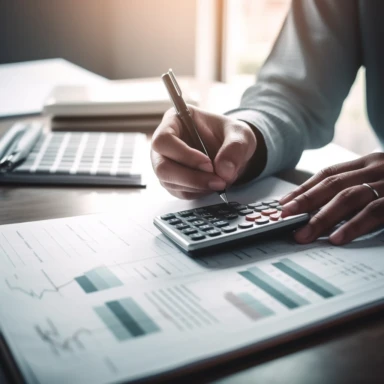 According to the HMRC's definition, turnover is the total sales or revenue that a business generates during a specific period of time. For example, the annual turnover is the total sales a business makes in a year. It is an accounting concept that calculates the overall amount of money a business has made and relates to how quickly a business conducts its operations.
Often, turnover is used to measure a company's financial performance. This is because it helps to understand how quickly a business collects money from its average accounts receivable, or how quickly it is able to move and sell its inventory.
Simply put, a company's sales turnover is the total amount that they bill their customers. However, this amount will be minus any VAT and discounts that the company has assigned to their products or services.
Inventory And Accounts Receivable Turnover
Two of the most important factors to consider when determining if a business is performing financially include the accounts receivable and inventory.
Accounts receivable turnover is the total amount of money that customers owe a business for their purchases. The accounts receivable turnover formula calculates how quickly a business collects these payments from its customers. To calculate it, take the credit sales divided by average accounts receivable.
A higher rate for accounts receivable means that the business is collecting payments quickly.
Inventory turnover determines how quickly a business sells its inventory. The formula for this is: the cost of goods sold divided by average inventory (the average of the beginning and ending inventory balances). The goal here is to sell as much inventory as possible while minimizing the inventory on hand.
How Does Turnover Affect A Company?
Tracking turnover in business is important for several reasons, and can help to provide businesses with valuable insights into how well the company is doing.
One of the most important factors of turnover is that it gives business owners a metric to assess their financial performance and determine whether they are meeting their target profit. By analysing turnover alongside costs and expenses, businesses can identify where they can improve profitability.
A company's turnover figure is also important for planning or securing new investments or financing. In fact, leaders and investors often consider a company's turnover as an indicator of its revenue-generating abilities and financial health. Therefore, a higher turnover can enhance the company's credibility and increase its chances of obtaining funding.
Similarly, when owners are planning to sell a business, turnover is essential in determining its value. Potential buyers may evaluate a company's turnover to assess its revenue potential and growth prospects. Higher turnover figures can make a business more attractive and, in turn, increase its market value.
Turnover Vs Profit
Turnover and profit are distinct financial concepts that provide different insights into a business's financial performance.
Turnover is an accounting term that refers to the total sales or revenue that is generated by a business. It represents the total amount of money received from customers for the products sold by the business. This means that turnover is a measure of a company's sales activity and the volume of the business it conducts.
Adversely, profit is the financial gain of a business after all its costs, taxes, and expenses have been deducted from its revenue. It represents the amount of money that remains after accounting for the costs associated with producing and delivering the goods or services.
Final Thoughts
Turnover plays a vital role in accounting by reflecting a business's sales, efficiency, and overall financial health. By tracking and analysing turnover ratios, turnover can also help businesses gain insight into their operations.
However, managing the complexities of this accounting concept can be tricky. Therefore, it's recommended to hire a skilled accountant to ensure more accurate financial reporting and decision-making.
References
https://www.touchfinancial.co.uk/what-is/what-is-turnover/
https://squareup.com/gb/en/glossary/turnover
https://www.investopedia.com/terms/t/turnover.asp
https://www.simplybusiness.co.uk/knowledge/articles/2023/04/what-is-business-turnover/