Explore how your UK business operations can improve through a proper understanding of inventory and inventory management.
Inventory in Accounting
In its basic form, inventory accounting is what a business uses to monitor the goods or materials owned by a business for production or sale.
Inventory is an asset on a company's balance sheet that is generally seen as a current asset because at some point the inventory will convert into income. As you'll come to see, some inventory may not be a directly consumable product, but the raw materials will eventually create something that generates income for the business.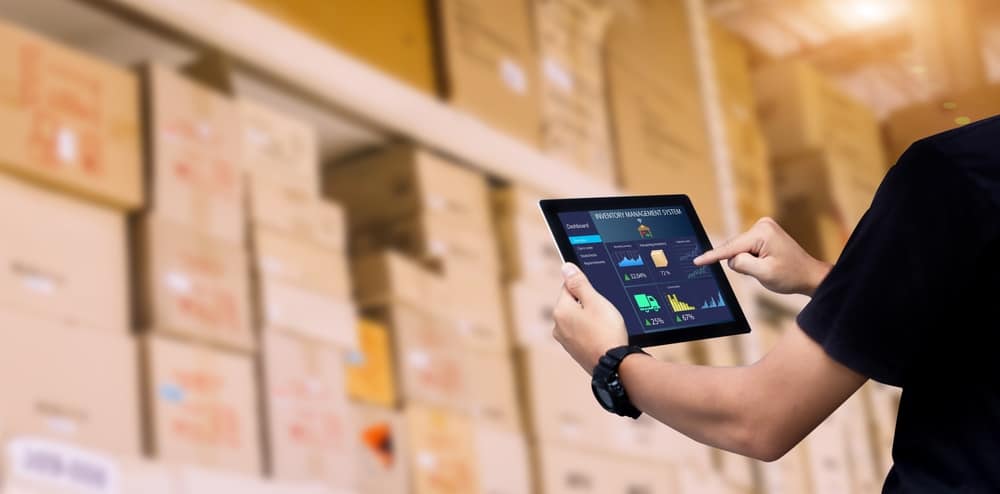 There are three main types of inventory for businesses to know about.
Work in Progress (WIP): This type of inventory comprises partially completed inventory items that are still in the production process. Work in progress inventory has gone through some adjustments from raw materials but isn't complete.
Raw materials: These are basic materials that are used in products that haven't gone through any notable transformation. This includes items like fabric, chemicals, and wood.
Finished goods: This is the final product that is ready for sale. They are fully packaged items awaiting distribution.
Now, when it comes to the inventory value, it's down to the cost method of the company. There are three cost methods:
Last in, first out (LIFO): This costing method works based on the most recent products being sold first. It is generally only used in the US. But the UK will accept LIFO if directors can prove that it is necessary for operations.
Average cost: Inventory cost is based on the average cost of goods sold throughout the accounting period. This is worked out by dividing the total cost of the products by the number in the inventory.
First in, first out (FIFO): The FIFO costing method is when what was purchased first, is what is sold. Basically, the oldest inventory is sold in the order it was produced. This is best for perishable inventory that needs to be consumed to avoid spoiling.
Overall, the cost of inventory includes the:
Direct labour costs
Production costs
Overhead costs
Managing inventory accounting is essential for businesses to ensure they are running efficiently by minimising carrying stock costs. Businesses need to look at inventory accounting regularly to ensure they are using the best method possible for their industry.
Why Companies Should Use Inventory Accounting
Ultimately, profit is revenue minus costs. Revenue generation doesn't happen unless inventory is sold.
The generally accepted accounting principles (GAAP) laid out by the UK's Financial Reporting Council (FRC), require all businesses to accurately record inventory. There should be rigorous rules that are set out for companies of all sizes to achieve better inventory accounting.
Without proper standards, companies can very easily inflate valuations that put them at risk when it comes time to close the books and evaluate future value.
A business that doesn't have the correct valuation procedures could adjust company asset values to be much higher. This causes a big problem when doing taxes or getting a company ready for sale.
Companies need to have a clear picture of what is happening in the financials, this includes company assets and liabilities.
Luckily inventory accounting works very well for keeping track of everything through inventory management.
The Difference Between Assets and Inventory
An internal asset is things a company owns and uses internally. This can be items like laptops, vehicles, and equipment. Inventory on the other hand are items that a company intends to sell.
Our Final Thoughts on Inventory Accounting
Understanding your company's inventory accounting is vital if you want balanced financial statements that give a true representation of the value of the company.
Inventory accounting is all about keeping track of what you have to ensure that your business is running smoothly. This means avoiding things like over and under-stocking, which can impact income.
Hiring an accountant can make the whole inventory accounting process a lot easier. They can help determine the types of inventory and the cost methods that will work best for your business.
Sources:
https://www.netsuite.com/portal/resource/articles/inventory-management/inventory.shtml
https://www.investopedia.com/terms/i/inventory.asp
https://www.investopedia.com/terms/i/inventoryaccounting.asp
https://www.veeqo.com/gb/inventory-management/inventory-accounting
https://gocardless.com/guides/posts/what-is-inventory-accounting/
https://www.gov.uk/hmrc-internal-manuals/business-income-manual/bim33015