Card One Money was previously known as CardOneBanking and they provide personal and business banking that is an online service provided by a mobile and desktop app.
They have 600,000 personal customers and 24,000 registered business customers. They offer business accounts with a prepaid card with no credit checks.
Card One Money User Reviews
Card One Money Review Summary
0.0 out of 5 stars (based on 0 reviews)
Recent Card One Money Reviews
There are no reviews yet. Be the first one to write one.
Submit A Review For Card One Money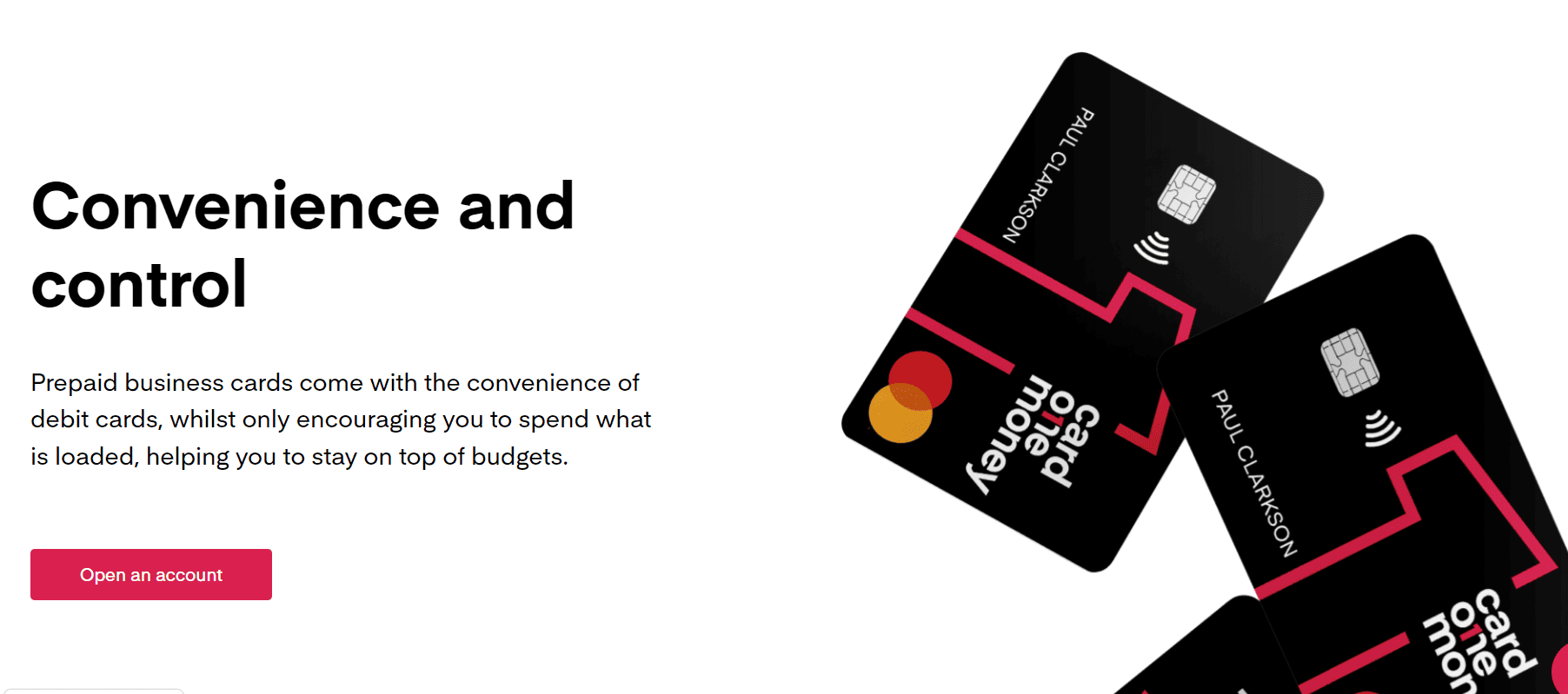 Card One Money Expense Card Options
Card One Money offers a free prepaid business card as part of their current account which is a Mastercard. They do not offer the card as a standalone product. The card features include:
Provides the convenience of a debit card but restrict funds to the card balance
Widely accepted in over 35 million locations around the world
No purchase transaction charges
Option to add up to 4 cards at £5 per card each month
Can assign different levels of access to cardholders
Cash withdrawals at ATMs charged at £1.50 per transaction
Can be used abroad but transaction charges apply
Manage the account online
Add money directly from your account easily
Receive your card within 5 working days of ordering it
And their top tier plan offers:
No credit checks
Four additional cards for business use
Online and mobile account with 24/7 access
Manage Direct Debits and standing orders
Instant domestic payments
Manage and pay bills, invoices, wages and more
International payments in a range of currencies
Full control over permissions, balances and cards
Export statements for your accounting software
Receive free text alerts whenever bills are paid
Load cards directly online or through the app
View statements and monitor business spending
Use fast balance to quickly check your account
Pay cheques in at any Barclays branch
Prepaid cards that can pull from your balance
Your own dedicated account manager
Send payments in bulk
Set up multi-level approvals for payments
Open banking API integration
Multi-account view for all your brands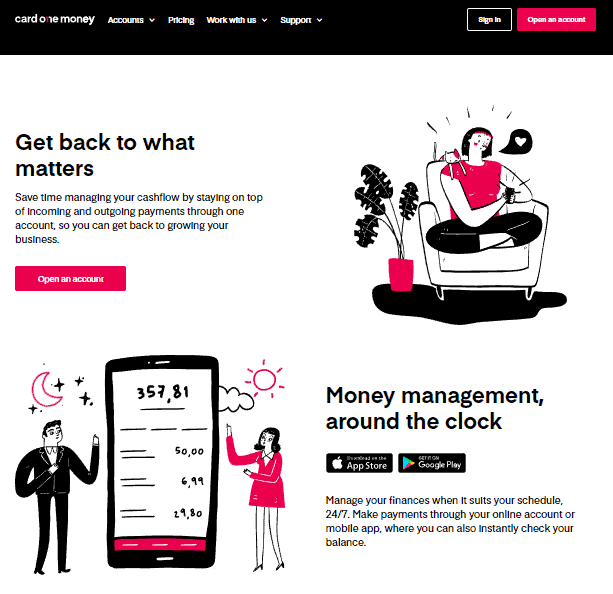 Card One Money Expense Card Eligibility
The Card One Money's Business account is available to businesses with a turnover under £2 million per annum. The Corporate account is for businesses with a turnover above £2 million per year.
They do not conduct credit checks and offer accounts to those with a poor credit history.
Card One Money Expense Card Rates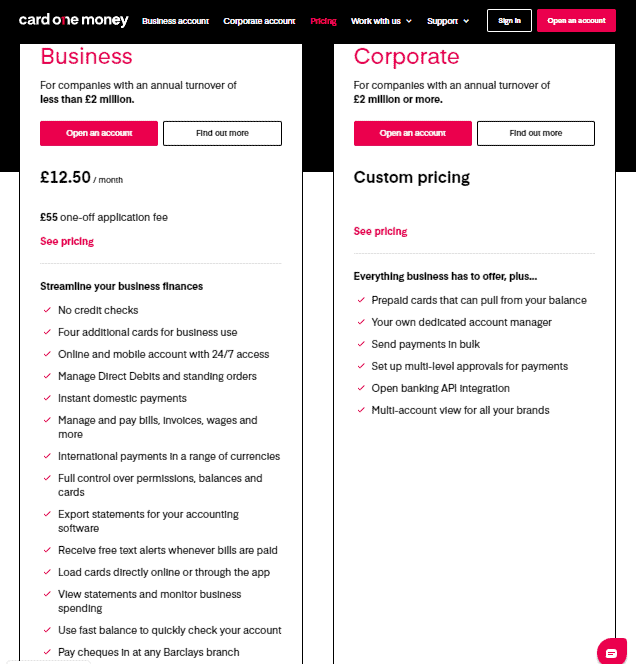 The prepaid card is available only with the Business account which starts at £12.50 per month and an application fee of £55. Corporate accounts have custom pricing.
Cards charges are:
Additional cards are charged at £5 per month each
UK ATM cash withdrawals at £1.50
Cash withdrawals outside of the UK cost £3 plus 2.75% of the transaction value
Card One Money Expense Card Calculator
Card One Money doesn't provide an expense card or current account calculator.
Card One Money Expense Card Reviews
There are only reviews available on 2 of the popular customer review sites and there are 2 sets of reviews for the current and former company names. The reviews on Trustpilot are largely positive with 86% of reviewers rating them as excellent. Many reviewers left positive comments which includes quick and easy to set up an account, supportive members of staff, good customer service and responsive webchat.
Under their former name Card One Banking the reviews were very negative with 88% rating them as bad (based on 96 reviews) due to being unable to speak to someone, issues accessing their accounts and transactions incorrectly being flagged as fraudulent. Some of these negative comments were also reflected in some of the low rating reviews for Card One Money on Trustpilot.
There are also 2 reviews on Smart Money People which are both very positive but are under their former name, Card One Banking.  Comments mention no fuss service and good customer care.
Trustpilot – 4.6/5 (based on 304 reviews)
Google Reviews – no reviews
Reviews.co.uk – no reviews
Review Centre – no reviews
Smart Money People – 5/5 (based on 2 reviews based on their previous name)
How To Apply For A Card One Money Expense Card?
You can apply online and the application should take no more than 10 minutes. You will need to select the Business or Corporate account based on whether your annual turnover is above or below £2 million. Alternatively, you can call them 0345 241 6775.
Pros
Provides a Mastercard prepaid card that is widely accepted
Included a free card with the business account
Positively rated in customer reviews for current company name
Cons
Only offers a prepaid card with their business account
Doesn't offer credit or debit cards
A high number of negative comments for the former company name and some issues are still reflected in more current reviews
Website: Card One Money Prepaid Card