Are you wondering if you need a business bank account or just what they are? We've got you covered in our comprehensive guide below.
Business Bank Accounts Explained
Business bank accounts work in a similar way to standard personal accounts. However, these accounts are for business-related transactions only. If you are self-employed, operating a startup or an established enterprise – having a business bank account will allow you to handle day-to-day transactions, business expenses, and salary payments with ease.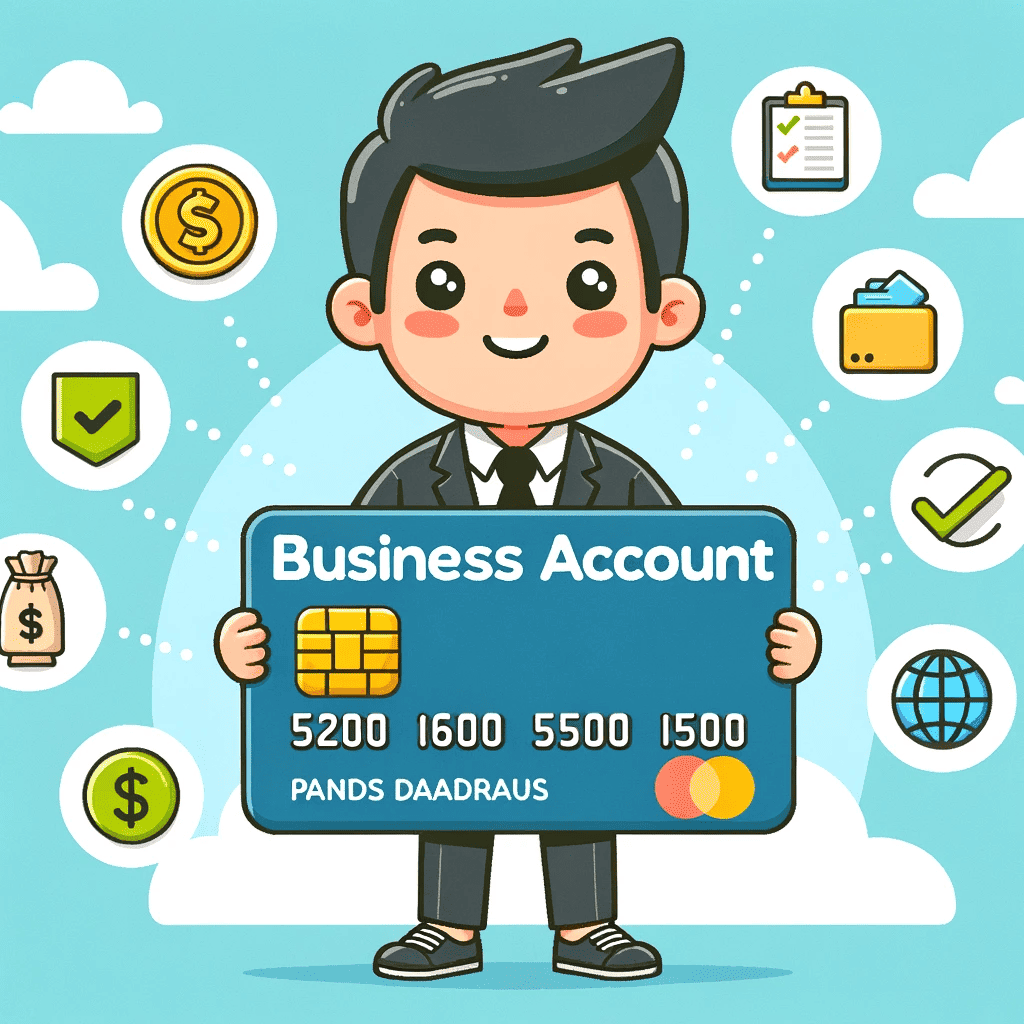 Types Of Business Bank Accounts
Basic Business Bank Account: These business current accounts are for small businesses or startups that need essential banking services. They offer a debit card and have basic online banking services.
Standard Business Account: These accounts provide a wider range of features and services when compared to basic account types. They are suitable for small to medium-sized (SME) businesses that need more advanced functions. This includes dedicated business advisers, invoicing tools and software integrations.
No-fee Business Accounts: Some banks offer free business bank accounts with no monthly fees, usually lasting a certain period of time. These accounts are ideal for businesses looking to minimise costs during their initial startup stage. (Do read the fine print though).
Specialist Business Accounts: Many banks offer tailor-made banking solutions for specific business types, such as sole traders, charities, startups, and non-profit organisations.
Business Savings Accounts: Some banks provide savings accounts for businesses. Allowing businesses to earn interest on extra funds while keeping them separate from everyday transactional accounts.
Corporate Accounts: These accounts are for larger businesses with more complex banking requirements. They provide advanced features such as international banking, trade finance, and cash management solutions.
When Do I Need A UK Business Bank Account?
The need for a business bank account depends on the legal structure and registration of your entity.
Here are a few instances when you generally need a business bank account:
Limited Company: You are legally required to have a separate business bank account if you have registered with Companies House. A limited company registration is seen as a separate legal entity and finances must be kept separate from the company directors' personal finances.
Incorporated Company: A separate business bank account will be needed for this type of business entity. This provides effective business finance management of shares between shareholders.
Partnership: If you are part of a general business partnership, you are not legally required to have a separate account. However, it is advised to open one to maintain clear financial records and simplify your tax filings.
Limited/Limited Liability Partnership: Limited partnerships and limited liability partnerships (LLPs) are registered with Companies House. Therefore, it is mandatory for these types of business entities to have their own business bank account.
Sole Trader (or Freelancer): Sole traders (the most common type of registration for small businesses and freelancers) are not legally required to have a separate business account. But having one of these accounts is beneficial. They allow you to effectively track business income and expenses, keeping them separate from your personal expenditure.
Benefits Of Business Bank Accounts
Managing your business finances can be a daunting task at the best of times. Business accounts do have several benefits that offer a variety of perks which are not always available for current accounts.
As mentioned, a business bank account is a legal requirement for limited companies, but sole traders and partnerships can also benefit from having one.
Here are a few benefits for business accounts:
They have the ability to keep business transactions separate from your personal funds – highly beneficial when submitting business tax and VAT returns.
They track and categorise all business transactions in an organised manner.
They allow you to pay employees and suppliers.
They offer different interest rates, overdraft schemes, and accounting software integrations.
These accounts allow you to apply for a credit card. Maintaining a good credit rating makes applying for business loans a lot easier.
They allow you to carry out credit checks on other businesses and suppliers.
A business bank account is great for carrying out transactions in foreign currencies, and
They offer card machine rentals, ideal for businesses needing card facilities.
What Can You Do With A Business Bank Account?
Business accounts usually provide:
A debit card for in-store and online transactions
Accept credit and debit card payments (electronic payments)
Send and receive transactions in foreign currencies
Direct debits
Standing orders
Pay employees
A mobile app for convenient money management
ATM cash withdrawals
Some business accounts may offer other benefits such as:
A credit card
Business loan options
Dedicated business advisors
Automated invoice creation
Accounting software to streamline your business finances
How does it differ from a personal account?
Business bank accounts are designed for business trading, while a personal bank account is meant for personal finances.
Business bank accounts keep business transactions separate from personal expenditures, allowing you to effectively manage and organise business trading.
They keep a categorised "paper" trail for easier tracking, record-keeping, and budget planning when compared to personal account types.
Business accounts (especially for limited companies) are often a legal requirement for tax purposes.
As mentioned, it's easier to track the income and expenditure of your business. This allows for the effective management of budgets, forecasts and calculations of business taxes.
Business bank accounts may offer additional features and benefits compared to personal bank accounts; such as a credit card, business loans, overdraft options, invoicing tools, payroll management, and accounting software integration.
Different fees apply to the type of business account you choose – criteria that are based on company type and size, including transaction fees, annual or monthly fees, and overdraft charges.
A business bank account is needed for retailers (or any business) that accepts credit or debit card payments.
How Much Do Business Bank Accounts Cost?
When it comes to business banking, many banks charge a monthly account fee. These are based on which type of business account you have and depend on which bank you choose.
Some banks may not have a rigid fee structure in place, however, they may charge you for individual transactions, such as withdrawing/depositing cash or making electronic payments (with your debit card, by cheque or online).
Here are a few fee structures examples:
Fixed Monthly Fee: Many business bank accounts require you to pay a fixed monthly fee. These typically range from £5 – £10 per month. By paying this fee, which normally is a direct debit off your account, you gain access to a range of services without recurring charges.
Transaction-Based Fees: These fees are essentially charged on a "pay-as-you-use" structure every time you swipe your card, make electronic payments, or withdraw cash. This is great if you're a startup and want to keep costs to a minimum or if your business only does a handful of transactions. However, as your business grows, this fee option may be more costly in the long run.
Waived Monthly Fee: Certain banks may waive the monthly fee if you meet specific conditions in your banking contract. These can include maintaining a minimum monthly deposit or balance in your account or avoiding bad credit to your name.
Introduction Deals: It is common for banks to offer an introductory package to attract new clients. These deals have no fees attached to them but are usually only valid for a set period of time.
It is advised to always read and understand the fine print from the financial institution you choose. This will eliminate any potential issues that may arise further down the line.
Who Can Open A Business Bank Account?
A business account is generally available to most business owners, including sole traders, business partnerships, and limited companies.
Depending on which bank you choose, they may offer accounts tailored to the specific needs of various business types – from startups, sole traders, charities, or non-profit organisations.
Financial institutions each have their own set of eligibility criteria pertaining to business current accounts.
Factors that you may wish to consider are:
The duration of your business operations/trading
Revenue generated
The industry related to your business
It is essential to review the terms and conditions of each business account before applying, to ensure your specific needs are met.
What do I need to open a business bank account?
Unlike opening a personal account, business bank accounts work a bit differently.
Here are the usual requirements needed for business accounts:
Proof of ID (for all company members)
Proof of residence, not older than 3 months old
Registered business address
Provide business details, such as registration number, contact details and date of incorporation
Provide information such as the number of employees and annual turnovers
Tax returns (if any)
Choosing The Right Business Account For Your Business
Selecting the right business bank account for your business can be an overwhelming task due to the multiple options available on the money market.
To help you make a more informed decision, we have outlined some key factors to consider:
Business Turnover: Depending how much your business makes can determine the type of account you are eligible for. Certain accounts are capped at a turnover threshold, while others are customised to your business's specific needs.
Required Services: Figure out the specific banking services you will need or benefit from. If your financial transactions are relatively straightforward, you may benefit from a streamlined service offered by smaller or online banks.
Convenience: Having the convenience of online banking services for your money management needs is great. These can be in the form of online banking, banking apps and/or cellphone banking options.
Future Plans: Do anticipate the growth of your business. If you foresee a rapid expansion in the near future, consider choosing a bank that can provide additional financial services such as credit options or loans.
Compare Fees: Compare the pricing of different business account options before making your final decision. Consider the various interest rates, incentives and fees for both the short and long term.
FAQs
How do I register my business in the UK?
If you want to start your own business (especially as a limited company) you need to register and apply with Companies House. This is a relevantly straightforward process, done through their website.
You will need to provide them with personal information, directors' names and share allocations, banking and tax records and choose a company name. For more information, you can view a step-by-step guide here.
How does online business banking work?
Business bank account providers have banking apps for your convenience. They allow you to manage, track, and make payments 24 hours a day without having to go into a branch. Done from your phone, computer or tablet, it gives you full control of your business's current accounts.
What is the best business bank account for freelancers?
A sole trader account is ideal for freelancers. It's not a legal requirement for you to open a business account but it would be useful to have. Keeping your personal and business finances separate makes it easier to track income and expenses and gauge the overall performance of your company.
Sole trader accounts may have transaction or monthly fee structures attached to them. Do clarify these requirements with your bank of choice before signing any paperwork.
Additional Sources:
https://www.freeagent.com/glossary/business-bank-account/
https://www.money.co.uk/current-accounts/how-business-current-accounts-work
https://www.nerdwallet.com/uk/business-bank-accounts/what-is-a-business-account/
https://www.british-business-bank.co.uk/finance-hub/making-the-most-of-your-business-bank-account/
https://www.moneysupermarket.com/current-accounts/business-bank-accounts/
https://www.money.co.uk/current-accounts/how-does-online-banking-work