Want to get business a credit card in the UK? This guide will help you find out how to do and what to watch out for.
How Does A Business Credit Card Work?
Business credit cards offer a way for companies to obtain funds up to a set credit limit. They are an effective way to separate personal credit and business credit, ensuring the company has the finances it needs to succeed.
A business credit card often comes with its own set of interest rates, differing from personal interest rates, and may be more financially beneficial for businesses.
Unlike a personal credit card, company credit card options are based on the financials and risk assessments of the business, rather than personal finances.
Business credit cards offer a set of interest rates which will be based on their intended purpose – i.e.: how the company plans to use the card. Cash withdrawals generally have a much higher interest rate, for example.
It's important to keep in mind that the credit loan amount is based on the size of the business, the types of transactions, and how the company performs financially. If you are the sole owner of the company you will be held liable. This means that you may be held responsible for unpaid fees, which can affect your personal credit rating.
Let's look at an example of how a business card works:
If you own a restaurant and employ five chefs, there is a high chance that ingredients will need to be purchased throughout the day. A business card allows employees to get what they need, while also allowing owners to see exactly what has been spent on one transaction sheet.
Good to know: As an employer, you have tax reporting obligations when employees use company cards for purchases.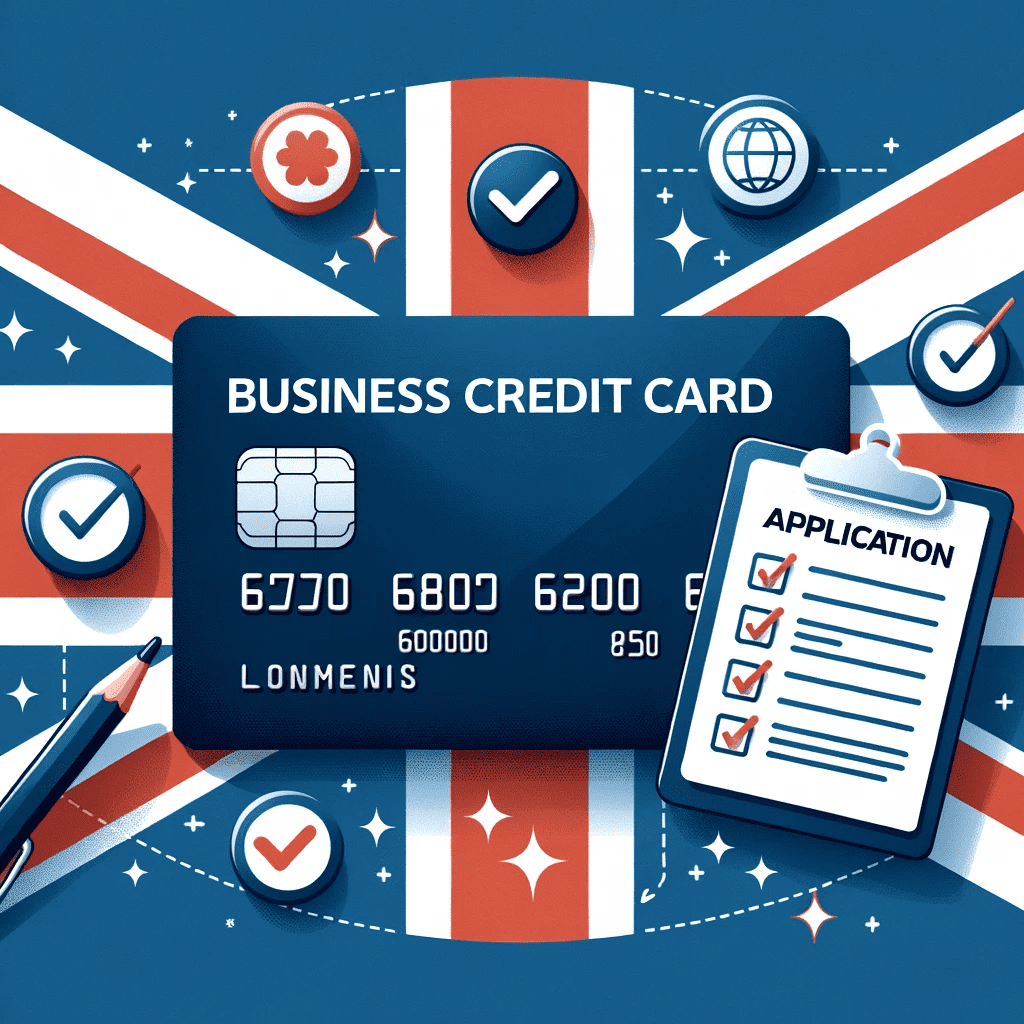 How To Apply For A Business Credit Card
A company credit card works in a similar way to personal credit cards; still, the application process can vary between business credit card providers.
Generally, you need to provide both your personal details and company details so the credit provider can run the necessary credit checks. This helps them decide if extending a line of credit is in their best interests.
The bank will need the information for any entity that owns more than 25% of the company, in order to get a full picture of where the company stands based on the owners' personal credit history.
To apply, you can either go into the bank in person or fill out an online credit application. Once you've provided the necessary information and documents (see below), the bank will run the checks. You then wait to hear the outcome of your application.
The online application usually takes a few minutes if you have all the required information at your disposal. The credit provider may also request additional documentation.
This often happens with newly established businesses that do not yet have credit records. In this instance, you may only get a portion of the amount you apply for, until you can prove that you are not a big credit liability.
What Information And Documents Are Required For Business Credit Cards?
Each credit provider and bank will have its own set of required documents. In general, here is what you will need to apply for a business credit card:
Personal details: All personal details of owners with more than 25% ownership of the company (name, address, bank statements, etc.).
Business details: You'll need to provide the following information: your company's name, address, type and industry, phone number, tax ID number, turnover, monthly business expenses, and number of employees.
Business financials: The credit provider needs to see the financial history of the business, which should show annual revenue, monthly expenses, and any existing debts. You need to show that you can pay back the money you intend to borrow.
Tax documentation: This is to show that the business is registered and has no outstanding tax disputes.
Be sure you have everything on hand to make the application process as straightforward as possible.
How To Choose The Best Business Credit Card
There are multiple cards on the market, so picking the best business credit card primarily comes down to your business' needs, plus a few other factors. Here's what to look into:
Interest rates: Look at the interest rate the credit provider is charging for the amount used (annual percentage rate or APR). Some business credit cards have a 0% interest up to a certain number of days. This is a great option for businesses wanting to build a credit rating by paying off the credit amount each month.
Benefits: Most business credit cards come with a range of perks. They can be in the form of rewards, where you get a financial incentive to spend money or a program where you receive bonuses, like airline miles. Look at which benefits would offer the most value for your types of transactions.
Foreign transaction fees: If you have a global company or employees who travel regularly, it helps to have a business credit card with the lowest possible foreign transaction fees.
Eligibility criteria: Before you apply, look at what is required to sign up. You don't want to have your heart set on the perfect business credit card only to realise you don't meet the minimum requirements.
Business needs: You must establish the business needs before you begin looking for a business credit card. Based on what you require from the credit facility you can better evaluate which credit provider might be best.
Compare business credit cards: Before you sign up for a business credit card, there is no harm in comparing all the options. To compare credit cards, you can fill out the applications online and see what they offer. Then you can compare the offers and decide which fits your business needs best.
It's vital that you consider everything before you apply for a business credit card. While one might have a better interest rate, you could earn a lot more through the rewards program based on your business type. You must consider how your business can get the most benefits.
The credit provider may also offer the business personal benefits for signing up, so don't be afraid to speak with someone in person to see how the credit can benefit your company.
If you want some help, we have a guide to some of the best business credit cards in the UK.
How Credit Checks Work
For any line of credit, whether business or personal, you have to go through the dreaded credit check. Providing all that documentation and information can be time-consuming, but it's par for the course with getting the right business credit card set up.
Always keep in mind that your personal credit score will come into play at some point, so keeping up to date with payments is vital.
If you have a start-up with little to show in terms of borrowings and credit, the bank is going to turn to your personal credit score to establish if you're a risk.
If you have a bad credit score, not all hope is lost. Today, banks can track your personal spending habits to decide whether or not to extend credit. They can evaluate whether you are a personal liability.
Now, if your business has a bad credit record, you might feel a little defeated. Some companies offer business credit cards in these instances, just be sure to look out for:
The interest rates: They may charge more because the business is more of a liability.
Secured credit cards: This is when you have to provide your personal assets as collateral; meaning the lender may repossess personal belongings, like a car or home, if you shortfall on payments. Instead, you might want to look into unsecured business loans.
Fewer perks: Unsurprisingly, these types of business credit cards don't offer much in terms of rewards.
However, if you use the above type of business credit and manage to pay off the borrowings each month, your business can overcome its bad credit streak. So, while it's a risk, if you know the business can recover, it is worth it.
Side note: here are the best new business bank accounts for startups to help you find your feet.
I'm Approved—Now What?
Some business credit cards will provide you with a provisional offer in a few minutes based on the information provided, but this doesn't guarantee the loan amount.
Once the lender has processed all the information and run the necessary credit checks, you will receive an offer based on your company's risk.
If you accept the terms and conditions of the business card, you may receive a virtual account to use instantly. Alternatively, you can pick up or have the card delivered, which usually takes around five business days.
The credit card company should advise you on what's happening throughout the application process.
Advantages And Disadvantages Of A Business Credit Card
Business credit card advantages
There are many benefits of getting a business credit card:
Keep personal and business credit separate: When you own a business it's easy to hand over your personal credit card by mistake when things are rushed. This can cause you to overspend on interest and transaction fees. You should have a separate business account to establish exactly what your company is spending.
Get a credit history rolling: Companies must have a credit history. Like with personal loans, you need to show lenders that the company is capable of receiving and paying off credit to obtain further credit down the line. A good credit history comes in handy if you need to apply for a business loan or any type of funding.
Control of business spending: A business account gives a broad overview of company spending in one place. You can look at where you may be overspending and where cutbacks can be made.
Higher credit limits: Since most business credit card loan amounts are based on the business and not personal finances, there is a higher chance of getting a bigger credit facility.
Business Credit Card Disadvantages
Like all things in life; where there are pros, there are also cons. Let's talk about it:
Risk of damaging credit scores: You need to keep up to date on monthly payments. If you don't pay the fees in time you could face serious damage to your company credit score that could prevent future lending.
Debt accumulation: If you don't manage your business finances correctly you could build up too much debt to pay off. You must manage all borrowings, whether from a financial institution or a company providing goods before payment.
Annual fee: Business credit cards will charge an annual fee to keep the account running. Always establish whether the benefits of the account outweigh the fees charged.
FAQs
Is applying for a business credit card in the UK difficult?
The application process isn't difficult, but requires quite a bit of documentation, which can take time. It may also be more difficult if multiple shareholders need to agree to the credit facility.
Can a sole trader get a business credit card?
Any licensed business can apply for a business credit card. Whether you're a sole trader, in a partnership, or own a multination conglomerate, business credit cards are available.
How long does it take to get a business credit card in the UK?
A provisional offer generally takes only a few minutes based on the information you provide in the application. For more personalized credit facilities and rewards, you may need to wait up to 14 business days.
Additional Sources:
https://www.finder.com/uk/how-to-get-a-business-credit-card
https://www.capitalontap.com/en/business-credit-cards/
https://www.americanexpress.com/uk/business/business-solutions/how-to-apply-for-business-and-corporate-credit-card/
https://www.moneysupermarket.com/credit-cards/business/#_what_are_the_pros_and_cons_of_business_credit_cards_