Rangewell is an independent business finance broker connecting British limited companies with 300 lenders and 23,000 business finance products. Based in east London, Rangewell was founded to provide free, impartial finance information and connect businesses to the right affordable loans for their circumstances. The Rangewell team includes ex-bankers, ex-lenders, independent financial advisors and accountants.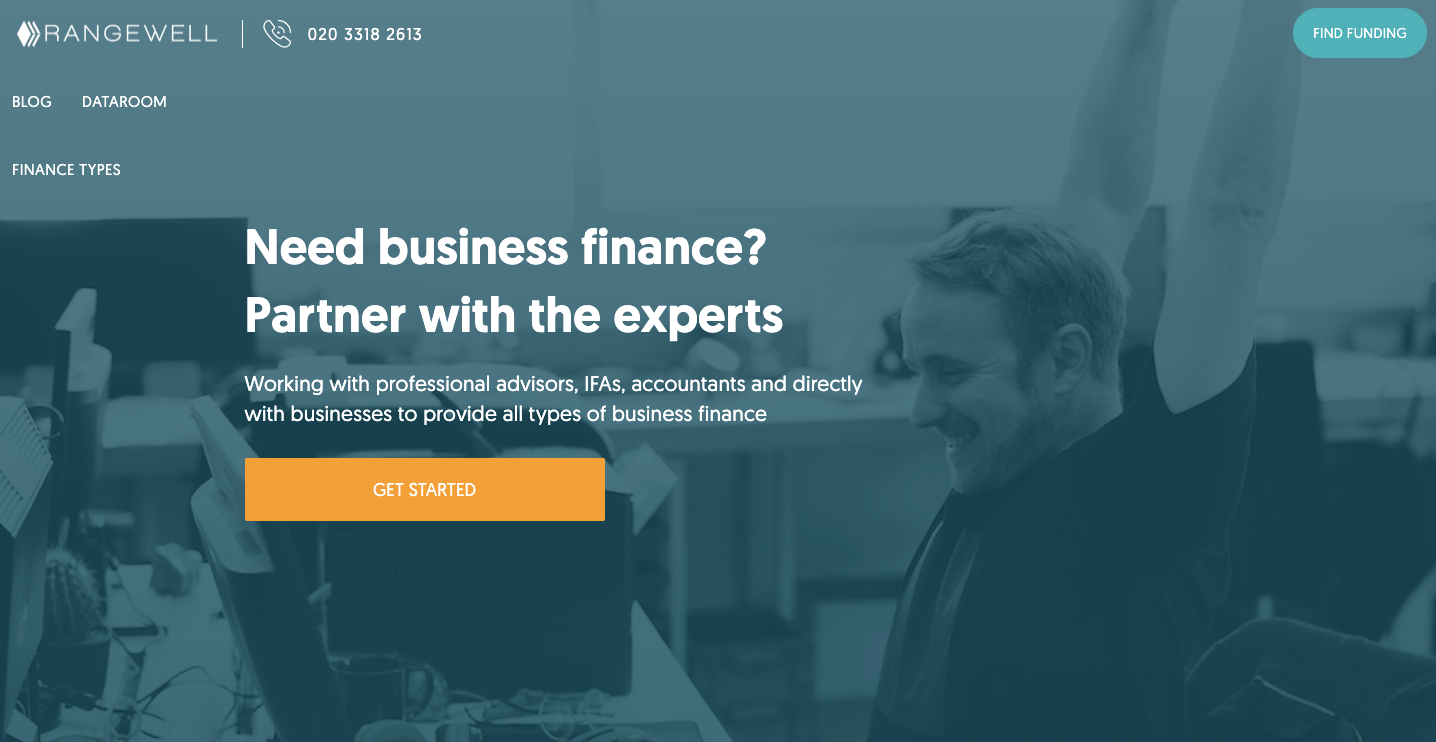 Rangewell Business Finance Loans & Funding
Rangewell can connect businesses with 300 lenders and 23,000 business finance products. The finance products range from short term loans to commercial mortgages and merchant cash advances. Unlike a typical broker, Rangewell doesn't charge businesses for its services.
Asset finance
Products include finance for new assets, used assets, intangible assets, vehicles, and more. Repayment terms range from 6 months to several years, and annual interest rates are as low as 6%. Some 0% finance deals are also available from specific lenders.
Growth finance
Finance is available for businesses with a turnover of up to £25 million. This large scale funding type is available from £5 million and repayable over periods of up to 5 years. Interest is paid quarterly.
Cashflow finance
Cashflow finance includes invoice finance, merchant cash advance, ecommerce finance, short term finance, supply chain finance, and more. Repayment terms vary, rates are competitive, and access to cash can be quick.
Small business loans
Loans with no minimum amount are available for 1 to 60 months. Monthly interest rates start from 0.35%.
Property finance
There are a huge range of property loans available, including bridging loans, HMO finance, commercial mortgages, property development finance, and refurbishment finance.
Startup finance
Loans are available to brand new businesses. The loans require a personal guarantee and startups can borrow a maximum amount of £25,000 unsecured or £250,000+ secured. Rates start from 4.9%.
Equipment finance
Finance for specific machinery and equipment, including medical, manufacturing, agricultural, gym, trucks, and technology. Refinancing is also available for existing assets.
Working capital finance
Inject cash into your business for whatever it needs. Working capital finance includes commercial loans, bad debt consolidation, stock and inventory finance, export finance, and construction finance.
Alternative finance
Alternative finance includes alternatives to bank loans, crowdfunding, and venture capital funding. Rangewell work with alternative lenders that offer a range of products and terms.
Rangewell Reviews and Ratings
There are no reviews on Trustpilot, Reviews.co.uk, or Smart Money People. There are just three Google reviews. Two commenters think they received an excellent service, while one unhappy reviewer says he found it difficult to get in contact with the team.
Rangewell was a Business Finance Awards Finalist in 2016 and shortlisted at the FS Tech Awards 2016.
Rangewell is very active in the business finance market and frequently commissions reports to push for greater choice for British businesses. Rangewell wrote to Chancellor Rishi Sunak in April 2020 to push for fintech lenders to be included in the Coronavirus Business Interruption Loan Scheme.
Trustpilot – no reviews
Google Reviews – 3.7/5 (based on 3 reviews)
Reviews.co.uk – no reviews
Smart Money People – no reviews

Pros
Lots of choice and options for all kinds of businesses and finance needs.
Rangewell are impartial – they're incentivised to match your business to the right kind of finance.
No fees.
Cons
Website: Rangewell Business Finance