The 13 accountants listed below are the top-rated accounting firms in Guildford based on Google reviews. Firms had to have at least 5 reviews and a score above 4.8 to be included.
Please note that these listings are in no particular order and are based on user reviews only. We can't guarantee the quality of any of the services directly. 
1. Blue Matrix – Chartered Certified Accountants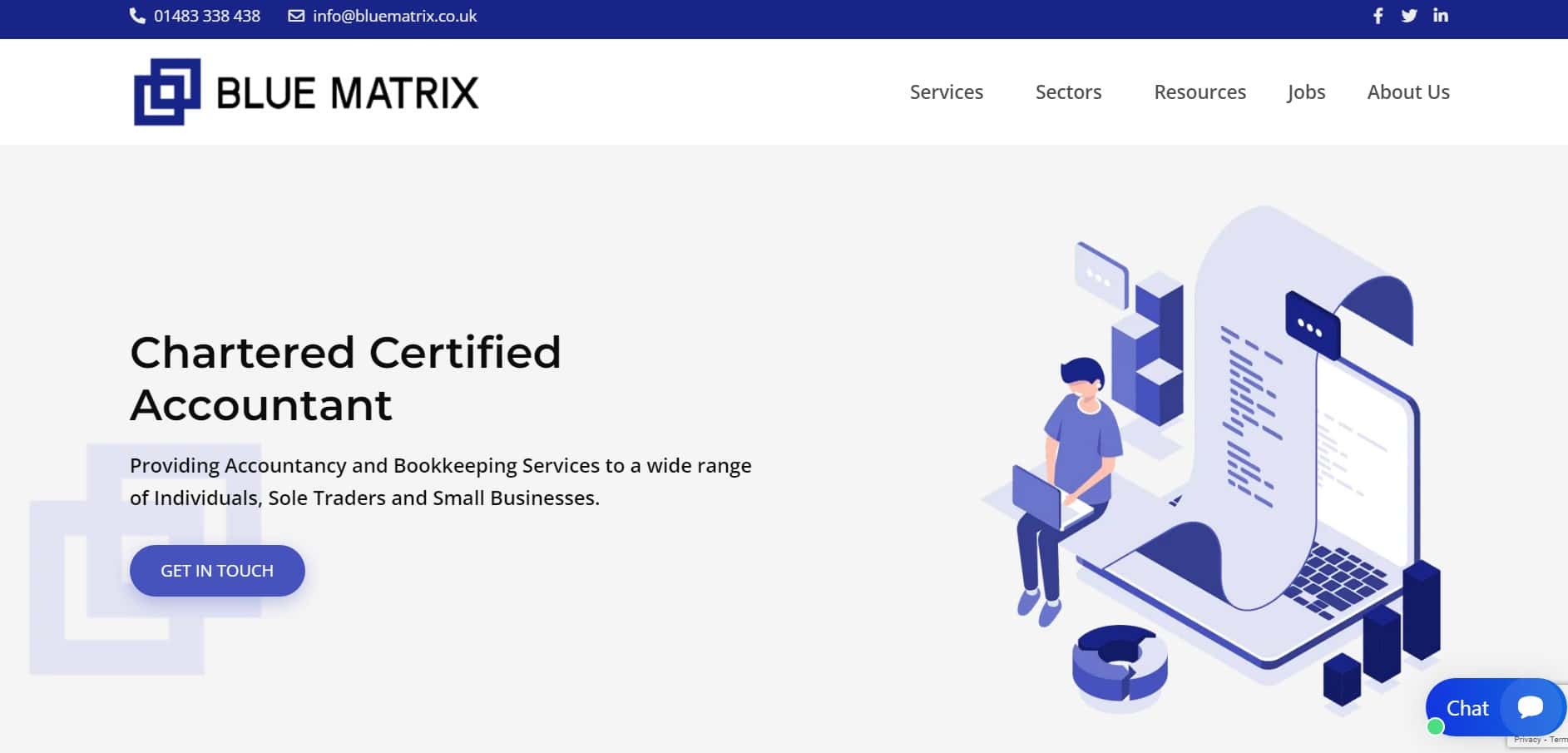 Sample Services:
Annual Accounts

Making-Tax-Digital

Tax Savings

Self-Assessment

Year-End Review

Bookkeeping Services

Independent Financial Adviser 
AAT licensed: No
ACCA licensed:  Yes
Member of the Institute of Chartered Accountants: Yes 
Sample Reviews: 
"I run a very, very small business and have Blue Matrix complete my self-assessment for the last two years for a reasonable fee. They make it very painless and are very responsive and helpful. I don't have a clue about lodging accounts or the time to do so – for me, it's worth every penny to have someone do it for me and calculate the right expenses, etc." — Rachael
"I approached Blue Matrix on the formation of my company to help me navigate all my tax issues. From my very first interaction with them, Blue Matrix have been efficient, professional and friendly. They are always on hand to offer advice and have been invaluable in helping me get all of my financial affairs in order." — Robert Cairns 
Address:
Business Park, 
Building 2, 
Ground Floor, 
Guildford 
GU2 8XG
Website: 
2. Sherwin Currid Accountancy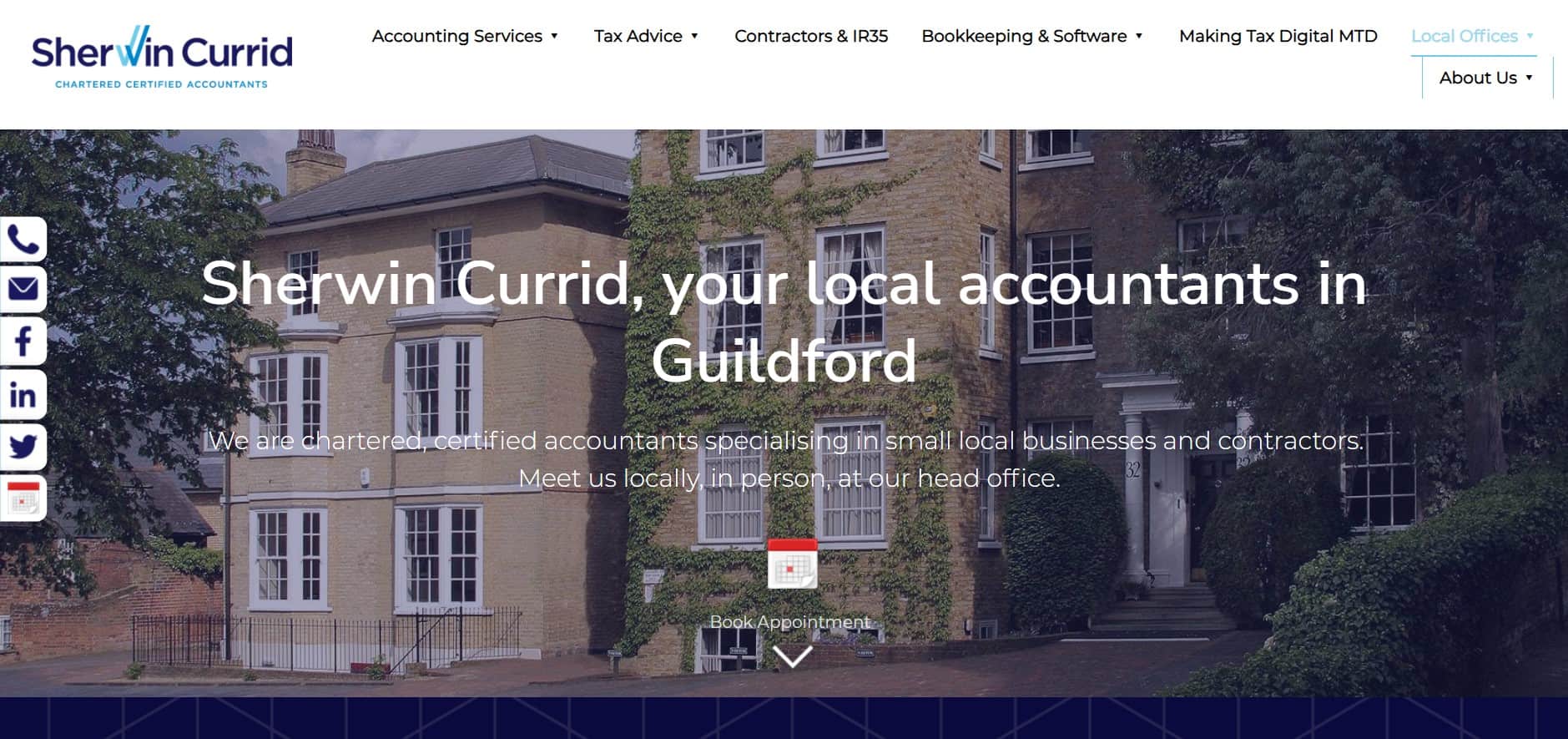 Sample Services:
Company Secretarial Services

Support for Small Businesses

Personal Tax 

Self-Assessment

Payroll Services 

Auto-Enrolment Workplace Pensions

Self-Employed and Sole Traders

Bookkeeping Services 

Accounting Software

Property and Landlord Services
AAT licensed: No
ACCA licensed: Yes
Member of the Institute of Chartered Accountants: No
Sample Reviews: 
"Sherwin Currid have been extremely reliable, proactive and consistent in managing my business accounts. Everything is completed and communicated effectively, such as payroll, VAT returns and annual accounts. Would recommend to anyone looking for an accountancy firm to remove the stress and worry from running the finances of your business." — Ben Rouse 
"I have been dealing with Sherwin Currid since 2015, and I am delighted with the service I receive! I run a small limited company as a contractor, and I have many questions which are answered expertly and in a very timely manner. The service is combined with FreeAgent, which is a great partnership and helps with any requests made." — James Cooper
Address:
32 London Rd, 
Guildford 
GU1 2AB
Website: 
https://www.sherwincurrid.com/local-offices/surrey-accountants/guildford-accountant/ 
3. AIMS Accountants For Business – Guildford – Duncan Sweetland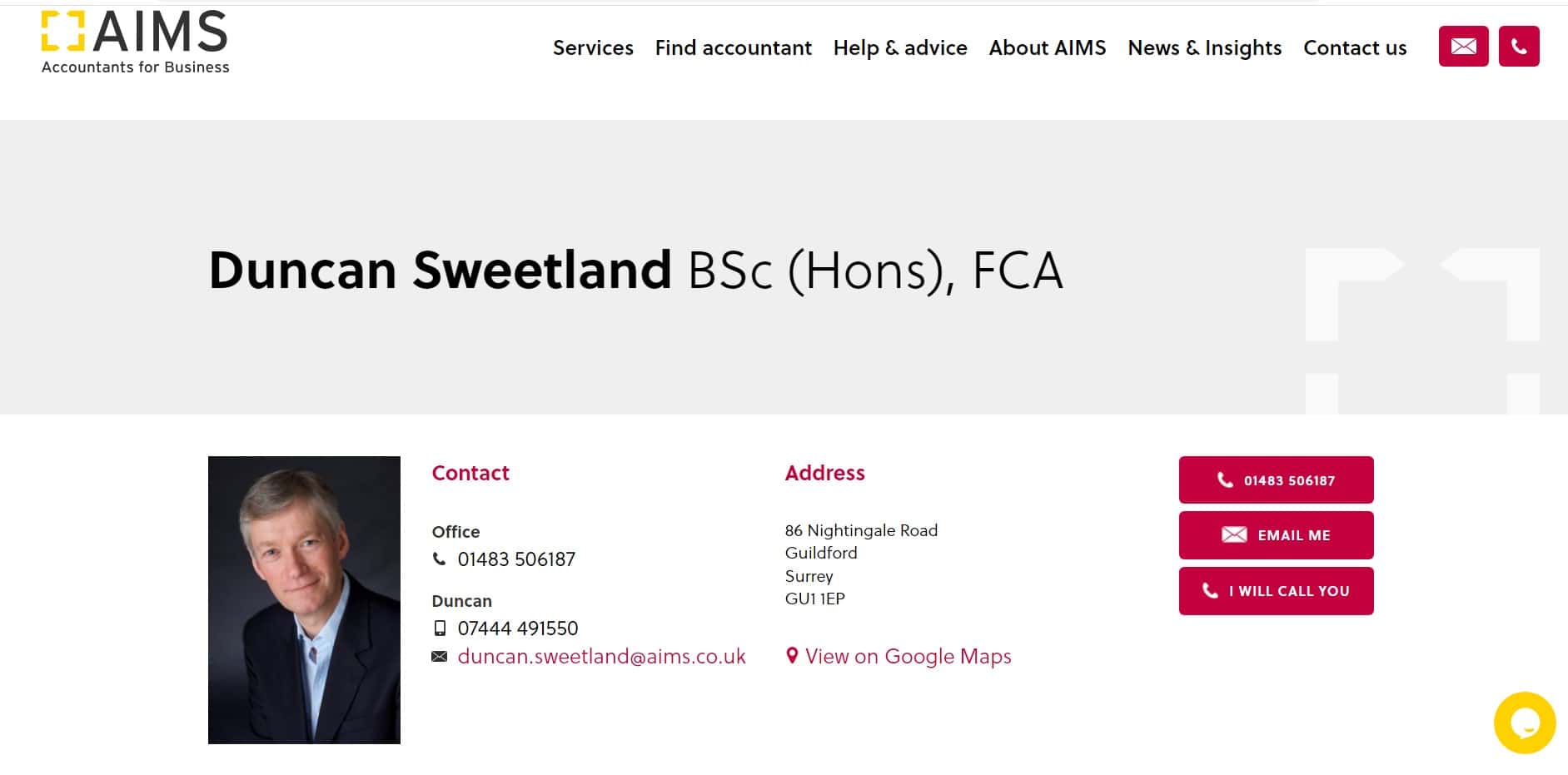 Sample Services:
Income Tax 

Self-Assessment

Bookkeeping Services

Value Added Tax (VAT)

Business Advice and Support

Capital Gains Tax (CGT)

Corporation Tax (CT)

National Insurance Contributions (NIC)

R&D Tax Credits
AAT licensed: No
ACCA licensed: No
Member of the Institute of Chartered Accountants: No
Sample Reviews: 
"Duncan has been looking after my account for the last 4 years, and it's been the least stressful tax returns year so far. He is so reliable, responsive, and super efficient. I'm so grateful for all his help over those years. Thank you so much!" — Makiko Wood
"I would very highly rate & recommend working with Duncan at AIMS. His accountancy services have been extremely valuable for setting me up as an independent therapist where managing the finances seemed daunting to me. He is efficient, knowledgeable, approachable, supportive of your individual business needs, and I have been able to concentrate on my practice knowing the finance is left in capable hands." — Joy Hunt 
Address:
86 Nightingale Rd, 
Guildford 
GU1 1EP
Website: 
https://www.aims.co.uk/accountants/duncan-sweetland 
4. Whittingtons – Chartered Accountants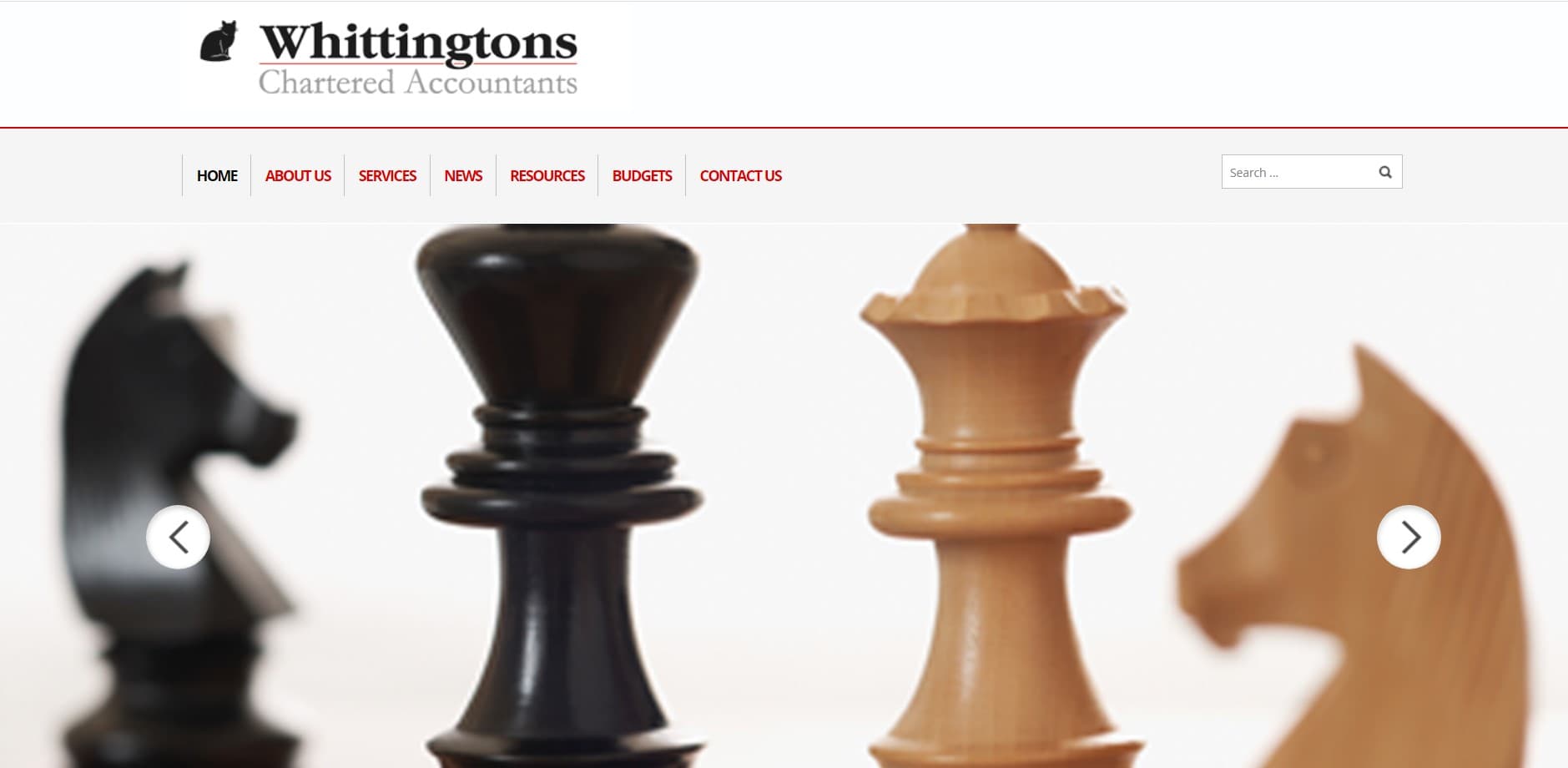 Sample Services:
Preparation of statutory financial statements to comply with Companies Act requirements

Preparation of consolidated accounts for groups of companies

Preparation of accounts for charities and entities reporting under the SORP

Preparation of sole trader accounts for the assistance of self-assessment tax returns

Preparation of accounts for partnerships and LLPs

Preparation of returns for subsidiaries of overseas companies

Preparation of monthly or quarterly management accounts

Benchmarking and profit enhancement

Exit planning and preparation for sale

Advice and assistance on buying and selling businesses
AAT licensed: No
ACCA licensed: No
Member of the Institute of Chartered Accountants: Yes
Sample Reviews: 
"I just wanted to acknowledge publicly and thank Martin and the team at Whittingtons Chartered Accountants for the fantastic work that they've done looking after both my personal and company accounts over the last few years. Hugely knowledgeable, thoroughly professional and competitively priced,  we'd have no hesitation whatsoever in recommending them to anybody who's looking for a new accountant. Highly recommendable!" — Chris Denny
"As a potential new business owner or existing company/sole trader, I couldn't recommend Whittingtons Accountants enough as the perfect support for your new venture or as an alternative with an extremely approachable and professional manner." — Steven Best
Address:
1 High St, 
Guildford 
GU2 4HP
Website: 
http://www.blackcataccounts.com/ 
5. Alliotts LLP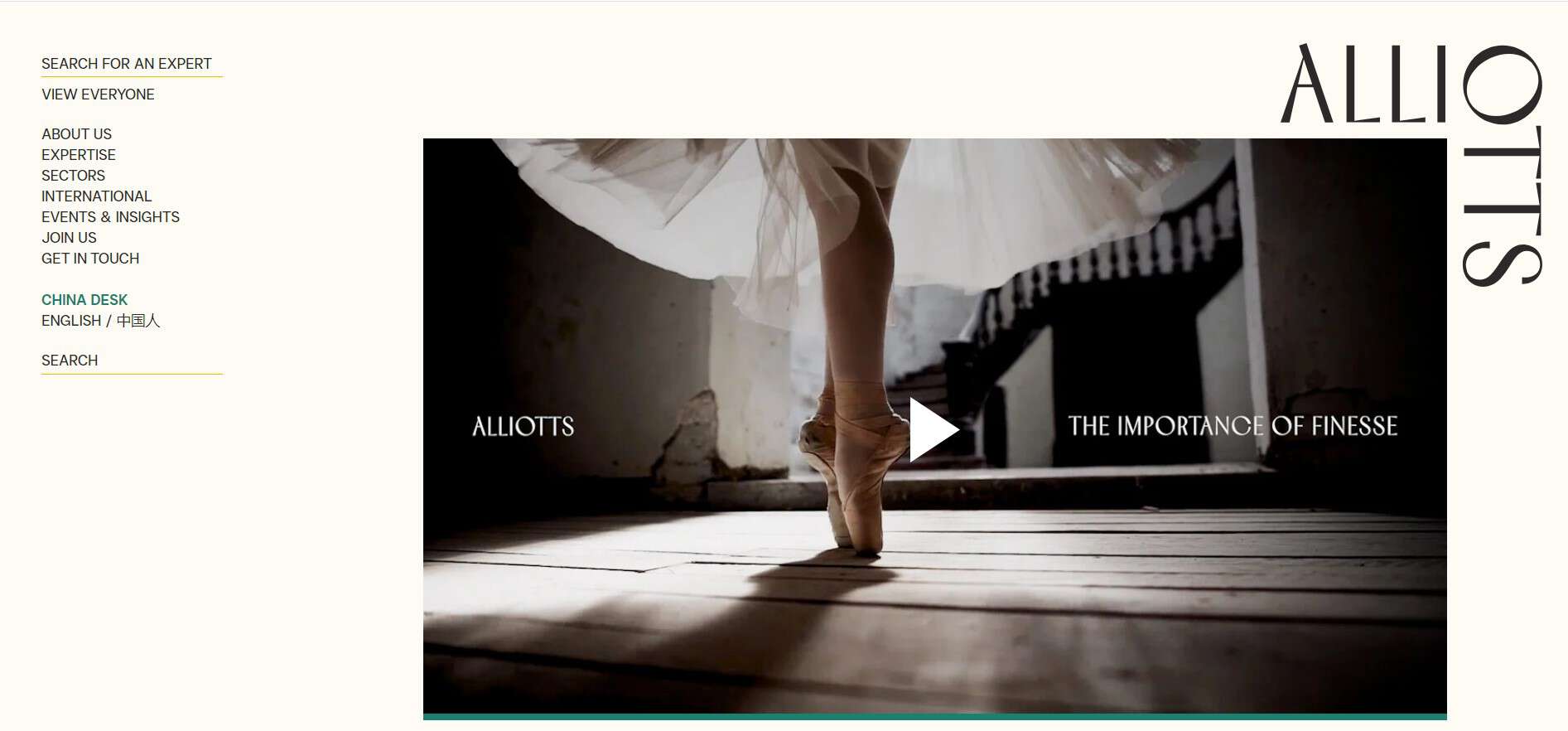 Sample Services:
UK property ownership and investment

Entrepreneurs seeking to maximise tax relief

Understanding trusts and how to use them

Inheritance Tax and succession planning

Retirement planning

Capital Gains Tax planning

Family Office and Family Partnerships

Arriving in the UK and departing the UK

Non-UK domiciles

The tax consequences of matrimonial disputes
AAT licensed: No
ACCA licensed: No
Member of the Institute of Chartered Accountants: Yes 
Sample Reviews: 
"Alliotts – Guildford Office's team has helped our company from its first days. They have been very supportive in every single question and issue a new business is facing and keep being by our side today. I'd like, on behalf of our team, to thank Chris Cairns for his motivation and professionalism in handling sometimes complex questions." — Julien Tallineau
"A thoroughly professional company with a friendly and efficient staff. Chris Cairns has been our "go-to guy" for years and is integral to our decision-making process with regard to finance and efficiencies. If you're after a company that takes a genuine interest in your organisation – this is a company you should look at." — Malcolm Switzer
Address:
Friary Court, 
13-21 High St, 
Guildford 
GU1 3DL
Website: 
6. ChadSan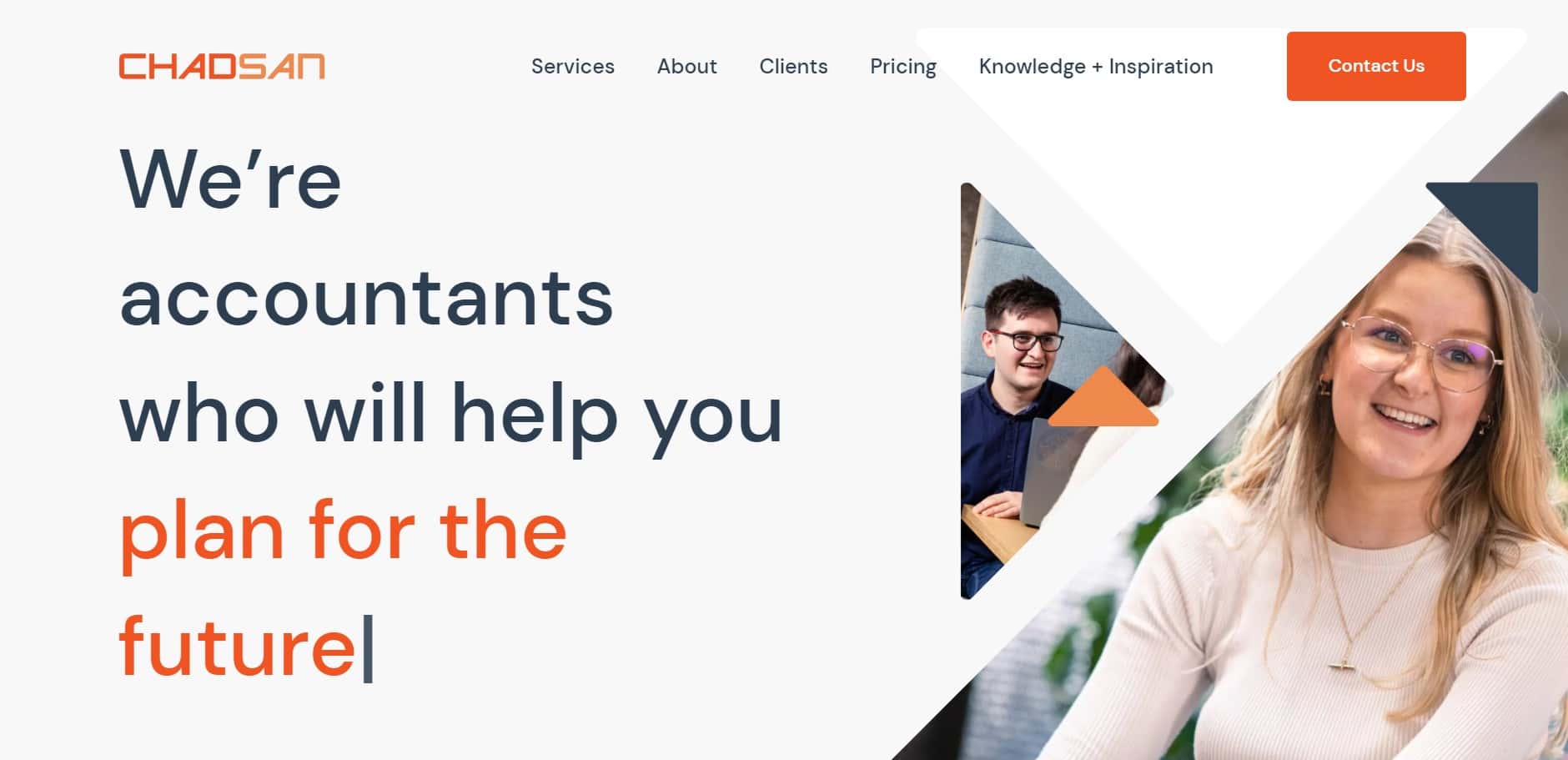 Sample Services:
Accounting and Bookkeeping

Personal Tax

Outsourced FD Board Attendance & Consultations

R&D + VGTR Claims

Corporate Advisory & Tax

EMI Schemes

Annual Accounts and Tax Returns

Auto Enrolment Pensions

Board meetings & Investor Reporting

Business Plans & Fundraising
AAT licensed: No
ACCA licensed: No
Member of the Institute of Chartered Accountants: Yes 
Sample Reviews: 
"We recently joined ChadSan, and we have been very impressed with the level of service and knowledgeability so far, particularly with recent changes resulting from Brexit. They take time to understand your business, and as a technology startup, they have been a great fit for us. Highly recommended." — Phil Gooch
"I would highly recommend the service. Efficient, friendly and knowledgeable. I had a tricky tax situation after moving back to the UK, but Rachel was excellent and extremely helpful. From a tech perspective, they are much more advanced than other accountants I have used, and this made life a lot easier. Having a personal log-in to upload docs, sign my return, etc., made things much more simple to track. Thank you!" — Tom Davies
Address:
Castle House, 
Castle St, 
Guildford 
GU1 3UW
Website: 
7. Guildford Accounting Services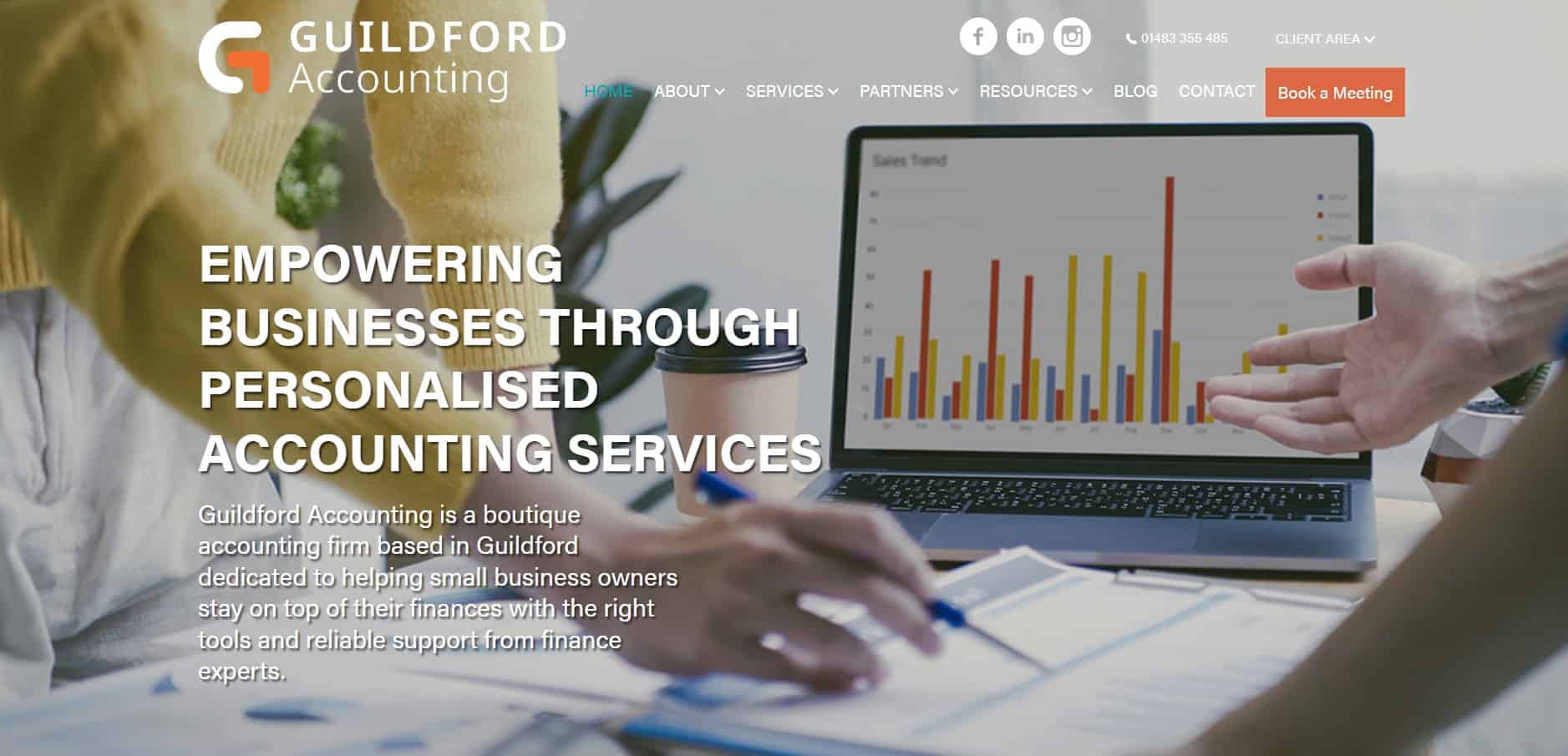 Sample Services:
Registering a new company at Companies House

Company secretarial duties, such as filing confirmation statements, dividend vouchers, share transfers, change in shareholdings, and directorships

Preparation of company accounts

Closing down limited companies

Dealing with HMRC and Companies House on behalf of companies

Registering for business taxes, e.g. Corporation tax, VAT, PAYE, and Construction Industry Scheme (CIS)

Tax planning for companies and individuals

Preparation of Self Assessment tax returns for sole traders, individuals, and partnerships

Preparation of VAT returns

Preparation of financial statements and Corporation tax returns
AAT licensed: No
ACCA licensed: Yes 
Member of the Institute of Chartered Accountants: No
Sample Reviews: 
"I had the pleasure of working with Tanya Cornell from Guildford Accounting, and I must say that her professionalism, expertise, and commitment to providing exceptional accounting services were truly impressive. Tanya's knowledge of the accounting field, coupled with her attention to detail and strong work ethic, made the entire experience seamless and stress-free." — Eugene Shastak
"We used Tanya's accounting services for our company. Tanya quickly dealt with all our accounting and tax issues. She was always there to answer my questions and provide useful advice. I felt my company's financial compliance was safe in her hands. Thank you again." — Natalia Hagelin
Address:
Headley House, 
Railton Rd, 
Guildford 
GU2 9JX
Website: 
http://guildfordaccounting.com/ 
8. Oakwood Business Consultants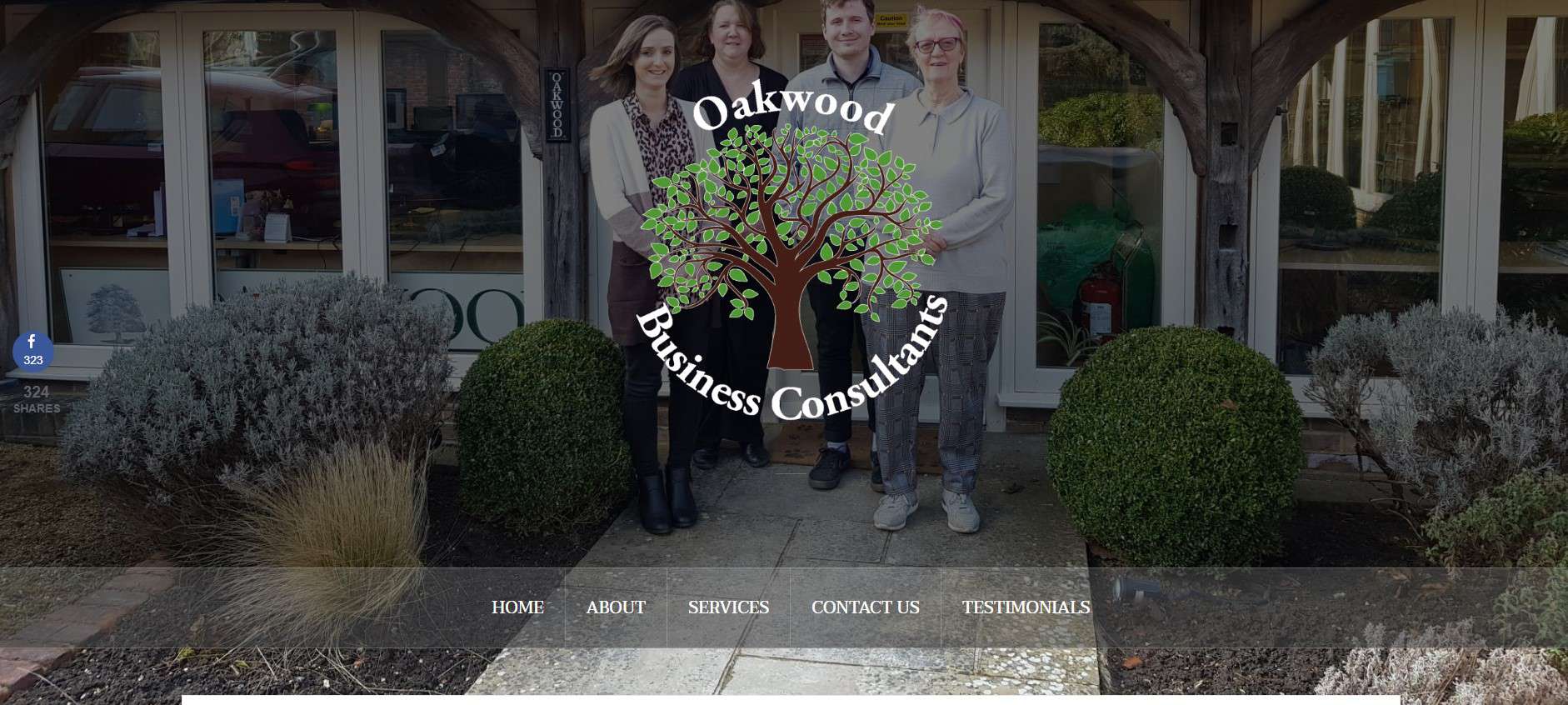 Sample Services:
Accounts

Bookkeeping

Tax Returns – Personal & Business

Payroll & Workplace Pensions

VAT Registration and Returns

Registration of new Limited Companies

Registered Offices

Training

Credit Control

Employment / Issues & Employer Compliance
AAT licensed: Yes 
ACCA licensed: No
Member of the Institute of Chartered Accountants: Yes 
Sample Reviews: 
"Absolutely amazing team of people. Super friendly and hard working. I sent them so much paperwork, and they were able to deal with all of it. I have recommended both friends and family. Thank you all for your hard work!" — Tom Gass
"Oakwood Business Consultants have been invaluable in the start-up and running of our small business. We have been using them since our company's conception 5 years ago and they have been tasked with our payroll, VAT, Corporation Tax, staff contracts and company shares. They have also advised us on our responsibilities as employers and with regards to health and safety." — Emma-Louise Harrison 
Address:
Unit 3, 
The Dairy, 
Tilehouse Farm Offices, 
E Shalford Ln, 
Shalford, 
Guildford 
GU4 8AE
Website: 
9. Surrey Hills Accountancy Limited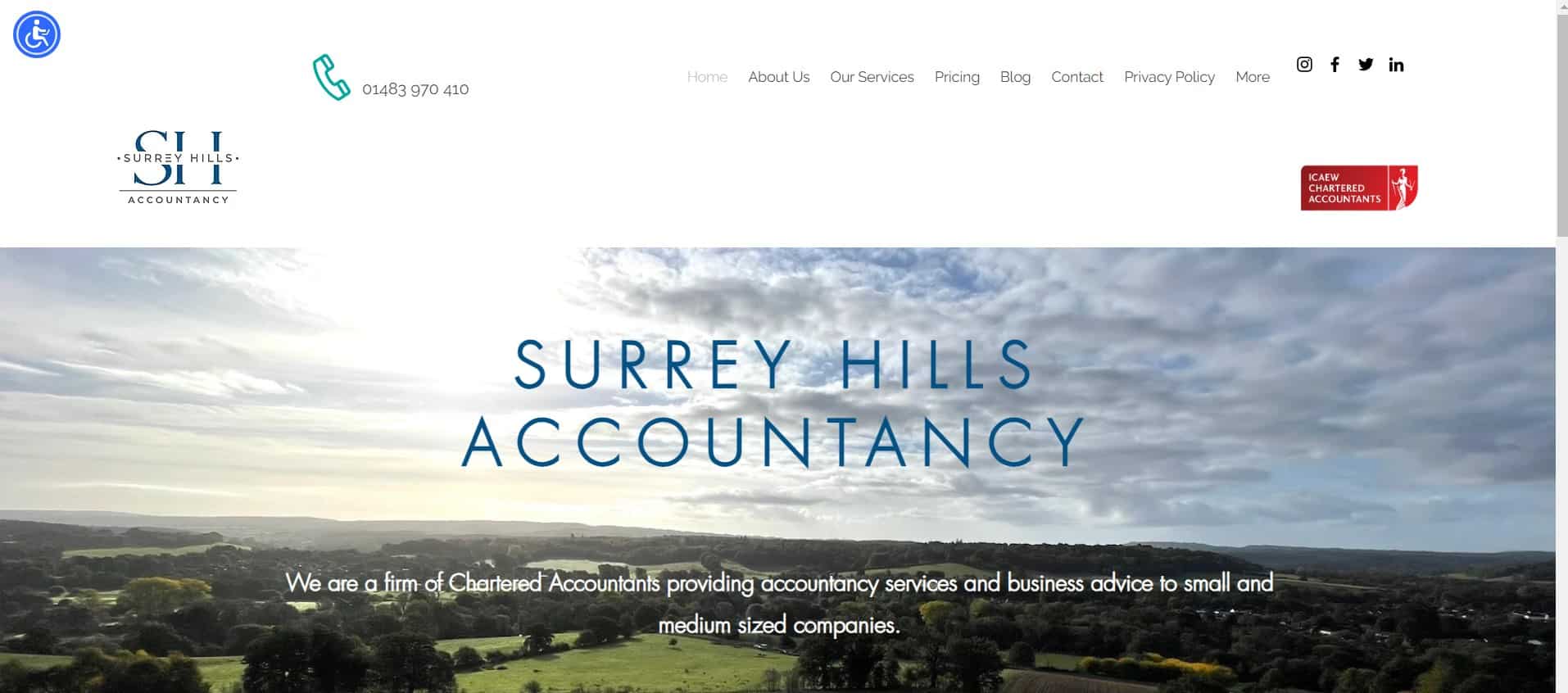 Sample Services:
Allowing analysis of customers by revenue and longevity to enable sales growth

Enhancing the cashflow of your business when considering payment terms given to customers and received from suppliers​

Providing a detailed analysis of costs to ensure optimisation of overheads

Detailing trends to indicate where to spend your time and money

Assisting with all bookkeeping duties

Submission of your annual confirmation statement

Preparation of your annual statutory accounts and corporation tax returns

Production of detailed management accounts

Payroll & CIS production on a monthly basis

P32/P45/P60/P11D/PSA filings to HMRC
AAT licensed: No
ACCA licensed: No
Member of the Institute of Chartered Accountants: Yes 
Sample Reviews: 
"What a fantastic and professional team we found with Surrey Hills Accountancy. Ben and his team have been brilliant, and the work they do is top-notch. They are always happy to answer any questions and clarify anything we don't understand about our accounts. They also give excellent advice to help us grow the business and streamline it. We have worked with other accountants in the past, and I can honestly say that the professionalism, speed and commitment of Surrey Hills Accountancy has been the best so far." — Ehab Shouly
"We would highly recommend working with Surrey Hills Accountancy. Ben, Ellie and the team have been extremely helpful and supportive when opening our new shop in Cranleigh. They have gone above and beyond our expectations and have made a significant difference to how our business operates. We feel more in control of our business and feel completely supported by the team." — Mia Carter
Address:
Gate Cottage, 
Dorking Rd, 
Chilworth, 
Longfrey 
GU4 8RH
Website: 
https://www.surreyhillsaccountancy.co.uk/ 
10. Waite Financial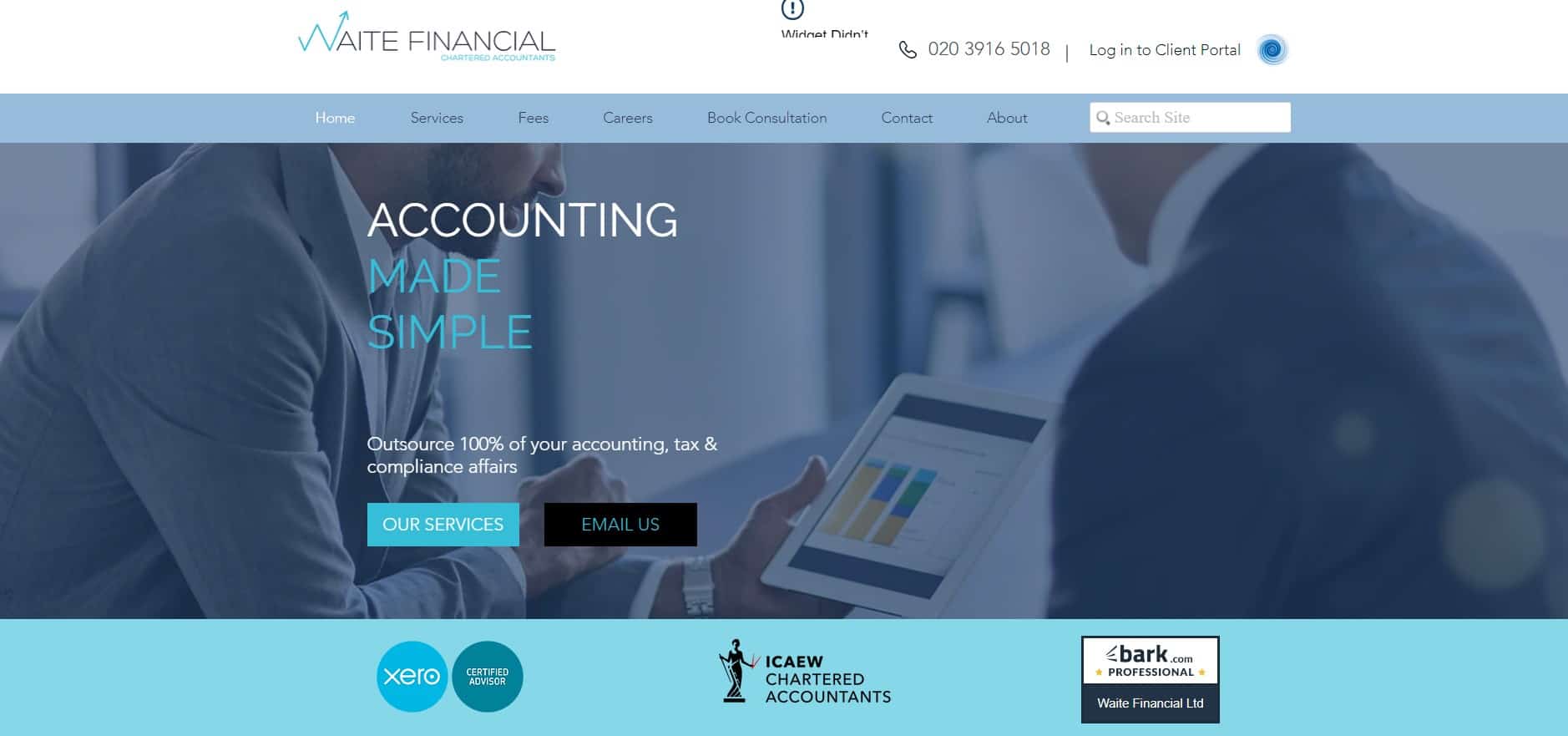 Sample Services:
Prepare accounts in full compliance with the applicable reporting frameworks and company law

Advise on appropriate disclosures and disclosure exemptions

Make all necessary filings with the appropriate bodies

Calculate your corporation tax liability

Make all necessary filings with HMRC

Advise on allowable deductions to reduce your tax bill

Provide tax payment advice

Ensure you are 100% compliant

Manage HMRC on your behalf

Pay As You Earn (PAYE) Service
AAT licensed: No
ACCA licensed: No
Member of the Institute of Chartered Accountants: Yes 
Sample Reviews: 
"Amazing! I've been working with Luke for years now, and he delivers impeccable service. Highly recommended." — Chris Cassidy
"Waite Financial provided me with the answers needed when running a small business in a language that was easily digestible. Many thanks." — Katie Mahoney
Address:
Registered Office: 
167-169 Great Portland Street, 
5th Floor, 
London, 
England
W1W 5PF
Website: 
https://www.waitefinancial.co.uk/ 
11. TaxAssist Accountants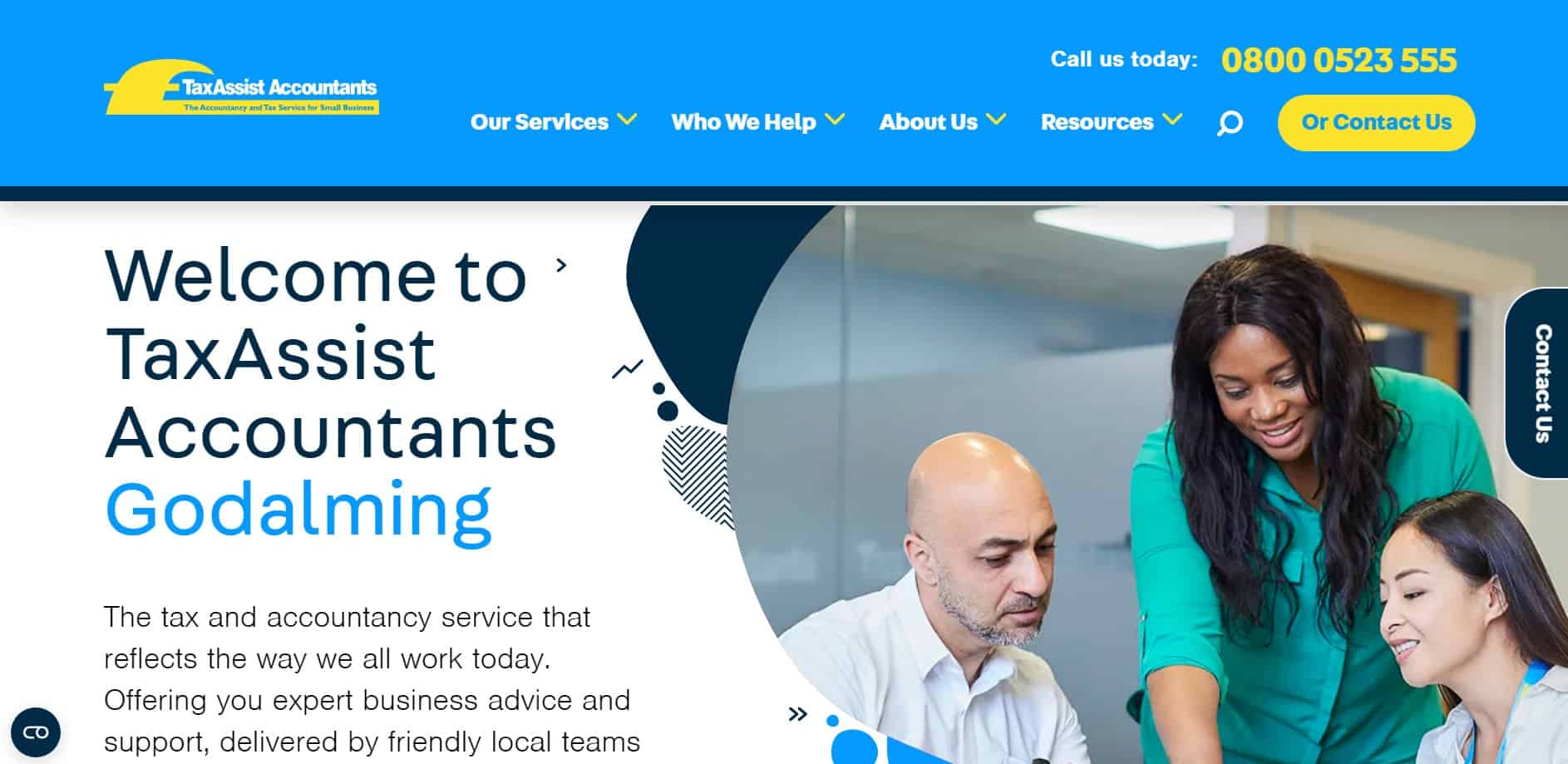 Sample Services:
Self-Assessment Tax Returns

Tax Savings

Corporation Tax

Year-End Accounts

Bookkeeping

Payroll Services

VAT Returns

Capital Gains Tax

Inheritance Tax

Tax Investigations
AAT licensed: No
ACCA licensed: No
Member of the Institute of Chartered Accountants: Yes 
Sample Reviews: 
"As a self-employed TV Producer and director, I've been a client of TaxAssistGodalming for many years. I've always had the friendliest, most efficient, reliable service from them and have absolutely no hesitation in recommending Catherine Hewitt and her excellent team." — Nic Phillips
"I'm very happy with Catherine and her staff at TA Godalming. Service and advice have been very professional and given me the comfort of working on my business while they take care of the reporting/payroll and financial elements. Highly recommended." — Bruce Gould 
Address:
55 St John's St, 
Farncombe, 
Godalming 
GU7 3EH
Website: 
https://www.taxassist.co.uk/accountants/godalming/
12. Shipleys LLP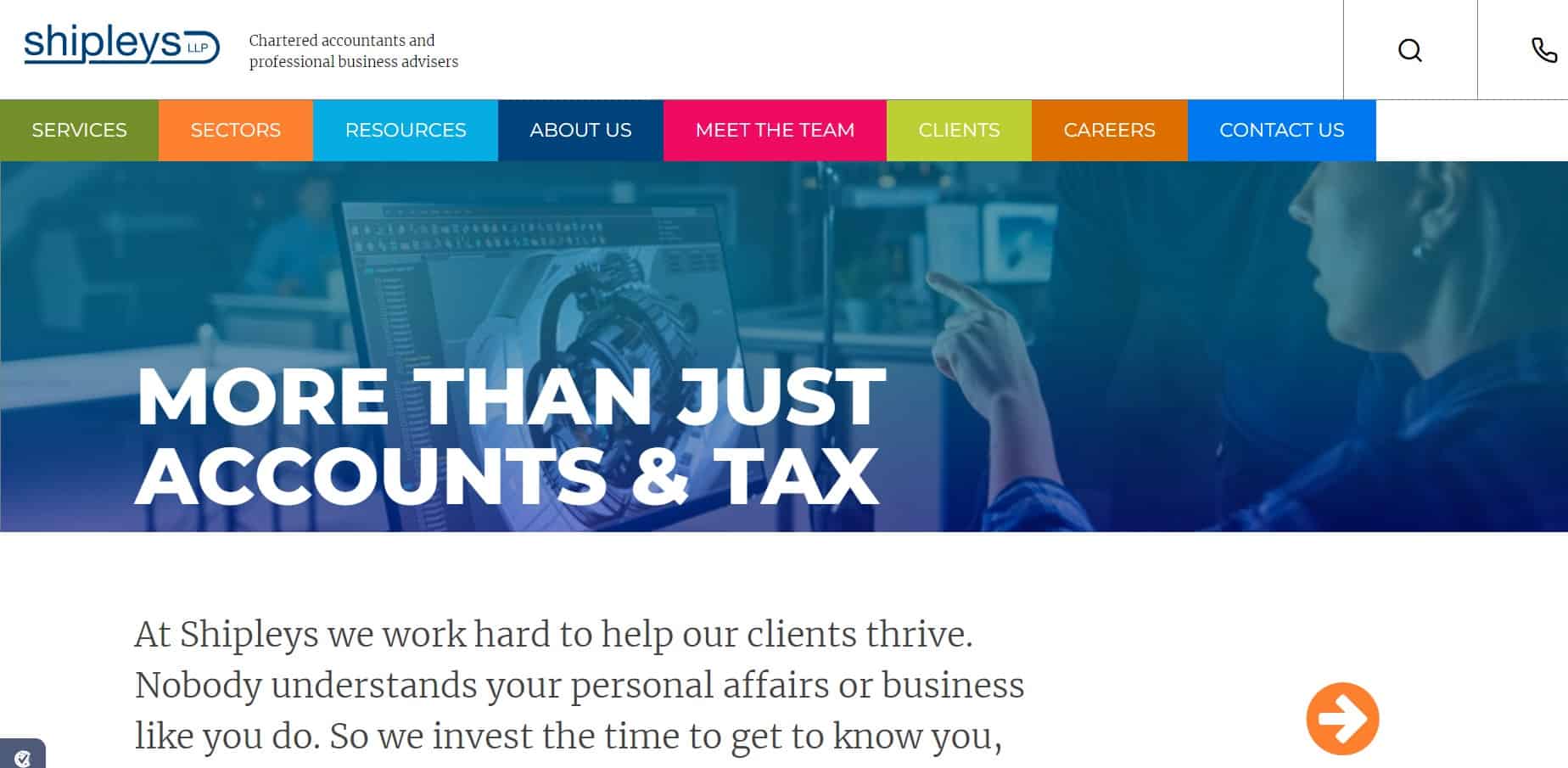 Sample Services:
Accounting and audit

Business tax planning

Capital Markets

Corporate Compliance

Corporate Finance

Fee Protection

Forensic Accounting

HR Consultancy

International Tax

Inward Investment
AAT licensed: No
ACCA licensed: No
Member of the Institute of Chartered Accountants: Yes 
Sample Reviews:
"I have had the pleasure of working with Shipleys a number of times now. Dean Hardy has helped me with my own financial/tax interests as well as my family on a number of occasions. The service I have received from Shipleys/Dean is excellent, and their level of knowledge is far superior to my previous experiences with other companies." — Gump1Gump2
"Shipleys have been doing my personal and business accounting and auditing for more than 20 years.  They have never put a foot wrong and undoubtedly saved me a lot of money.  Their expertise and speedy responses are a vital part of my work." — Andrew Eaton 
Address:
5 Woolsack Way, 
Godalming 
GU7 1XW
Website: 
13. Ashfield Accountancy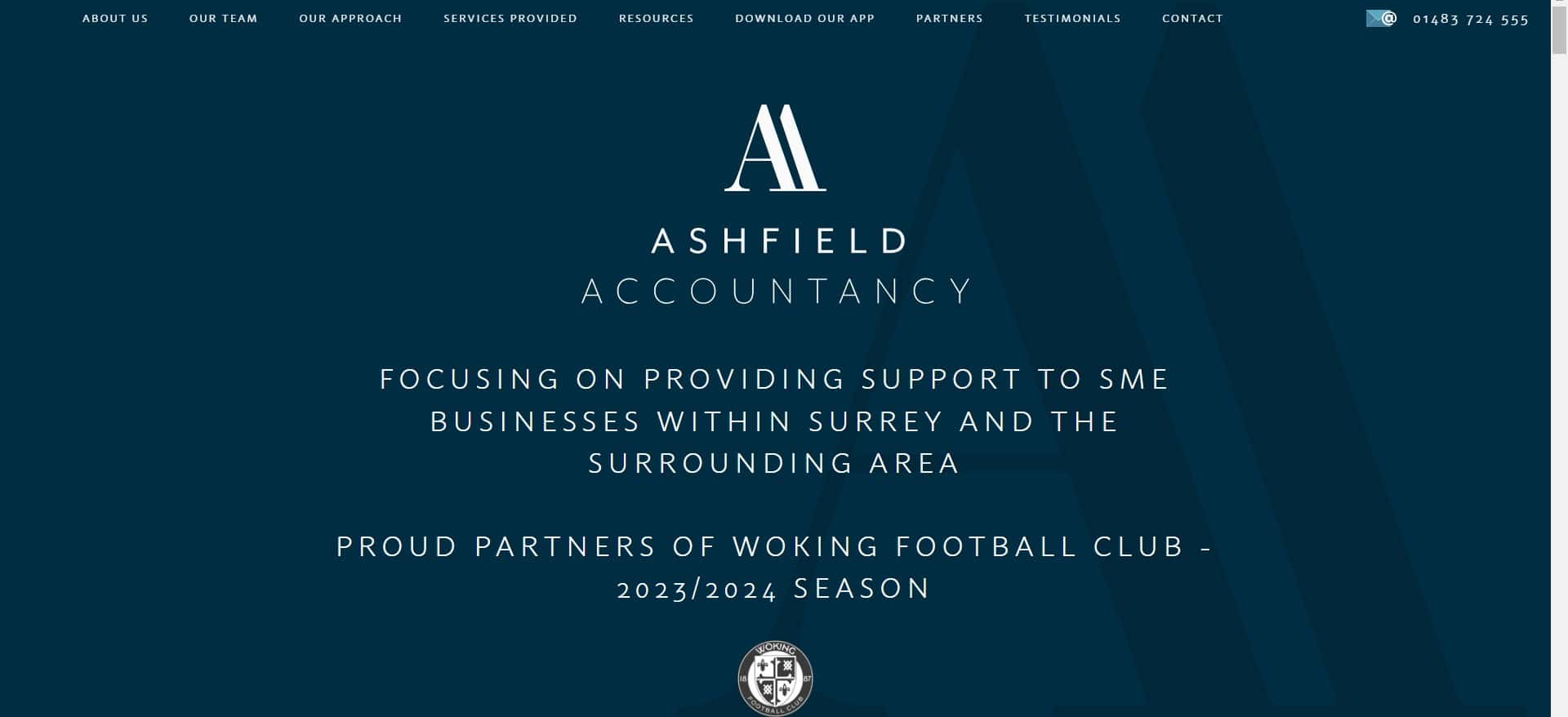 Sample Services:
Annual Accounting

Corporation Tax

Capital Gains Tax

Directors' Self-Assessment Tax Returns

Tax Advice

Bookkeeping

Monthly / Quarterly Management Accounts & VAT

Making Tax Digital Solutions

Cloud Accounting & Software Advice

Payroll & Cis
AAT licensed: No
ACCA licensed: No
Member of the Institute of Chartered Accountants: No
Sample Reviews: 
"From day one, I felt that Ashfield Accountancy was the best option as they contacted me immediately and reassured me that they would have dealt with the problem promptly. They exceeded my expectations, particularly their manager, Szidonia. I highly recommend this company, which is located in Woking town centre." — Antonio Galati
"Prompt, professional, P\precise… Excellent!" — George Harris
Address:
First Floor, 
33 Chertsey Rd, 
Woking 
GU21 5AJ
Website: 
http://www.ashfield-accountancy.co.uk/ 
How did you pick the "best" Birmingham accountants?
We used Google local business data and selected firms with at least 3 reviews, scored 4.8 or higher, and that had a website.
Our dataset included only the 116 closest accounting firms to Guildford city centre.
Moreover, we did not take into account ratings from other review sites. Feel free to get in touch if you think a particular deserving accountant has been overlooked.
How much does an accountant in Guildford cost? 
According to our list of best accounting firms in Guildford, accounting services start at £35/month without VAT for individual entrepreneurs and rise in accordance with the scope of your needs. 
In general, you should first arrange a consultation with the local accountancy expert of the accounting firm to get a quote. During the meeting, the firm will provide you with a proposal covering the fees they charge for the services you are interested in. Some of the firms, for instance, will arrange a tailored fixed fee after they assess your accounting needs.
How can I save money on a Guildford accountant?
If hiring a dedicated accountant is too expensive, you might look into accounting software.
Here are the starting prices for various popular choices in the UK (all prices exclude VAT):
– Quickbooks: £10/month
– Freshbooks: £12/month
– Sage: £12/month
– Zoho: £12/month
– Xero: £14/month
Disclaimer: Businessfinancing.co.uk is a business finance and lending research and information website publisher. We are not a lender, bank, broker and/or other financial institution, and as such, we are not authorised or regulated by the FCA to offer financial advice. We can't recommend any of the products and/or services featured on the site. Companies are ranked in no particular order, and a higher ranking does not imply one company is better than another. We work with FCA-authorised and regulated firms who may pay us a commission for referring you to them, but this has no impact on our content and helps keep this website free to use.