The 10 accountants listed below are the top-rated accounting firms in Worthing based on Google reviews. Firms had to have at least 3 reviews and a score above 4.8 to be included.
Please note that these listings are in no particular order and are based on user reviews only. We can't guarantee the quality of any of the services directly. 
1. CX Accountants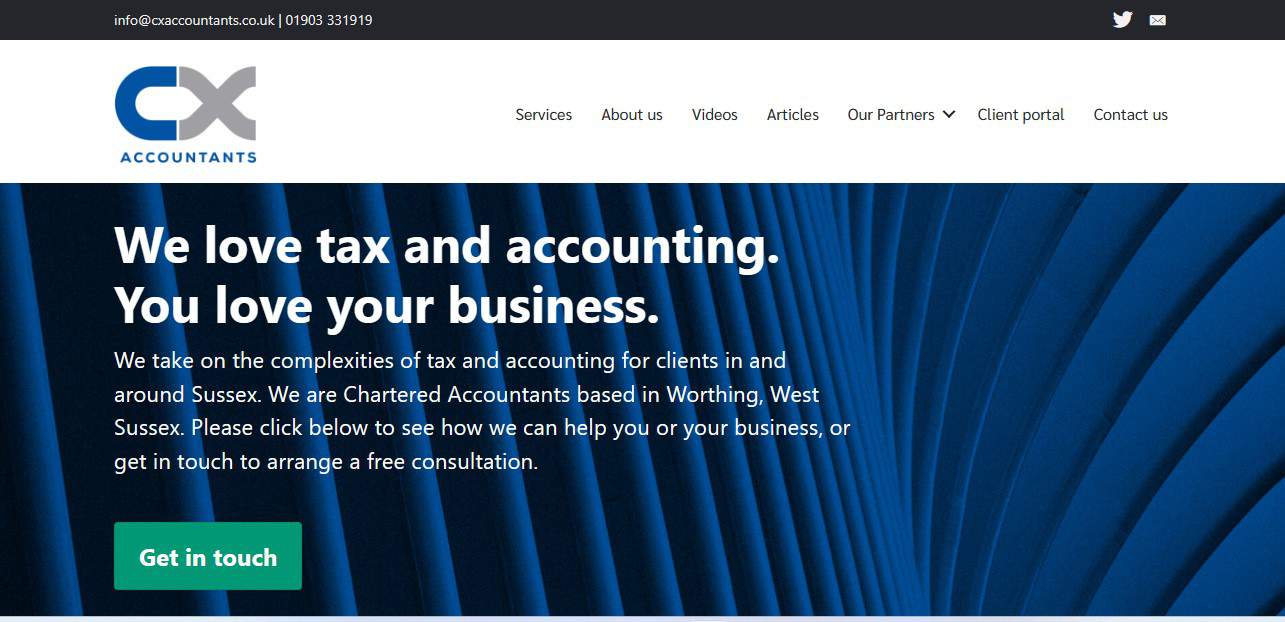 Sample Services:
Trading, Business, and Rental Accounts

Accounts for Companies House and HMRC Support

Xero and Receipt Bank

Corporation Tax and iXBRL
Registering with HMRC for VAT, Corporation Tax, PAYE, Self Assessment

Dividend, Remuneration and Benefits Planning

Self-Assessment for Individuals

Tax Investigation and Enquiry Assistance

Capital Gains Tax

Research and Development Tax Credits
AAT licensed: No
ACCA licensed: No
Member of the Institute of Chartered Accountants: Yes 
Sample Reviews: 
"Carl and his team are absolutely super! I made the switch to CX Accountants last year after receiving a glowing recommendation from a friend, and I could not be more pleased to have them as my accountants. They provide a flawless service, are very knowledgeable and helpful, and always respond at lightning speed when I have a question – a really refreshing experience." — Natasha Bourne
"We've had the pleasure of working with CX Accountants for just over a year and a half. They've massively helped us to grow our business from a revenue, profit and headcount perspective. Carl, Sophie and the team are experts and always provide valuable insight. I would recommend them to anyone!" — Daniel Tunley
Address:
31 Chatsworth Rd, 
Worthing 
BN11 1LY
Website: 
http://www.cxaccountants.co.uk/ 
2. Monetaire Accountants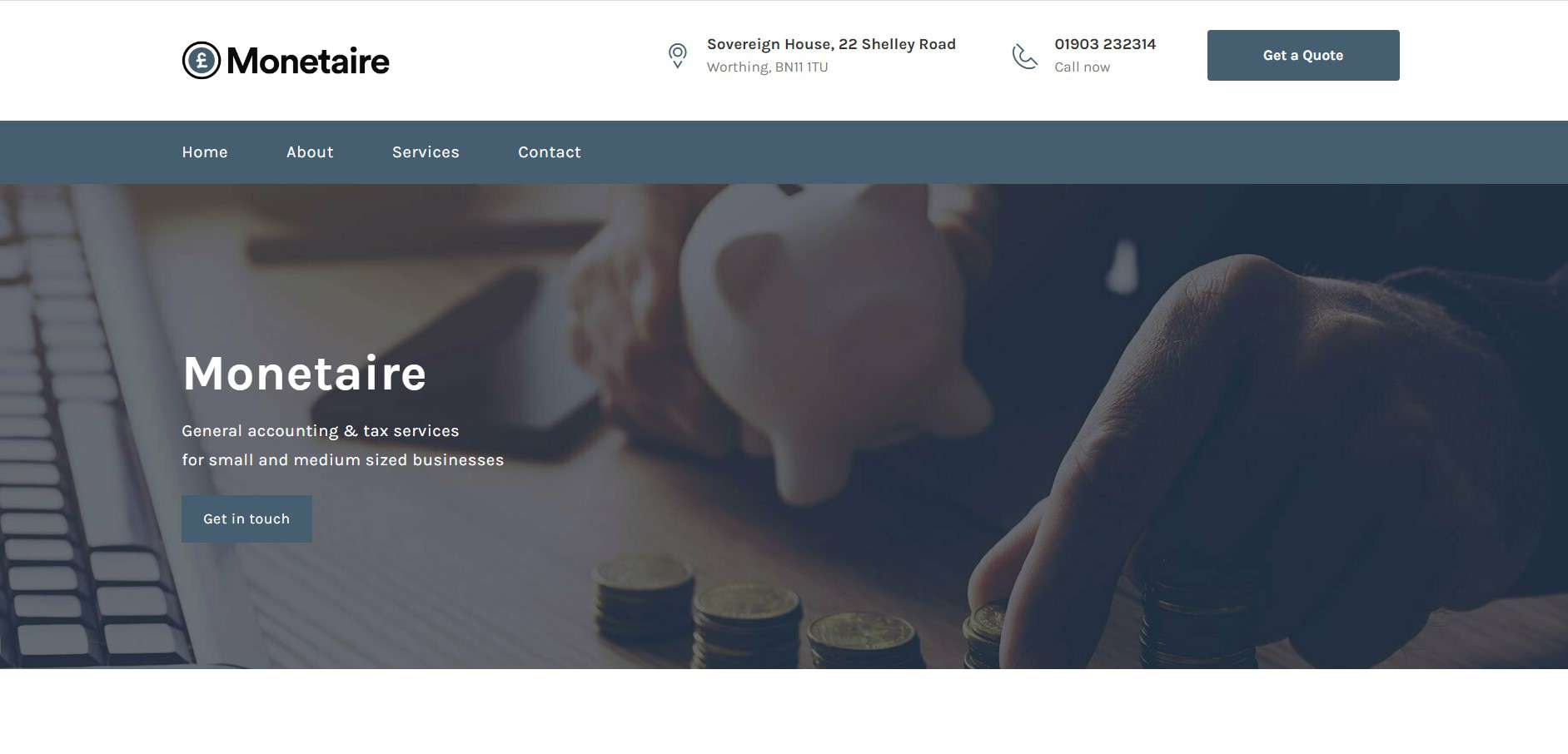 Sample Services:
Monetaire Accountants can help you decide on the most suitable structure for your business – sole trader, partnership, limited liability partnership, or limited company

Prepare a business plan, cashflow projections, budgets, and trading forecasts

Assess the finance requirements, advise on the best sources of finance, and draw up the necessary proposals

Establish a good working relationship with your bank

Complete any registration procedures with Companies House and HMRC

Deal with company secretarial issues

Set up a recording system for your internal use and for complying with statutory requirements

Decide on what computer hardware to buy and help with the installation of accountancy software

Keep on top of bookkeeping, VAT, payroll and other accounting requirements

Help with all aspects of business compliance and administration 
AAT licensed: No
ACCA licensed: Yes 
Member of the Institute of Chartered Accountants: No
Sample Reviews: 
"Monetaire has been our accountant for over 15 years. They are super knowledgeable, friendly, and always there for support and guidance. They have been a fantastic help for us over the last challenging year with support with all the changes like Furlough, etc. Thanks for everything." — A&A Travel 
"Very professional, efficient and friendly service with a great level of experience and knowledge. Always available to give advice and help when needed." — Paul Norris 
Address:
Sovereign House, 
22 Shelley Rd, 
Worthing 
BN11 1TU
Website: 
3. Gator Accounting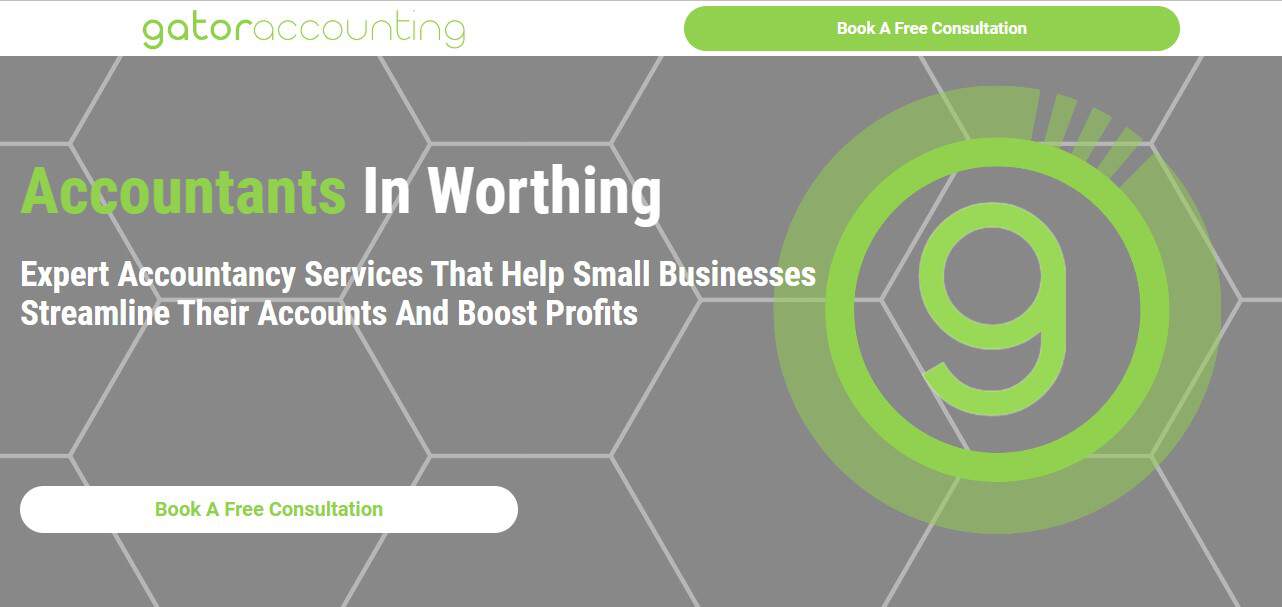 Sample Services:
Limited Company Accounts

Limited Company Tax Return

Self Assessments

Bookkeeping Service

Annual Business Reviews

Vat Returns

Management Reports

Tax Estimates

CIS Returns
AAT licensed: Yes 
ACCA licensed: No
Member of the Institute of Chartered Accountants: No
Sample Reviews: 
"Jake at Gator Accounting has been a fantastic asset to my business. He is always available and answers any questions exceptionally quickly and you never need to worry about any tax or VAT return being late as he is super efficient. I am extremely happy to recommend Jake and Gator Accounting to anyone who is running their own business and/or limited company." — Donna Newbold
"Couldn't recommend Jake and Gator highly enough. Always there when I need him, whether that's an email or to meet up for coffee, and treats our accounts with the highest level of quality and professionalism." — Harry Latos 
Address:
The Mill Building, 
31 Chatsworth Rd, 
Worthing 
BN11 1LY
Website:
4. MMS Accountants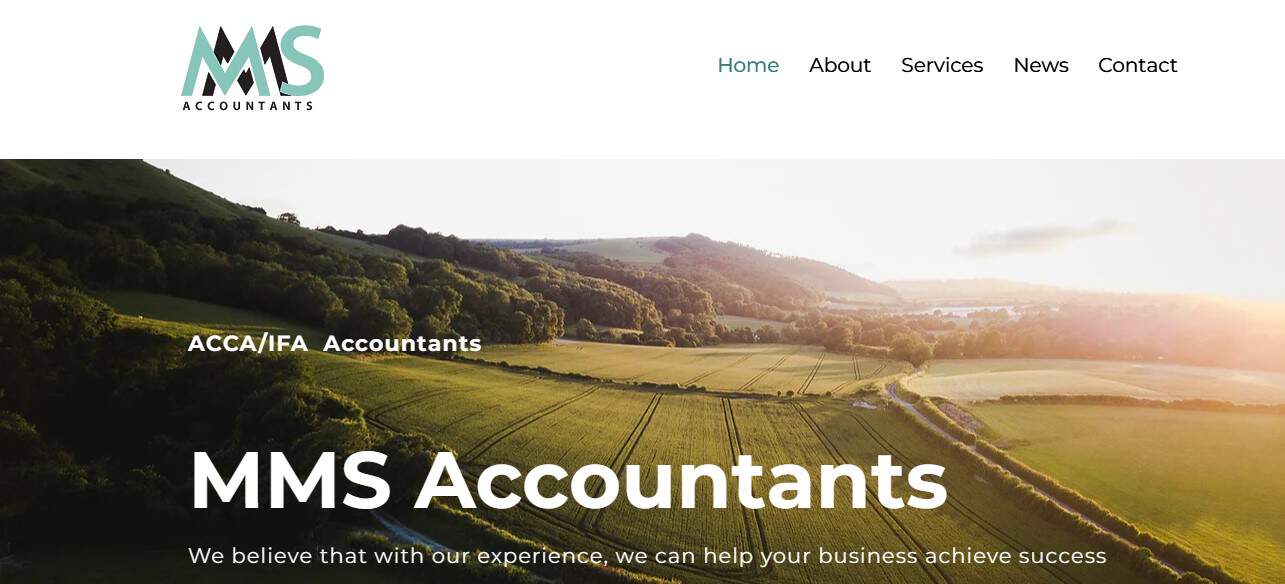 Sample Services:
Accountancy Services

Bookkeeping Services

Business Start-Up

Payroll Services

VAT Returns

Sole Traders and Partnership Support

Taxation

Business Planning

Management Accounts

Cash Flow Management
AAT licensed: No
ACCA licensed: Yes 
Member of the Institute of Chartered Accountants: No
Sample Reviews: 
"Working with Mo at MMS Accountants has been a great experience. Mo has provided bookkeeping and accountancy services to my various businesses for over 9 years. I have always found her to be very knowledgeable & professional. Easy to work with. Highly recommended! Thanks, Mo!" — Barry Dunlop
"Couldn't speak higher of Mo. Having used a few accountants in London, it's a completely different service. MMS is a personalised, courteous, and very professional service. Mo explained everything I needed, guided me through all the work she was doing and why, and further helped me by giving me best-practice guidance. Couldn't recommend him more; I'm a happy customer." — Connor Harry 
Address:
325A Goring Rd, 
Goring-by-Sea, 
Worthing 
BN12 4NX
Website:
5. THL Accountancy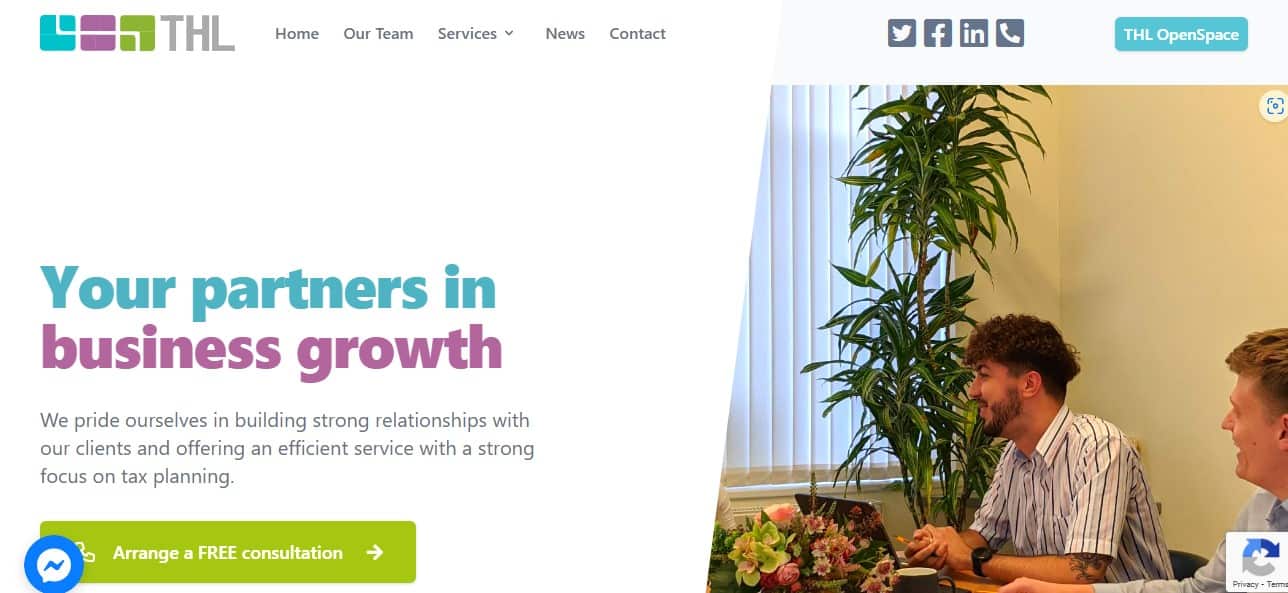 Sample Services:
Personal and Partnership Tax Returns

Inheritance Tax

Capital Gains Tax

Trust and Estates

Extracting Business Profits in a Tax-Efficient Way

Stamp Duty

Company Payroll

Pension Administration

Outsourced Finance Management

Systems and Control Reviews
AAT licensed: No
ACCA licensed: No
Member of the Institute of Chartered Accountants: Yes 
Sample Reviews:
"I cannot praise Paul and his team highly enough. Not only have they done sterling work for both myself and a number of my clients, but they are always friendly and welcoming and happy to explain potentially complex issues in simple jargon-free language." — Geoff Mills
"Friendly, informative, quick; they provided me with a great service when setting up my and managing business account and end-of-year tax statements. Highly recommended; I will be using them going forward." — James Herbert 
Address:
303 Goring Rd, 
Goring-by-Sea, 
Worthing 
BN12 4NX
Website: 
http://www.thlaccountancy.co.uk/ 
6. Angel Bookkeeping & Payroll Services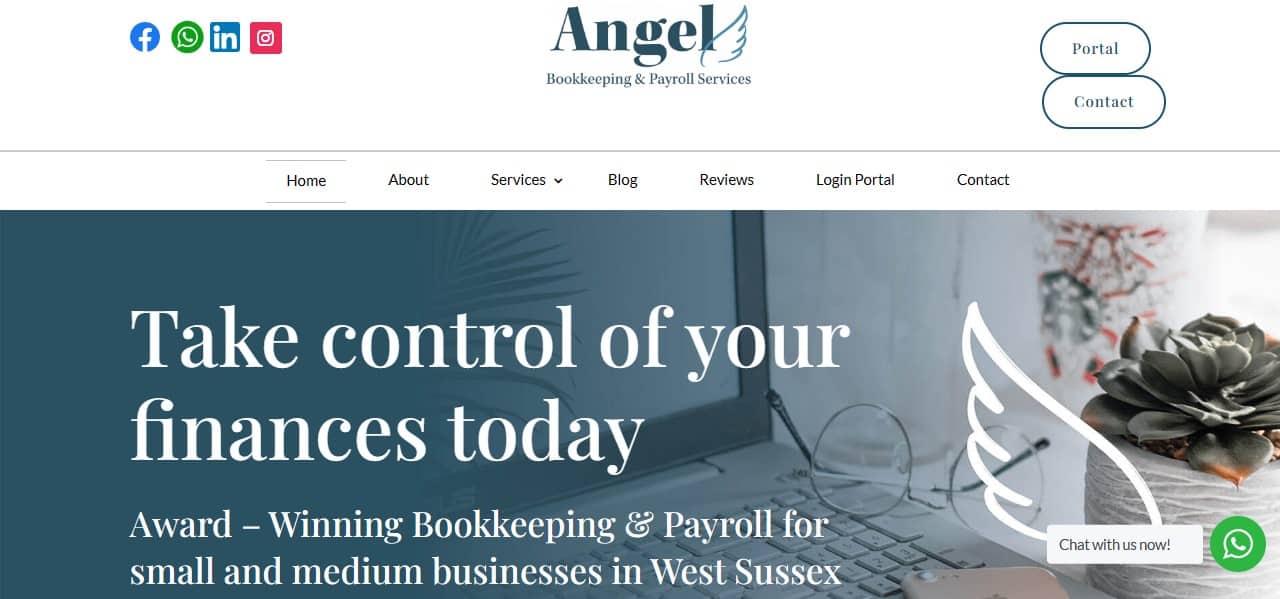 Sample Services:
Angel Bookkeeping & Payroll accountants can help you organise and record your receipts, invoices and expenses

Prepare your bank reconciliation

Monitor your sales, purchases and nominal ledger

Provide customised financial summaries and reports

Offer a monthly business review performance – including how to save money

Give you a clear picture of your future income 

Plan ahead and budget accurately

Make sure your customers pay you on time

Answer your cash flow questions

Reduce your need for borrowing to cut down on repayment fees
AAT licensed:  No
ACCA licensed: No
Member of the Institute of Chartered Accountants: No
Sample Reviews: 
"I have used a number of payroll services over the years, and Aggie is by far the most efficient.  She responds promptly during a long working day.  Her attention to detail is excellent, and her work is as accurate as you would expect from such an important service." — Alan Waite
"Being in my first year of owning a business – Aggie has been invaluable to me. While she sorts all the accounts side, I can continue to be busy with getting on with the day-to-day tasks. She is very efficient & makes everything so simple for me to follow. Thank you, Aggie." — Netti Bloomfield
Address:
89 Hillside Ave, 
Worthing 
BN14 9QT
Website: 
http://www.angelbookkeeping.co.uk/ 
7. Tax Island
Sample Services:
Annual Accounts

Payroll Services

CIS Services

Bookkeeping Services

VAT Returns

Business Start-Up

Tax Returns

Management Accounts

Accounting Software

Accounts Preparation
AAT licensed: No
ACCA licensed: No
Member of the Institute of Chartered Accountants: No
Sample Reviews: 
"This office outshines all with their stellar accounting services. Their team's professionalism, precision, and speedy service were commendable. In a maze of financial complexities, they provided clarity and peace of mind. An unequivocal recommendation for anyone seeking top-tier accounting assistance." — Mohamed Elgouhary
"Mo is amazing, always responds so quickly and helps me where he can with any questions I have; he is so knowledgeable, kind, friendly and outstanding at accounting. I always recommend the Tax Island to as many people as I can! I wouldn't trust anyone else!" — Jessica Pettitt
Address:
The Mill Building, 
31 Chatsworth Rd, 
Worthing 
BN11 1LY 
Website:
8. SJB Consultants UK Ltd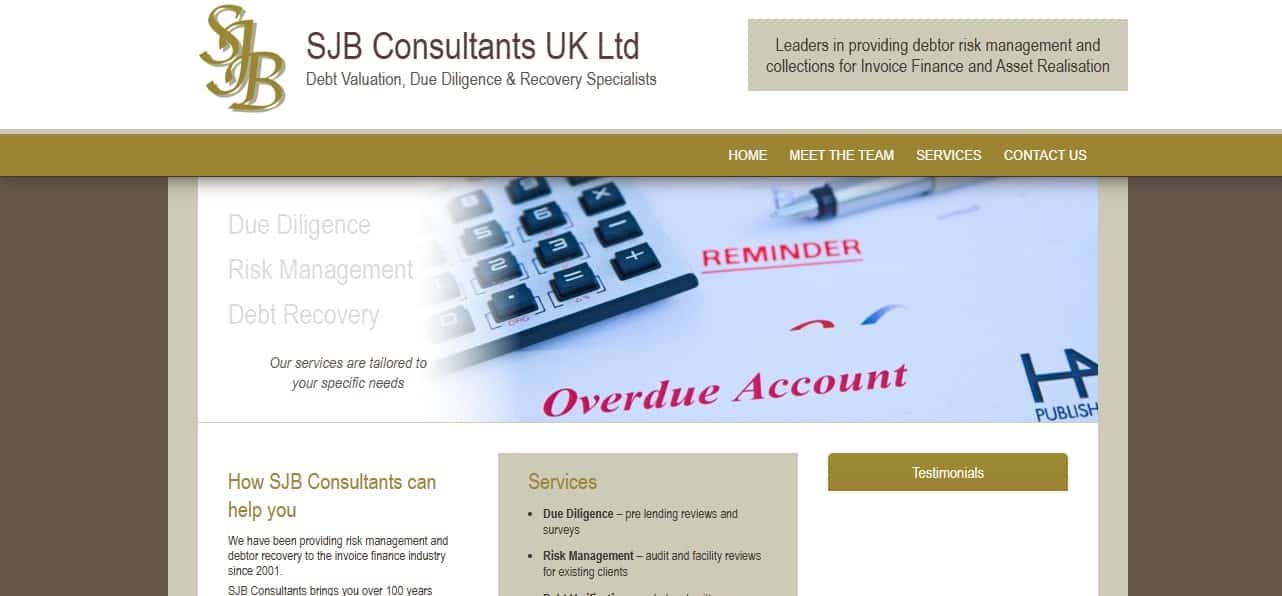 Sample Services:
Due Diligence

Risk Assessment and Management

Debt Verification

Asset Recovery

Credit Control

Statistical Analysis

Financial and Cash Flow Analysis

Audit Services

P&M Assessment

Cash Flow Management
AAT licensed: No
ACCA licensed: No
Member of the Institute of Chartered Accountants: No
Sample Reviews:
"Stephen helps individuals grow their skill set by reminding them of the basics, giving them further tips and skills and then by holding them to account.  He is an integral part of our training setup, and we highly recommend him as you will notice the positive impact on your business immediately." — Nock Deighton
"I have had dealings with Stephen recently, and his knowledge, kind nature and helpfulness are amazing. Within a few minutes, provided me with more helpful tips and advice than I would expect from an hours meeting.  It is a very wise move to connect with them, and I am sure you will receive a lot of value from it. Thank you." — David Turnbull, Bespoke Estate Agent 
Address:
10 Offington Ave, 
Worthing 
BN14 9PE
Website: 
http://www.sjb-consultants.com/ 
9. Carpenter Box Financial Advisers
Sample Services:
Cash Management

Estate Planning

Investment Planning

Later Life Planning

Retirement Planning

Protection Planning

Separation and Divorce Guidance

Sustainable Investing

Tax Planning

Cash Management
AAT licensed: No
ACCA licensed: No
Member of the Institute of Chartered Accountants: No
Sample Reviews: 
"My wife and I wanted to test the plausibility of our pension-related financial plans.  We were really very pleased with the way Gill helped us by going through figures and suggesting some points we hadn't considered. It allowed us to proceed with confidence. I certainly will be going back to Gill for more help and advice in the future." — T.P. 
"My mum and I recently sought the advice of Gill Lynes on a number of topics following the passing of my dad in 2021. It's been a personally and financially difficult time for all of us since and Gill handled the situation and our queries with care, sensitivity and professionalism. We've now got a plan, and we're all feeling much more settled and confident about our financial future." — Emma Pearson 
Address:
First Floor, Amelia House, 
201 Crescent Rd, 
Worthing 
BN11 1RL
Website: 
10. AIMS Accountants For Business – Daniel Thomas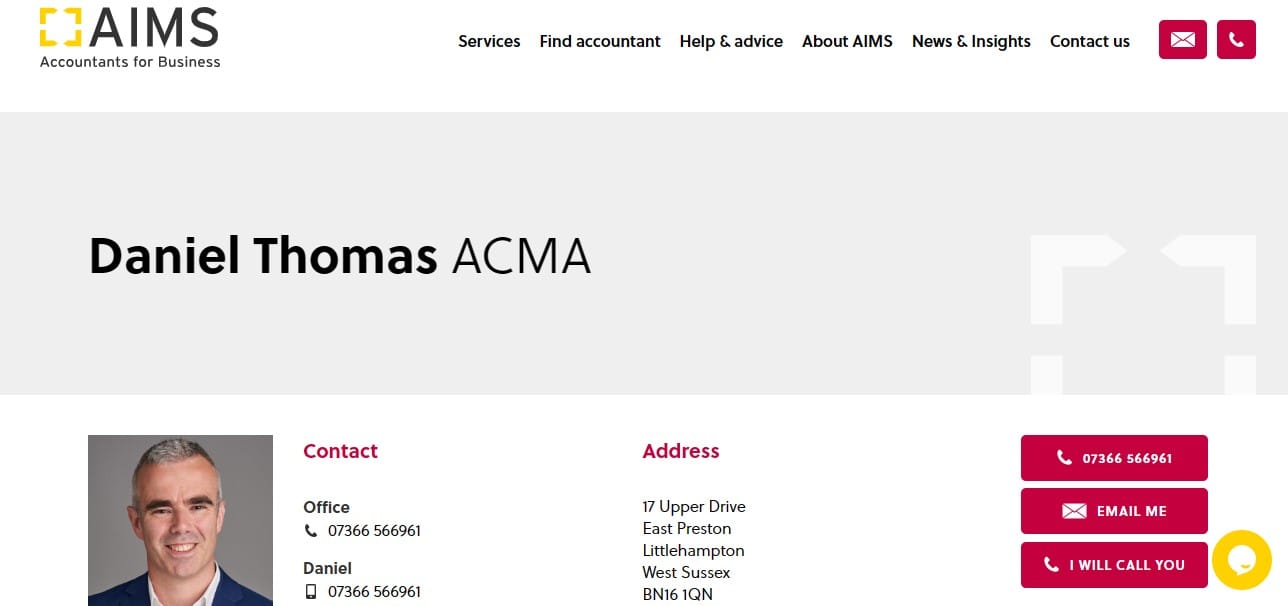 Sample Services:
Income Tax 

Self-Assessment

Accounting Services

Bookkeeping Services

Value Added Tax (VAT)

Business Advice and Support

Capital Gains Tax (CGT)

National Insurance Contributions (NIC)

R&D Tax Credits

Tax Advice
AAT licensed: No
ACCA licensed: No
Member of the Institute of Chartered Accountants: No
Sample Reviews: 
"I started a new business last year, and Daniel was recommended. I would not hesitate to do the same. His advice has always been spot on. Daniel provides me with my payroll and tax liability information already calculated and the relevant account information provided, making it very simple for me to set up." — Michael Carslake
"I highly recommend Daniel. After starting my business earlier this year, he has been extremely helpful in guiding me through all the requirements and explaining all the necessary processes. I have found him readily available to answer any queries I have in a friendly yet professional manner." — Wayne Bannerman
Address:
17 Upper Dr, 
East Preston, 
Littlehampton 
BN16 1QN
Website: 
https://www.aims.co.uk/accountants/daniel-thomas 
How did you pick the "best" Worthing accountants?
We used Google local business data and selected firms with at least 3 reviews, scored 4.8 or higher, and that had a website.
Our dataset included only the 94 closest accounting firms to Worthing city centre.
Moreover, we did not take into account ratings from other review sites. Feel free to get in touch if you think a particular deserving accountant has been overlooked.
How much does an accountant in Worthing cost?
According to our list of best accounting firms in Worthing, accounting services start at £35/month without VAT for individual entrepreneurs and rise in accordance with the scope of your needs. 
In general, you should first arrange a consultation with the local accountancy expert of the accounting firm to get a quote. During the meeting, the firm will provide you with a proposal covering the fees they charge for the services you are interested in. Some of the firms, for instance, will arrange a tailored fixed fee after they assess your accounting needs.
How can I save money on a Worthing accountant?
If hiring a dedicated accountant is too expensive, you might look into accounting software.
Here are the starting prices for various popular choices in the UK (all prices exclude VAT):
– Quickbooks: £10/month
– Freshbooks: £12/month
– Sage: £12/month
– Zoho: £12/month
– Xero: £14/month
Disclaimer: Businessfinancing.co.uk is a business finance and lending research and information website publisher. We are not a lender, bank, broker and/or other financial institution, and as such, we are not authorised or regulated by the FCA to offer financial advice. We can't recommend any of the products and/or services featured on the site. Companies are ranked in no particular order, and a higher ranking does not imply one company is better than another. We work with FCA-authorised and regulated firms who may pay us a commission for referring you to them, but this has no impact on our content and helps keep this website free to use.