NatWest Invoice Finance User Reviews
Review Summary
0.0 out of 5 stars (based on 0 reviews)
Recent Reviews
There are no reviews yet. Be the first one to write one.
Submit a Review
NatWest is a high street bank in England and Wales that has been operating since 1968, and in 2000 it became part of RBS Group. They offer personal and business banking through their extensive branch network of 960 branches and online banking.
They provide a wide range of business banking and finance products which include current and savings accounts, loans, credit cards, mortgages, invoice finance, asset finance and trade finance.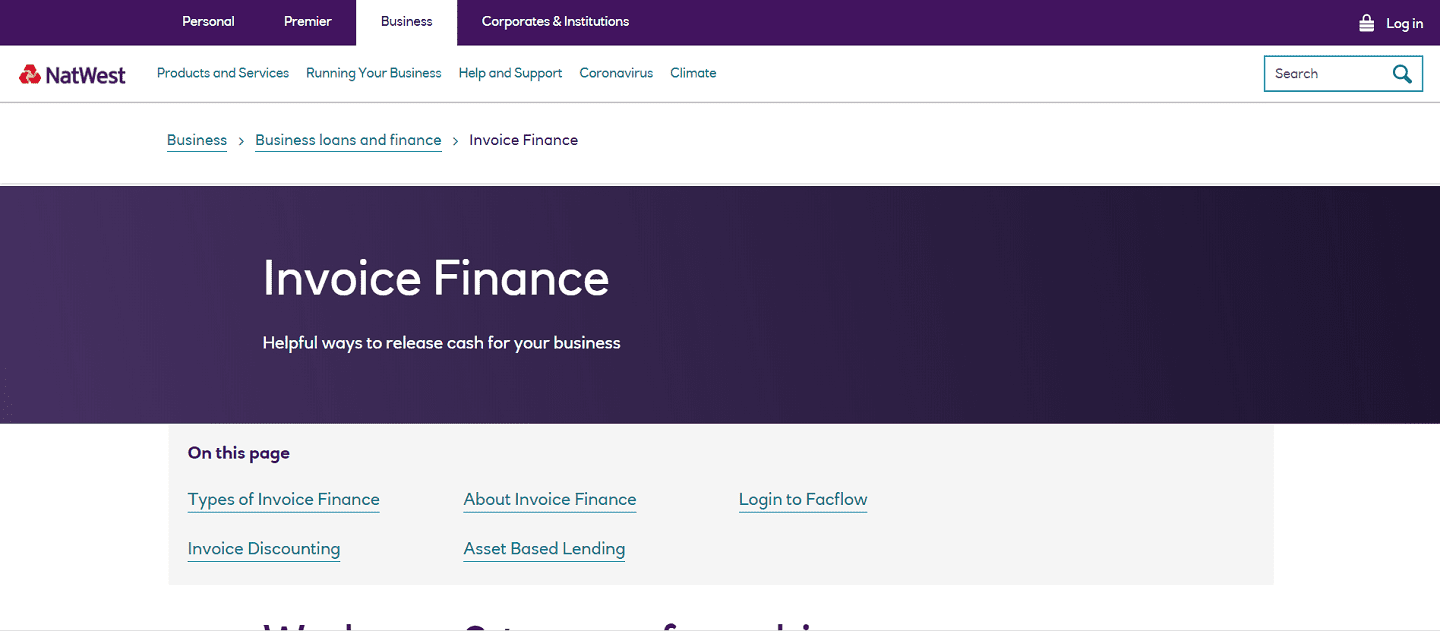 NatWest Invoice Finance Options
NatWest offers invoice discounting that enables businesses to unlock the value of their unpaid invoices and repay the loan when the customer pays the invoice. The facility offers:
Unlocking up to 90% of invoice values
Receive funds within 24 hours
Full control of sales ledger management
Confidential service
Available in GBP, USD and EUR
Online account management to manage invoices and payments
Dedicated Relationship Manager
The facility grows with your business
Discount margin is applied to each transaction
A service charge is an annual fee payable monthly
Service is provided by RBS Invoice Finance Limited
NatWest Invoice Finance Eligibility
NatWest's invoice discounting is only available to businesses that have a turnover above £300,000, need to have established credit control and robust ledger systems. They also need to be happy to use their debtor book as security.
Businesses must also raise invoices to other businesses on credit terms and they need to commit their whole sales ledger.
NatWest Invoice Finance Rates
NatWest doesn't disclose its rates for invoice discounting but states that charges are made up of a discounting fee applied to each transaction and a service charge which is a monthly fee for accessing the service. An additional annual fee applies to non-sterling currencies of £1,250.
NatWest Invoice Finance Calculator
NatWest doesn't have an invoice finance calculator.
NatWest Invoice Finance Reviews
NatWest features on most of the leading customer review sites and these sites predominantly rate them overall as poor. Trustpilot provides the greatest number of reviews and the lowest overall score with 84% of reviewers rating them as bad. The reviewers' comments are largely negative and include long phone wait times, poor communication, branch reductions, internet banking interface issues, problems accessing their account, issues dealing with the complaints and fraud teams.
The scores on Reviews.co.uk and Review Centre are low although a bit higher than Trustpilot and only 13% of Reviews.co.uk and 19% of Review Centre reviewers would recommend NatWest. The reviews on Smart Money People are slightly higher rated but they are still only average.
A customer survey by Which? rated them as mid-range in terms of the banks included with a customer score of 67%. Aspects of their service were rated out of 5 with telephone banking, online banking, customer service, communication, mobile app and benefits all receiving 4 out 5. They scored 3 out of 5 for their handling of complaints and transparency of charges, and just 2 out of 5 for branch service.
Trustpilot – 1.4/5 (based on 3,588 reviews)
Google Reviews – no reviews
Reviews.co.uk – 1.57/5 (based on 345 reviews)
Review Centre – 1.7/5 (based on 274 reviews)
Smart Money People – 2.66/5 (based on 80 reviews)
Which? – 67% Which? Customer Score
How To Apply For A NatWest Invoice Finance?
If you want to apply for invoice discounting from NatWest you can enquire online or existing customers can talk to their relationship manager.
Pros
Experienced provider offering a variety of finance products
A facility that can grow with your business
Provides invoice finance in 3 currencies
Cons
Only offers invoice discounting
No rates are disclosed
Customer reviews are poor
Website: NatWest Invoice Finance