The Royal Bank of Scotland is part of The Royal Bank of Scotland Group plc, not to be confused with the Bank of Scotland, which is a subsidiary of Lloyds Banking Group. The Royal Bank of Scotland offers current accounts, borrowing, and saving products to small businesses throughout the UK.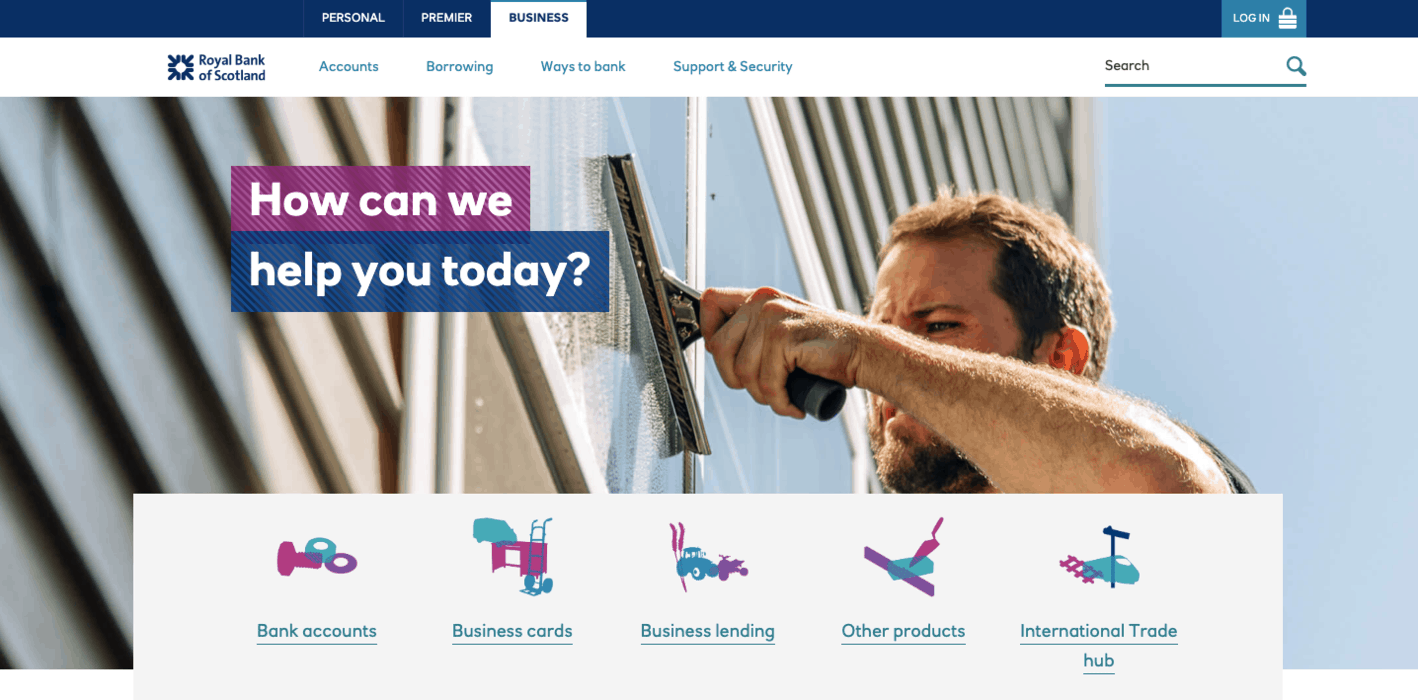 Royal Bank of Scotland Business Banking Services
Current Accounts
There are three business bank accounts available from the Royal Bank of Scotland – the Startup account (for businesses trading for under 12 months), Business account for more established businesses, and Community account for non-profits. Customers can bank anywhere using the website or app. There is no minimum monthly fee for their accounts, you just pay for what you use. New businesses can benefit from 24 months of free everyday banking.
Savings account
Instant access, notice, and fixed-term savings accounts are available. You don't need a minimum deposit to open an instant access or notice account, but the fixed account requires a minimum opening balance of £100,000, and there isn't a maximum balance on any of the accounts. With the notice account, you can access cash within 35 days. The fixed-term account is for 12 months with no early withdrawals.
They also offer client account management savings accounts for single and multiple clients.
Overdrafts
Business customers pay 6.66-6.77% Representative EAR (variable) on arranged overdrafts up to £25,000. The arrangement fee varies depending on the overdraft limit, charged at £50-150 or 1.5% depending on the overdraft amount.
Business finance and loans
Borrow from £1,000 to £50,000, and repay over 1-7 years. Interest rates are fixed and there are no penalties for early repayment.
More On RBS Business Loans & Finance
RBS FacFlow
RBS FacFlow is an online invoice factoring service that allows you to release cash tied up in unpaid invoices.
Royal Bank of Scotland Reviews and Ratings
Trustpilot reviewers are mainly critical of the Royal Bank of Scotland with 87% rating them as 1/5, commenting on poor customer service, lack of helpfulness, and out of date processes.
Reviews.co.uk only has three reviews, but they're mainly complimentary. Smart Money People is largely positive – many have never had any problems with account management and find RBS easy to deal with, while others think RBS has lost the personal touch and advisors are more difficult to deal with.
On Which?, RBS scores 4/5 for online banking, and 3/5 for transparency of charges, mobile app and communication. They also score 2/5 for customer service, service in branch, telephone banking and complaint handling.
RBS ranked 12th in a list of the 14 largest business current account providers for overall service quality in an independent survey.
In the same list of 14 business current account providers, RBS also ranked 7th for online and mobile banking services, 11th for overdraft and loan services, 7th for relationship and account management, and 11th for service in-branch.
Trustpilot –  1.5/5 (based on 555 reviews)
Reviews.co.uk – 3.67/5 (based on 3 reviews)
Smart Money People – 4.04/5 (based on 431 reviews)
Which? – 61% Which? Customer Score
Pros
24 months' free banking for new businesses.
Range of products with different perks and features.
Current account scored well for quality of mobile banking in an independent survey.
Cons
Extra charges for many everyday account transactions.
You'll need to deposit at least £100,000 to take advantage of the fixed term savings rates.
Poor ratings across various review sites.
Website: Bank of Scotland Business Banking