The Royal Bank of Scotland is part of The Royal Bank of Scotland Group plc. The bank recently changed its name to NatWest Group and offers many of the same products. This won't affect branches in Scotland that will retain the Royal Bank of Scotland name. The bank offers loans and business finance, current accounts, and saving products to small and large businesses throughout the UK.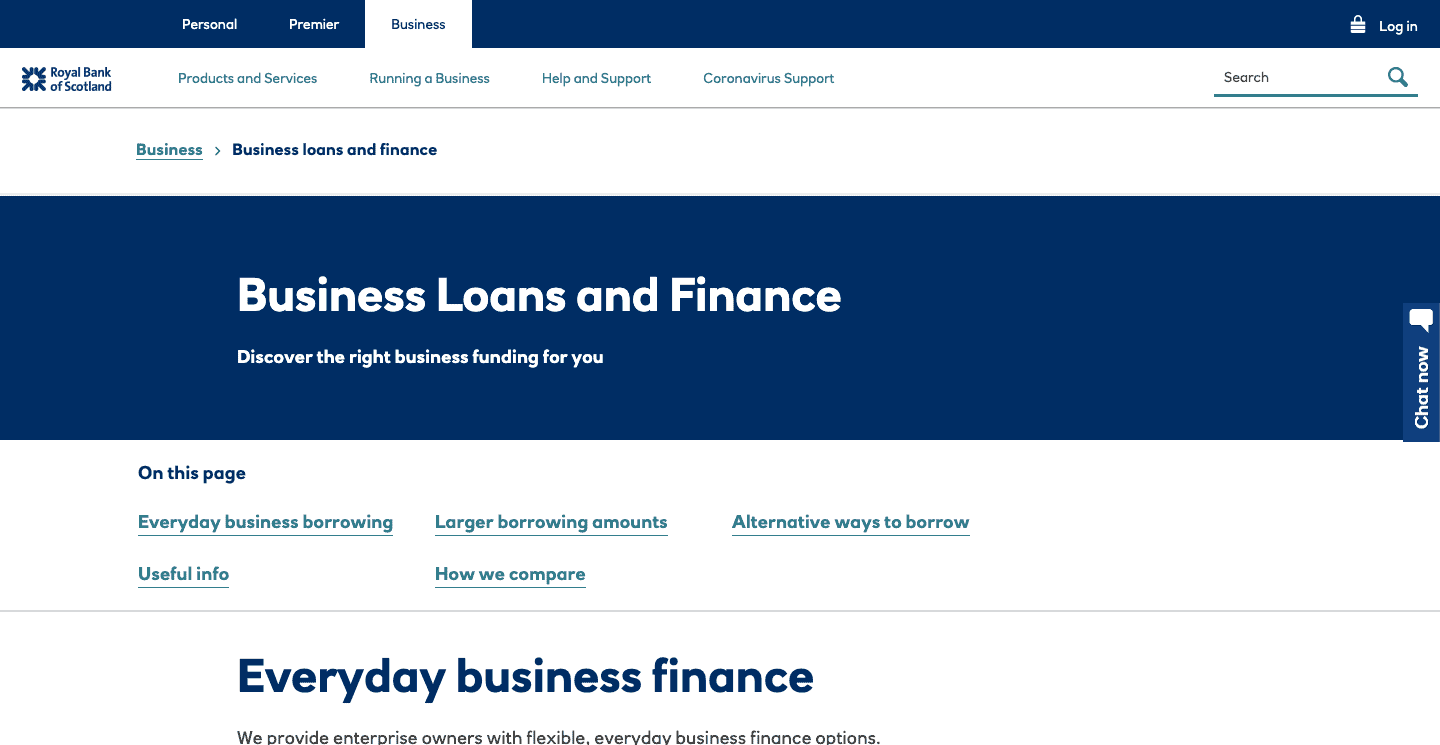 Royal Bank of Scotland Business Finance
Business loans
Businesses can borrow from £1,000 up to £50,000 through Small Business Loan over 1-7 years (sometimes up to 10 years) with a fixed interest rate. They also offer the government's Recovery Loan Scheme for businesses affected by the Coronavirus which provides loans from £25,050 to £10 million on terms up to 6 years.
Larger businesses can borrow commercial finance £25,001 to £10 million with fixed or flexible terms on terms from 3 to 15 years.
Business overdrafts
Existing business customers can access an arranged overdraft of up to £50,000 unsecured. An arrangement fee of 1.5% or a fee of £50 to £150 fee is applied to overdrafts depending on the amount. Fees and interest rates for larger overdrafts will be confirmed on application. The overdraft limit will be reviewed every 12 months.
Business credit card
Royal Bank of Scotland offers a range of business credit cards and charge cards providing up to 56 days of interest-free credit and different interest rates depending on the product.
Commercial mortgages
Royal Bank of Scotland offers commercial mortgages, property development finance and investment that supports businesses to make investments into properties for their own business use rental purposes and refurbishment. The terms and rates on these products vary.
Invoice finance
Royal Bank of Scotland has a range of working capital products for businesses to release cash tied up in invoices or assets, including Invoice Discounting and Invoice Factoring which can release up to 90% of your invoice value, and Asset Based Lending.
Trade finance
Financing options are available to businesses trading internationally and importing and exporting, including:
Bonds, Guarantees & Standby Letters of Credit
Letters of Credit
Documentary Collections
Royal Bank of Scotland Reviews and Ratings
Royal Bank of Scotland's online reviews are mainly negative or average. 87% of Trustpilot reviewers rate the service 1/5, commenting on slow waiting times and poor customer service. Some have had issues with their accounts being blocked without warning. There are only three Reviews.co.uk reviews but they're mainly positive.
Smart Money People reviews are spread across the bank's products and services and are largely complimentary, but there are still customers unhappy with the service they've received, especially during the Coronavirus crisis.
On Which?, RBS scores 4/5 for online banking, 3/5 for mobile app, communication and transparency of charges, and 2/5 for service in-branch, customer service, telephone banking, complaint handling and account benefits.
RBS ranked 11th in a list of the 14 largest business current account providers for SME overdraft and loan services in an independent survey. The bank also ranked 12th for overall service quality, joint 7th for online and mobile banking services, 7th for relationship/account management, and 11th for service in branches and business centres.
Royal Bank of Scotland adopted the NatWest name in July 2020, losing its RBS branding. According to a report from BBC News, this is unlikely to make much difference to customers. RBS' business finance products are identical to NatWest's and are provided by the same organisation.
Trustpilot –  1.5/5 (based on 555 reviews)
Reviews.co.uk – 3.67/5 (based on 3 reviews)
Smart Money People – 4.04/5 (based on 431 reviews)
Which? – 61% Which? Customer Score
Pros
Decent choice of cards, loans, and finance available.
Finance is suitable for small and large businesses.
Cons
The majority of online reviews are critical.
Poor ranking in an independent survey of business banks.