The Bank of Scotland is the fifth-oldest bank in the UK, and has been a subsidiary of the Lloyds Banking Group since 2009. Business bank accounts, savings accounts, debit and credit cards, and other financial products are available to businesses of all sizes.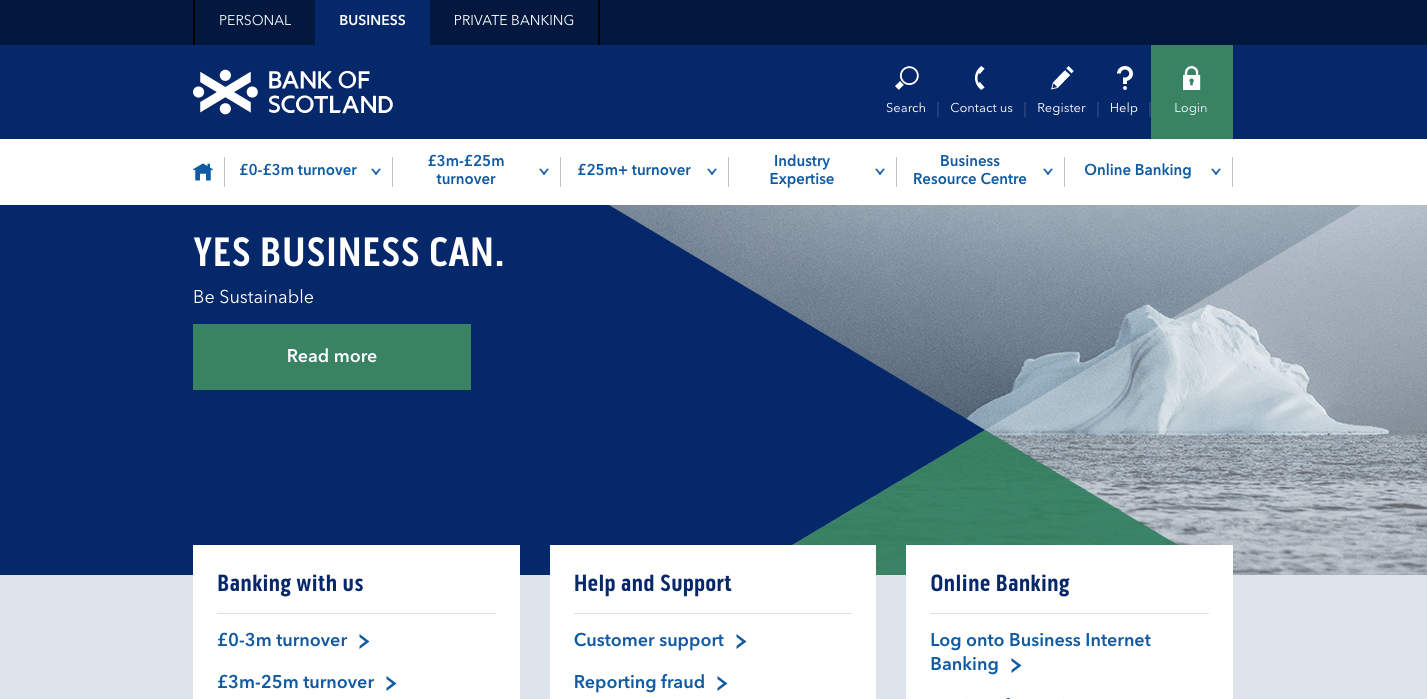 Bank of Scotland Business Banking Services
Current Accounts
Current accounts are available for new businesses, and businesses with an annual turnover of under or over £3m. Account details and transactions can be managed online and on the Bank of Scotland app. Accounts cost from £7 a month, and there are some extra charges for cash and cheque payments.
Savings account
Instant access, fixed-term, and notice accounts are available. You can open an easy access account with just £1, but a minimum deposit of £10,000 is needed for notice and fixed-term accounts. Interest rates vary depending on how much you save and how long for. Fixed accounts have a maximum term of 3 years.
Overdrafts
It's free to set up an overdraft of £5,000 or less, however, there's a £12 monthly usage fee. For overdrafts between £5,001 to £25k an annual fee is charged at 1.99%.  Interest is charged at 10.85% per year over the Bank of England Rate. You only pay interest on funds you use.
Business finance and loans
Small business loans between £1,000 – £25,000 can be paid off over either 1-25 or 1-10 years. Larger business loans of over £25,000 are also available for terms up to 25 years. Interest rates for loans under £20,000 are 7.1% APR (variable) representative. 
More on Bank of Scotland Business Loans & Finance
Bank of Scotland Reviews and Ratings
Trustpilot reviewers are mainly critical – with 77% of reviewers rating Bank of Scotland's service 1/5. Most complaints involve poor customer service in-branch and on the phone.
Reviewers are more split on Smart Money People and Reviews.co.uk, commenting that statements are clear and staff are helpful. However, some are still very critical of the service they've received, pointing out slow response times and indifferent advisors.
On Which?, Bank of Scotland scores 4/5 for online banking and 3/5 for customer service, communication, transparency of charges, handling complaints, service in-branch, telephone banking, mobile app and benefits.
Bank of Scotland ranked 8th in a list of the 14 largest business current account providers for overall service quality in an independent survey. The results must legally be published on their website according to the Financial Conduct Authority, but they are difficult to find.
In the same list of 14 business current account providers, Bank of Scotland also ranked 7th for online and mobile banking services, 10th for overdraft and loan services, and 5th for service in-branch.
Trustpilot –  1.7/5 (based on 359 reviews)
Reviews.co.uk – 2.86/5 (based on 28 reviews)
Smart Money People – 2.88/5 (based on 8 reviews)
Which? – 64% Which? Customer Score
Pros
Competitive monthly account fee and charges.
Range of products for businesses of all sizes.
Part of the 7-day Switch Guarantee.
Cons
Very similar services to Lloyds, so it's difficult to spot which is better value.
Poor reviews for customer service.
Rated poorly for relationship/account management in an independent survey.
Website: Bank of Scotland Business Banking