The Bank of Scotland is one of the oldest banks in the UK and has been part of Lloyds Banking Group since 2009. Business finance and loans, savings accounts, debit and credit cards, and other financial products are available to businesses of all sizes. Many of Bank of Scotland's business finance and loan products are separated into businesses that have a turnover above or below £3 million.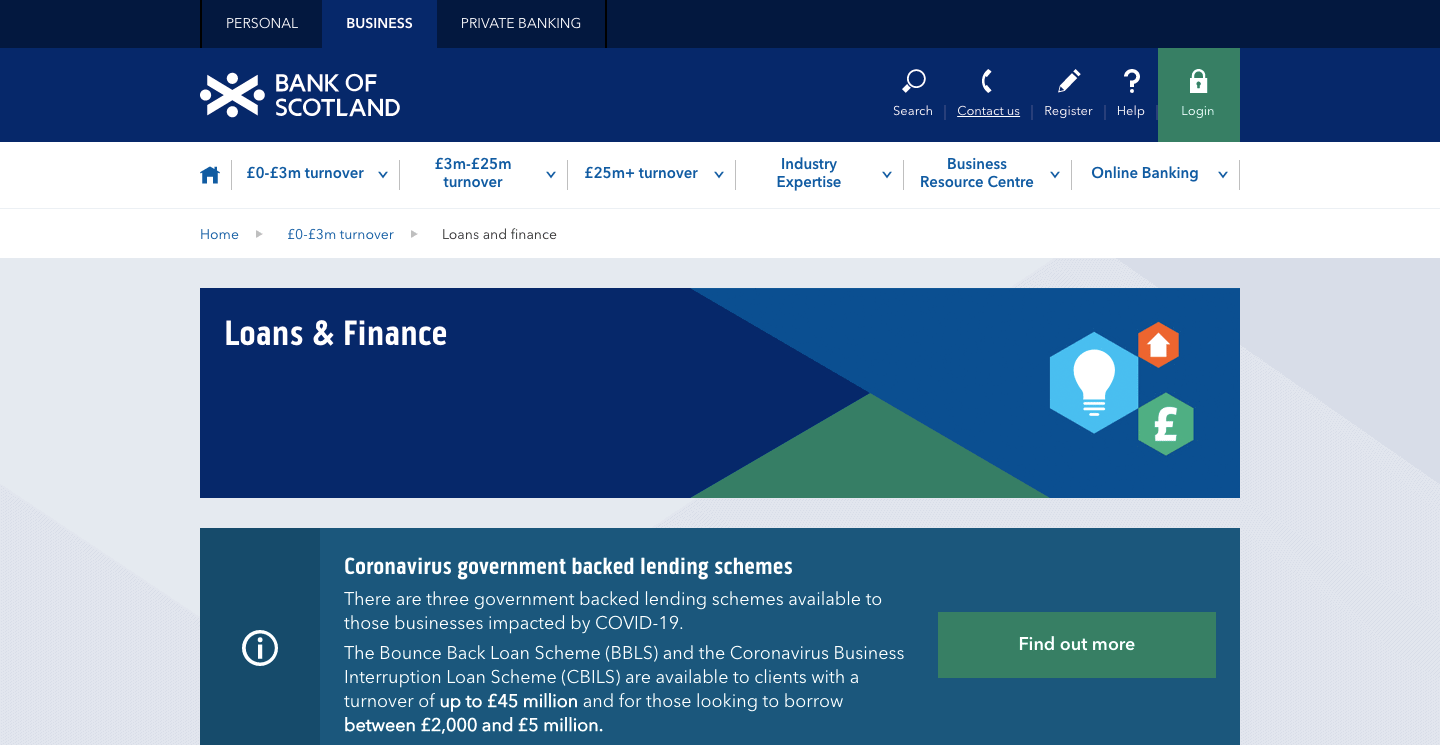 Bank of Scotland Business Finance
Business loans
There are a variety of fixed and variable rate loans available to large and small businesses. Amounts range from £1,000 to £10 million and can be repaid over 1 to 25 years. Most small businesses can borrow between £1,000 and £25,000 over 1-25 years. Interest rates are 7.1% APR (variable) representative..
Business overdrafts
Overdrafts up to £25,000 are available with a Bank of Scotland business current account at 10.85% per year over the Bank of England Rate. On overdrafts of £5,000 or less there's a £12 monthly fee, and overdrafts of £5,001 to £25,000 have a 1.99% Annual Fee (minimum £120). Overdrafts of over £25,000 are available with tailored rates – pricing will be discussed on application.
Business credit card
Your business can apply for a card with a limit of £10,000 with up to 45 days' interest-free credit if you pay your balances are paid in full and on time. The Bank of Scotland will issue up to 20 cards for different members of your team. There's an annual fee of £32 per card.
Asset finance
Your business can finance a range of business assets with Bank of Scotland, including vehicles and office equipment. Borrow from £15,000 over 1 to 5 years with a flexible initial deposit. You can apply over the phone and receive a decision within 24 hours.
Vehicle Contract Hire
Fund vehicles for your business without purchasing them. The Bank of Scotland will buy the vehicles you want, lease them to your business through Lex Autolease, and take them back at the end of the contract. Monthly payments are fixed and can be more VAT efficient for your business.
Invoice finance
Access up to 90% of the value of your invoices within 24 hours without waiting for payment. Invoice factoring is available for businesses with a turnover of over £50,000 and discounting is available for those with a turnover over £250,000.
Bank of Scotland Reviews and Ratings
Most online reviews for the Bank of Scotland are critical which is fairly common for one of the big British banks. 77% of Trustpilot reviewers rate their service 1/5 and have found many aspects of customer service and account management frustrating. It's a similar story on Reviews.co.uk and Smart Money People. There are a few happy customers who found managing their account simple and convenient.
On Which?, the Bank of Scotland scores 4/5 for online banking and 3/5 for customer service, communication, transparency of charges, complaint handling, service in-branch, telephone banking, mobile and benefits.
Bank of Scotland ranked 5th in a list of the 14 largest business current account providers for SME overdraft and loan services in an independent survey. They also ranked 8th for overall service quality, 7th for online and mobile banking services, and 5th for services in branches.
Trustpilot –  1.7/5 (based on 359 reviews)
Reviews.co.uk – 2.86/5 (based on 28 reviews)
Smart Money People – 2.88/5 (based on 8 reviews)
Which? – 64% Which? Customer Score
Pros
Range of business finance products available to fund all kinds of business purchases.
Fixed and flexible repayment options.
Available to small and large businesses.
Cons
Online reviews are poor.
Doesn't rank as well as other business banks in an independent survey.
Website: Bank of Scotland Business Finance