Barclays Invoice Finance User Reviews
Review Summary
0.0 out of 5 stars (based on 0 reviews)
Recent Reviews
There are no reviews yet. Be the first one to write one.
Submit a Review
Barclays is a high street bank that has a physical presence across the UK through its 1,600 branches. Barclays provides traditional banking products as well as business financing products. Their business product range includes bank and savings accounts, credit cards, commercial mortgages, loans, invoice finance and asset finance.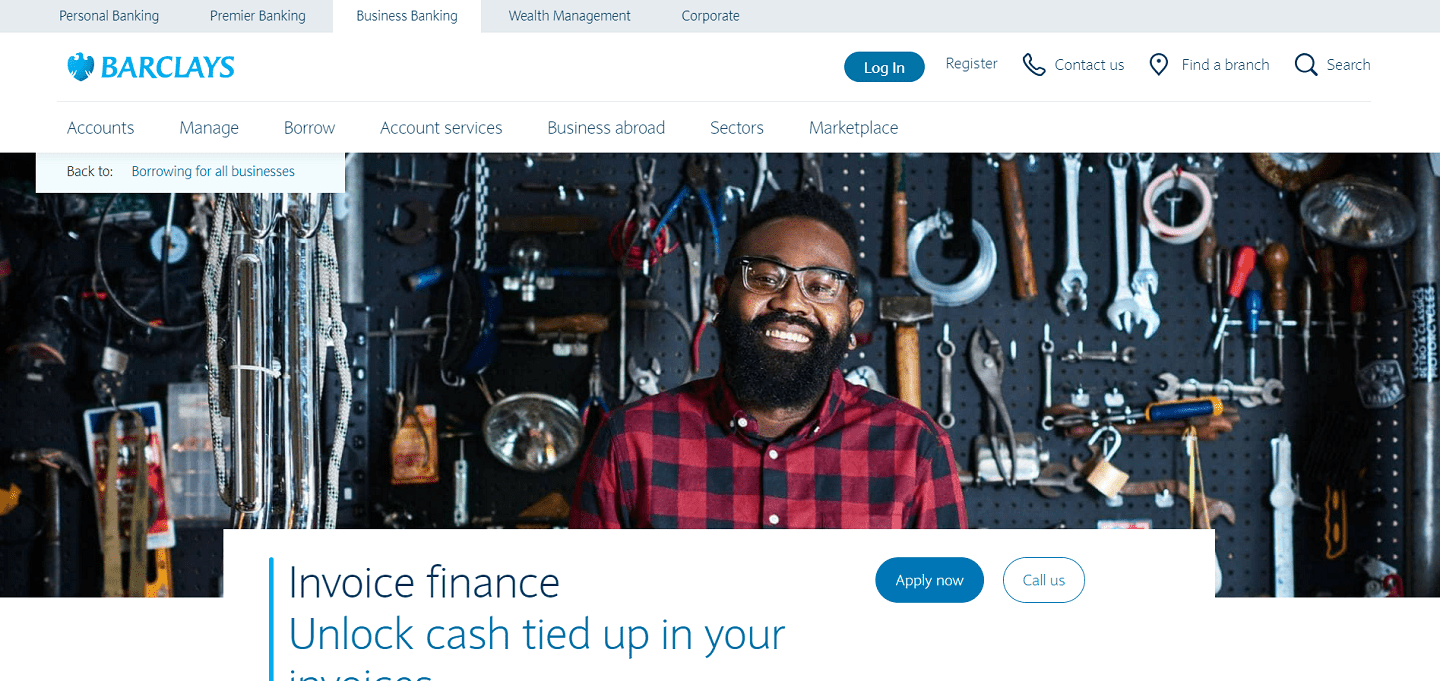 Barclays Invoice Finance Options
Barclays offers a choice of invoice finance options that are designed to help businesses to release money tied up in unpaid invoices to increase their cash flow. The loan is a short-term advance and repaid when the customer pays the invoice.
Barclays offers 2 types of invoice finance – flexible and ongoing. Flexible invoice finance or selective invoice discounting is provided by MarketFinance and allows you to release funding from selective invoices rather than your full sales ledger. It helps to manage seasonal fluctuations or occasional cash flow challenges.
Ongoing funding or whole ledger invoice discounting is a confidential service that allows you to release funds discretely, so your customers are unaware of the service being involved. This service is provided by Barclays Corporate.
These invoice financing services provide:
Up to 90% of invoice values
Retain control of your customers
Easy online management
A facility that grows with your business
Barclays Invoice Finance Eligibility
Barclays offers invoice finance to UK based businesses that have forecasted credit sales over £500,000 per annum for ongoing funding or £250,000 for flexible funding across a range of debtors on standard selling terms.
Barclays Invoice Finance Rates
Barclays doesn't state what their rates are on their website.
Barclays Invoice Finance Calculator
Barclays doesn't have an invoice finance calculator.
Barclays Invoice Finance Reviews
There are reviews for Barclays on most of the major customer review sites, but they are largely critical of their services and rate them poorly. The review sites tend to not split out the services or the audience so reviews cover both individual and business customers.
Trustpilot has the largest number of reviews, and these are mostly negative with 85% of reviewers awarding them 1 star as bad. The theme in many of the reviewers' comments were regarding their poor levels of customer service either over the phone with slow response times or in-branch with long queues, or issues using their internet banking. Some of the business-specific comments were about the loan approval timescales and account setup issues, which could have been impacted by the Coronavirus pandemic as there was an increase in volumes of loans, although some customers had this issue prior to then.
The other review sites have similar ratings and comments except for Smart Money People which has a more neutral score as the reviews are more mixed.
Which? customer banking poll scored Barclays as 65% with their banking interactions receiving 4 out of 5 (online, telephone and app) except for in-branch which received 2 out of 5. Other aspects received 3/5 including handling complaints, communication, customer service, transparency of charges and benefits.
Trustpilot – 1.5/5 (based on 6,065 reviews)
Google Reviews – no reviews
Reviews.co.uk – 1.42/5 (based on 466 reviews)
Review Centre – 1.3/5 (based on 353 reviews)
Smart Money People – 3.57/5 (based on 171 reviews)
Which? – 65% Which? Customer Score
How To Apply For Barclays Invoice Finance?
For whole ledger invoice discounting – If you are an existing Barclays customer you can apply through your Relationship Management team or call 0333 202 7431. New customers should call 0800 515 462.
Selective invoice discounting – you can apply online through their website and will be redirected through to MarketFinance's website.
Pros
Offers selective or whole ledger invoice discounting
Well-known, high-street provider
Confidential service where customers needn't know you are using the service
Cons
Only offers invoice discounting
Not all products are provided by Barclays
No pricing details are available
Low ratings on customer review sites
Website: Barclays Invoice Finance