The 9 accountants listed below are the top-rated accounting firms in Rotherham based on Google reviews. Firms had to have at least 3 reviews and a score above 3.7 to be included.
Please note that these listings are in no particular order and are based on user reviews only. We can't guarantee the quality of any of the services directly. 
1. Robert Ogle Chartered Accountants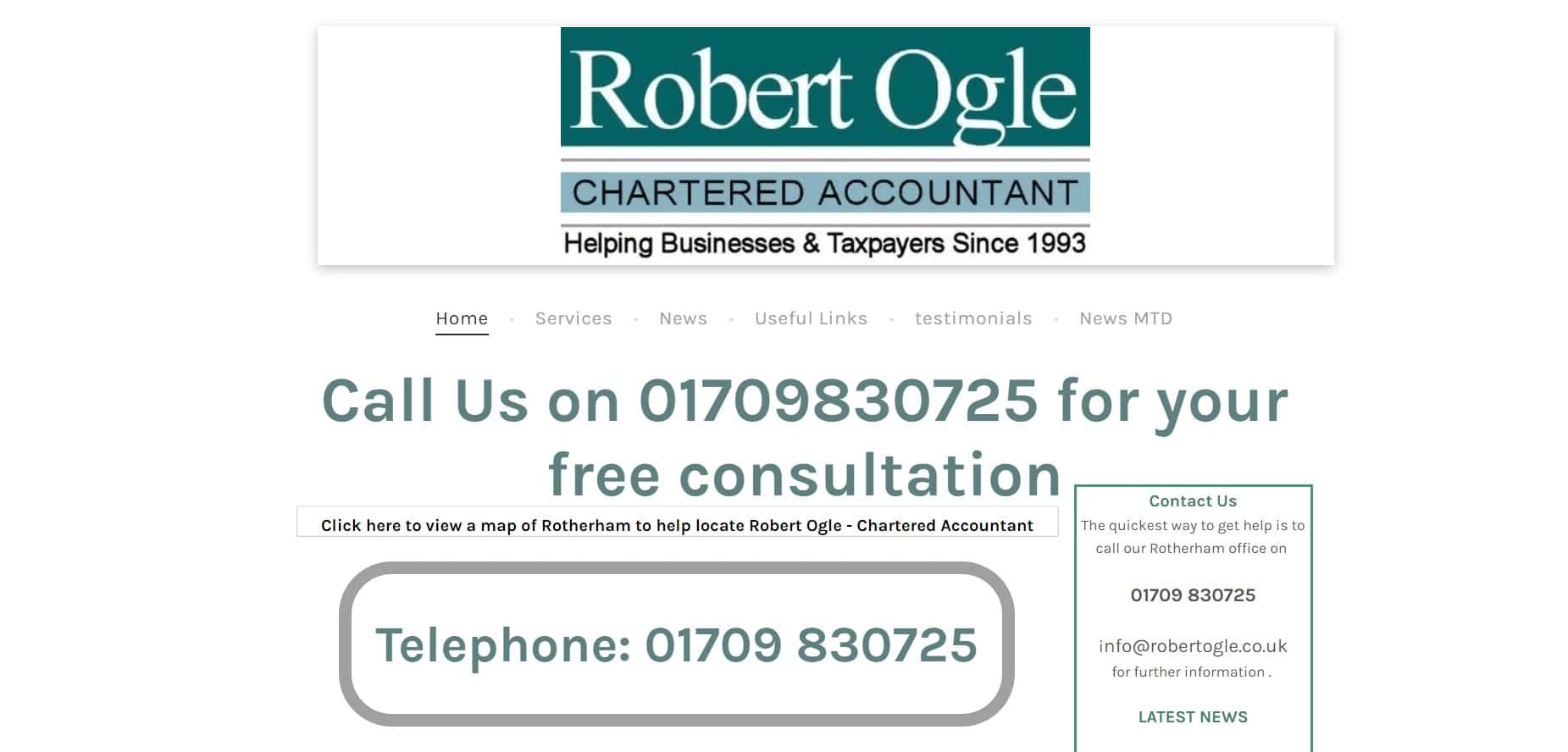 Sample Services:
Advising on the best business structure (limited company, partnership, or sole trader)

Company formation and tailoring

Registration with the appropriate authorities, like VAT, NIC, etc.

Implementation of accounting systems and IT solutions

Business plans

Suppliers of all major accounting software

Preparation of accounts & financial statements for all types of business entity

Management accounts & forecasts

Company secretarial service

Bookkeeping assistance
AAT licensed: No
ACCA licensed: No
Member of the Institute of Chartered Accountants: Yes 
Sample Reviews: 
"Robert and his team have been my company's accountant for the last 2 years. I cannot recommend them enough. All correspondence and outputs are always delivered professionally and in a timely manner.  Their personal attention is second to none. Their commitment truly demonstrates their work ethos. " — John Richardson
"Great experience! Extremely professional. The team are always very quick to respond to any queries, big/small. I would highly recommend it. Thank you!" — Charlotte Richardson
Address:
The Elms, 
Doncaster Rd, 
Rotherham 
S65 1DY
Website:
2. Lewis James Accountants Ltd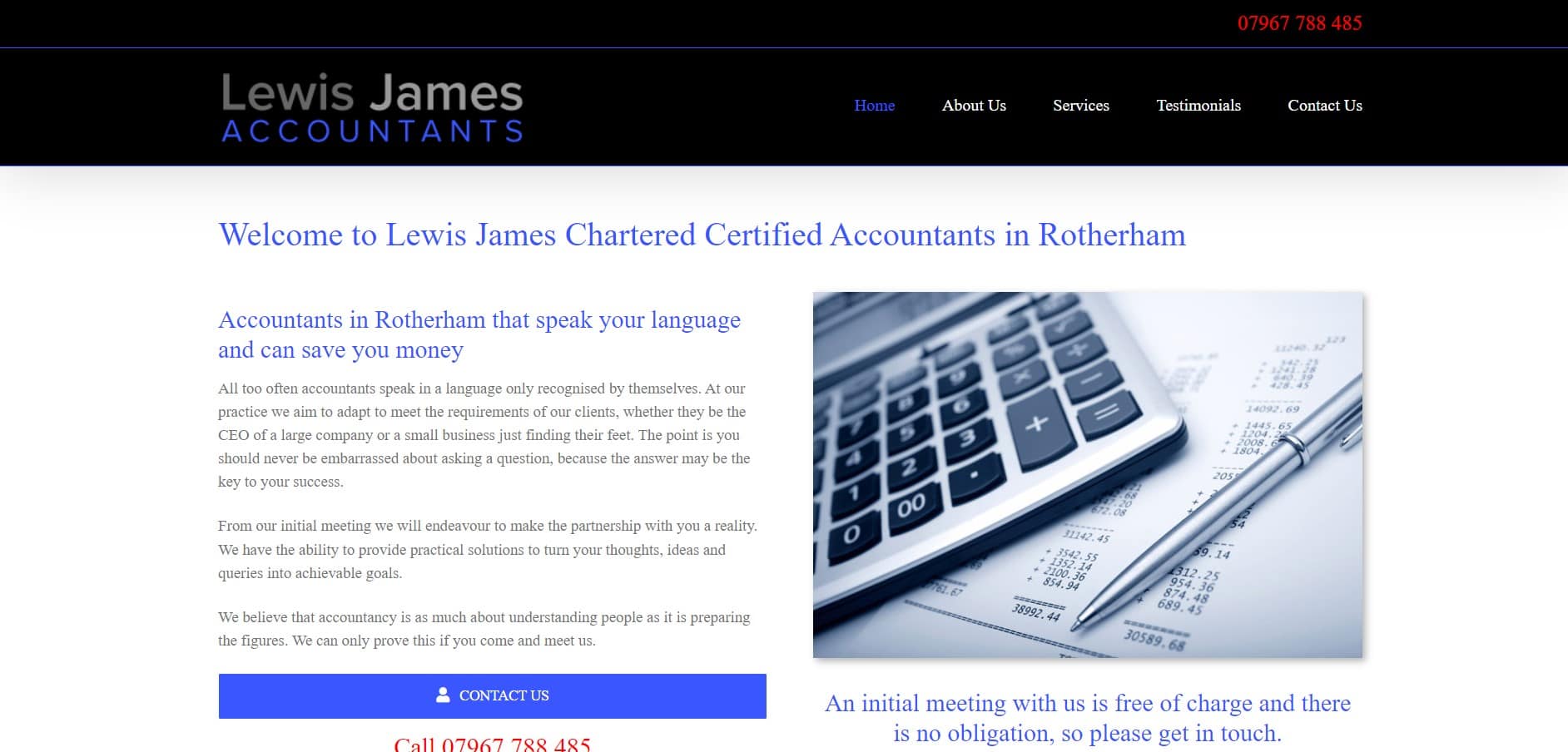 Sample Services:
New Business Set-Up

Annual Accounts

Taxation Services

Bookkeeping Services

Accountancy Services

Company Secretarial

Management Accounts

Sole Trader, Partnership, and Limited Company Support

Self-Assessment and VAT Return
AAT licensed: No
ACCA licensed: No
Member of the Institute of Chartered Accountants: Yes
Sample Reviews: 
"I have a clothing and accessories shop and have been with Lewis James Accountants for 15 years now, and I wouldn't use anyone else.  Jonathan is easy to talk to and helpful for anyone wanting to grow their business.  He has helped me with the understanding of payroll and VAT.  I would recommend him to all types of businesses." — Dawn Markham
"Fantastic service from Lewis James Accountants Ltd was recommended by a fellow business owner. I'm a new business owner, and Jonathan has helped massively in my success. Professional, always available, reliable and very knowledgeable. I would highly recommend it to anyone with accounting needs." — Robert France 
Address:
26 Homestead Dr, 
Brinsworth, 
Rotherham 
S60 5AR 
Website: 
https://www.lewisjamesaccountants.com/ 
3. Branagans Accountancy Service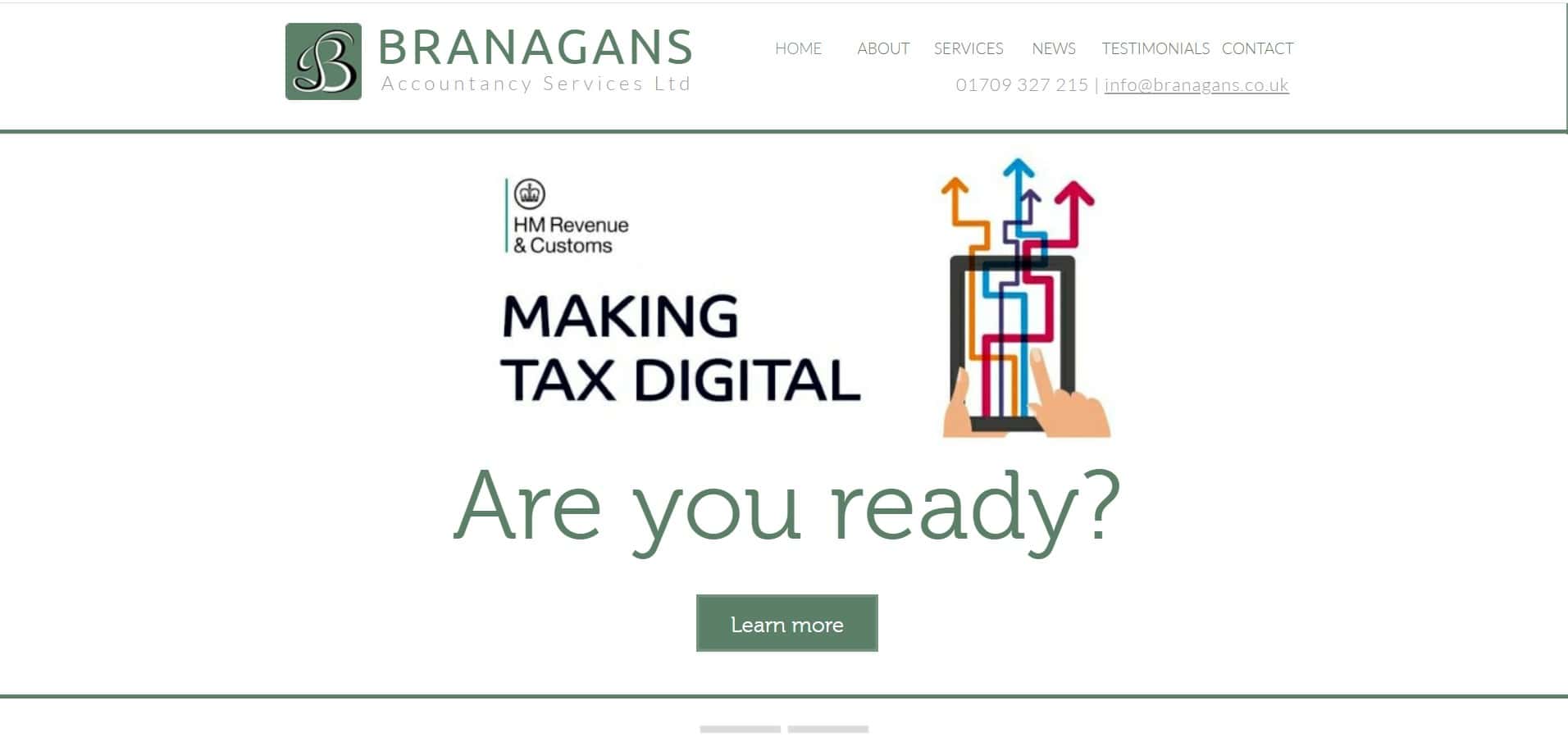 Sample Services:
Reviews as required and agreed upon during the financial year 

Identifying allowances available, such as capital allowances on the purchase of a company freehold property or research and development expenditure tax relief

Keeping you advised of developments and changes in legislation – both generally and specific to your industry

Preparing company self-assessment tax returns and supporting computations of tax liabilities

Advising payment dates

Dealing with HMRC on your company's behalf

Assistance with VAT registration

Advice on VAT planning and administration

Help with completing VAT returns

Planning to minimise future problems with HMRC
AAT licensed: Yes 
ACCA licensed: No
Member of the Institute of Chartered Accountants: No
Sample Reviews: 
"The absolute saviours of accountancy! We can't recommend Branagans enough. As a busy business, we just don't have the time or knowledge to do what these guys do. Nothing is too much trouble, and help is always at hand. Everyone is so efficient and friendly, too. We can't thank them enough for all they do. If we could give more than 5 stars, we would." — Photogenick Photography 
"We have received an excellent service for over 8 years from Donna, Dave and their team. Nothing is too much trouble, and they have been on the end of the phone for any questions, queries or advice. As we have expanded our company, their knowledge and expertise have been greatly appreciated, so if you are in need of any accountancy work, then I cannot recommend Brannagan's highly enough." — Matthew Plant
Address:
352 Herringthorpe Valley Rd, 
Rotherham 
S60 4LA
Website: 
4. Parkins Chartered Accountants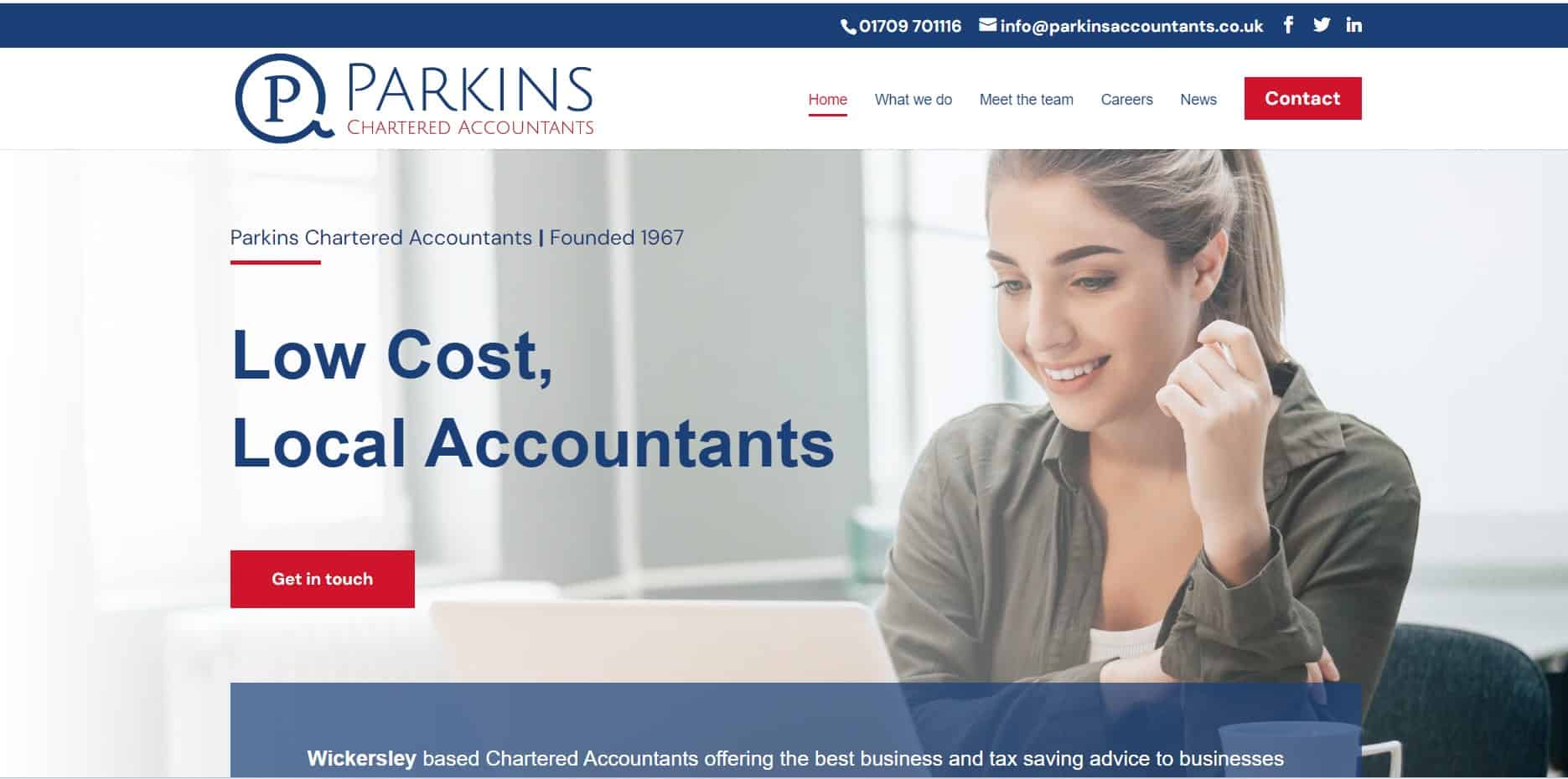 Sample Services:
Prepare a business plan, cashflow projections, budgets, and trading forecasts

Assess the finance requirements, advise on the best sources of finance, and draw up the necessary proposals

Establish a good working relationship with your bank

Complete any registration procedures with Companies House and HM Revenue & Customs

Deal with company secretarial issues

Set up a recording system for your internal use and for complying with statutory requirements

Decide on what computer hardware to buy and help with the installation of accountancy software

Keep on top of bookkeeping, VAT, payroll, and other accounting requirements

Help with all aspects of business compliance and administration
AAT licensed: No
ACCA licensed: No
Member of the Institute of Chartered Accountants: Yes 
Sample Reviews: 
"Over the past 11 years, I have had great support from the team, from the receptionist to Sam, who undertakes my business VAT and Luke, who deals with all my Business affairs. Tony, who heads up the payroll, has been outstanding over the years. Mr. J. Parkin, a fountain of knowledge, thank you to everyone. I always highly recommend the full team." — Jacqueline Sigsworth
"Parkins Accountants have a wealth of experience, which gave me a great amount of trust. Rob and his team have saved me money.  Local to Rotherham and competitive made it an easy choice. I would happily recommend Parkins Accountants!" — Colin O'Donnell
Address:
Moor Park House, 
Clifford Lister Business Centre, 
Bawtry Rd, 
Wickersley, 
Rotherham 
S66 2BL
Website: 
http://www.parkinsaccountants.co.uk/ 
5. Lockwood & Co Accountancy Ltd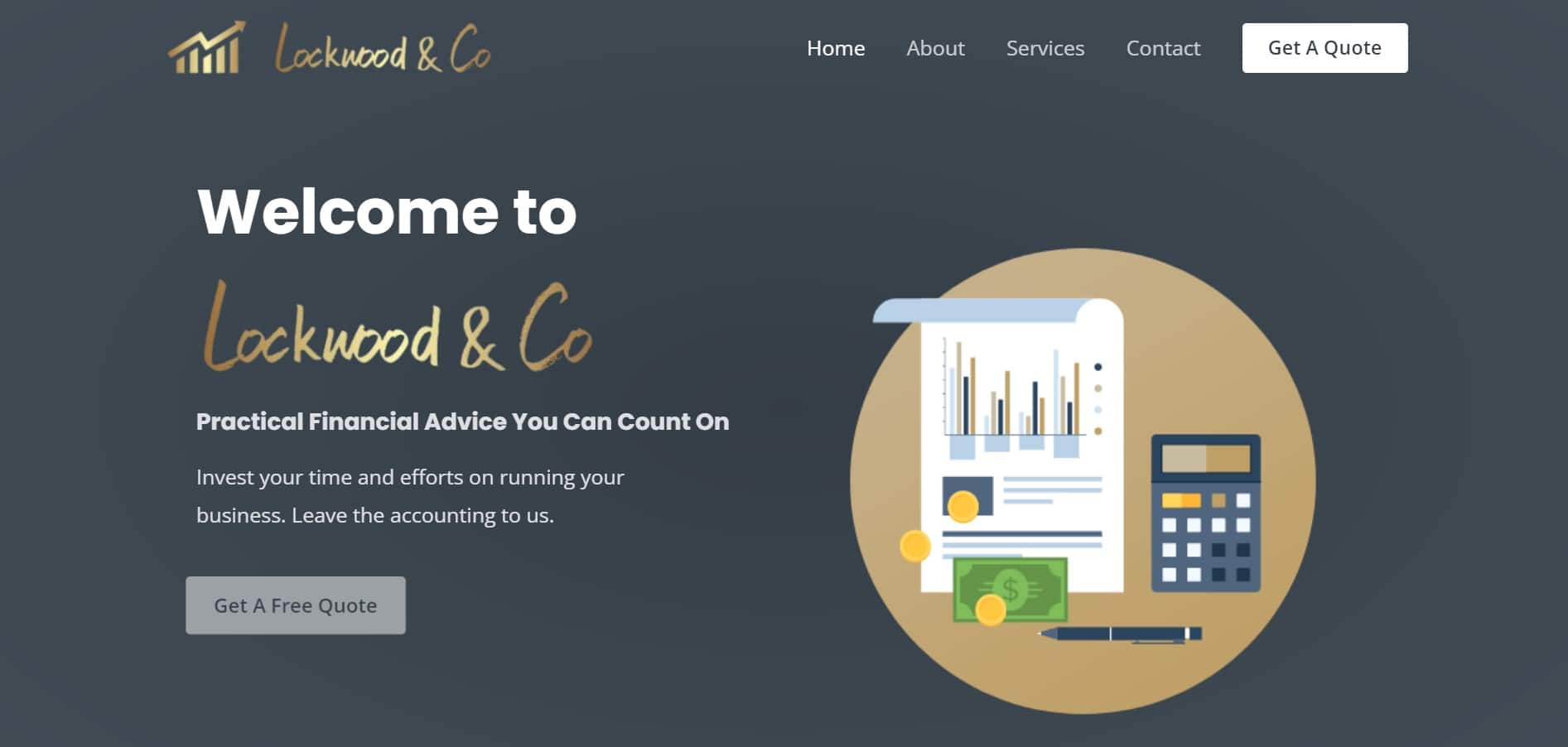 Sample Services:
Accountancy Services

Bookkeeping Services

CIS

Sole Trader Support

Payroll Services

Management Accounts

VAT Returns

Tax Planning

Rentals

Director Account
AAT licensed: No
ACCA licensed: No
Member of the Institute of Chartered Accountants: No
Sample Reviews: 
"I took Josh on last year after being recommended by a friend, and we haven't looked back. Josh is professional, easily contactable and very knowledgeable. I would highly recommend him." — Ian S.
"Josh is always extremely helpful with any queries and advice we need with running our small business. I highly recommend him." — Makial Khan
Address:
7 Bell Yard, 
Rotherham,
WC2A 2JR
Website: 
6. BTS Accountancy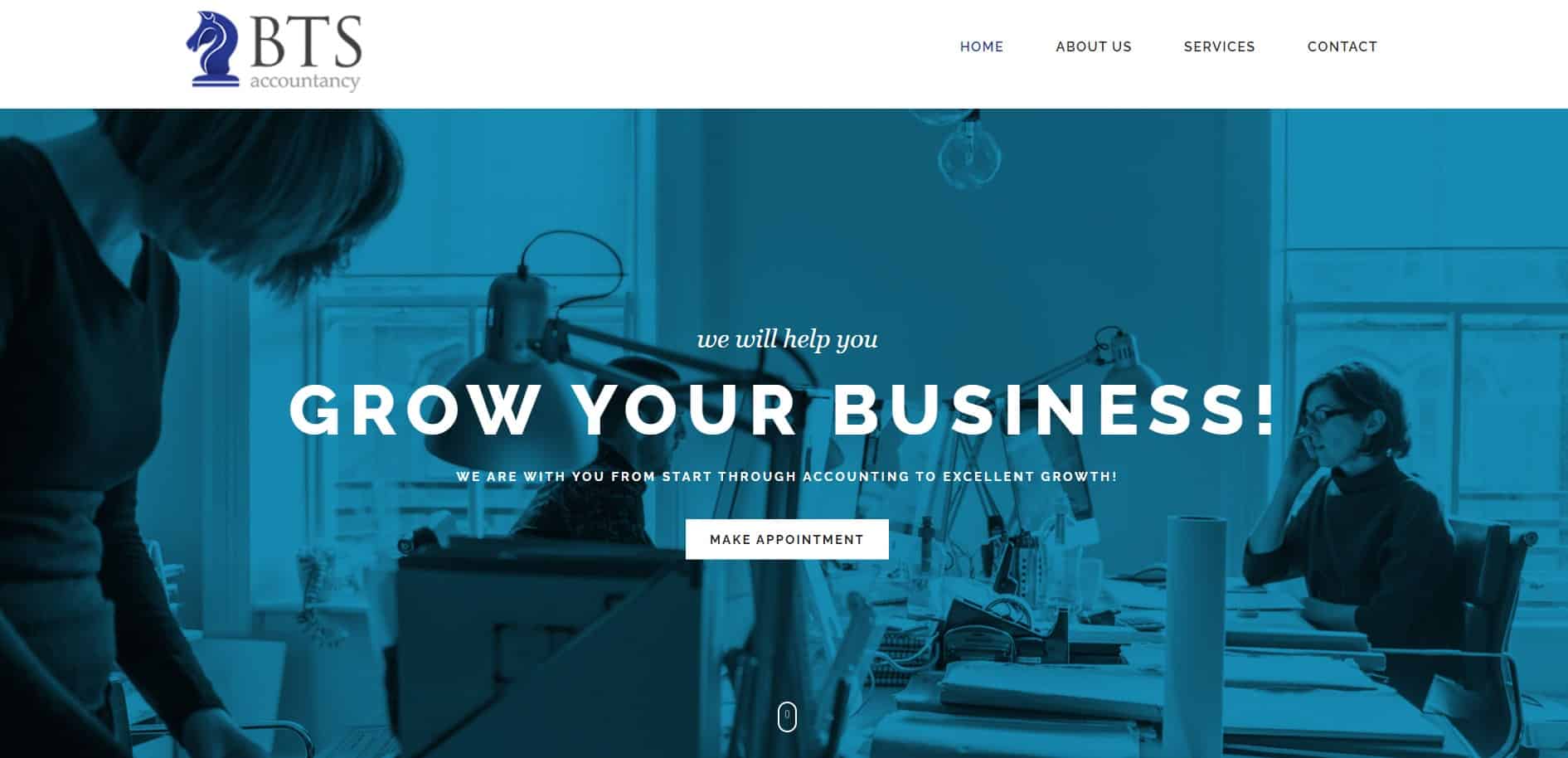 Sample Services:
Management Accounts 

Tax Services

Business Growth

Starting a Business

Bookkeeping Services

Payroll Services

Management Accounts

VAT Returns

Tax Planning
AAT licensed: Yes 
ACCA licensed: No
Member of the Institute of Chartered Accountants: No
Sample Reviews: 
"Whenever I think that there is no possible solution for an issue, he always finds good business tips and financial advice on how to manage problems, which is obviously based on his great knowledge of this subject. Tad's service is always on a very professional level. I am very satisfied with BTS services, and I would definitely recommend them to others." — Mag
"We met Tad from BTS Accountancy when we first started our IT Services Company in September 2014—had no idea where to look for. What impressed me was that during our first meeting, he did all the work for us free, and he knew every concern we had addressed at the first meeting. Business and Financial advice both we received from BTS Accountancy is priceless to us then and still now." — Nick Praginaratna
Address:
24 Ridge View Dr, 
Sheffield 
S9 1EF
Website: 
http://www.btsaccountancy.com/ 
7. Graham & Associates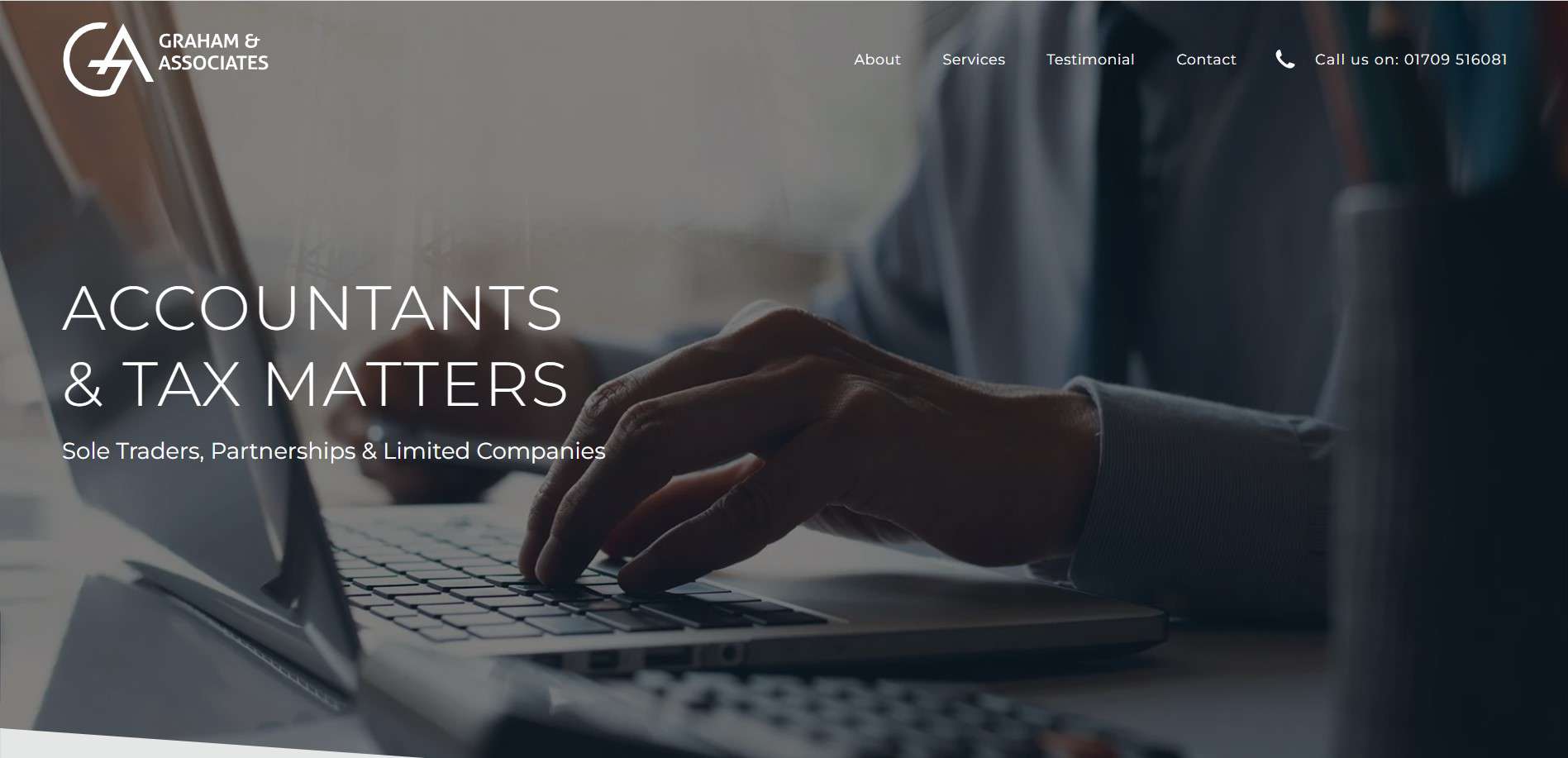 Sample Services:
Independent Financial Advice

Wealth Management

Estate & Inheritance Tax Planning

Mortgage Services

Personal & Corporate Pension Advice

Enterprise Investment Schemes

Venture Capital Trusts

Employers Liability Insurance

Public Liability Insurance

Subcontractor Tax Returns
AAT licensed: No
ACCA licensed: No
Member of the Institute of Chartered Accountants: No
Sample Reviews: 
"Since working with Graham and his team, they have gone above and beyond to help me in my business and have done everything they could to support my requests. I couldn't ask for a better and more personal service. His advice, support and understanding have allowed me to manage the day-to-day running of my business without having to worry about the things they do for me." — Ben Farina
"I have been using Graham and Associates for over a year now after having a nightmare with a previous accountant. They resolved all my issues without any problems at all. Always friendly and extremely helpful. I would definitely recommend it to others." — Paul Reeder
Address:
26 Barnsley Rd, 
Wath upon Dearne, 
Rotherham 
S63 6QB
Website: 
8. Hart Shaw Chartered Accountants & Business Advisers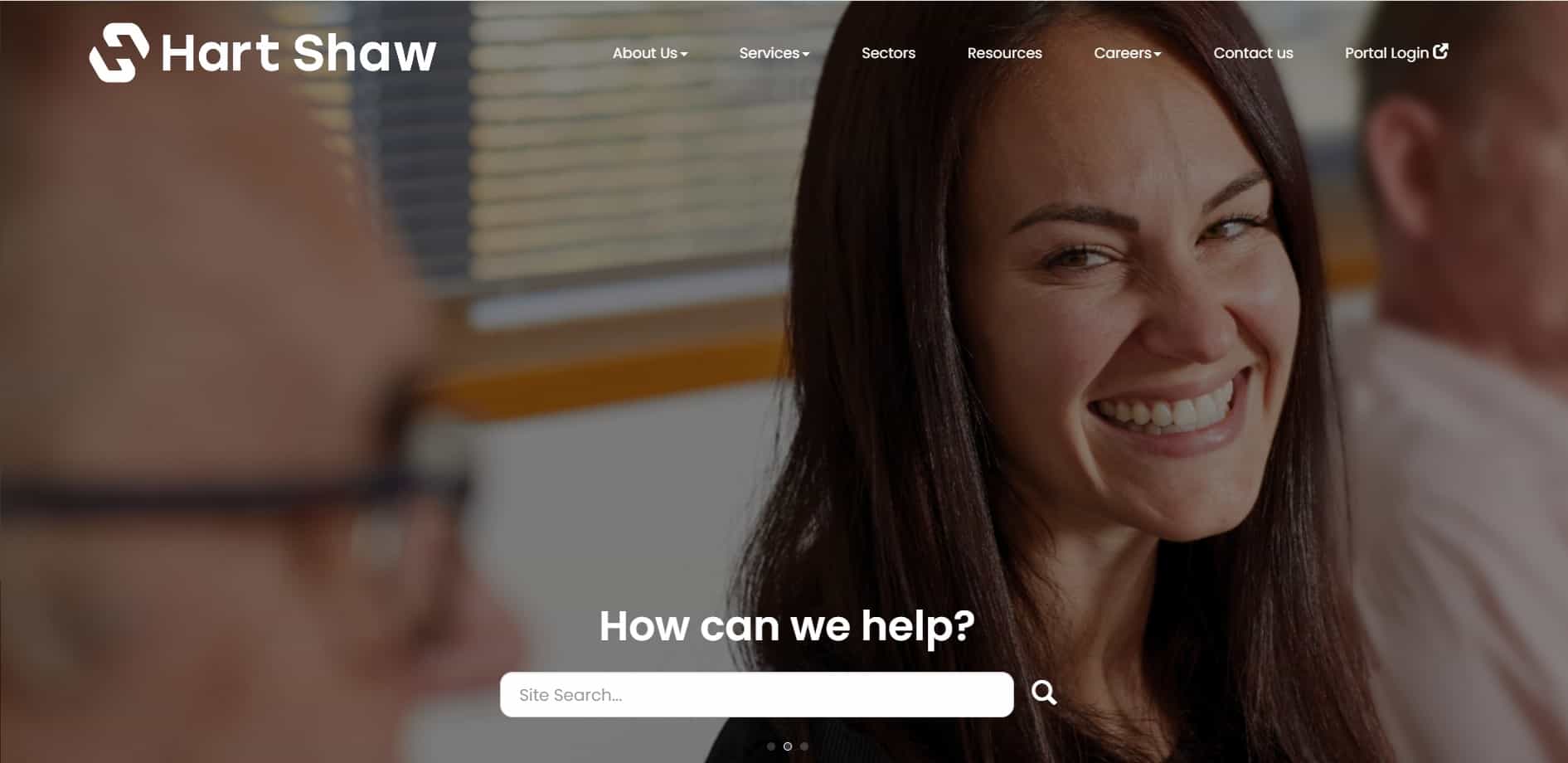 Sample Services:
Accounts & Tax

Business Start-Up

Business Recovery & Insolvency

Corporate Finance

Managed Finance Solutions

Tax Advisory

Company Closure

Company Rescue

Personal Insolvency
AAT licensed: No
ACCA licensed: Yes 
Member of the Institute of Chartered Accountants: Yes
Sample Reviews: 
"I've worked with Hart Shaw for several years now and would highly recommend their services. I really love their personal approach and how they really take the time to understand their client's business, which enables them to offer a bespoke and individual service. Whilst their compliance services are excellent, I feel that it's their advisory and support between the year-end work, which is where they really excel." — Helen Crapper
"The team are exceptional – helping you through the big decisions as well as the day-to-day stuff. We couldn't be without Paul Dawson, Hannah Jones, Katherine Marsden and the many others who all pull together to provide the service we need. We've tried other accountants in the past, but we're very much at home at Hartshaw." — 
Address:
Business Park, 
Europa Link, 
Tinsley, 
Sheffield 
S9 1XU
Website: 
9. Drury & Co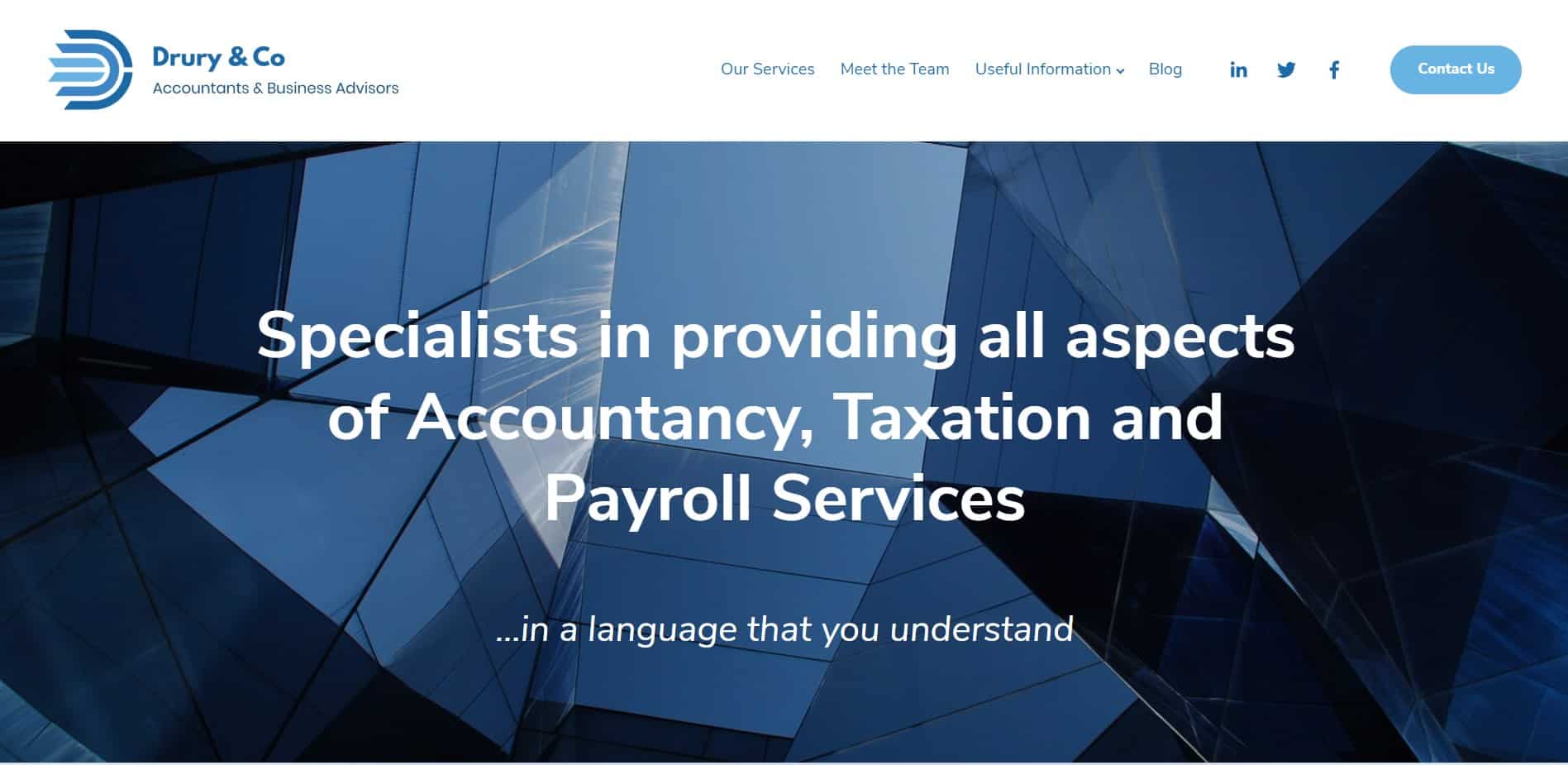 Sample Services:
Accountancy Services

Tax Dispute Resolution

Company Secretarial

Payroll Services

RTI & CIS

Workplace Pensions

Business Planning

Bookkeeping Services

VAT Returns

Management Accounts
AAT licensed: No
ACCA licensed: No
Member of the Institute of Chartered Accountants: No
Sample Reviews: 
"After 5 years with these guys providing a great service along with vital information towards the running of my business, I have now become VAT registered with all the support needed and payroll assistance for my staff. I would highly recommend it for anyone who is unsure and hasn't got time to do the process themselves. It is very well priced, too." — Jonathan Merchant
"They were very helpful. Five stars." — Gareth Morley
Address:
21 Hollowgate, 
Rotherham 
S60 2LE
Website: 
How did you pick the "best" Rotherham accountants?
We used Google local business data and selected firms with at least 3 reviews, scored 3.7 or higher, and that had a website.
Our dataset included only the 60 closest accounting firms to Rotherham city centre.
Moreover, we did not take into account ratings from other review sites. Feel free to get in touch if you think a particular deserving accountant has been overlooked.
How much does an accountant in Rotherham cost?
According to our list of best accounting firms in Rotherham, accounting services start at £35/month without VAT for individual entrepreneurs and rise in accordance with the scope of your needs. 
In general, you should first arrange a consultation with the local accountancy expert of the accounting firm to get a quote. During the meeting, the firm will provide you with a proposal covering the fees they charge for the services you are interested in. Some of the firms, for instance, will arrange a tailored fixed fee after they assess your accounting needs.
How can I save money on a Rotherham accountant?
If hiring a dedicated accountant is too expensive, you might look into accounting software.
Here are the starting prices for various popular choices in the UK (all prices exclude VAT):
– Quickbooks: £10/month
– Freshbooks: £12/month
– Sage: £12/month
– Zoho: £12/month
– Xero: £14/month
Disclaimer: Businessfinancing.co.uk is a business finance and lending research and information website publisher. We are not a lender, bank, broker and/or other financial institution, and as such, we are not authorised or regulated by the FCA to offer financial advice. We can't recommend any of the products and/or services featured on the site. Companies are ranked in no particular order, and a higher ranking does not imply one company is better than another. We work with FCA-authorised and regulated firms who may pay us a commission for referring you to them, but this has no impact on our content and helps keep this website free to use.