The 8 accountants listed below are the top-rated accounting firms in Redditch based on Google reviews. Firms had to have at least 5 reviews and a score above 4.8 to be included.
Please note that these listings are in no particular order and are based on user reviews only. We can't guarantee the quality of any of the services directly. 
1. Davies Archytas Accountants Limited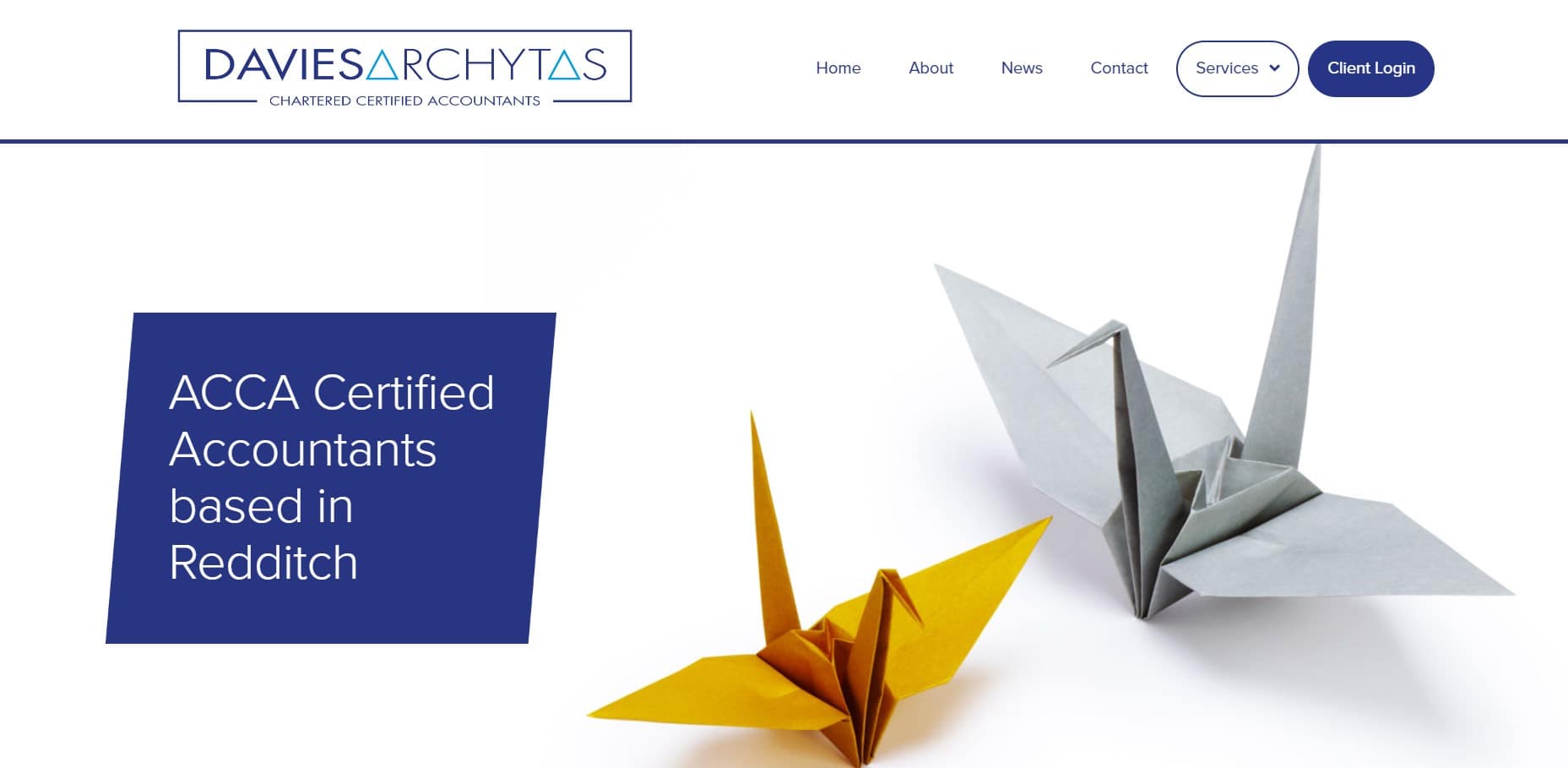 Sample Services:
Statutory Accounts

Management Accounts

Tax Returns 

Book Keeping

Tax Planning

Business Recovery Services

Financial Advice
AAT licensed: No
ACCA licensed: Yes 
Member of the Institute of Chartered Accountants: No
Sample Reviews: 
"I've known Daryl and Davies Archytas for a few years now and always found them to be very friendly, knowledgeable and informative. Whether you're starting a new business or need some advice on your personal tax or business accounts, I recommend getting in touch with them." — Sandy Bur
"Davies Archytas was recommended to me when I was looking for an accountant. I have found them to be extremely helpful and efficient. Queries are replied to very quickly. Information is provided in an understandable way. They are extremely approachable. They are proactive in seeking the information that they need in order to file returns. I have had no hesitation in recommending them to others." — Sheila Fannon
Address:
14, The Oaks, 
Clews Rd, 
Redditch 
B98 7ST
Website: 
http://www.davies-archytas.com/ 
2. Charles Lovell & Co.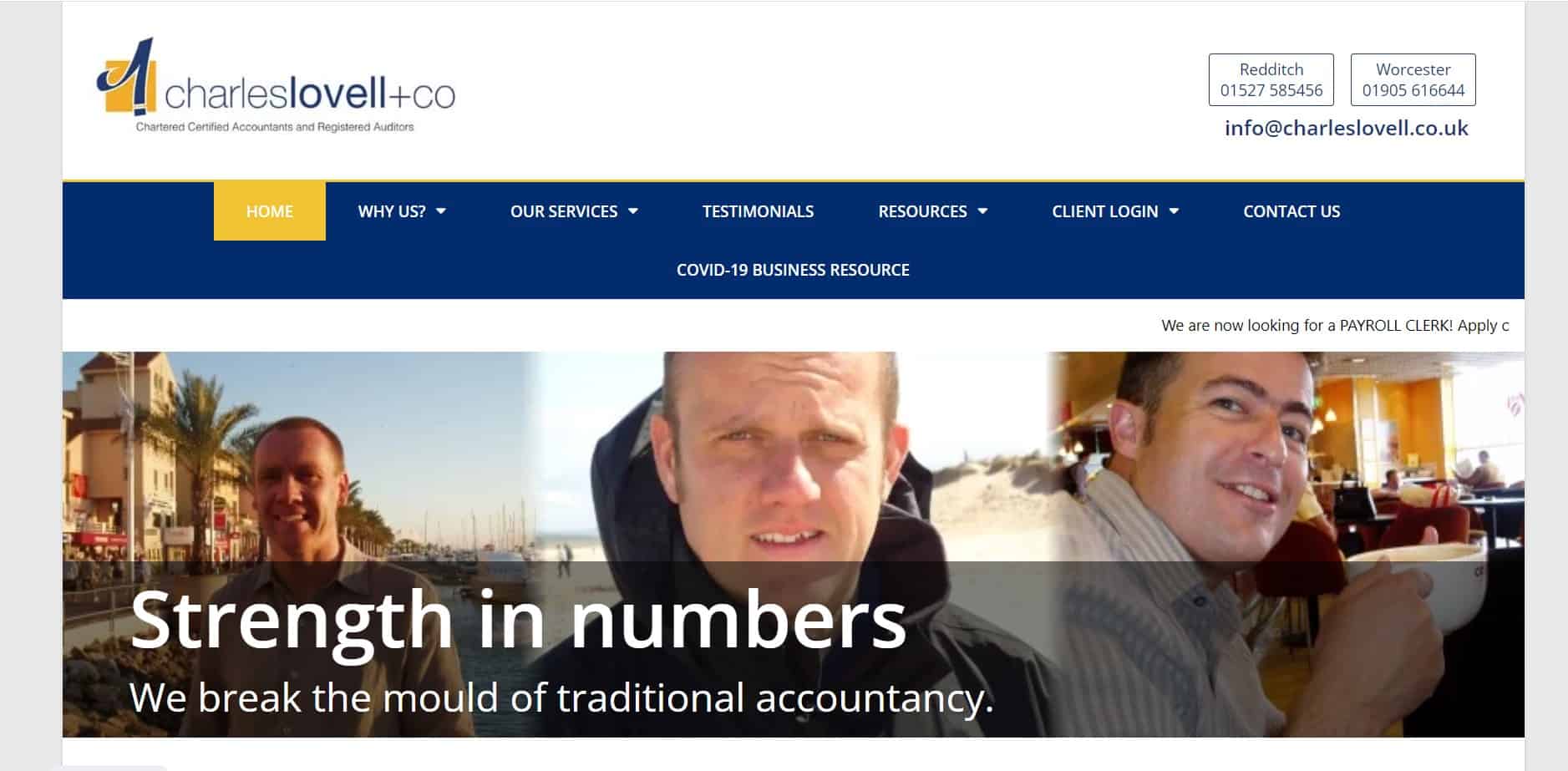 Sample Services:
Business Start-Ups

Grants and Business Funding

Business Support Services

Taxation

Compliance Services

Consultancy and Advice

Business Acquisitions and Disposals

Bookkeeping Services

HMRC Support
AAT licensed: No
ACCA licensed: No
Member of the Institute of Chartered Accountants: No
Sample Reviews: 
"A shout out to Charles Lovell, who kindly certified my ID docs to know your customer rules for me (for a separate legal case), free of charge, and called me to say when it was done. All this despite me never having spoken to them before. Super client service and very nice people. If that's their client service ethos, they have my vote. Thanks, folks." — Jon Harrington
"Hadleigh at Charles Lovell has been our trusted Accountant for 12 years now!  I cannot recommend him highly enough.  He's so helpful and really friendly; nothing is ever too much trouble, and he's always only a phone call away with advice.  Fantastic team!  Thanks so much to all of you at Charles Lovell for everything you do for Clarke Oil." — Emily Clarke
Address:
8 Church Green E, 
Redditch 
B98 8BP
Website: 
http://www.charleslovell.co.uk/ 
3. AC Counts & Services Ltd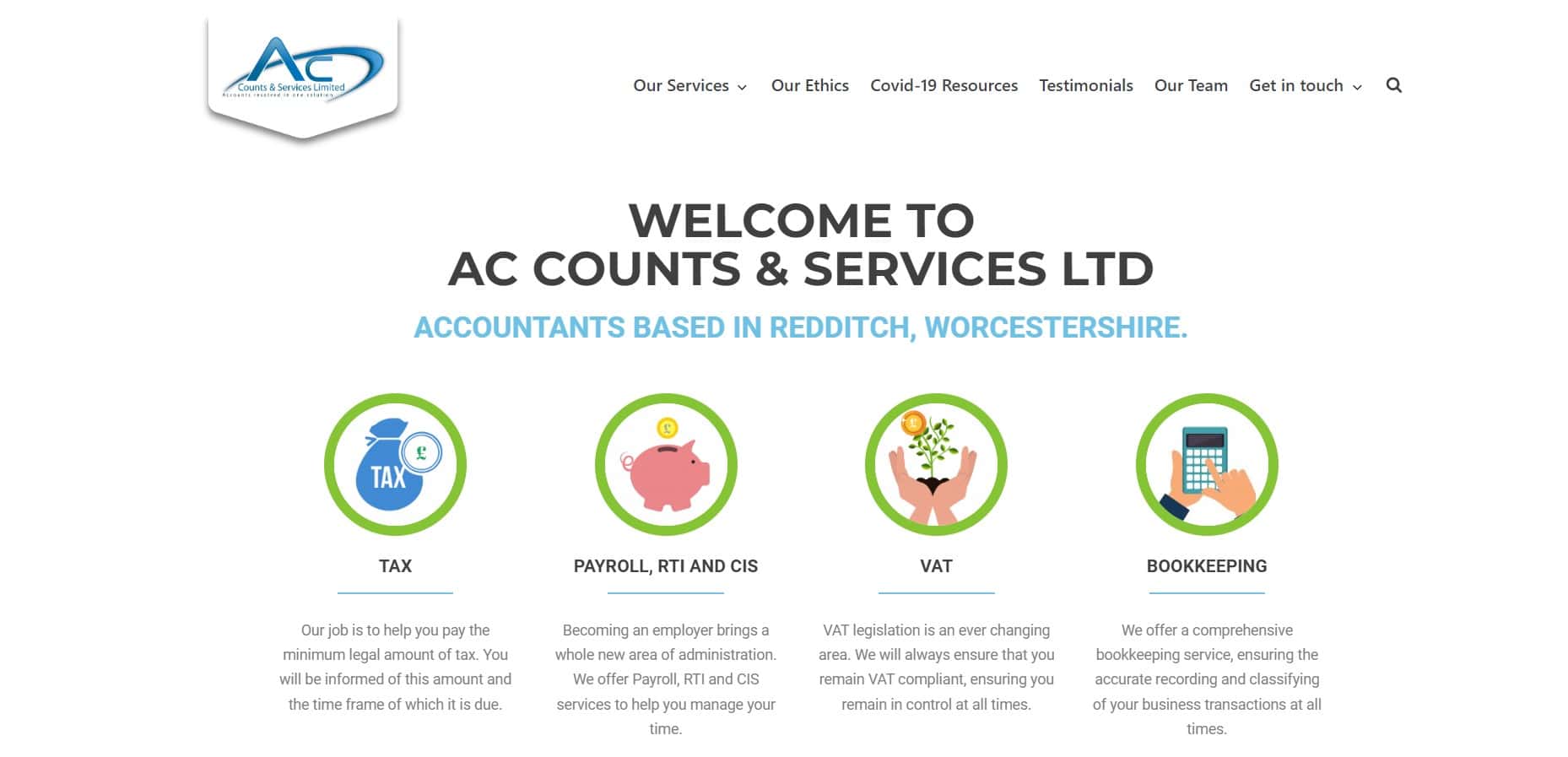 Sample Services:
VAT Services

Payroll Services

RTI 

CIS

Tax Services

Bookkeeping Services

Management Accountancy

Business Start-up

Auto-Enrolment

Cash Flow
AAT licensed: Yes 
ACCA licensed: No
Member of the Institute of Chartered Accountants: No
Sample Reviews: 
"I have just started up my company with AC Counts, and I cannot praise them highly enough. Andy was so helpful and knowledgeable; he made me feel instantly at ease and certain that my business is in safe hands with AC Counts. The team is really friendly, and you definitely feel that you are getting a more personal consultation rather than just being another client in their books." — Holly Harding
"I switched accountants to AC Counts after registering for VAT and needing a more inclusive accounts package. Andy is brilliant and filled me with confidence from our initial meeting. After using AC Counts for 5 months, I feel like a massive weight has been lifted off my shoulders, and I can relax knowing everything is in hand. I highly recommend AC Counts. An absolutely fantastic service, thanks." — Andy Brook
Address:
Office 42, 
Imex Business Centre, 
Oxleasow Rd, 
Redditch 
B98 0RE
Website: 
4. OJW Associates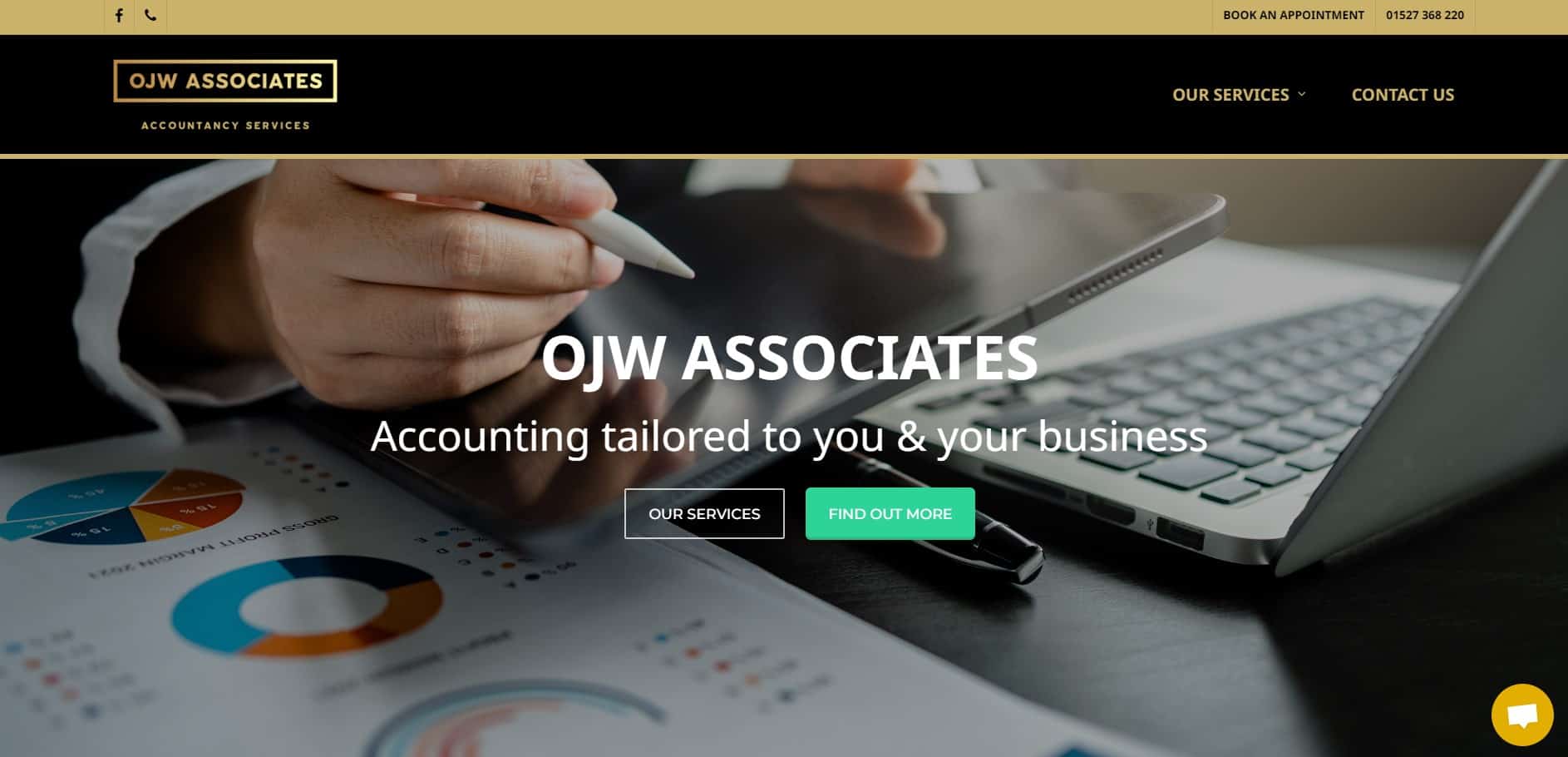 Sample Services:
VAT Returns

Pension Schemes

Life Assurance

Critical Illness Cover

Private Medical Insurance and Care Plans

Individual Savings Accounts 

Investments

Business Advice

Company Secretary

Management Accounts
AAT licensed: Yes 
ACCA licensed: No
Member of the Institute of Chartered Accountants: No
Sample Reviews: 
"I moved my business over to Gareth and his team at OJW AROUND 12 months ago and couldn't be happier. They are highly efficient and professional; with the team's help, we have become VAT registered and are becoming an LTD company. I'd heard a good account can save you money, but Gareth and the team have also given me confidence and helped me grow my business." — Dave Harris
"Gareth took over being my accountant from April, and I honestly can't tell you what a difference it has made. I feel like I am finally in control of my finances and understand more now about the tax process than I ever have done. Self-employed life is difficult and takes some working out – Gareth has, in the short time I have been working with him, really helped me." — Amy Dyble
Address:
Britten House, 
Britten St, 
Redditch 
B97 6HD
Website: 
5. Brotherton and Co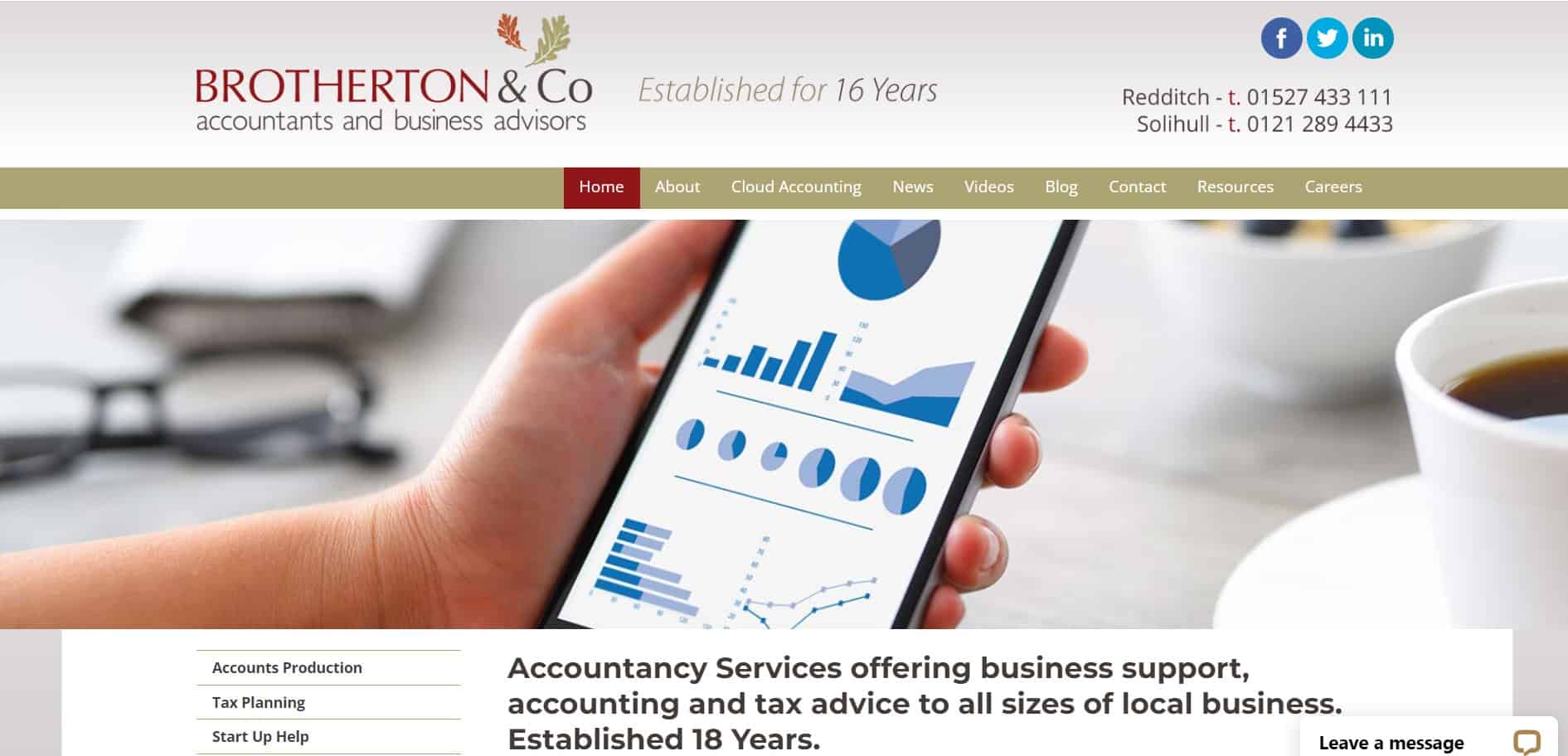 Sample Services:
Accounts Production

Tax Planning

Start-Up Help

Business Development

Payroll Bureau

VAT Accounting

Company Formations

Insolvency Help

Useful Forms

Tax Rates & Resources
AAT licensed: No
ACCA licensed: No
Member of the Institute of Chartered Accountants: No
Sample Reviews: 
"Great company and a pleasure to do business with. I've used John and his team at Brotherton Accountants for more than a decade, and with good reason. First-class compliance service, but also helped enormously in identifying potential tax savings, and more recently steered me through the capital gains minefield on a land sale. John is particularly approachable and only too happy to help and give advice." — Jamie Last
"John and the team have delivered above and beyond for both my business and my partners' business over the last 5 years. John's attention to detail and willingness to explain processes and the technical stuff has made the everyday transactions and daunting VAT returns understandable and easy. I highly recommend it to anyone who values proper customer care and excellent service." — Jackie Brown
Address:
166 Easemore Rd, 
Redditch 
B98 8HE
Website: 
http://www.brothertonaccountants.co.uk/ 
6. Hayward Wright Ltd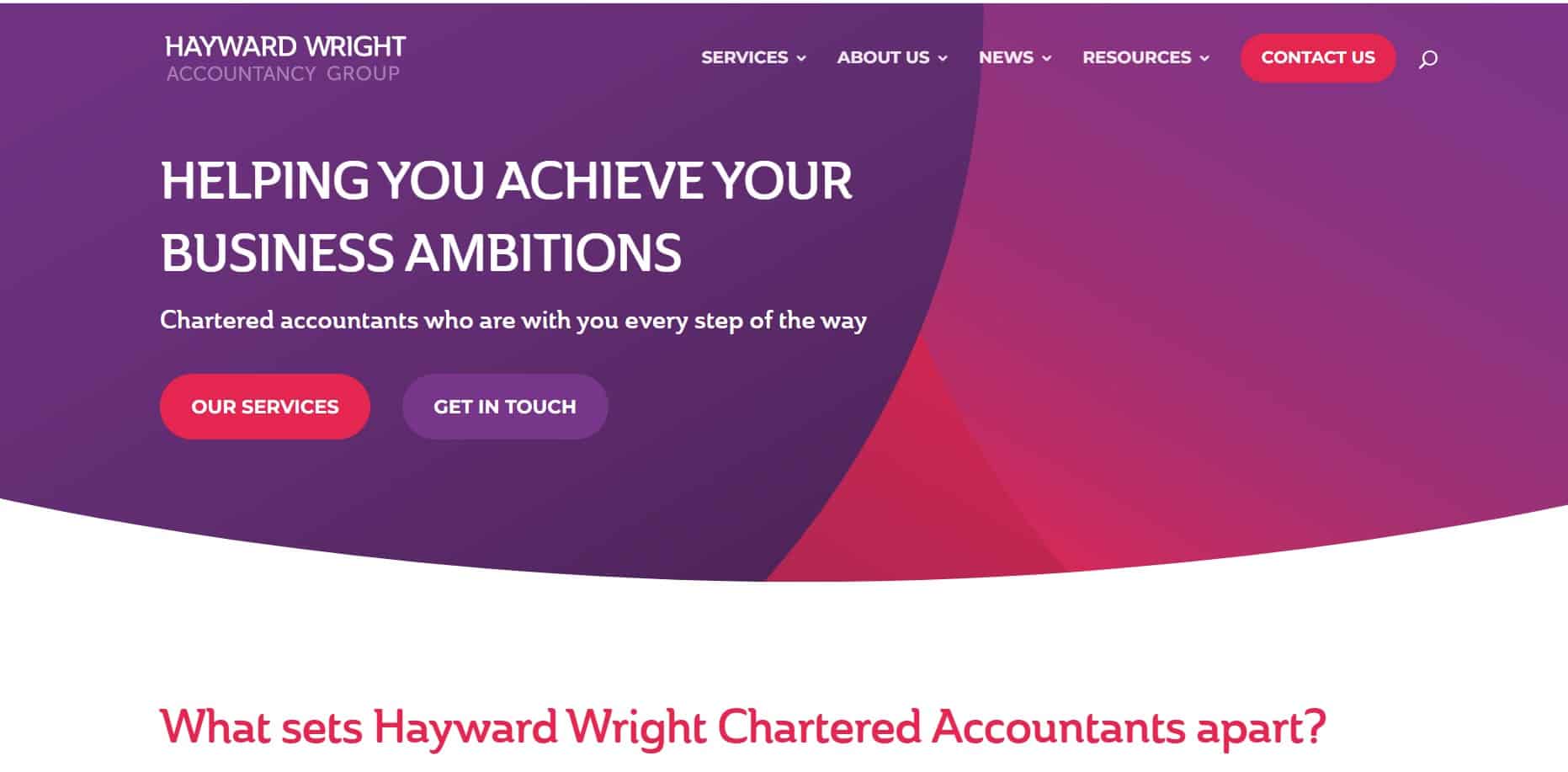 Sample Services:
Management Accounts

Tax Compliance 

Tax Services

Financial Advice

VAT Returns

Company Secretarial

Payroll Services

Accounting Software

Commercial Finance

Forensic Accounting
AAT licensed: No
ACCA licensed: Yes
Member of the Institute of Chartered Accountants: Yes 
Sample Reviews: 
"We commissioned Hayward Wright Ltd as our Accountants at the start of 2021 and have been thoroughly impressed with their service ever since. They initially quoted us a very reasonable, competitive price, and the additional services and advice have not been much more if need be. We are thoroughly impressed with their professional and cost-effective service, and we can thoroughly recommend their service." — Bradley Middleton
"I have worked with Hayward Wright for a number of years. They have a great team of people to assist you when you need them. Not only do they help with accounts and payroll tax, etc., but they are also able to assist with technical work and helped me with a recent business acquisition. I have no hesitation in recommending their services." — Stephen Rose 
Address:
4 The Oaks, 
Clews Road, 
Redditch 
B98 7ST
Website: 
http://www.haywardwright.co.uk/ 
7. NHM Accounts Limited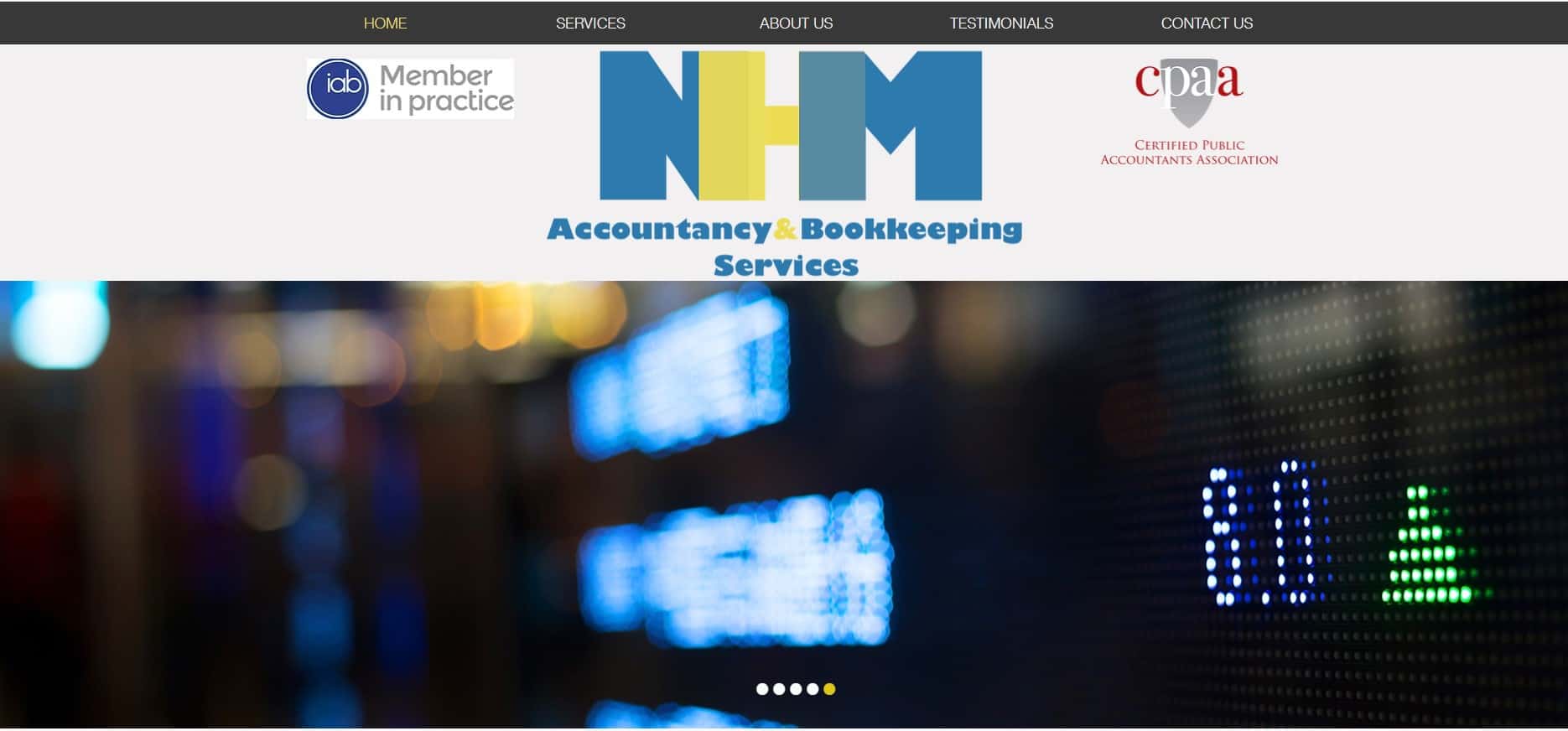 Sample Services:
Self-Assessment/Partnership

Management Accounts

Limited Company Accounts Preparation

VAT Returns

Key Performance Indicators

Estimate Tax Liability

Stock Taking

Sage, Xero, and QB

Grant and Loan Specialists

Financial Planning, Forecasting, and Advice
AAT licensed: No
ACCA licensed: No
Member of the Institute of Chartered Accountants: No
Sample Reviews: 
"We are a small new business that had many worries about starting up, but as soon as we met Nathan and his team, our worries went away. Nathan and his team are so informative and are always there when you need them. They make you feel at ease when talking and that your opinion is listened to and valued. I cannot recommend this company enough. They are amazing!" — Georgia Ledbury 
"I have been with NHM Accounts for several years now. Hannah and the team provide a fantastic service on all levels. Nathan often deals with enquiries out of office hours promptly and to the point. I have recommended their services on many occasions to friends and family. Keep up the good work." — Dave Ashton
Address:
57 Heming Rd, 
Redditch 
B98 0DH
Website: 
8. Mills Pyatt Chartered Accountants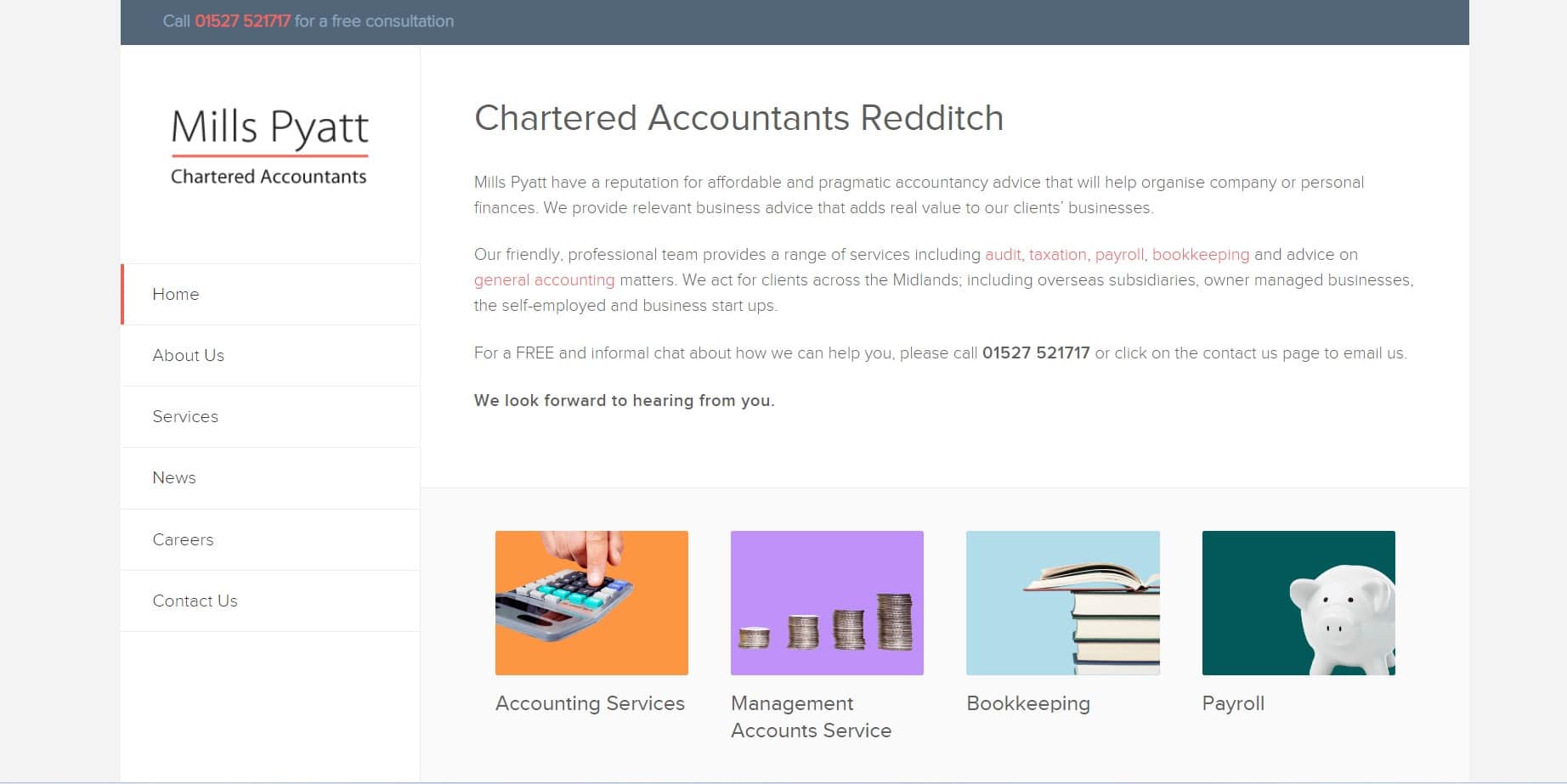 Sample Services:
Income Tax 

PAYE & NIC

VAT Returns

Capital Gains Tax

Accountancy Services

Bookkeeping Services

Payroll Services

HMRC Support

Self-Assessment Tax Returns

Cloud-Based Software Solutions
AAT licensed: No
ACCA licensed: No
Member of the Institute of Chartered Accountants: Yes 
Sample Reviews:  
"Geoff and Rachael are above and beyond every year. Thank you very much for your ongoing great advice and service." — Simon Greaves
"Polite, efficient and helpful. Thank you for all your support." — Harriet Forno
Address:
Kingfisher Business Park, 11, 
Arthur St, 
Redditch 
B98 8LG
Website: 
How did you pick the "best" Redditch accountants?
We used Google local business data and selected firms with at least 3 reviews, scored 4.5 or higher, and that had a website.
Our dataset included only the 40 closest accounting firms to Redditch city centre.
Moreover, we did not take into account ratings from other review sites. Feel free to get in touch if you think a particular deserving accountant has been overlooked.
How much does an accountant in Redditch cost? 
According to our list of best accounting firms in Redditch, accounting services start at £35/month without VAT for individual entrepreneurs and rise in accordance with the scope of your needs. 
In general, you should first arrange a consultation with the local accountancy expert of the accounting firm to get a quote. During the meeting, the firm will provide you with a proposal covering the fees they charge for the services you are interested in. Some of the firms, for instance, will arrange a tailored fixed fee after they assess your accounting needs.
How can I save money on a Redditch accountant?
If hiring a dedicated accountant is too expensive, you might look into accounting software.
Here are the starting prices for various popular choices in the UK (all prices exclude VAT):
– Quickbooks: £10/month
– Freshbooks: £12/month
– Sage: £12/month
– Zoho: £12/month
– Xero: £14/month
Disclaimer: Businessfinancing.co.uk is a business finance and lending research and information website publisher. We are not a lender, bank, broker and/or other financial institution, and as such, we are not authorised or regulated by the FCA to offer financial advice. We can't recommend any of the products and/or services featured on the site. Companies are ranked in no particular order, and a higher ranking does not imply one company is better than another. We work with FCA-authorised and regulated firms who may pay us a commission for referring you to them, but this has no impact on our content and helps keep this website free to use.