The 5 accountants listed below are the top-rated accounting firms in Batley based on Google reviews. Firms had to have at least 3 reviews and a score above 3.4 to be included.
Please note that these listings are in no particular order and are based on user reviews only. We can't guarantee the quality of any of the services directly. 
1. Ai & Co. Chartered Certified Accountants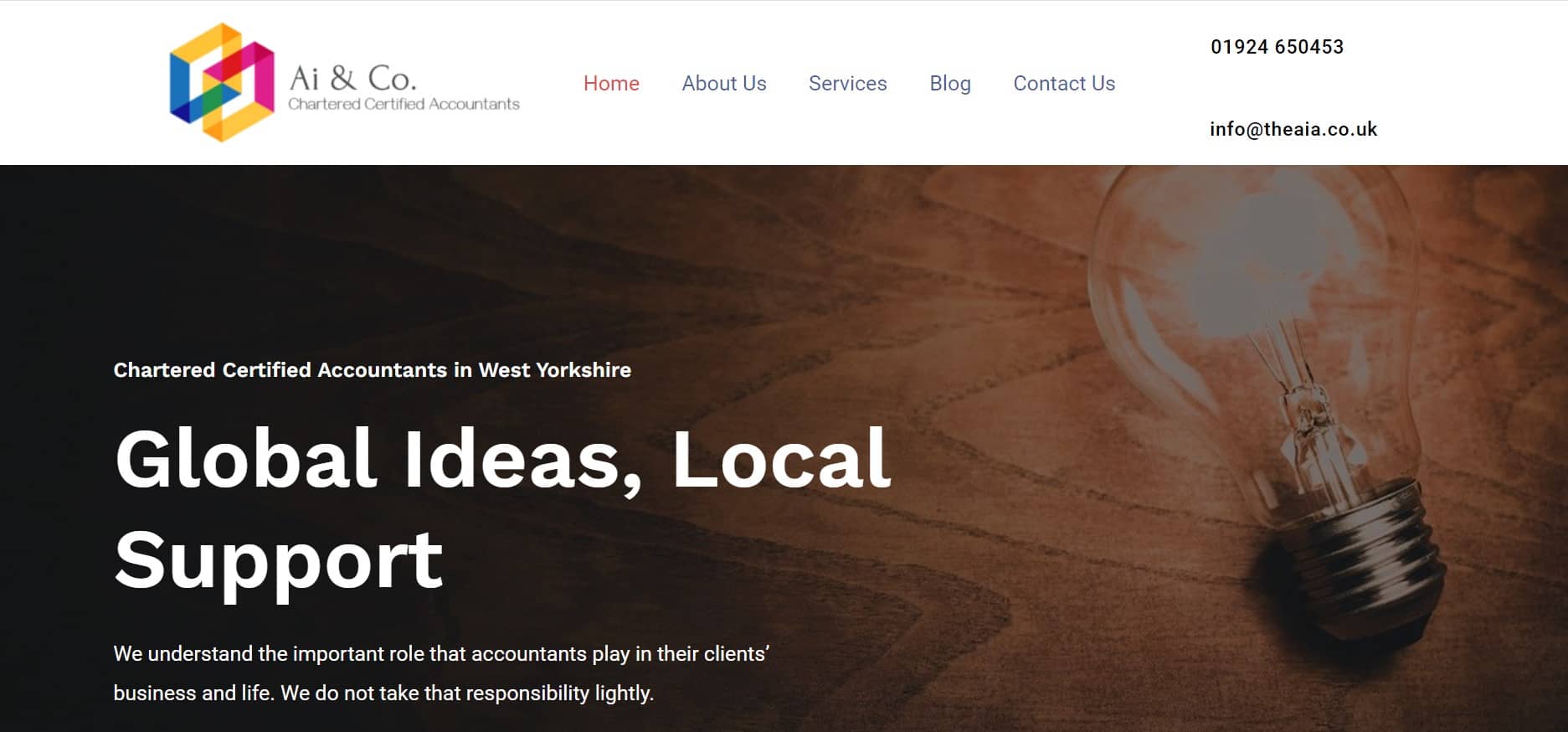 Sample Services:
Corporation Tax Calculations

Self-Assessments

Liaising with HMRC

Tax Compliance

Tax Investigations

Tax Planning

Business Consultation

Financial Planning

Website Development

Trust & Estate Tax Returns
AAT licensed: No
ACCA licensed: No
Member of the Institute of Chartered Accountants: Yes 
Sample Reviews: 
"We approached Ai Accountants to help us with our accounting and taxation needs. With a lot of deadlines being missed, Ai Accountants brought our tax affairs within no time. They also provide us with ongoing support to help us run our business efficiently and make timely decisions. I highly recommend them." — Afsheen Spice
"Being a locum doctor and employed by NHS and also having other income, my tax affairs are always complicated. After meeting people at Ai & Co. Chartered Certified Accountants, I realised the importance of tax planning. Their knowledge about different areas of accountancy is second to none, and this helped me a lot in making crucial decisions to deal with matters in the most tax-efficient way. Good work, keep it up!" — Aifa Ahmed
Address:
Unit Ff13 Al-hikmah Centre, 
28 Track Rd, 
Batley 
WF17 7AA
Website: 
2. Bookkeepers of West Yorkshire Ltd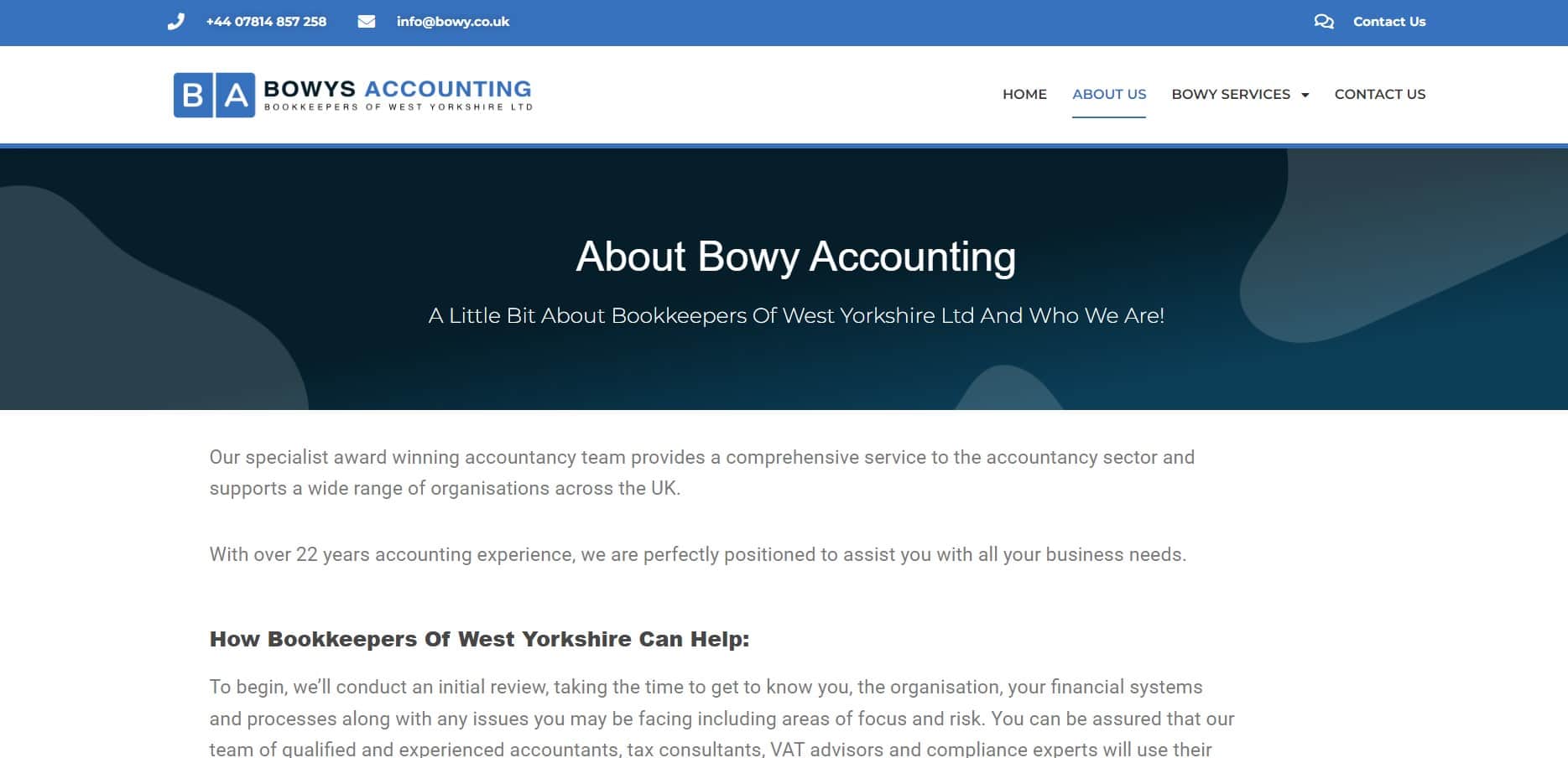 Sample Services:
Bookkeeping Services

Sales/Purchasing Invoices

Tax and VAT Compliance

Statutory Financial Statements

End-of-Year Accounts

HMRC Support

Corporation Tax

Governance and Due Diligence
AAT licensed: No
ACCA licensed: No
Member of the Institute of Chartered Accountants: No
Sample Reviews: 
"I would recommend Bookkeepers of West Yorkshire. They have provided me with much more help than any other accountant I have previously had. Mohammed was always on hand whenever I needed him. He has a very calming professional manner around what can be a hectic time for business." — Gary Rudkin
"Bookkeepers of West Yorkshire have been helping me on the paper side of my construction business now for the past two years. A once highly stressful part of the job has now become effortless and couldn't recommend Mohammed highly enough." — Bradley Anderson
Address:
121 Common Rd, 
Staincliffe, 
Batley 
WF17 7RF
Website: 
3. Apex Accountants & Tax Consultants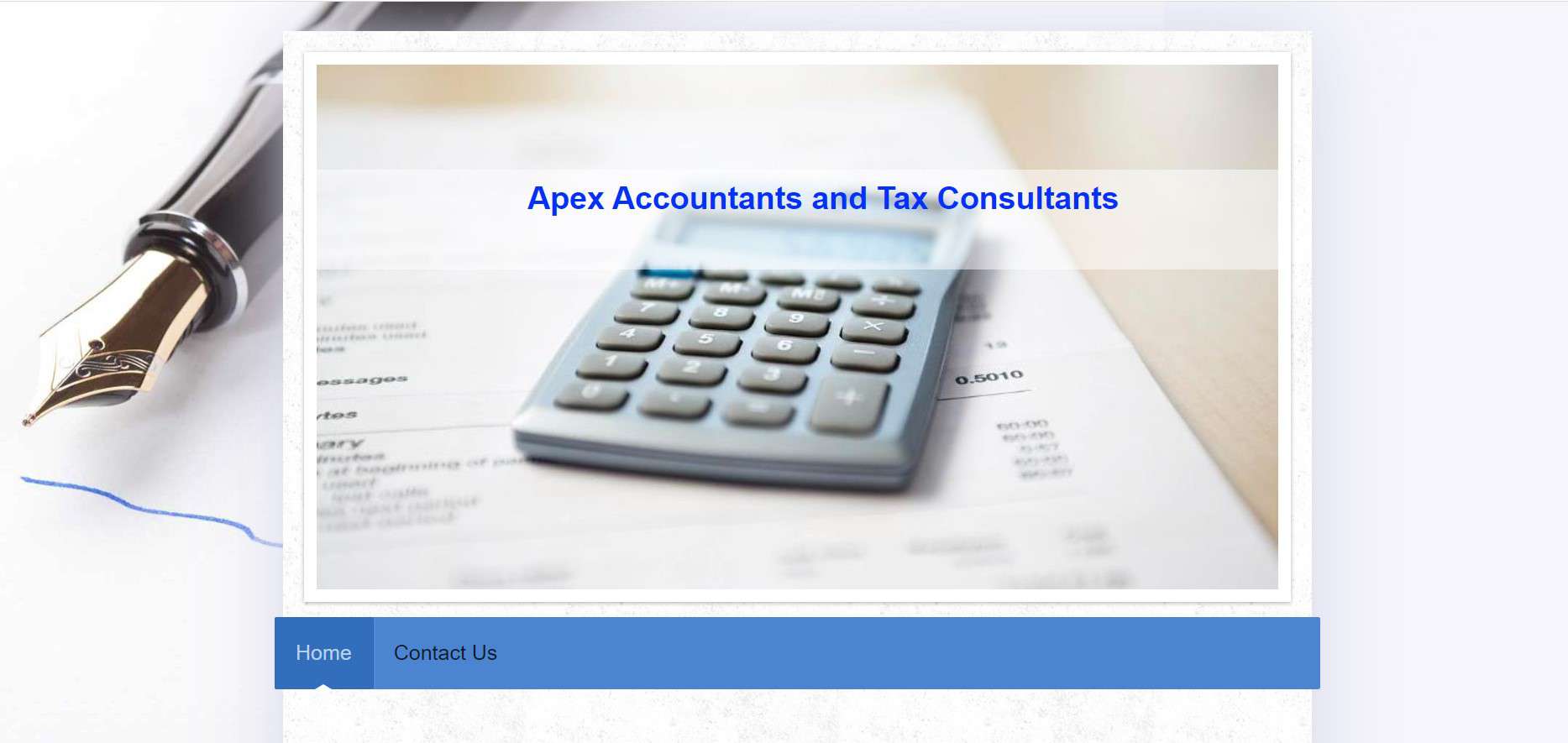 Sample Services:
Self-Assessment                                                                      

Payroll Services

Accounts Preparation

Tax Returns for Sole Traders 

Tax Returns for Limited Companies

Landlords/Rental Income

Make Tax Digital (MTD)

Business Start-Ups

Financial Advice

Tax Consultation
AAT licensed: No
ACCA licensed: No
Member of the Institute of Chartered Accountants: No
Sample Reviews: 
"Very nice, very helpful accountants. Good staff, nice people." — Adeem Maqbool
"Very helpful people." — Vikar Alyas
Address:
38 High St, 
Heckmondwike 
WF16 0AQ
Website: 
https://www.apexaccountants.co.uk/ 
4. TaxAssist Accountants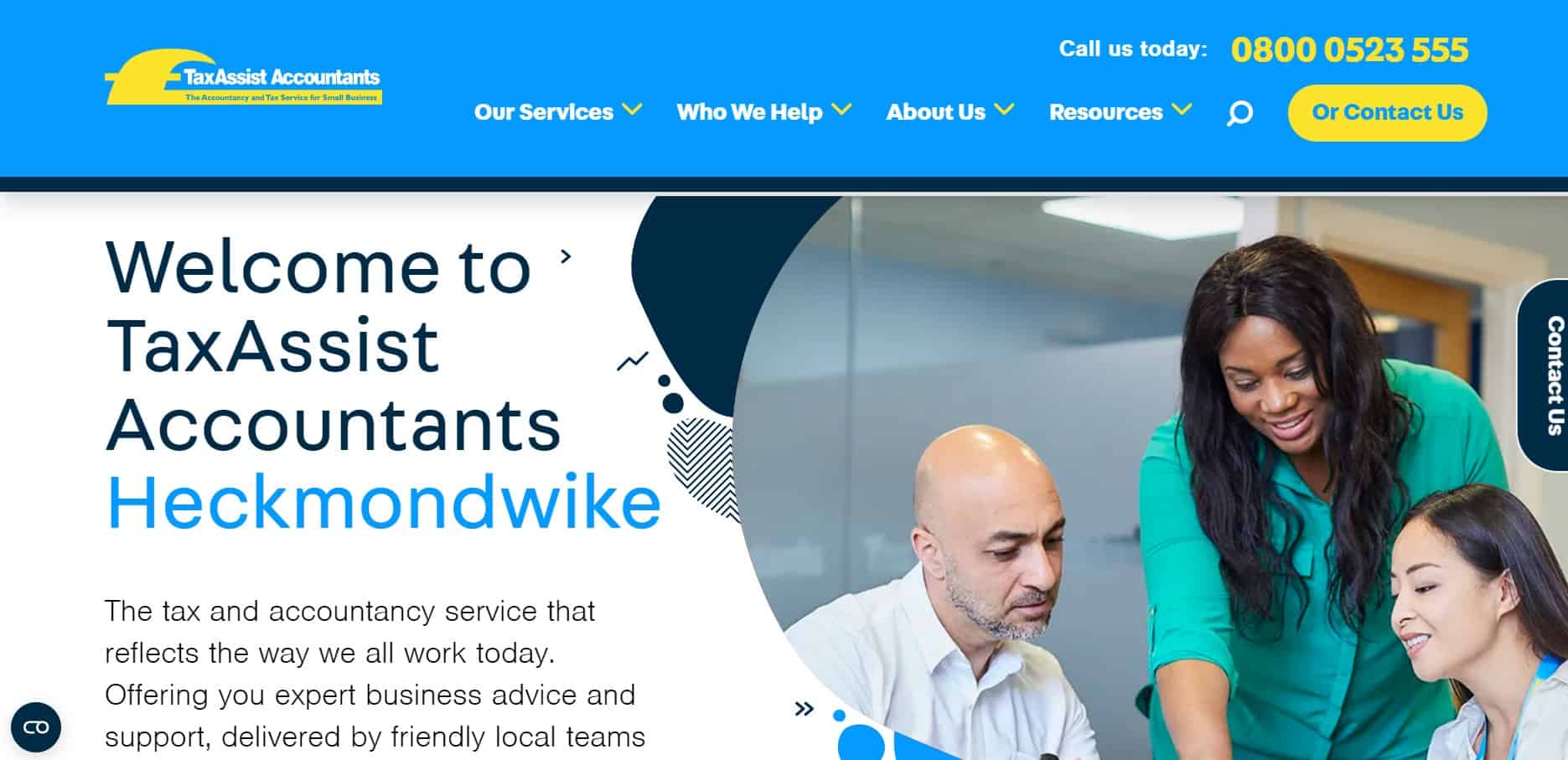 Sample Services:
Business Insights

Business Valuations, Sales, and Acquisitions

Business Banking and Funding

Business Plans

Cash Flow Management

Debt Recovery

Business Rescue and Recovery

Direct Debits

Legal Services

Employment Law
AAT licensed: No
ACCA licensed: No
Member of the Institute of Chartered Accountants: Yes 
Sample Reviews: 
"Zahid and his family have looked after my tax affairs for many years now, and I have nothing but praise and a huge thank you for their friendly advice and guidance. It's a pleasure visiting their office in Wakefield, and it's comforting to know that my tax affairs are in the hands of total professionals with vast experience. Thank you once again for your much-valued help." — Derek Hanley
"I have used Zahid and the family as my Accountants for 9 years now, and they've never let me down. As a small business owner, it's one thing less to worry about knowing that my business and personal tax returns etc. are done timely and accurately." — Paul Riskit
Address:
18 Market St, 
Heckmondwike 
WF16 0JJ
Website: 
https://www.taxassist.co.uk/accountants/heckmondwike/
5. J27 Accountants Ltd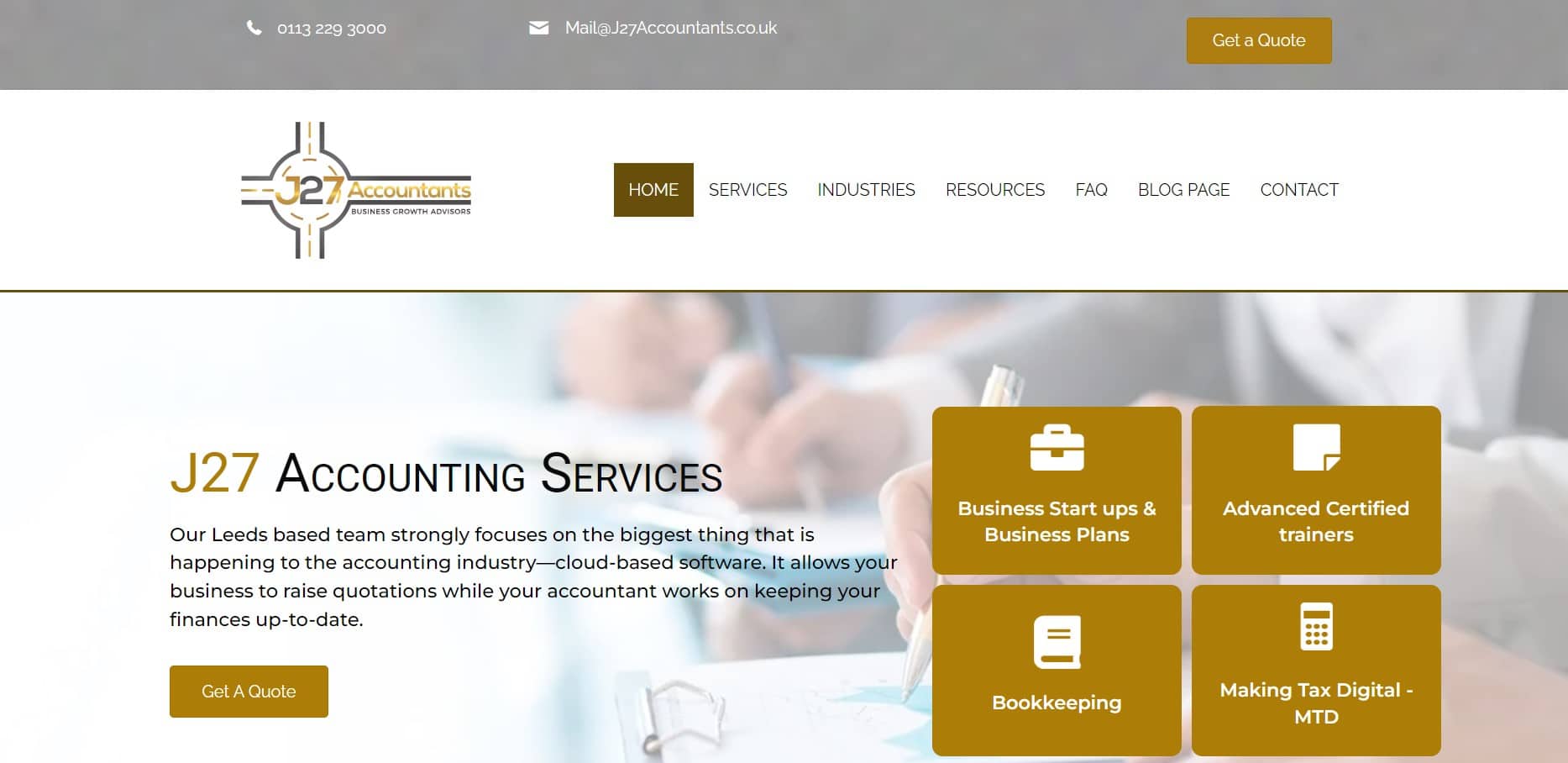 Sample Services:
Business Start-Ups & Business Plans

Making Tax Digital – MTD

Bookkeeping Services

Advanced Certified Trainers for QuickBooks, QuickFile, Sage, and Xero

Self-Assessment Tax Returns

Stock Control

Supplier Pricing

Raising Invoices

Limited Companies Services

Payroll – Pension – Auto Enrollment
AAT licensed: No
ACCA licensed: No
Member of the Institute of Chartered Accountants: No
Sample Reviews: 
"Jones Accountants have been our accountants for the last 16 years & I can honestly say that without their help, advice & guidance we wouldn't have lasted very long. We appreciate all their time and effort dealing payroll, pensions, VAT, tax, self-assessment & everything else involved in running a business efficiently." — Joanne Mosey
"I'm a self-employed Business Analyst, and Dinah Jones and her very friendly team have been looking after my accounts for a few years now, and I must say that they do a wonderful job. They work from a quaint office in Morley bottoms where I always receive a warm welcome whenever I pop in to talk through my accounts." — Roy Beaven
Address:
J27 Accountants Ltd, 
143 Wakefield Rd, 
Gildersome, 
Leeds 
LS27 7HH
Website: 
http://www.j27accountants.co.uk/ 
How did you pick the "best" Batley accountants?
We used Google local business data and selected firms with at least 3 reviews, scored 3.4 or higher, and that had a website.
Our dataset included only the 40 closest accounting firms to Batley city centre.
Moreover, we did not take into account ratings from other review sites. Feel free to get in touch if you think a particular disserving accountant has been overlooked.
How much does an accountant in Batley cost? 
According to our list of best accounting firms in Batley, accounting services start at £35/month without VAT for individual entrepreneurs and rise in accordance with the scope of your needs. 
In general, you should first arrange a consultation with the local accountancy expert of the accounting firm to get a quote. During the meeting, the firm will provide you with a proposal covering the fees they charge for the services you are interested in. Some of the firms, for instance, will arrange a tailored fixed fee after they assess your accounting needs.
How can I save money on a Batley accountant?
If hiring a dedicated accountant is too expensive, you might look into accounting software.
Here are the starting prices for various popular choices in the UK (all prices exclude VAT):
– Quickbooks: £10/month
– Freshbooks: £12/month
– Sage: £12/month
– Zoho: £12/month
– Xero: £14/month
Disclaimer: Businessfinancing.co.uk is a business finance and lending research and information website publisher. We are not a lender, bank, broker and/or other financial institution, and as such, we are not authorised or regulated by the FCA to offer financial advice. We can't recommend any of the products and/or services featured on the site. Companies are ranked in no particular order, and a higher ranking does not imply one company is better than another. We work with FCA-authorised and regulated firms who may pay us a commission for referring you to them, but this has no impact on our content and helps keep this website free to use.