White Oak UK is a business finance provider, broker, and aggregator specialising in business loans, asset finance, and commercial mortgages. White Oak UK is apparently Feefo's top rated non-bank business finance provider and has several offices based throughout the UK, including London, Manchester, and Glasgow. The lender has a 30-year history and delivered over £530 million in funding in 2019 with an average deal size of £41,000.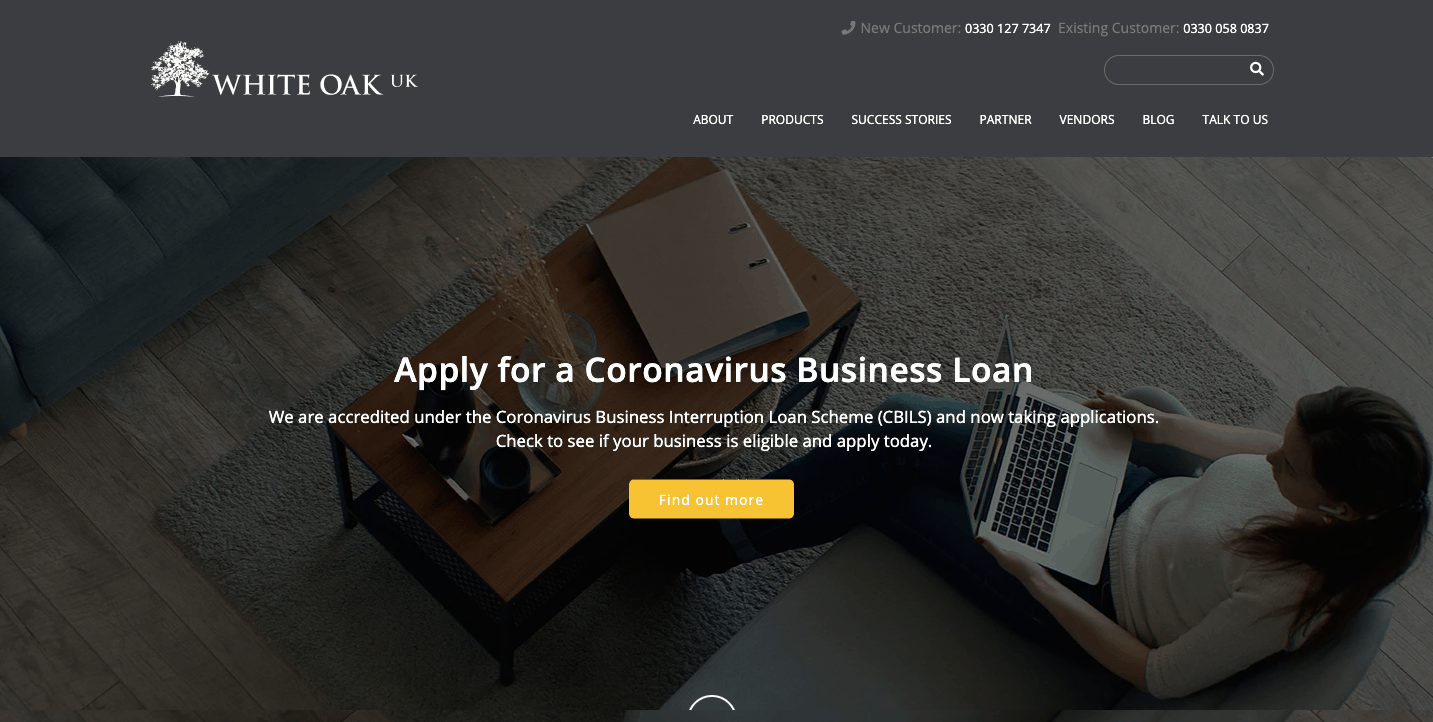 White Oak UK Business Finance
Asset finance
Hire purchase, lease finance, and commercial loans are available for a variety of assets, including vehicles, catering equipment, machinery, technology, and more. Specialist products are also available, including refinancing, biomass boiler financing, and farming equipment financing.
Business loans
Both short and long term loans are available. Your business can borrow from £2000 to £500,000 and repay it over 3 months to 5 years. According to White Oak UK, 4 out of 5 applications are accepted and you can receive your finance within 24 hours. There are no early repayment fees.
Interest-only loans are also available, which are a 3-month agreement where the business repays just interest in months 1 and 2 and then settles the full balance in month 3. This type of loan is designed for short term cash flow issues only.
Commercial mortgages
Loans are available from £25,000 (max 70% LTV) for commercial property purposes. The maximum repayment term is 25 years and interest repayments are tax deductible. Just like the other finance types, 4 out of 5 applications are accepted and your account will be managed by an individual account manager, so you'll always speak to the same person when you contact White Oak UK.
White Oak UK Reviews and Ratings
White Oak UK's best reviews are on Feefo, where the lender has a platinum Feefo Trusted Service Award. The large majority of reviews are 5/5 and customers praise their fast, efficient service and knowledgeable team. Reviews are similarly positive on Google.
There's just one White Oak UK review on Trustpilot which is average. The customer claims they're helpful at the early stages but come down very hard on customers that need repayment extensions.
White Oak UK reportedly increased lending to more than £1.5 billion through its own book in December 2019.
Trustpilot – 3.3/5 (based on 1 review)
Feefo – 4.9/5 (based on 262 reviews)
Google Reviews – 4.7/5 (based on 34 reviews)
Reviews.co.uk – no reviews
Smart Money People – no reviews

Pros
Choice of asset-based finance, loans, and mortgages.
Short and long term finance available.
Very positive reviews online.
Cons
White Oak is both a direct provider and a broker, depending on the product, so there could be some broker's fees to consider.
Website: White Oak UK Business Finance