White Oak UK is a business finance provider, broker, and aggregator specialising in business finance, loans and asset finance. White Oak UK is apparently Feefo's top-rated non-bank business finance provider and has several offices based throughout the UK, including London, Manchester, and Glasgow. The lender has a 30-year history and delivered over £530 million in funding in 2019 with an average deal size of £41,000.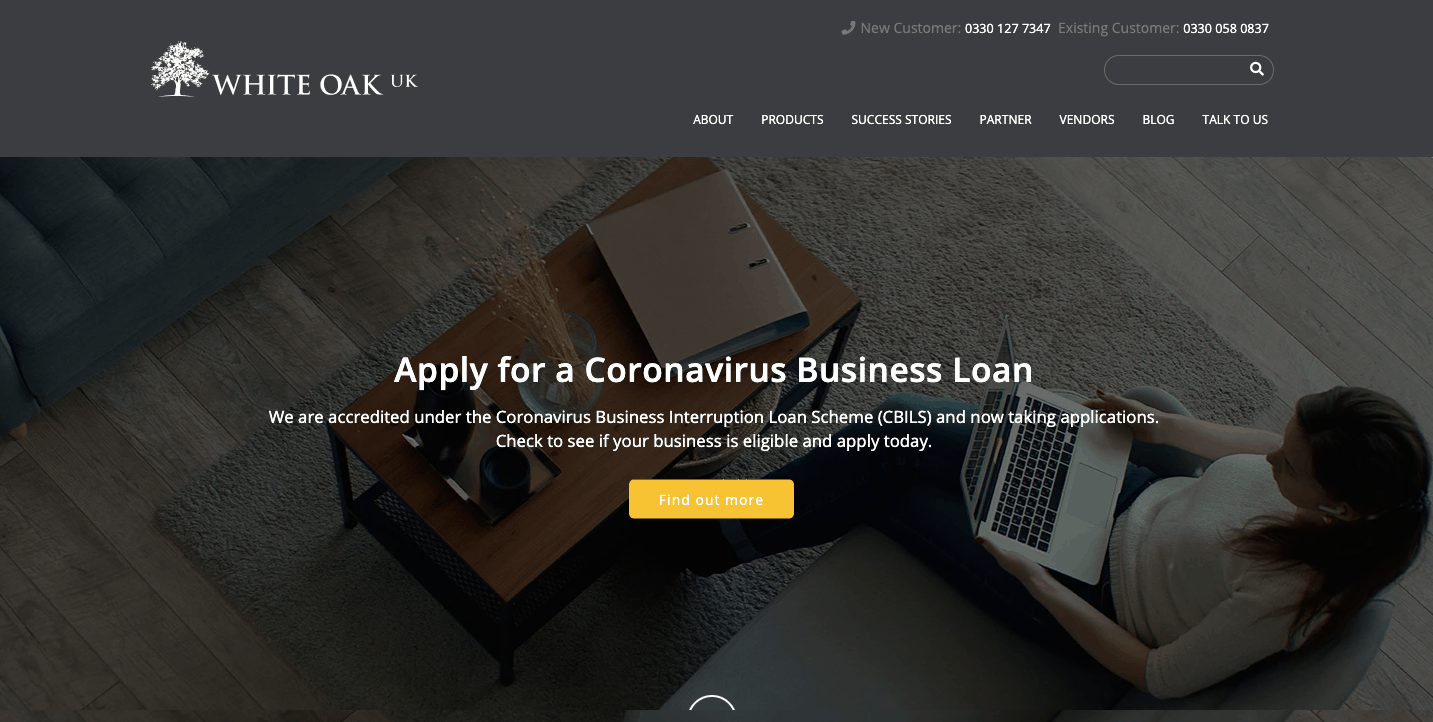 White Oak UK Business Finance
Asset finance
Hire purchase, lease finance, and commercial loans are available for a variety of assets, including vehicles, catering equipment, machinery, technology, and more. Specialist products are also available, including refinancing, biomass boiler financing, and farming equipment financing.
Invoice finance
Invoice finance allows you to release up to 95% of your invoice values and borrow from £200,000 to £5 million. To be eligible you need to have been trading for over 3 years and have a turnover between £200,000 and £10 million.
Supply chain finance
Supply chain finance allows you to facilitate access to the cash flow from your supply chain with up to 90% advance rates. They offer loans from £5 million to £100 million.
Working capital loans
Working capital loans can be used for a variety of reasons including tax, VAT, insurance, practise certificates, software licenses and annual subscriptions/licenses. They offer borrowing from £25,000 to £1 million on terms from 3 to 12 months.
Business development loans
Business development loas are available to fund growth initiatives such as acquisitions, buy outs, research and development, rennovations and refurbishments, and purchasing stock. They offer loans from £25,000 to £2 million on terms of 12 to 48 months.
Trade finance
Trade finance is designed to help facilitate international trade and can be used for importing stock and equipment, cross-border trade, domestic supplier purchases and seasonal cash requirements. They offer loans of £5 million to £100 million with up to 90% advance rates.
White Oak UK Reviews and Ratings
White Oak UK's best reviews are on Feefo, where the lender has a platinum Feefo Trusted Service Award. The large majority of reviews are 5/5 and customers praise their fast, efficient service and knowledgeable team. Reviews are similarly positive on Google.
There's just three White Oak UK reviews on Trustpilot which are negative due to bad experiences.
White Oak UK reportedly increased lending to more than £1.5 billion through its own book in December 2019.
Trustpilot – 2.8/5 (based on 3 review)
Feefo – 5/5 (based on 151 reviews)
Google Reviews – 4.7/5 (based on 34 reviews)
Reviews.co.uk – no reviews
Smart Money People – no reviews

Pros
Choice of asset-based finance, loans, and mortgages.
Short and long term finance available.
Very positive reviews online.
Cons
White Oak is both a direct provider and a broker, depending on the product, so there could be some broker's fees to consider.
Website: White Oak UK Business Finance