TransferWise offers a business account specifically for receiving and sending foreign currency. Accounts are available for sole traders and freelancers, as well as small and larger businesses. TransferWise was created by the same team that created Skype, and has Richard Branson has an investor. There are 4 million worldwide customers, and it's regulated by the Financial Conduct Authority.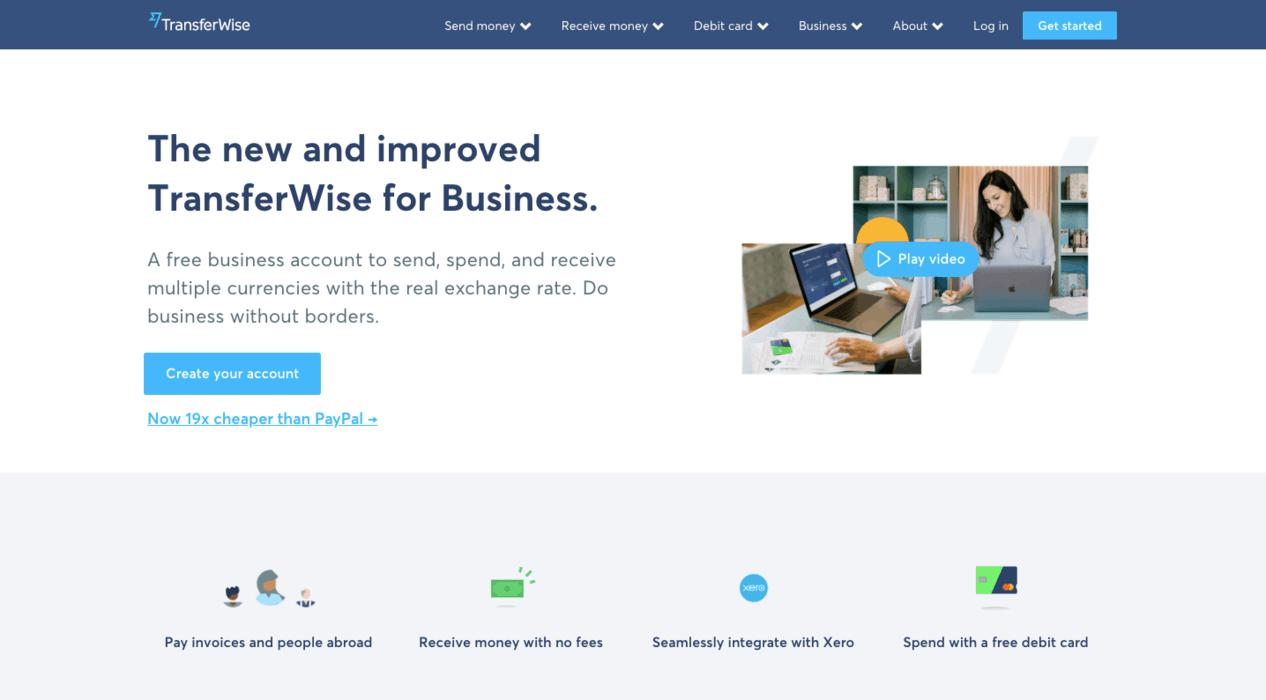 TransferWise Business Banking Services
Current Accounts
TransferWise makes it easier for small businesses and freelancers to work with foreign customers and clients. Your account will include UK, Eurozone, Australian, New Zealand, and US bank details to make foreign transfers faster and easier. Your TransferWise business account also includes a Mastercard debit card.
You can pay invoices from foreign suppliers, receive money in 40 currencies with no fees, and integrate with accounting tools like Xero. It even promises to be 19x cheaper than receiving and sending money abroad through PayPal.
Fees vary based on how much you pay or receive and in what currency.
Savings account
Not available.
Overdrafts
Not available.
Business finance and loans
Not available.
TransferWise Reviews and Ratings
Reviews across Trustpilot, Smart Money People, and Reviews.co.uk are all really positive. Customers are happy with the exchange rates and speed of transfers overall. There are very few critics, but they seem to have the most frequent issues with transfers being blocked or cancelled.
TransferWise isn't included in the Which? list of 'Best & Worst Banks'.
TransferWise recently topped a list of Britain's most recommended brands, provided by data from YouGov. People were asked which brands they would recommend to family and friends from a list of 1,500, and TransferWise came out on top along with challenger bank Monzo.
In November 2019, TransferWise partnered with GoCardless to create recurring foreign payments for businesses.
The startup will soon be adding transfers to Malaysia. Currently customers can transfer to and from 17 Asian countries. The foreign currency transfer service also announced it would give away $150,000 to Singaporean based businesses and individuals who have been hit with high transfer fees.
Trustpilot –  4.6/5 (based on 76,464 reviews)
Reviews.co.uk – 4.78/5 (based on 9 reviews)
Smart Money People – 4.91/5 (based on 23 reviews)
Which? – not included
Pros
An affordable way to send and receive foreign currencies.
Fast and intelligent. You can manage it all online.
Very good reviews.
Cons
Not necessarily a replacement for a normal business current account.
Only useful for businesses working and spending abroad. For others there's a lack of extra features.
Website: TransferWise Business Banking