Monzo is an online business current account. There are no branches, as Monzo is completely digital. Monzo is one of the most popular and established challenger banks, with 5.63 million using their service around the world, but it operates much like a normal business current account with a few helpful extras.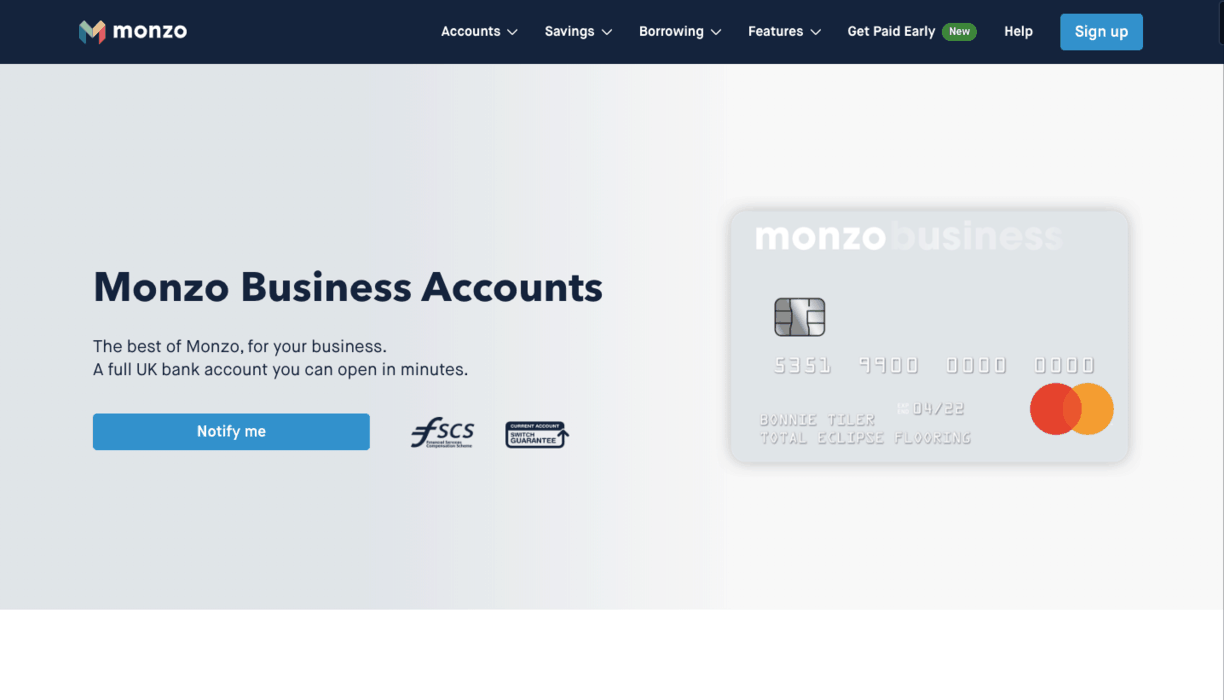 Monzo Business Banking Services
Current Accounts
Your Monzo account is managed on the app 24/7. Customer support provided by real people is also available 24/7 through the app. A contactless debit card is included, as well as real-time income and expenditure insights. Your Monzo account easily syncs with cloud accounting tools like Xero and QuickBooks. Businesses can also put their cash in subaccounts to save for specific overheads and expenses.
New features coming soon include international payments, batch payments, and automatic tax calculations. They offer a free Lite account and a more advanced account that costs £5 a month, and there are very few charges for normal account transactions.
Savings account
Savings accounts are only available with a personal current account.
Overdrafts
Overdrafts are not available on business current accounts.
Business finance and loans
Loans are only available to personal Monzo customers.
Monzo Reviews and Ratings
Overall, Monzo has glowing reviews. 80% of Trustpilot reviews are rated "Excellent", and current customers love how the app is easy to use and helps them budget and save. The consensus is that Monzo is a much more intelligent version of a current account.
Reviews.co.uk and Smart Money People reviews are also very positive.
Monzo comes 2nd in Which? list of 'Best & Worst Banks' with a customer score of 82%. The online account beats 21 big established names in business banking with 5/5 ratings for application process and handling complaints, 4/5 for customer service, communication, telephone banking and transparency of charges.
Some customers were recently charged twice while using their Monzo cards at Tesco. The Chelmsford store temporarily stopped accepting payments with Monzo cards in response.
BBC Watchdog investigated Monzo in October 2019 for allegedly freezing customer accounts with no warning or explanation. Some customers couldn't access their cash for weeks at a time and couldn't pay for essential expenses. Monzo denies freezing accounts unfairly and say their fraud practices are the same as any other bank.
Trustpilot – 4.5/5 (based on 18,436 reviews)
Reviews.co.uk – 4.08/5 (based on 13 reviews)
Smart Money People – 4.93/5 (based on 7,388 reviews)
Which? – 82% customer score
Pros
Convenient, fast, and modern. It's easier to manage your business' cash and accounting.
Reviews are excellent across the board.
Cons
There are occasional technical glitches according to recent reports.
Doesn't offer savings or loan products.
Website: Monzo Business Banking