In an ideal world, female start-up founders would not need to prove their value compared to their male counterparts. But research shows that women face negative attitudes during pitches. Investors ask women more about risk and losses, while men are asked about ambitions and achievements.
That's tough luck for prejudiced investors. Female founders deliver higher profits. They are more likely to run their business in a socially responsible way. And, because they are more driven by ideas than money, they are a better bet for long-term success.
So, who are these high-achieving women entrepreneurs? We analysed data from the business information resource Crunchbase to identify the top female founder in every country in the world and created this new set of maps to show who they are and what they do.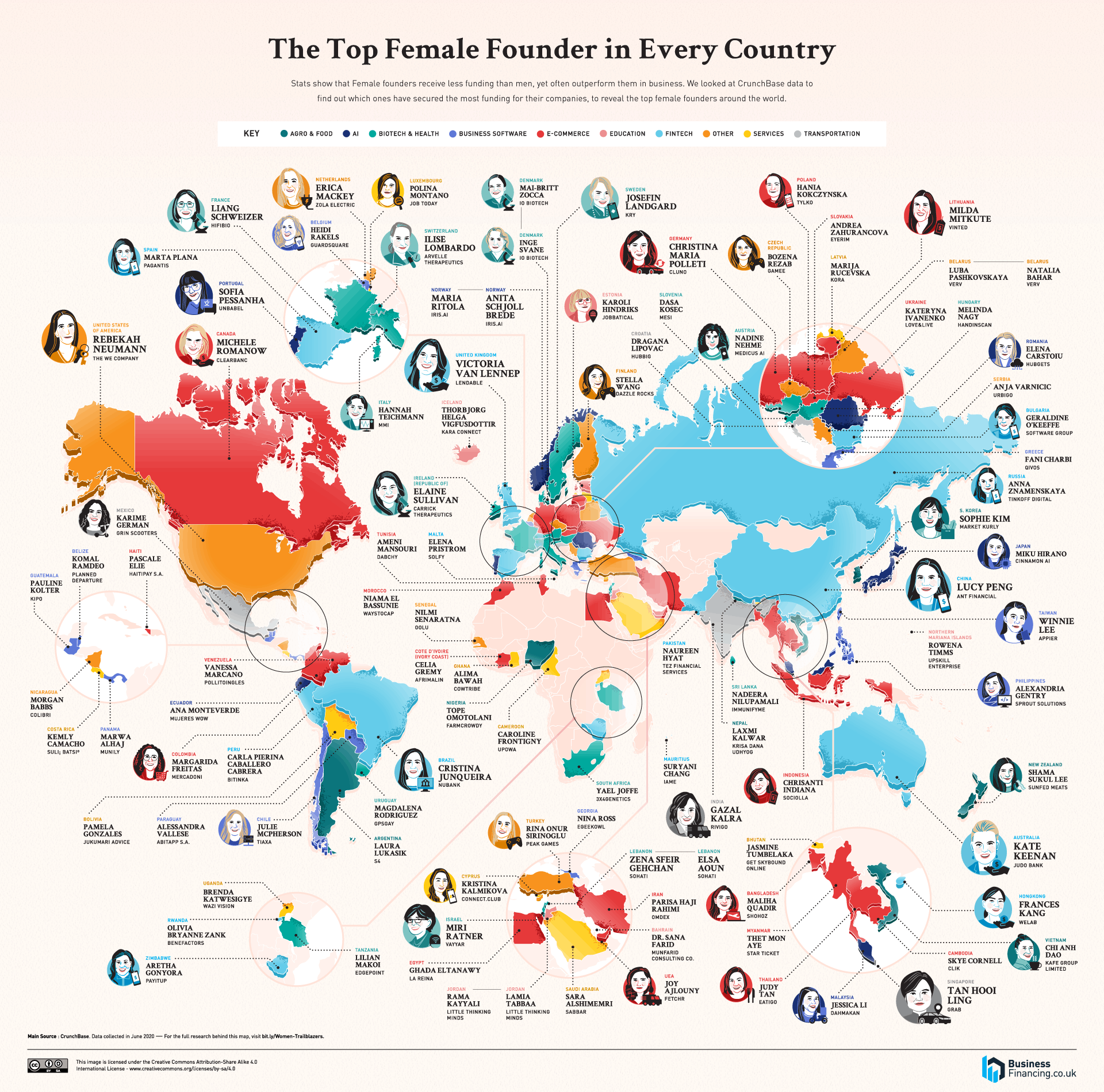 Click here to see the map in full size
The Top Ten Female Founders in the World
The female founders with the largest funding hauls are spread across five continents. From multi-billion-dollar deals in the world's top business economies to plucky start-ups in less obvious markets, these are the female leaders who've made the biggest splash in their respective homelands.
Europe
Victoria van Lennep made it to the Forbes 30 under 30 in 2018 after raising over $250m in lending capital for her UK company, Lendable. The total raised now stands at over $1bn. Lendable uses machine-learning tech to automate credit decisions, offering customers fairer loan rates.
Biotech start-ups are big in Europe, but our research shows there's room for gaming, too. In Finland, Stella Wang raised nearly $7m to create Minecraft-inspired sandbox games for the social generation. She co-founded Dazzle Rocks and provided the creative vision and valuable insight into the cultural differences across eastern and western gaming markets.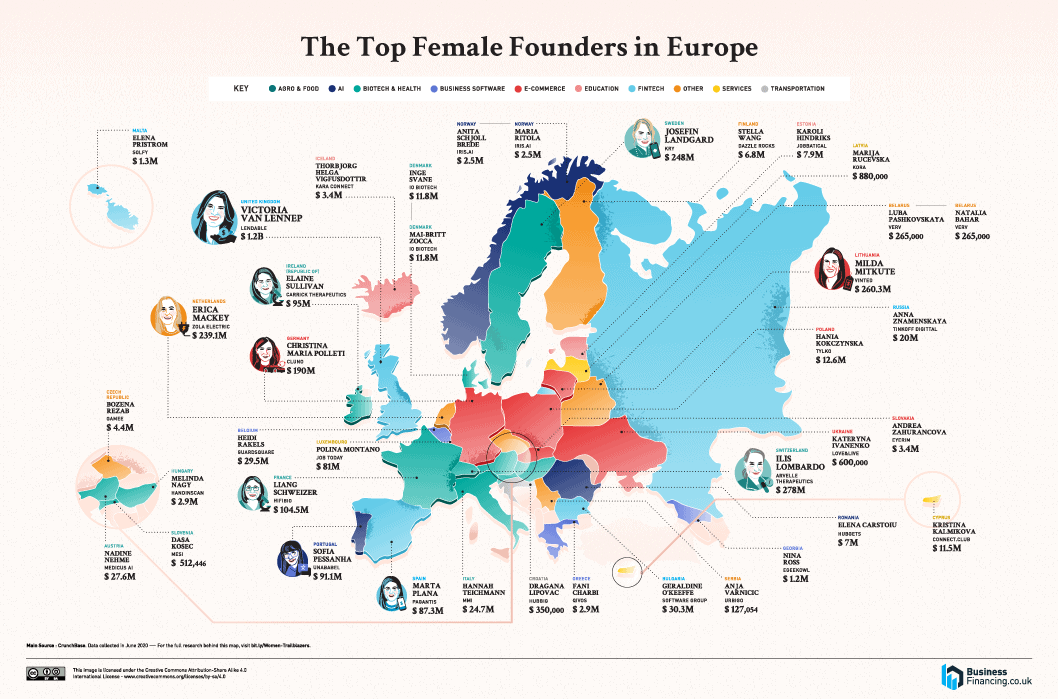 Click here to see the map in full size
North America
The top female founder in the US is Rebekah Neumann, who raised nearly $20bn for The We Company. This is the parent company of WeWork and other subsidiaries and has interests in real estate, finance, and hospitality. Neumann has since taken a step back from The We Company amidst some controversy.
Our research reveals that North American female founders often find success with e-commerce and business software companies. One stand-out example is Kemly Camacho, who founded Sulá Batsú in 2005 as a socially-oriented co-operative. Camacho has raised $350,000 to support development in Haitian communities through digital technology, art and culture, and knowledge-sharing.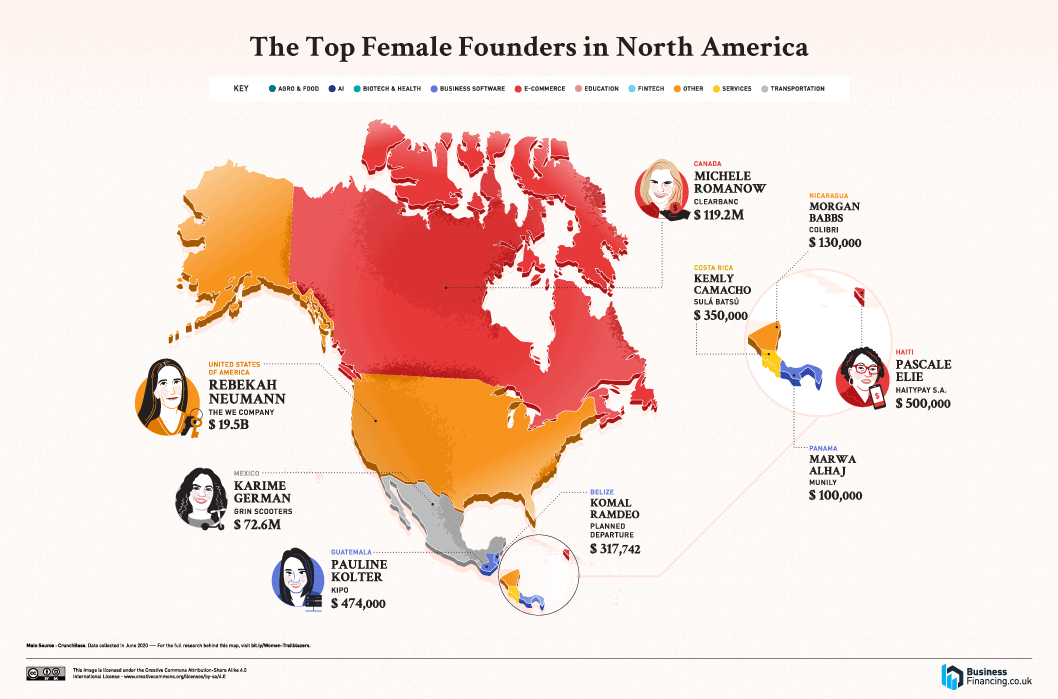 Click here to see the map in full size
South America
Cristina Junqueira's waters broke in the company office during the first months of Nubank's existence. The start-up's only female co-founder continued answering calls all the way to the hospital. Brazil (and South America's) top female founder has raised over $1.1bn for Nubank but is just as interested in raising female representation in technology and banking.
"Many of the structural choices we've made in terms of gender equality and inclusion are reflective of the fact that I have been here from the beginning," Junqueira says. "Traditional companies are uncomfortable because they are losing talent directly to us as they are less able to attract younger professionals to whom things like diversity and inclusion are very important."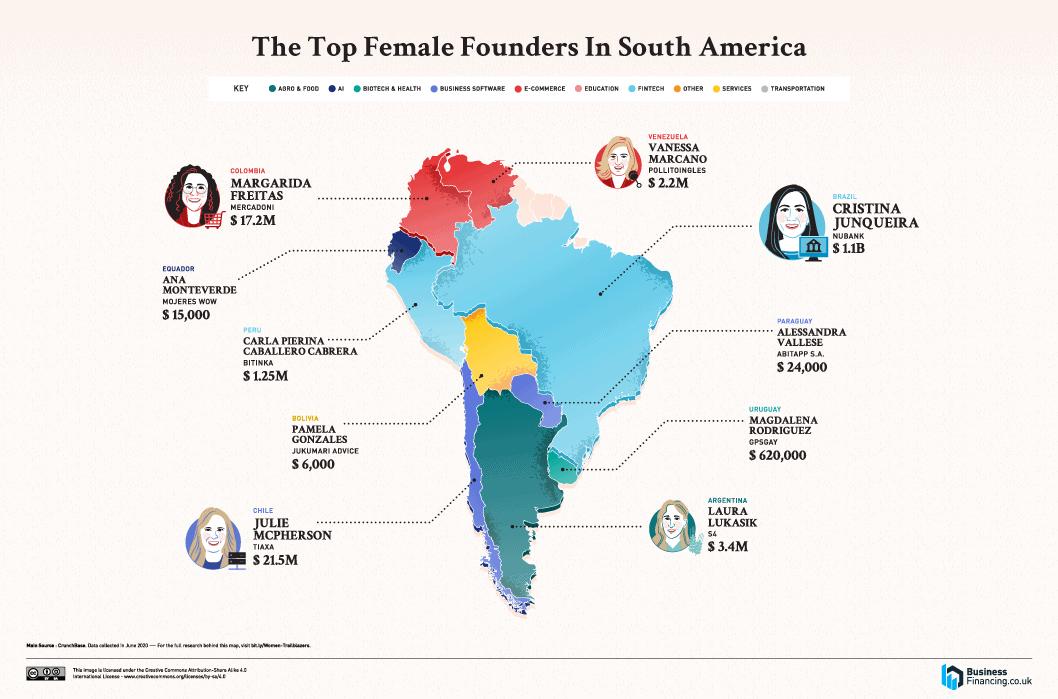 Click here to see the map in full size
The Middle East & Central Asia
Miri Ratner sees things other people can't. Ratner has raised $188m for Vayyar, an Israeli company that initially designed their '4D imaging' technology to detect breast cancer. Vayyar's sensors are now being touted to make autonomous cars safer, to give vision to robots, and for use in homeland security.
The top female founders in Jordan are Rama Kayyali and Lamia Tabbaa. Together they raised $2.1m for Little Thinking Minds, a start-up that develops digital education resources primarily for Arabic kids. Kayyali acknowledges her economic privilege, stressing that work is a passion and not a necessity. "For me, working is a choice. I choose to work."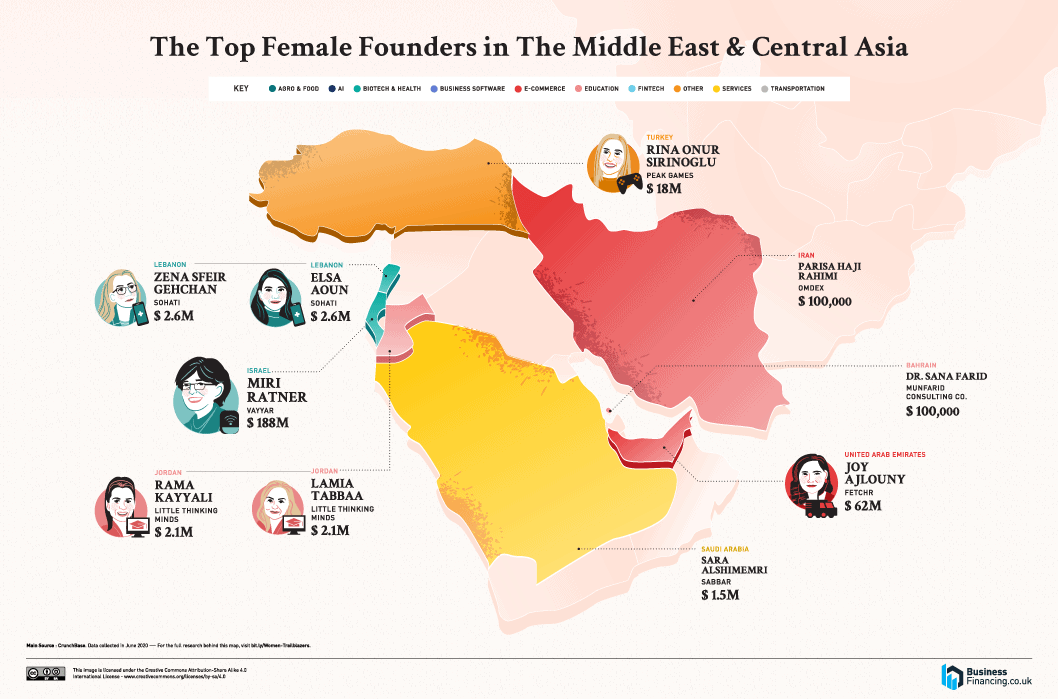 Click here to see the map in full size
The Rest of Asia & Oceania
The world's top female founder is Lucy Peng. As the sole founder of Ant Financial Services – Alibaba's online finance outfit – Peng raised $22bn, including a world record $4.5bn funding round in 2016. Peng was part of Alibaba from the beginning, too, as one of the Chinese e-commerce company's six female founders.
Miku Hirano is a millennial tech founder and "serial entrepreneur" in Japan. A computer science graduate, Hirano raised $30m to launch Cinnamon AI. "The most difficult thing for entrepreneurs is to find PMF (product-market fit)," says Hirano. "Even if you have a good idea, you cannot sell it if there is no need in the market."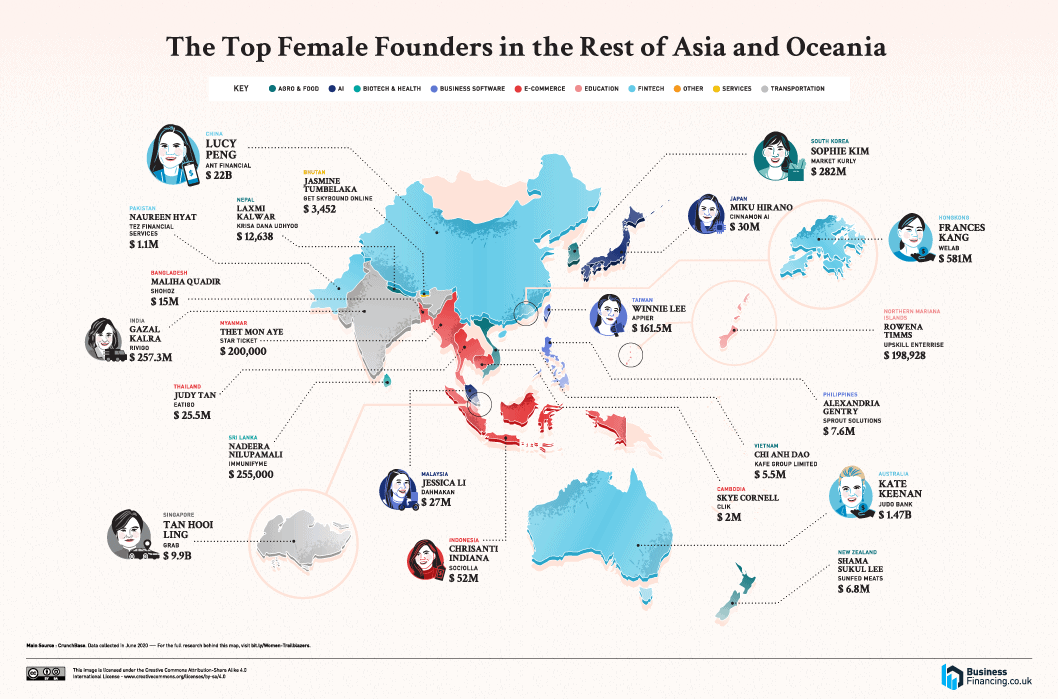 Click here to see the map in full size
Africa
Aretha Gonyora is the female founder who has raised the most funding in Africa: $13m. Her Zimbabwean company, Payitup, is a fintech company that processes consumer payments, mostly for media and communications services.
"I realised early on that, as a woman trying to get ahead, I had to work really hard in order not to drop the ball," recalls Tope Omotolani, who raised $2.5m for Nigerian agtech startup, Farmcrowdy. "I prioritized my work, doing the 20% that will give me the 80% result instead of doing 80% that will give 20% result and delegated responsibilities as much as I could."
Click here to see the map in full size
The Top Female Founders in Every State of America
Aside from Rebekah Neumann (New York), Georgia's Kathryn Petralia is America's top female founder. She was also Forbes' 98th most powerful woman in the world in 2017. Petralia has raised nearly $2.5bn for Kabbage, a fintech company that simplifies working capital loans for small businesses.
Biotech and health start-ups are a lucrative business for female founders across the States. Our map shows that the top founders of 21 states are with biotech/health firms. In Texas, the trio of Ann Leen, Helen Heslop, and Cliona Rooney was at the heart of the AlloVir team that raised $159m to develop cell therapies for virus sufferers.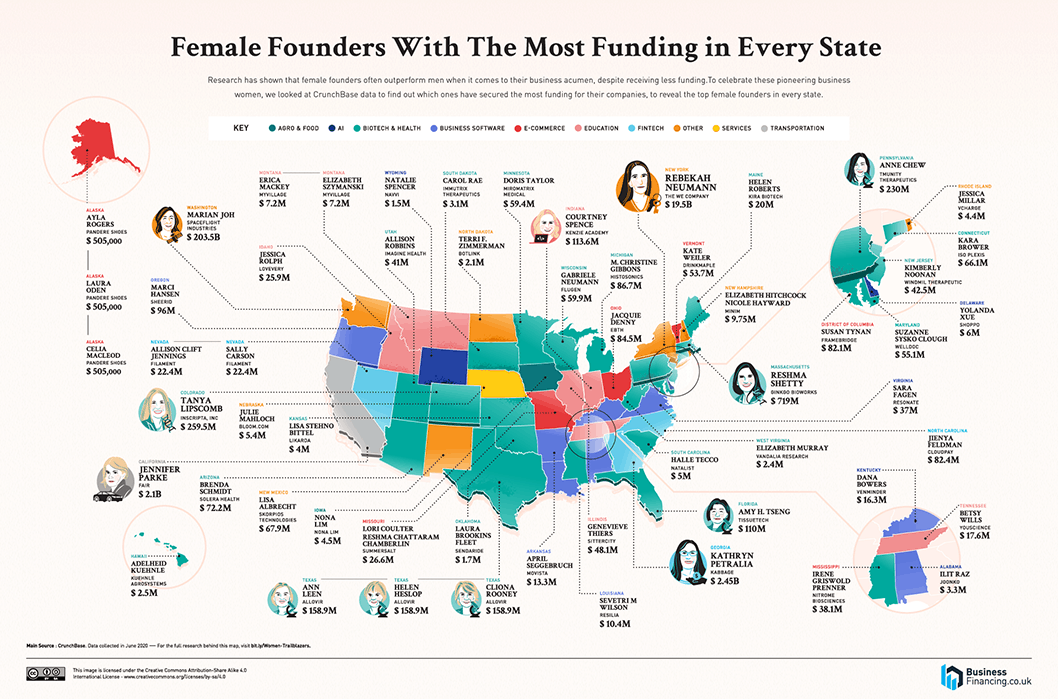 Click here to see the map in full size
The Decade of Female Entrepreneurs?
Over the past decade, the percentage of deals made with teams that included women founders rose from 7.9% to 15.7%. Last year, 21 female-founded or co-founded American start-ups became unicorns, up from 15 the previous year. Investors are waking up the power of female founders. And as our research shows, they are waking up all over the world.
The story of female start-up founders may be of triumph over adversity – but that triumph is just beginning.
Methodology & Sources
To create these maps, we selected female founders that have been a founder or co-founder of at least one company in a given country or state of the US-listed in CrunchBase. For each country, we selected the women who founded companies with the greatest funding amount raised. For some countries, no qualifying companies with female founders were listed on CrunchBase. In cases where there was more than one female co-founder, all-female co-founders were included.
Industry categorisation was created on the basis of industries and company descriptions, as listed on CrunchBase. The final dataset contains 107 female founders and co-founders across 102 countries in the world. For the US, 57 female founders were included from 50 states and DC.
Data collected in June 2020. For the full research behind this map, visit bit.ly/Women-Trailblazers.
Most Popular Guides