The Co-operative Bank was set up as an ethical bank in Manchester in 1872. The bank avoids investments in 'unethical' businesses, including the arms trade, fossil fuels, and animal testing. They only have a small branch network in the UK in major cities. Business customers can access a Co-operative current account, business finance, and savings products.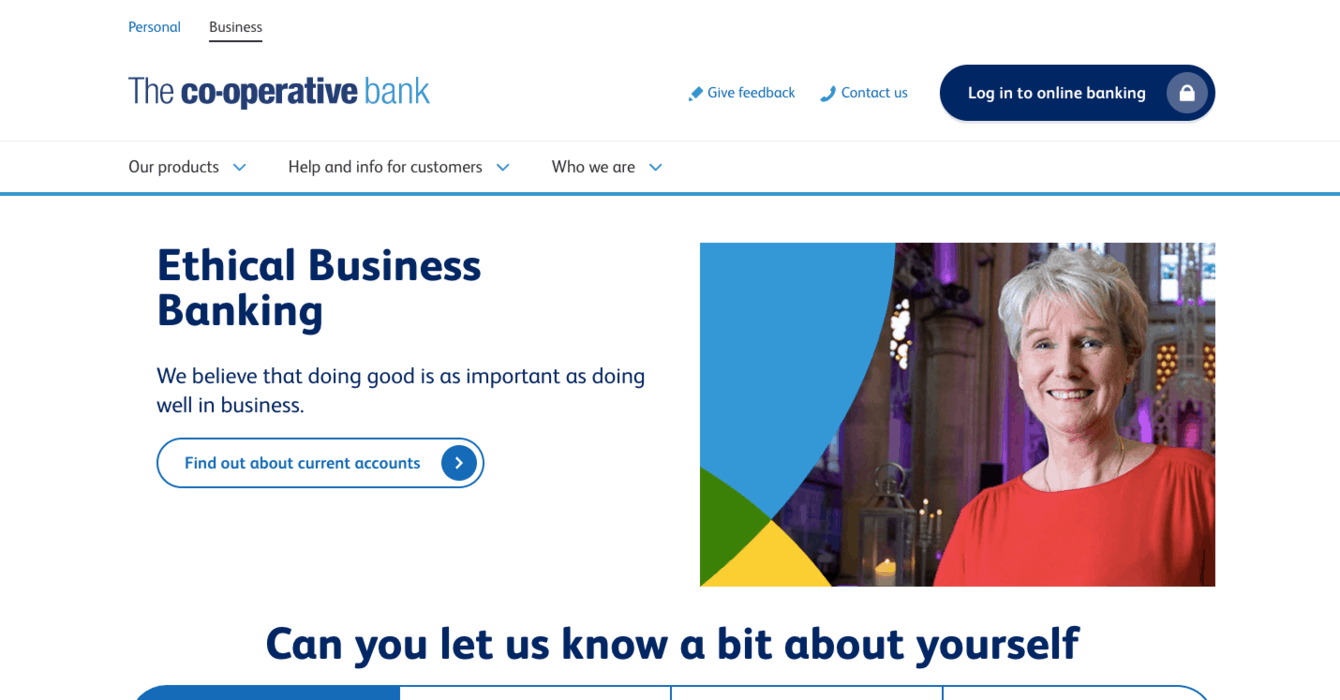 Cooperative Bank Business Banking Services
Current account

The Co-operative Bank offers five current accounts, depending on the business' needs. The standard Business Directplus account gives customers 30 months' free everyday banking. There are also accounts available for Federation of Small Businesses members, charities, and businesses with a high cash turnover. Accounts cost a minimum of £7 per month. 
Savings account
The Co-operative offers a choice of instant access savings and notice accounts. The instant access savings can be opened with a minimum of £1 and interest rates are 0.03% AER variable and calculated daily. They offer two notice accounts that provide either 35 or 95 days' notice with an interest rate up to 0.12% gross/EAR variable.
Overdrafts
Businesses can apply for a secured or unsecured overdraft of up to £250,000. Interest rates are variable and calculated using the Bank of England Base Rate. Arranged overdrafts are currently charged at 6.28% representative EAR variable. There's also a 1.5% overdraft arrangement fee (£50 minimum).
Business finance and loans

Borrow between £1,000 and £250,000, and repay over 1-15 years. Interest varies and is charged monthly. Co-operative business customers can also apply for a Charge Card with an interest-free period of up to 48 days, with a monthly fee of £2 per card.
More on Co-operative Bank Business Loans & Finance
Reviews and ratings
Trustpilot reviews are mixed. Some Co-operative Bank customers are pleased with how easy it is to manage their account, but the majority are unhappy with online banking glitches, and slow payments and transfers.
Smart Money People reviewers are complimentary of the Co-operative Bank as a whole, but there are largely for personal accounts.
There are no public reviews on Reviews.co.uk.
The Co-operative Bank ranked 13th in a list of the 14 largest business current account providers for overall service quality in an independent survey.
In the same list of 14 business current account providers, the Co-operative Bank also ranked 14th for online and mobile banking services, 14th for relationship/account management, and 11th for service in branches.
Which? rate the Co-operative Bank 4/5 for communication, transparency of charges, online banking, and telephone banking. The Co-op also scored 3/5 for customer service, service in-branch, mobile app, complaints handling and value for money.
Trustpilot 1.4/5 (based on 1,939 reviews)
Reviews.co.uk n/a
Smart Money People 3.86/5 (based on 366 reviews)
Which? 68% Which? Customer Score
Pros
Excellent free banking period for new customers.
Good choice of current accounts.
High rating on Which?
Cons
Lack of choice when it comes to savings accounts.
Some critical reviews on Trustpilot.
Poor rankings in independent service quality survey.