The Co-operative Bank was established in Manchester in 1872. They have a small branch network across the UK in major cities. Business customers can access business finance, current accounts, and savings products. The bank avoids investments in 'unethical' businesses and trades.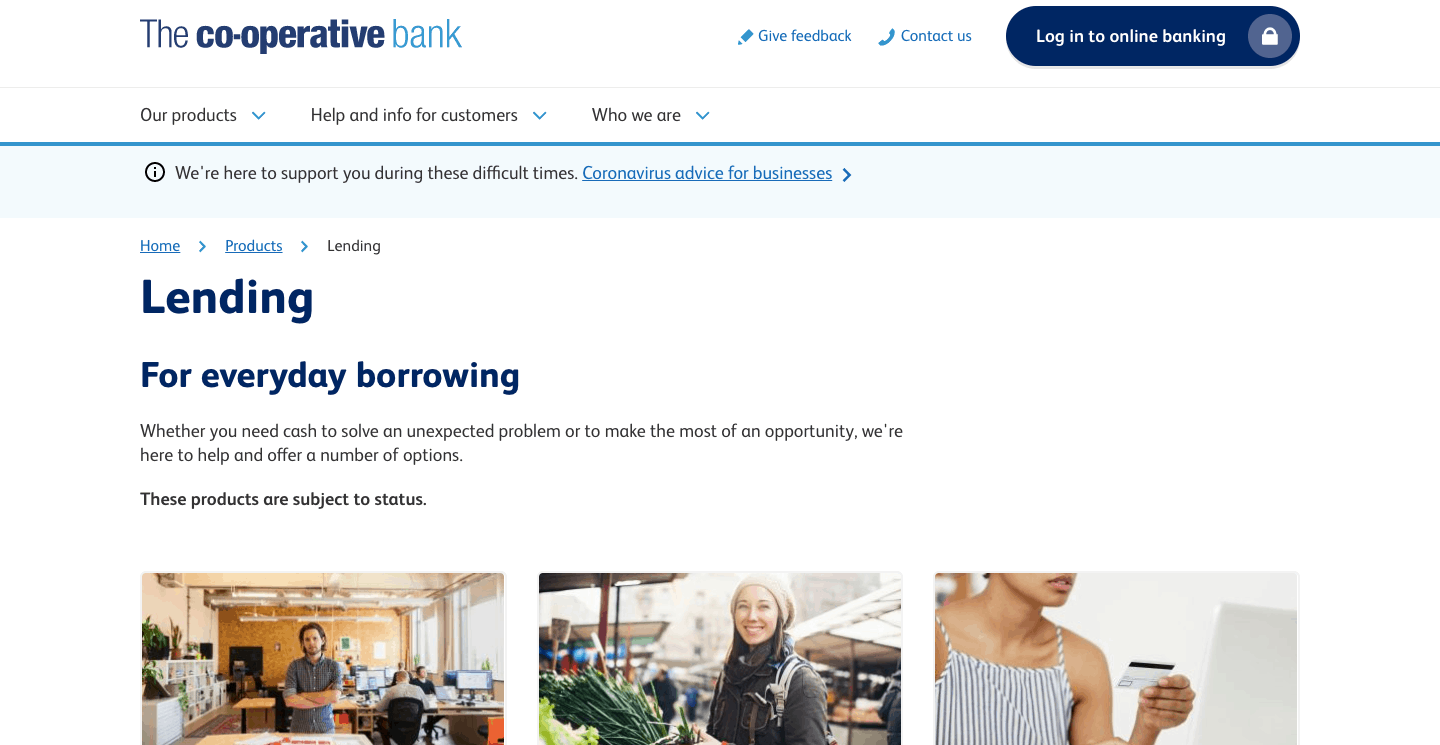 Co-operative Bank Business Finance
Business loans
Business loans are available between £1,000 and £250,000 with a repayment period of 1-15 years – sole traders can borrow from £25,020. Most loans are secured and interest is charged on a monthly basis. If your business is using the loan to buy an asset, the Co-operative Bank will offer a maximum 70% loan funding against asset purchase. An arrangement fee of 1% of the loan amount will apply.
Business overdraft
Secured and unsecured overdrafts of up to £250,000 are available. Your business must have a Co-operative Bank business current account to be eligible. Arranged overdrafts of up to £25,000 are charged at 6.28% (Variable) representative EAR. There's also a 1.5% overdraft arrangement fee (or £50 – whichever is greater).
Business charge card
Co-operative business charge cards give customers an interest-free period of up to 48 days. Cards can be used for both payments and cash withdrawals. There's a £2 monthly fee.
Co-operative Bank Reviews and Ratings
Co-operative Bank reviews and ratings are very mixed, with some sites criticising them and others giving them a good review. Trustpilot reviewers think they're 'Poor' with many citing issues with "unusable" online banking, slow response times, and poor customer service. Most Smart Money People reviewers are much happier and think the service is great.
The Co-operative Bank was listed 13th of 14 of the largest business current account providers for SME overdraft and loan services in an independent survey.
In the same list of 14 business current account providers, the Co-operative Bank ranked 13th for overall service quality, 14th for online and mobile banking services, 14th for relationship/account management and 11th for service in branches.
It's a different story on Which?. The Co-operative Bank scores 4/5 for communication, transparency of charges, online banking, and telephone banking. The Co-op also scored 3/5 for customer service, service in-branch, mobile app, complaints handling and value for money.
Trustpilot 1.4/5 (based on 1,939 reviews)
Reviews.co.uk n/a
Smart Money People 3.86/5 (based on 366 reviews)
Which? 68% Which? Customer Score
Pros
Fixed and flexible repayment options on business loans.
Ethical banking.
Cons
Less choice compared to other large banks.
Low rating for SME overdraft and loan services in an independent survey.
Website: Co-operative Bank Business Finance