To survive in the big bad world of business, you need staying power. We wanted to know which businesses around the world have stood the test of time and were the oldest in their respective countries. Behind the dates and finances, we found fascinating stories that illuminate the histories of each continent.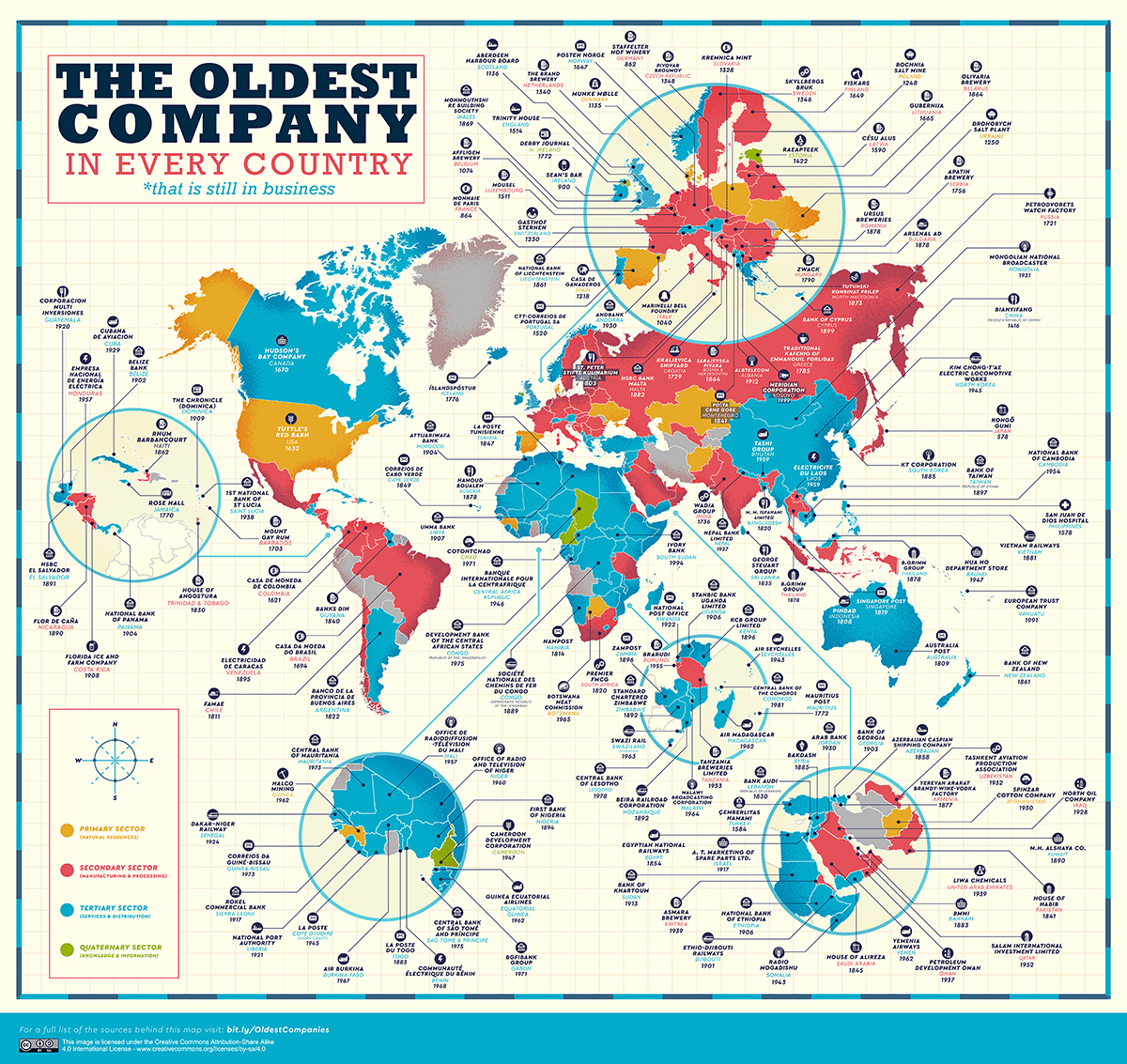 Click here to view this map in full size || Click here for the map colour-coded by industry type
1. Oldest companies in Europe
Located in the walls of St Peter's Abbey in Salzburg, St. Peter Stifts Kulinarium opened in 803 and remains the oldest restaurant in Europe that you can still eat in. The inn is rumoured to have served Christopher Columbus, Johann Georg Faust, and Wolfgang Amadeus Mozart. A short leap forward in time and over the border to neighbouring Germany, you'll find Staffelter Hof Winery, a winery established in 862.
It's not all food and drink though: money is another perennial concern! Slovakia's Kremnica Mint commenced trading in 1328, when the land was under the rule of the Kingdom of Hungary. France's longest-running business is also a mint: Monnaie de Paris, established in 864. Monnaie de Paris has moved with the times, producing Francs and then Euros – and even producing German currency during the Nazi occupation.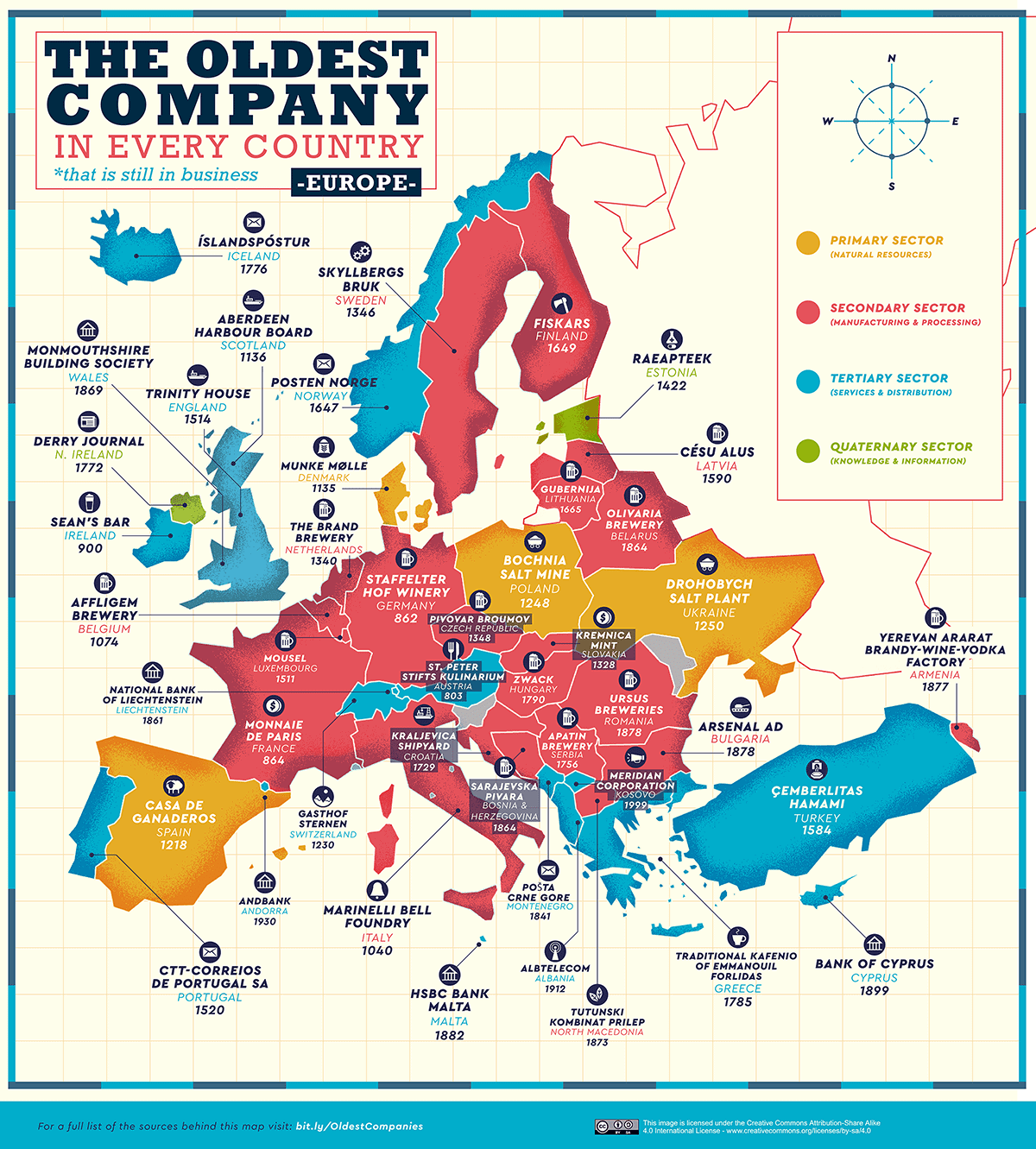 Click here for the map colour-coded by industry type
2. Oldest companies in North America
North America is home to businesses dating back to the 16th century. The oldest company still in business is La Casa de Moneda de México, a mint established in 1534 in Mexico. Viceroy Antonio de Mendoza founded the national mint of Mexico by decree from the Spanish Crown, and it became the first mint in the Americas. The mint's coins circulated widely and became the basis of many modern currencies, including the United States dollar, the Japanese yen and the Chinese yuan.
Edward Hill raised a farm on Shirley Plantation beginning in 1638, and his descendants still occupy and manage the land and business today. The plantation itself dates back to 1613, making it the oldest in Virginia. The ranch still operates as a plantation but is also open to the public, and features the only Queen Anne-style architectural details to still exist in North America.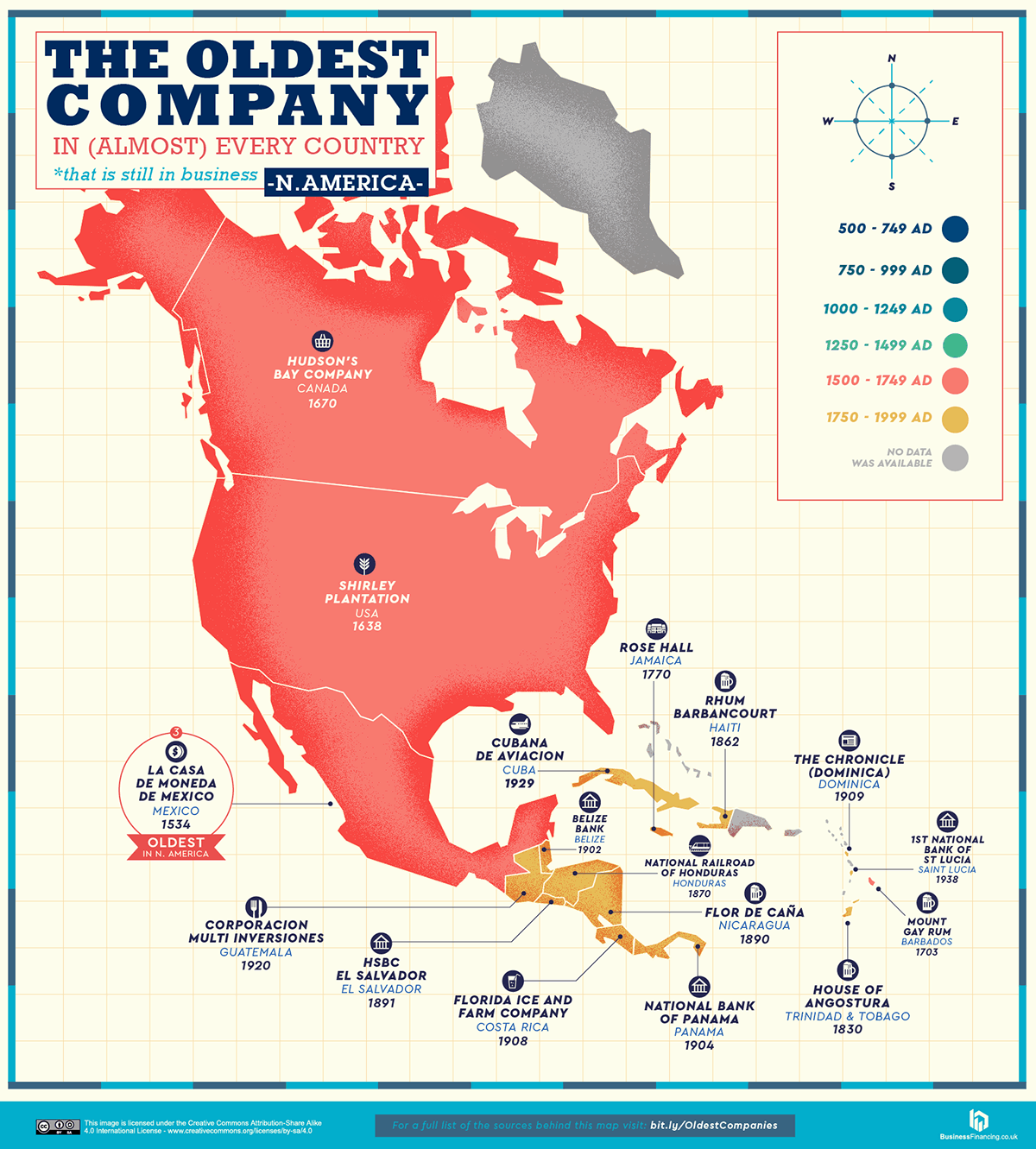 Click here for the map colour-coded by industry type
3. Oldest Companies in South America
The Casa de Moneda de Colombia (Spanish for Colombian mint) is a Colombian currency museum based in the city of Bogotá. It was founded in 1621 and remains South America's oldest company to still be in business. In 1694, The Casa da Moneda do Brasil, was founded to provide Brazil with its own coinage – until then, most of the coins in circulation had been brought in by foreigners.
Hurtling forward into the 19th century, 1811 to be exact, and we have FAMAE – Fábricas y Maestranzas del Ejército ("Factories and Workshops of the Army"). FAMAE is a Chilean state-owned firearms manufacturer, making weapons for use by the Chilean armed forces and the local police. Argentina's longest-surviving business opened 11 years later. The Bank of the Province of Buenos Aires, or Banco Provincia, is a publicly-owned bank, the second-largest in the nation.

Click here for the map colour-coded by industry type
4. Oldest Companies in Asia
Asia is home to the oldest still-functioning business in the world: a construction company named Kongo Gumi. In 578 Buddhism was on the rise in Japan; but the Japanese had no experience in building temples. The royal family invited a renowned Korean temple builder, Shigemitsu Kongo, to construct the country's first government temple. Shigemitsu stayed to maintain the building and passed his unprecedented knowledge of the art down the line, so that 14 centuries later temple-building still accounted for 80% of the Kongo Gumi's US$60m business. With mounting debts, the company was absorbed into a bigger construction conglomerate in 2006 – but continues to pair traditional temple building techniques with the latest technology.
Ma Yu Ching's Bucket Chicken House opened in Kaifeng, China, in 1153AD – and today it is thought to be the oldest 'restaurant' in the world – although today it is primarily a takeaway joint. Over the course of nine centuries, the business has survived war, political turmoil, and even the might of KFC – whose 5,000 Chinese chicken joints make it China's leading fast-food outlet (according to the Colonel, that is.)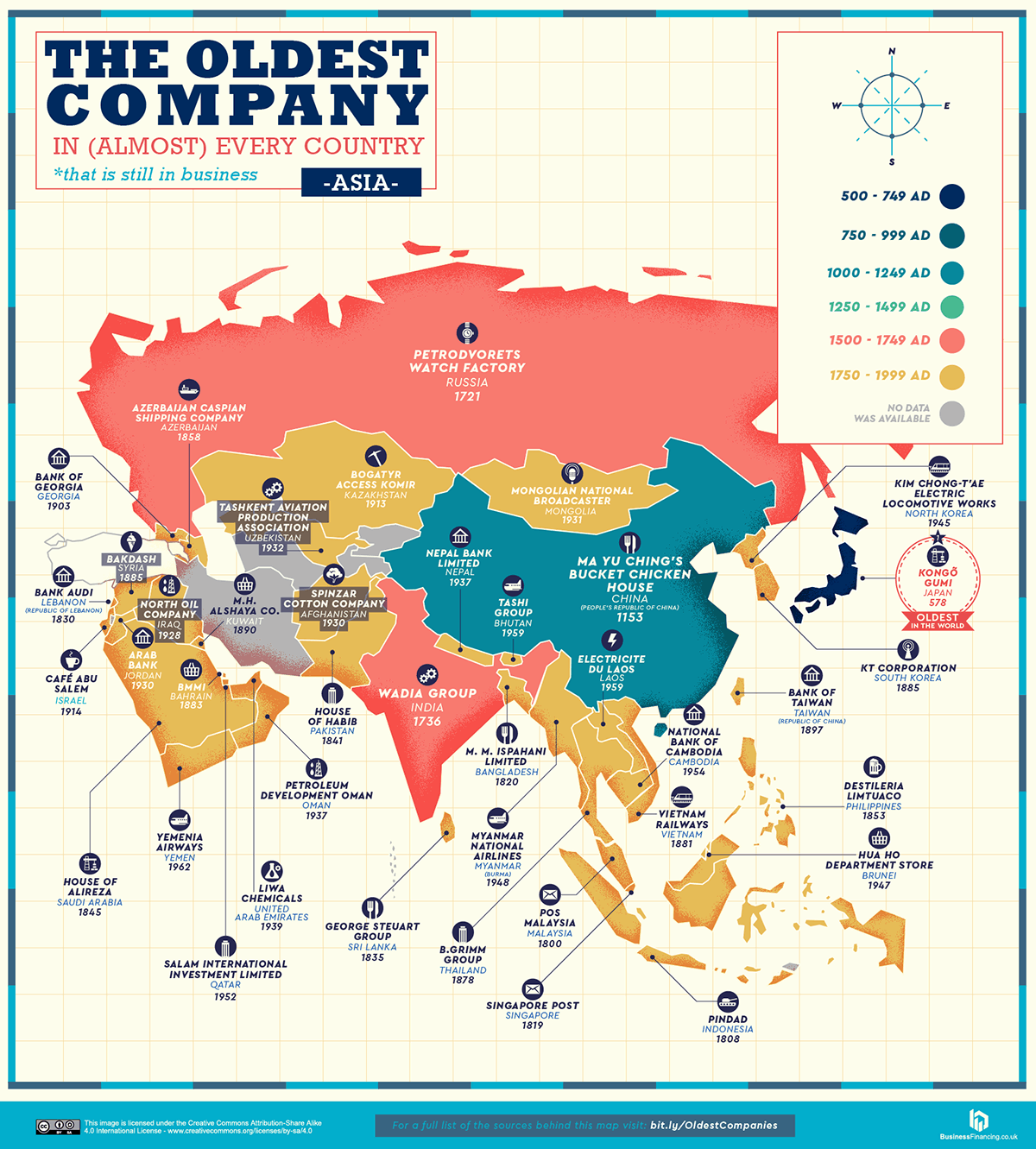 Click here for the map colour-coded by industry type
5. Oldest Companies in Africa
A huge continent needs a solid postal service, so it's no surprise that half of the top 10 oldest businesses in Africa are postal companies. Oldest of them all is Mauritius Post, opening all the way back in 1772, when Mauritius was still under French rule. The new service started small with eight messengers and rural post offices were established in 1790. Fast forward to 1814 and Namibia also gets its own postal service. NamPost are still managing the post over 200 years later.
Food production and exports is also big business in Africa. Premier FMCG is a South African food manufacturer and their story begins all the way back in 1820, with the formation of a humble bakery. They now own many well-known South African food brands, including Blue Ribbon and Lil-lets.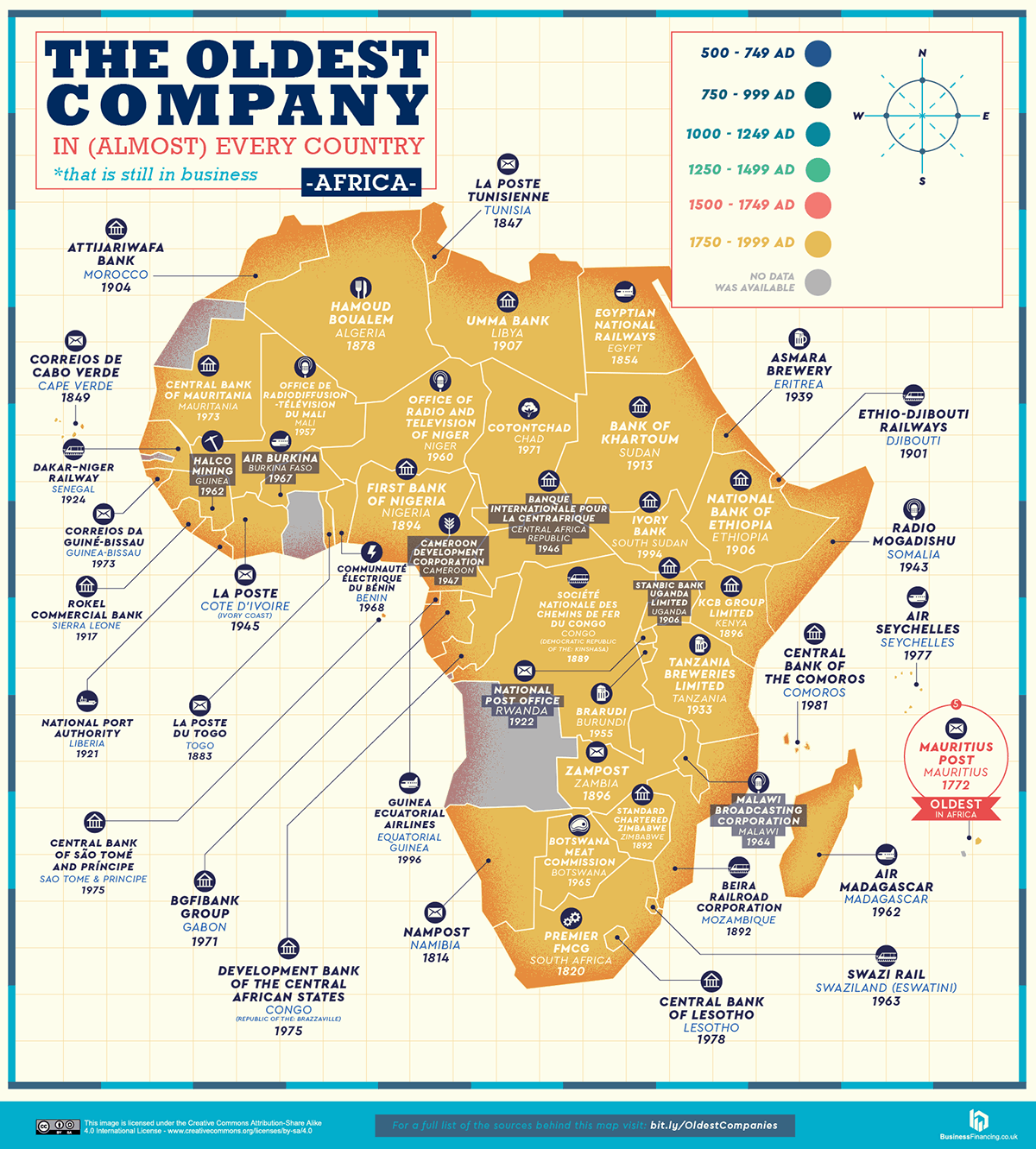 Click here for the map colour-coded by industry type
6. Oldest Companies in Oceania
Australia's oldest business has a colourful history, starting when Isaac Nichols, a former convict, was appointed Postmaster for New South Wales. He used his own home to sort mail and he opened the first Post Office soon after. Australia's disparate post services were eventually merged to become Australia Post, now also known as AusPost.
On 29 July 1861, just over 50 years after Nichols' opened his post office, an act to incorporate the proprietors of 'The Bank of New Zealand' was passed by Parliament. This allowed the new corporation to start carrying out the usual activities of a bank, and also to issue its own bank notes. The bank is still in business and is one of New Zealand's big four banks.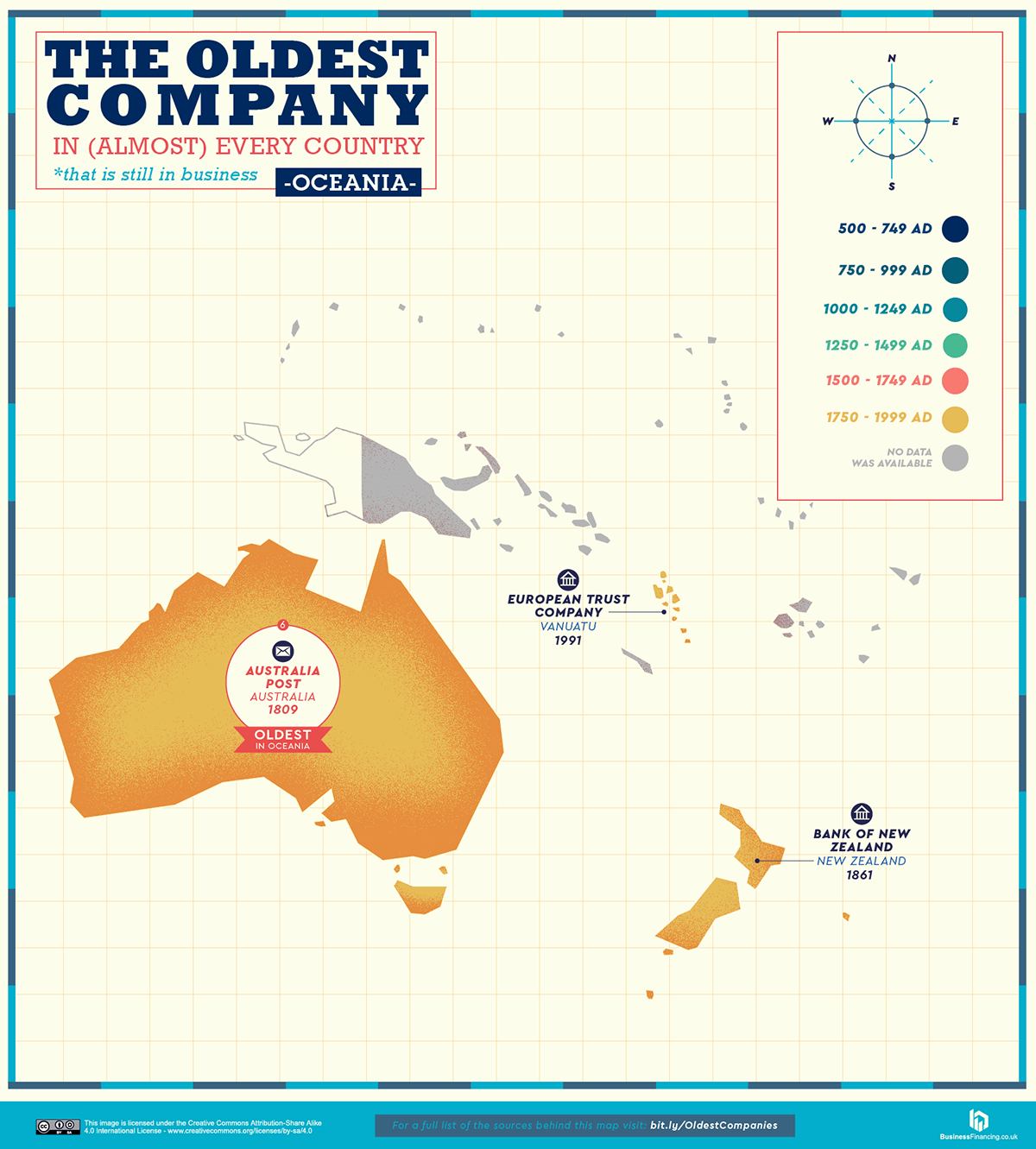 Click here for the map colour-coded by industry type
Top 10 oldest companies in the world that are still open for business
The average lifespan of a company in the S&P was around 60 years back in the 1960s. Today that number is closer to 20 years, reports Fortune. Yet some firms have managed to thrive for centuries and even millennia. Take a look at 10 of the world's oldest companies that are still operating today.
| YEAR | COUNTRY | COMPANY NAME | INDUSTRY |
| --- | --- | --- | --- |
| 578 | Japan | Kongō Gumi | Construction company |
| 803 | Austria | St. Peter Stifts Kulinarium | Restaurant |
| 862 | Germany | Staffelter Hof | Winery |
| 864 | France | Monnaie de Paris | Mint |
| 886 | England | The Royal Mint | Mint |
| 900 | Ireland | Sean's Bar | Pub |
| 1040 | Italy | Pontificia Fonderia Marinelli | Bell foundry |
| 1074 | Belgium | Affligem Brewery | Brewery |
| 1135 | Denmark | Munke Mølle | Mill |
| 1153 | China | Ma Yu Ching's Bucket Chicken House | Restaurant |
So much can be learned about a country from the history of its industries, and even more is revealed in the stories of individual businesses. The further you go back, the more fascinating the stories become, and the more insight into the unique histories of each place you'll find. Do you know the oldest place of business near you?
METHODOLOGY & SOURCES
To create these maps, we started by reviewing various sources on the internet to locate the oldest company in each country. Once we had a list of business for each country we began researching each individual company to discover if they are still operational. If we were unsure about a company or could not discern if it was still open, we did not include it in the maps. We included both independent and state-run businesses in this list. This includes national mints, which produced coins for merchants and international customers as well as the state.
Those countries where it wasn't possible to identify the oldest business have been greyed-out on the map. Additionally, some countries have changed names or didn't exist at the time the oldest company opened. In all cases we have used the current country names.
We created broad industry categorisations that grouped similar businesses together. Every step has been taken to ensure that the information contained within our research is as accurate as possible. However, it is possible that there are businesses still operating that predate the ones listed here.
For the full research behind these maps, please click here.
Other Guides On This Site
Other Guides On This Site