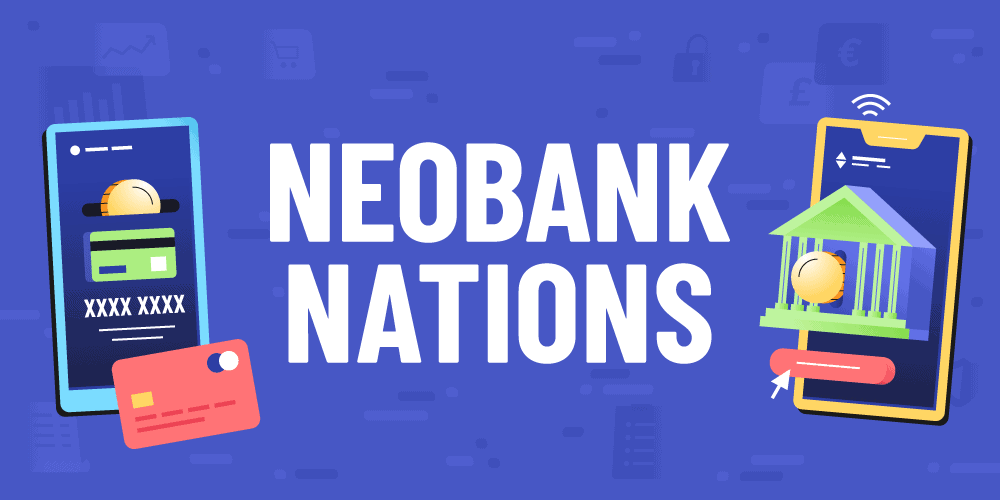 The 20th-century dream was to put every shop and service under one roof, be it a mall or a Ballardian high-rise apartment complex.
But the 21st century took that ideal and put it in a little black box. Banks, shops, and even your gym now fit neatly into your phone. Malls have become ghost towns, and everyone's moving to the country.
Digital banks – including neobanks – are the pinnacle of this ideal:
A digital bank is an online-only off-shoot from an established IRL banking service, e.g. Openbank (Santander).
A neobank is an app-based banking service not associated with a traditional bank, e.g. Chime. It might not technically be a 'bank' if, rather than have a charter, it partners with a chartered institution.
A digital bank allows you to plan and micro-manage your own finances, but with the support of artificial intelligence, a carefully designed app interface, and powerful data analysis under the hood. And as cryptocurrency goes mainstream, neobanks are in prime position to make handling your crypto feel like second nature.
However, there are so many new digital banks popping up that it's hard to know where to start. So, BusinessFinancing.co.uk crunched some numbers of our own, analysing Google search data to reveal the most popular (most-searched) digital bank in every country.
Key Findings
The UK's most popular digital bank is Monzo, with 237,000 monthly searches.
In the US, Square is the most popular digital bank (719,000 searches/month).
Ubank is Australia's most popular digital bank (133,000 searches/month).
Revolut is the most popular neobank in 17 countries, making it the most widespread popular digital bank.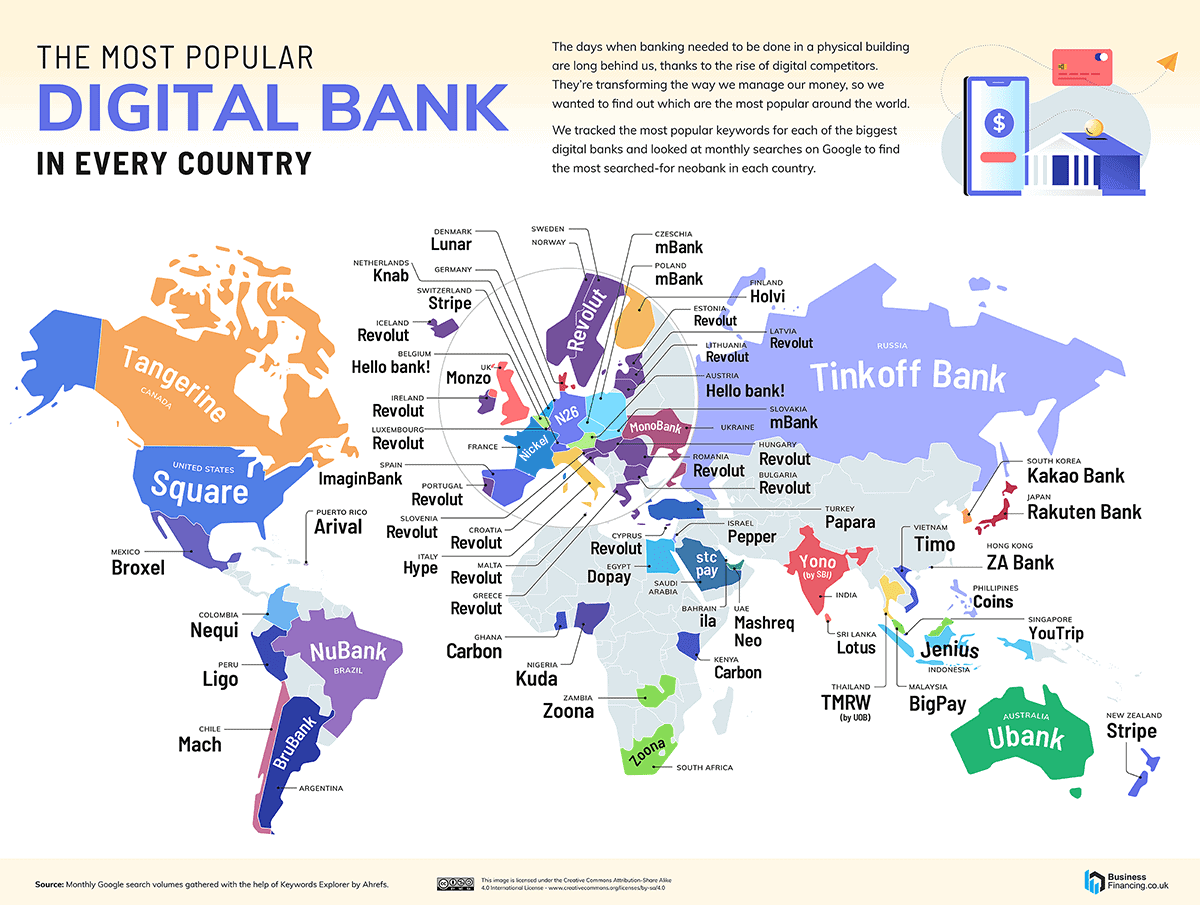 Revolut Straddles Europe and Beyond
Europe's most popular digital banking solutions straddle borders. And the biggest straddler of all is Revolut, which is the most-searched neobank in 17 European countries. The UK's most valuable startup ever does not yet have a banking license but is crypto-ready and embraced by customers across 35 countries in and beyond Europe, including Japan.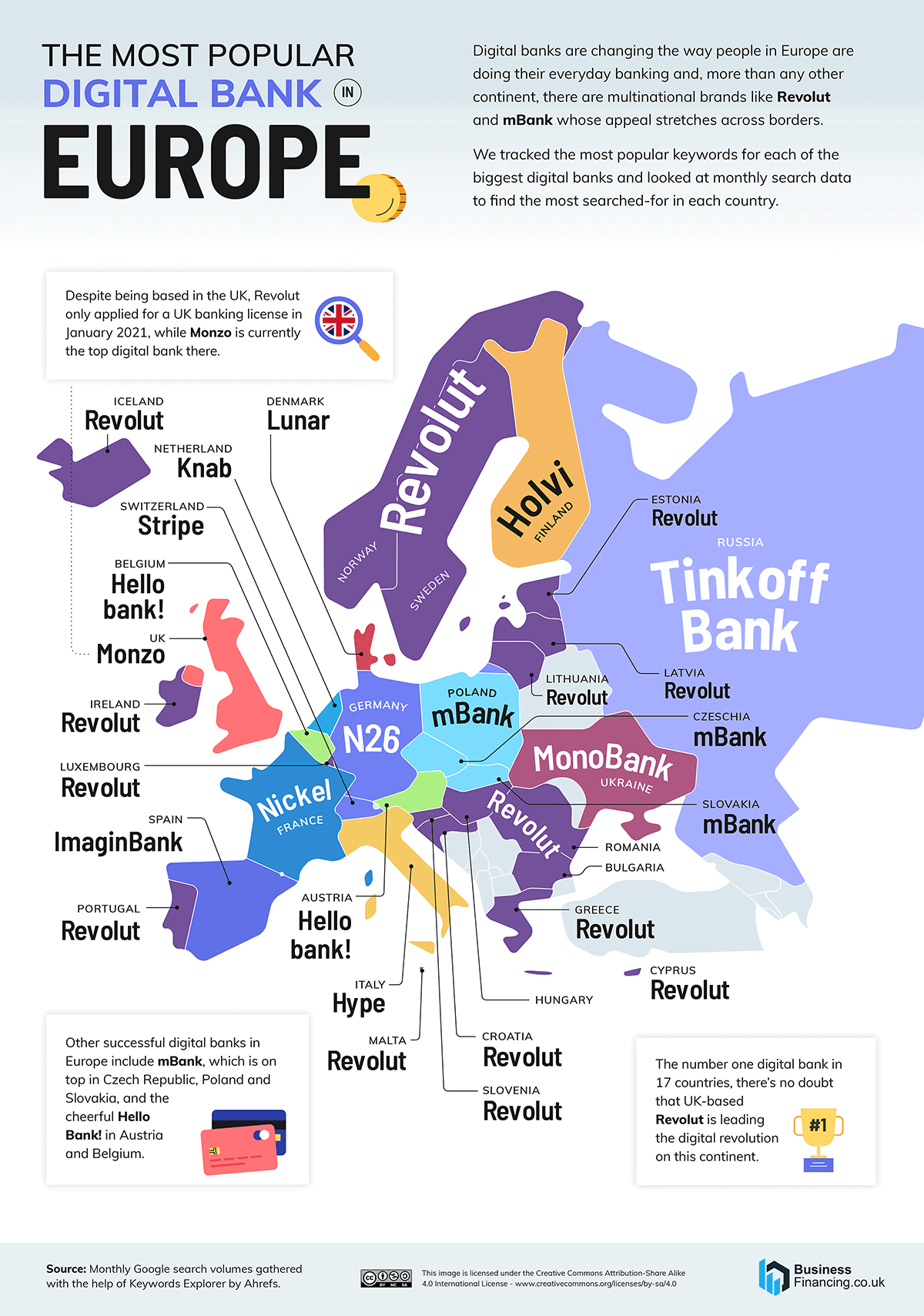 mBank is the most popular digital bank in the Czech Republic, Poland, and Slovakia. The business was launched in 1986 in Poland and expanded internationally in 2007. Poland's largest online bank now has over five million customers.
Square is USA's Most-Searched Neobank
Square vs. Chime could be Twitter vs. Facebook all over again. Twitter co-founder Jack Dorsey's digital banking startup, Square, is the subject of more Google searches than Chime. But the latter has 12 million customers and is the biggest neobank. The two neobanks compete for the same customer demographic: "disproportionately skewed to African-Americans and low-income consumers," according to Forbes.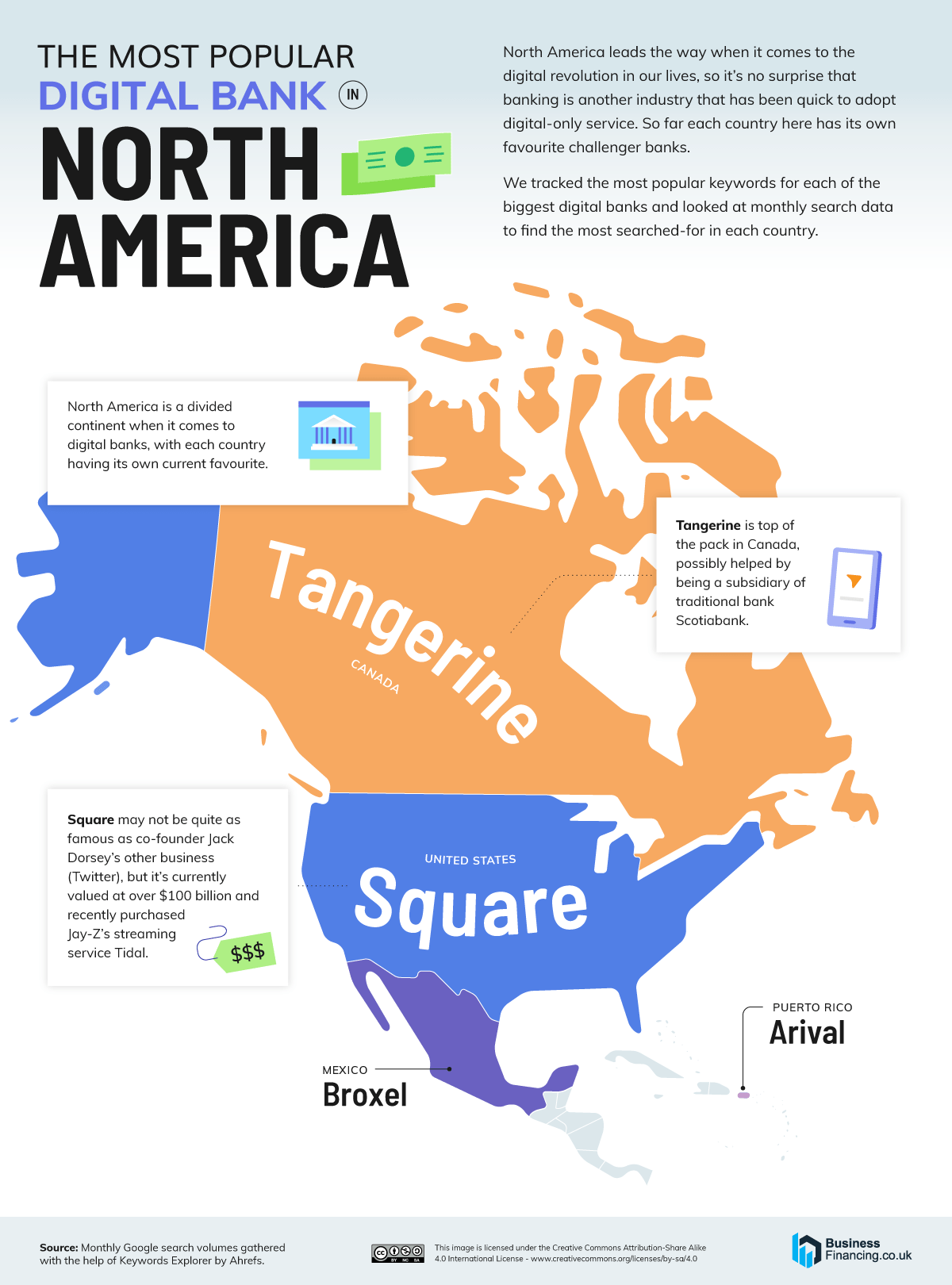 Canada boasts the elemental-sounding Tangerine as its top digital bank. Tangerine is a veteran, having been established in 1997 as ING Direct Canada. The bank was rebranded after Scotiabank acquired it in 2012 and has offered 'banking cafés' as a physical alternative to direct banking, although today only one café remains.
The World's Largest Digital Bank is in South America
Brazil's NuBank is "the largest digital bank in the world, the major fintech in Latin America, and the first Brazilian startup to reach the $10 billion mark." And, despite general concerns that digital banks risk alienating society's most economically vulnerable, the neobank giant has helped deliver emergency aid to low-income Brazilians during the pandemic and makes having a bank account feasible for many locals who are as yet unbanked.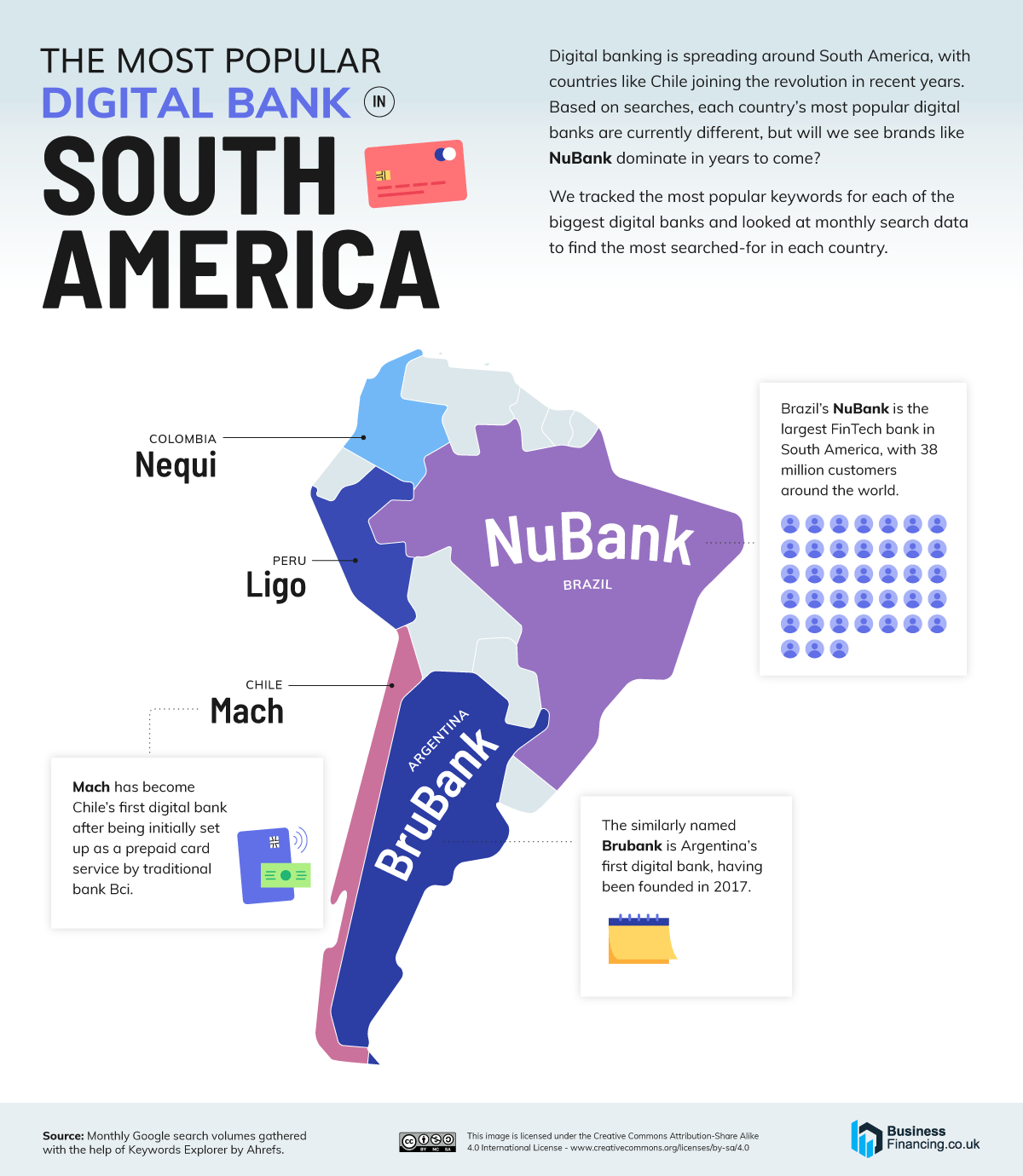 Nequi is Colombia's first neobank and is banking giant Bancolombia's attempt to 'disrupt' and democratise personal finance. Despite the big-name owners, Nequi is run independently and seeks the cool appeal of Spotify or Netflix rather than the fusty associations of the traditional bank.
Middle East & Central Asia: Mashreq Neo is UAE's Most Popular Digital Bank
Mashreq Neo is the digital spin-off of the United Arab Emirates' oldest privately-owned bank. Mashreqbank PSC launched Neo in 2017 as the UAE's first all-around digital bank. "Customers today not only expect their banks to be safe and secure, but also want them to be agile, intuitive and customer friendly," says Sridhar Iyer, Head of Mashreq Neo.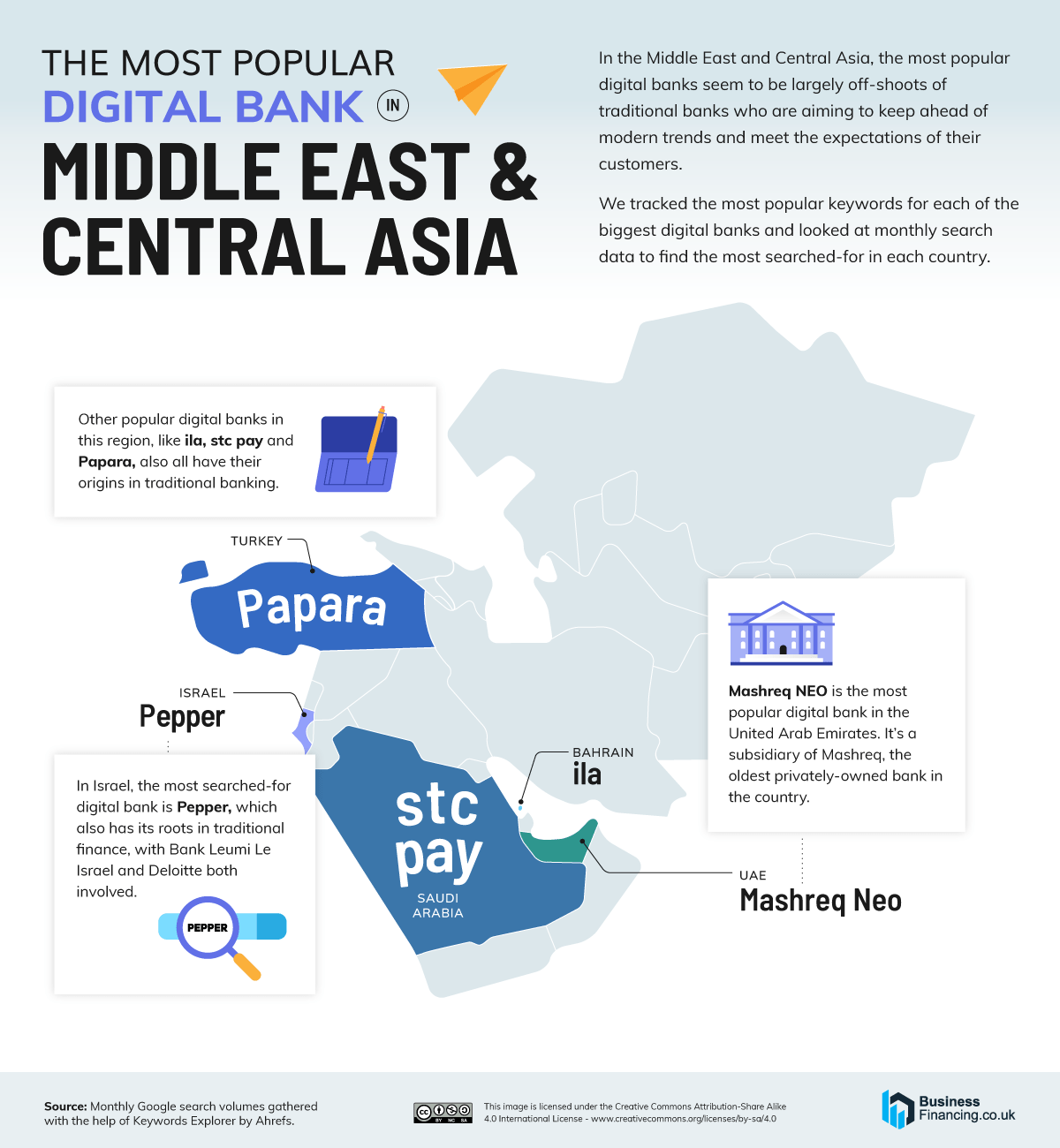 The CEO of Papara, Turkey's most popular digital bank, traces the rise of digital banking to the disillusionment of the credit crunch generation. "The global financial crisis of 2007 was a watershed moment for many of us, as we realised the financial institutions that had long-ruled perhaps were due a shake-up and weren't working as well as they should have for us," says Ahmed F. Karslı.
The Papara founder notes that the Covid-19 pandemic is another watershed moment for widespread neobank adoption. Fully 52% of customers are using banking apps more than before the lockdown, and 87% intend to continue when the pandemic passes.
Rest of Asia & Oceania: Ubank is Number One in Australia
Australia's most popular neobank is Ubank, launched by National Australia Bank (NAB) in 2008. Like other such arrangements, Ubank is run largely independently from its parent organisation in order to promote innovation and brand distinction. Ubank and NAB acquired rival neobank 86 400 – claimed to be the fastest online bank in Australia – at the start of the year.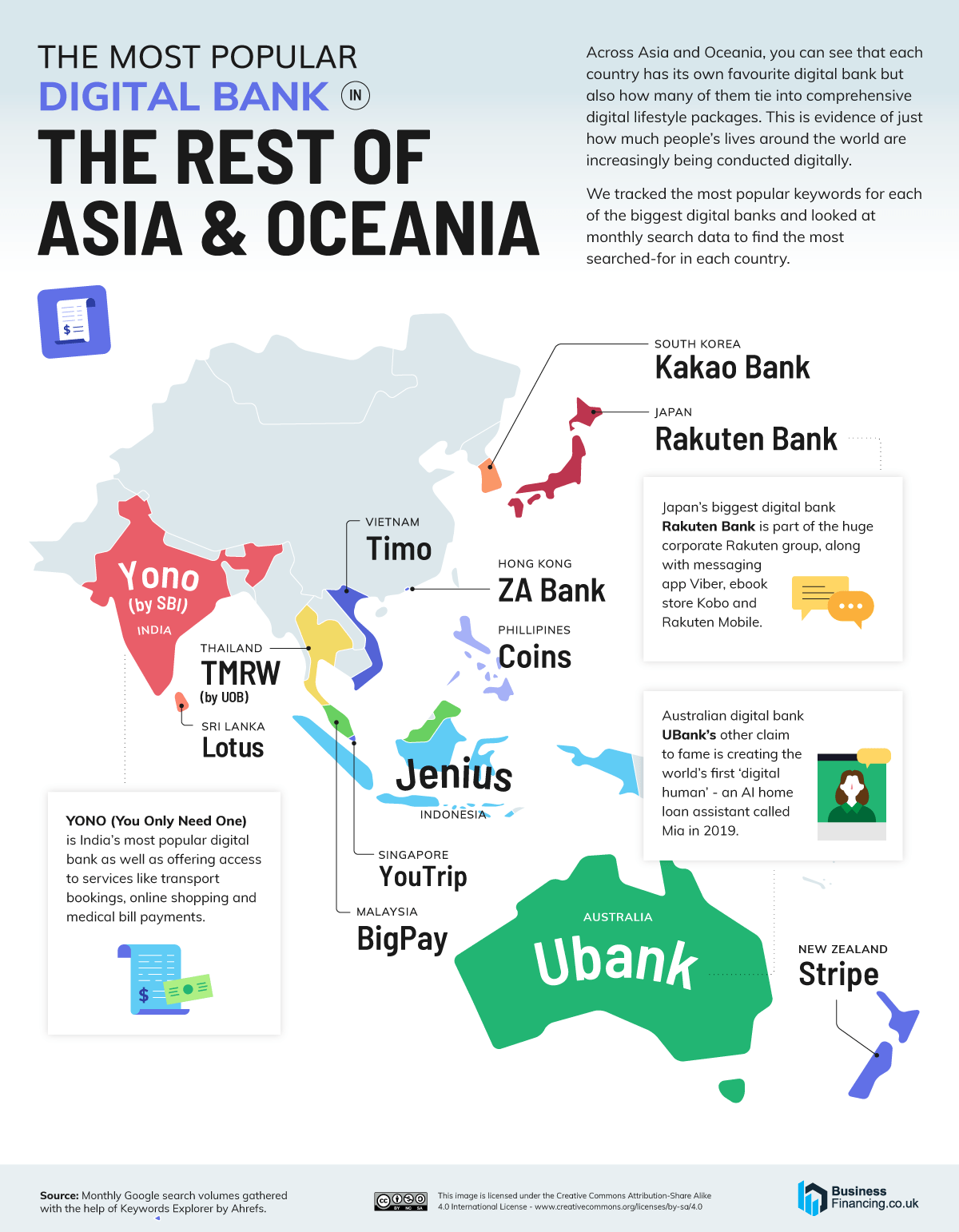 Japan may count Revolut among its neobank options, but the most popular in the land is Japanese-only Rakuten Bank. Established in 2001, Rakuten is enjoying unprecedented growth, with one million new accounts in the first half of 2021, bringing their customer base up to 11 million members.
Innovative African Neobanks Dominate the Continent
Carbon is the most-searched neobank in both Ghana and Kenya. Carbon is actually a Nigerian fintech startup and has an unusually transparent modus operandi for an African firm, publishing its audited financials in an environment where companies usually keep their figures closely guarded. With £175m (US$240m) in processed payments per year, you can see why they want to boast.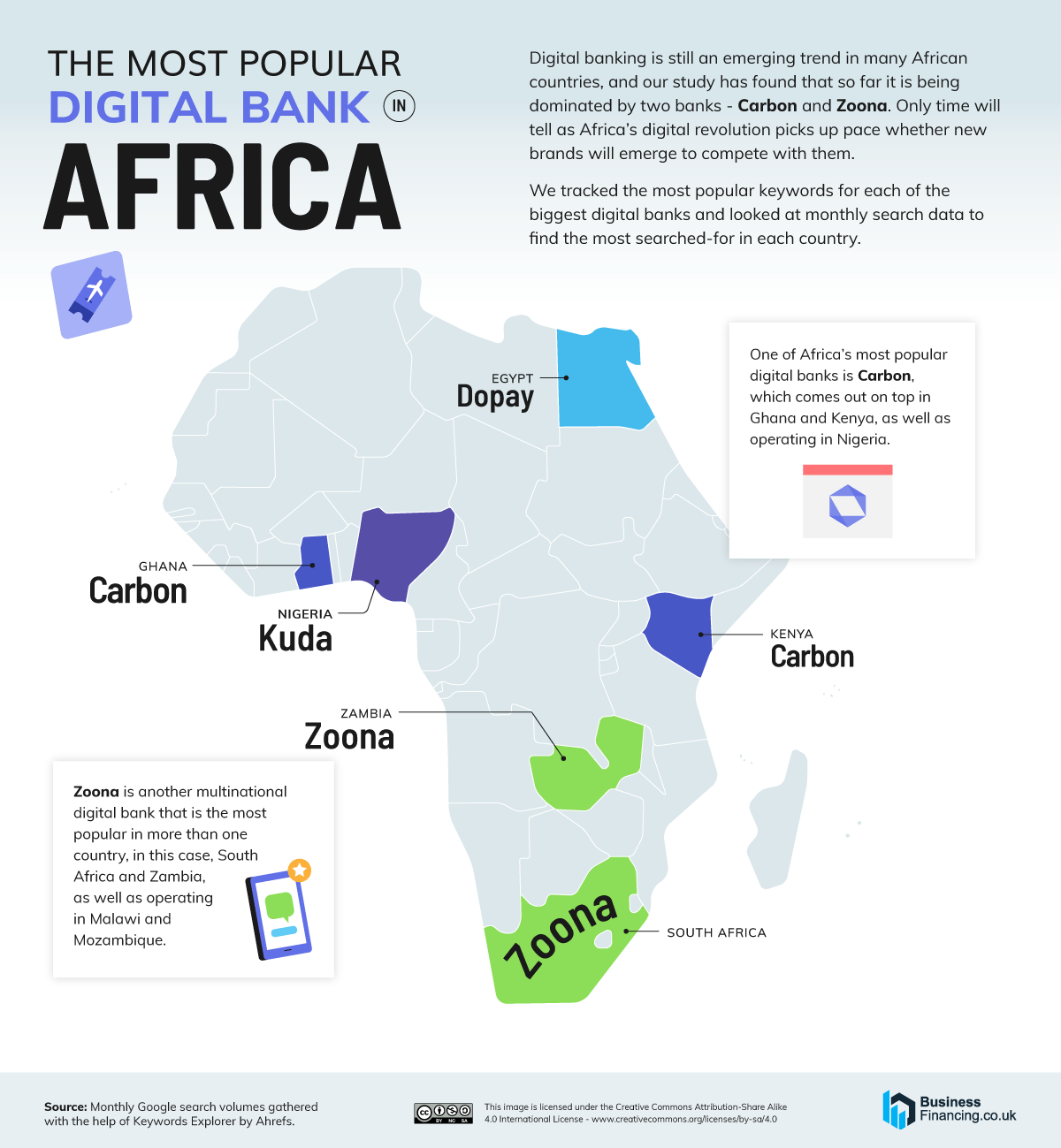 Zoona is also number one in two African countries: South Africa and Zambia. It is an unusual digital service since it pairs with a network of money transfer kiosks run by local entrepreneurs. Since its success in facilitating transfers for Zambia's largely unbanked population, Zoona has grown to embrace other financial services online.
Leading Digital Banks Generate ~5% Search Volume of Traditional Brands
Our next graphs demonstrate that traditional banks remain disproportionately more popular than digital banks – but digital banking is making significant inroads on the dominance of brick-and-mortar institutions.
In the UK, Lloyds gets millions more searches than Monzo, the UK's most-searched digital bank. However, Monzo's search volume is equivalent to a significant 5.4% of Lloyds' 4.4 million searches. While Lloyds was founded on its owners' wealth, Monzo has benefitted from the fastest crowdfunding ever – raising £1 million in 96 seconds. Monzo now has a full, unrestricted banking license.
div>
In the States, the top digital bank gets 4.5% of the search volume enjoyed by America's most popular bank, the Bank of America. But, as a $100bn+ startup with a charter to operate its own new business banking off-shoot, CEO Jack Dorsey will be less worried by traditional banks than his closest digital rivals Chime, America's biggest neobank.
A New Era for Banking
Digital banks have the power to divest influence from financial institutions with centuries of dominance and histories caught up in colonial wealth and exclusionary, conservative policy.
However, the future is not spread evenly. While neobanks make personal finance management viable for whole new demographics, not everybody can afford a smartphone or will choose to update it as the software demands. There is a constant danger that some will be left behind.
Still, if you are ready to switch online, innovative and highly usable options are available. Check out our full data in the table below to identify a popular neobank service near you.
METHODOLOGY & SOURCES
To create these maps, first we compiled a comprehensive list of traditional and challenger banks (neobanks) from nearly every country around the world.
To build our list of neobanks, we combined reports from multiple sources, such as NeoBanks.app, Statrys Neobanks list, and The Financial Brand's Neobank Tracker, among others. To build our list of traditional banks, we used existing lists from reputable sources such as TheBanks.eu, as well as Wikipedia.
We used Ahrefs Keywords Explorer to identify the most popular keywords to search for each bank. With the same tool, we retrieved monthly search volume data for each digital bank to uncover the most popular in each country.
Most Popular Guides
Disclaimer: Businessfinancing.co.uk is a business finance and lending research and information website publisher. We are not a lender, bank, broker and/or other financial institution and as such we are not authorised or regulated by the FCA to offer financial advice. We can't recommend any of the products and/or services featured on the site. Companies are ranked in no particular order and higher ranking does not imply one company is better than another. We work with FCA authorised and regulated firms who may pay us a commission for referring you to them but this has no impact on our content and helps keep this website free to use.