Santander is a Spanish multinational with 800 UK branches, and a challenger of the British 'Big Four' banking institutions. Santander Business Banking includes current accounts, savings, borrowing, insurance, cards, and other types of business support.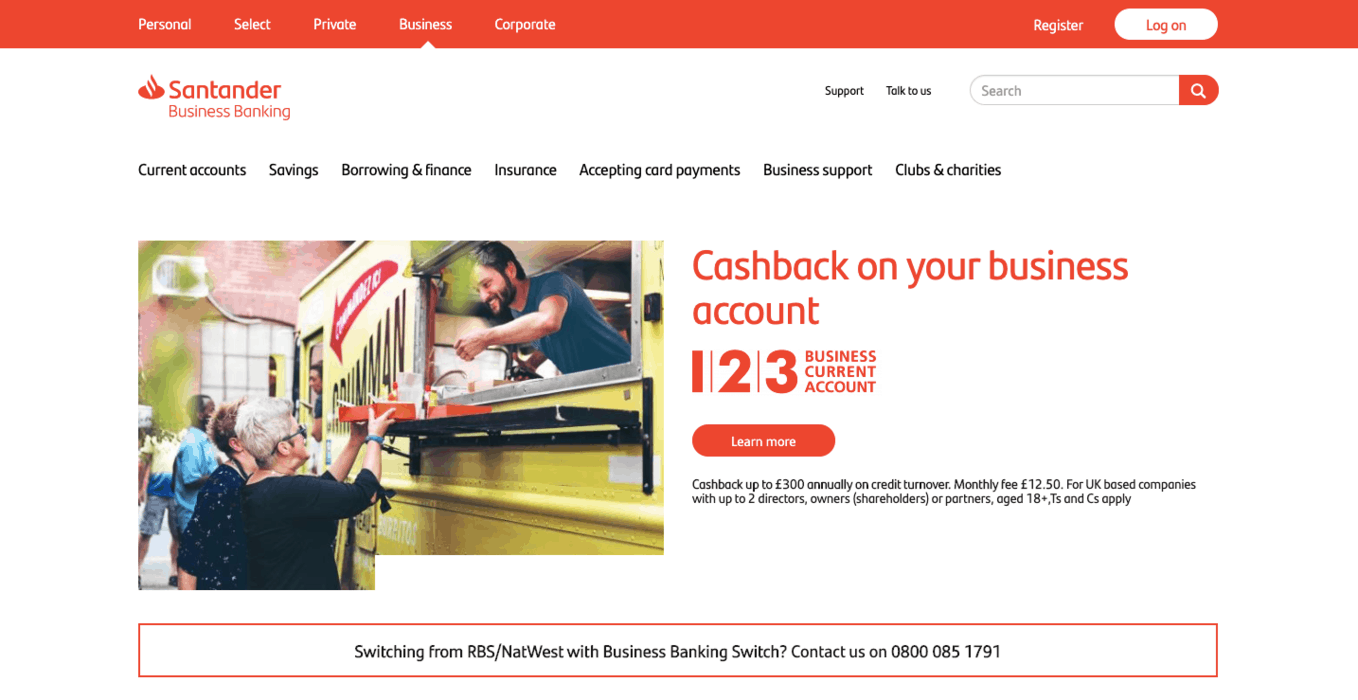 Santander Business Banking Services
Current Accounts
Santander current accounts are available to new startups and more established businesses. Depending on the account you choose, the monthly fee will be either £7.50 or £12.50, and new businesses get 18 months and switchers get 12 months' free or discounted banking. You can manage your account online and on the app 24/7. The 123 Business Current Account offers up to £300 cashback each year.
They also offer a Treasurer's Current Account that provides free day-to-day banking for clubs, societies and charities.
Savings account
There are three main savings accounts for small businesses on offer – easy access, a higher interest rate account for limited withdrawals, and a fixed no access account. There's also a Treasurer's Savings account for clubs, societies, charities and not-for-profits. Interest rates depend on how long you save for, but range from 0.01% to 0.15% AER/gross (variable). 1|2|3 Business Current Account holders get a slightly higher rate on their savings.
Overdrafts
Business overdrafts range from £500-£25,000, and you only pay interest on the amount you borrow on the days you're overdrawn. An arranged overdraft is charged at representative 5.10% EAR​​​​​ (variable) rising to 10% from 10 November 2021, with an annual fee of 1% (£50 minimum).
Business finance and loans
Santander are currently not offering business loans.
More on Santander Business Loans & Finance
Santander Reviews and Ratings
Trustpilot and Reviews.co.uk reviewers comment on time-consuming account admin and poor customer service. A few reviewers say they're happy with response times.
Reviewers are more split on Smart Money People, with slightly more 1/5 than 5/5 reviews. Some are very unhappy with customer service, while others say Santander are efficient and easy to deal with.
On Which?, Santander scores 3/5 for the majority of assessed areas, including customer service, service in branch, telephone banking, transparency of charges, handling complaints and communication. They were also scored 4/5 for online banking and 2/5 for account benefits.
Santander ranked 4th in a list of the 14 largest business current account providers for overall service quality in an independent survey.
In the same list of 14 business current account providers, Santander also ranked 6th for online and mobile banking services, 4th for overdraft and loan services and relationship and account management, and 3rd for service in-branches.
Santander has won a whole raft of Business Moneyfacts awards, including Best Business Current Account Provider 2003-2019. 
Trustpilot –  1.4/5 (based on 3,658 reviews)
Reviews.co.uk – 1.55/5 (based on 214 reviews)
Smart Money People – 2.79/5 (based on 57 reviews)
Which? – 63% Which? Customer Score
Pros
Won Best Business Current Account Provider 19 years in a row.
Range of products for businesses with different needs.
Score highly in independent service quality survey.
Cons
Higher monthly fees than many other business accounts.
Poor reviews on Trustpilot and Reviews.co.uk
Some more current account choices available with other banks.
Website: Santander Business Banking