Santander is the second largest bank in Europe with 800 branches based in the UK. Santander Business Banking includes borrowing and business loans, current accounts, savings, insurance, cards, and other business services.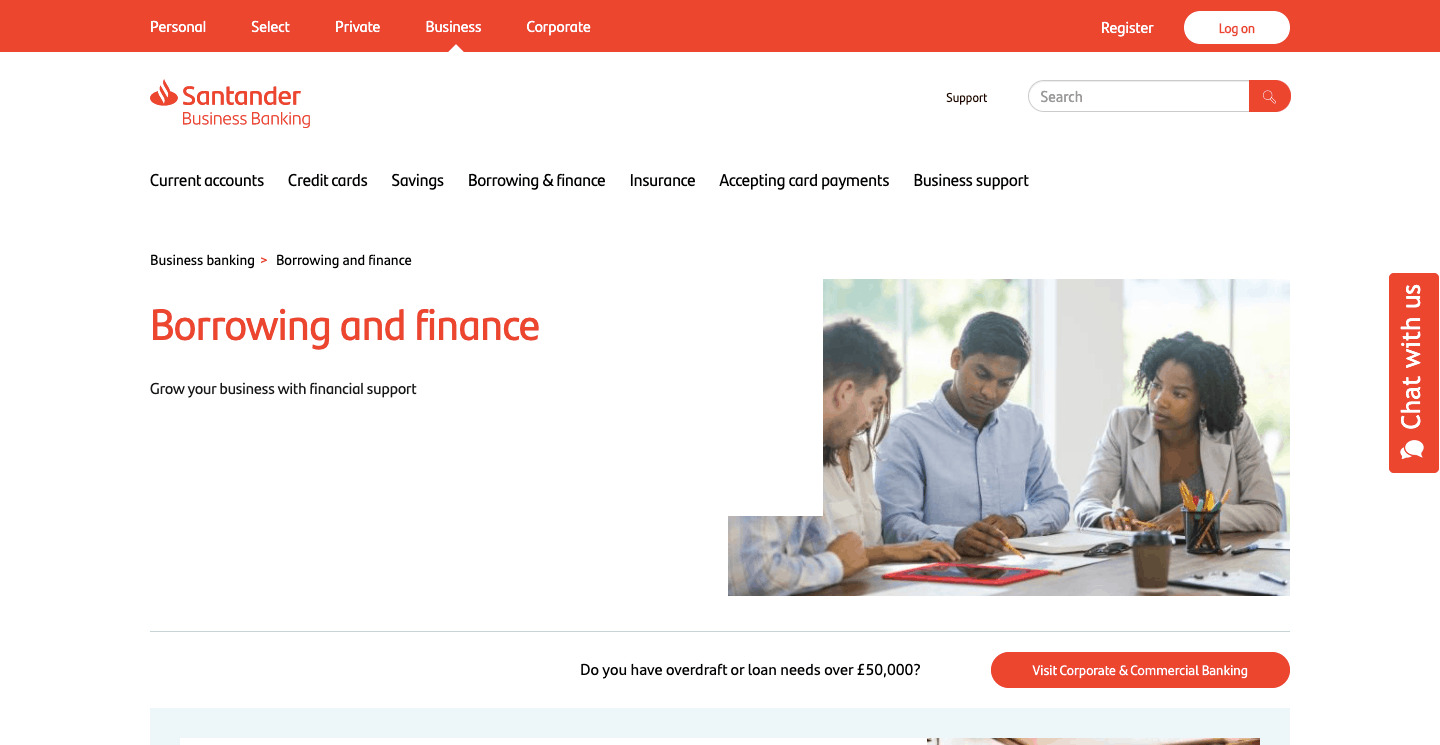 Santander Business Finance
Business loans
Businesses can borrow from £2,000 up to £25,000 over 1-5 years at Representative 7.9% APR with the Santander small business loan. You won't pay any interest for the first 12 months and repay at a fixed monthly rate. There are no arrangement fees and 1|2|3 Business World customers can be eligible for a preferential rate. To be eligible you need a Santander business current account.
Coronavirus support is also available through the Bounce Back Loan Scheme (BBLS). Your business will receive a loan amount from £2,000 up to £50,000 or 25% of your annual turnover, whichever is lower, over 6 years. There are no repayments required for the first 12 months and the Government covers the first 12 months of interest. You borrow at an interest rate of 2.5% p.a. fixed for the full length of the loan.
Business overdrafts
Arranged business overdrafts are available from £1,000 to £25,000, and you only pay interest on the amount you borrow on the days you're overdrawn. To be eligible you need a Santander business current account. Interest rates are 5.10% EAR (variable), and there's an annual fee 1% of the agreed overdraft (minimum fee £50).
Business credit card
Santander offers a Business Cashback Credit Card that is available to sole traders, partnerships, and limited companies. The available credit limit will be confirmed after you apply.
Asset finance
Purchase equipment and vehicles for your business at low fixed monthly payments.
Vehicles:
Through Santander's vehicle financing partner, LeasePlan.
Contract hire for a fully maintained package for 1 to 100 vehicles.
Can be for business or personal use.
Your business doesn't own the vehicle so there are no depreciation costs.
Claim tax relief as monthly rentals can be offset against profit.
Equipment:
Suitable for IT hardware or software, plant machinery, scaffolding related equipment, kitchen equipment.
Can rent (for assets worth £5,000 or more) or hire purchase.
24-60 month terms.
Option of flexibility or fixed payments.
Santander Reviews and Ratings
Santander gets mainly critical online reviews, which isn't uncommon for one of the big banks, particularly during the Coronavirus crisis. 83% of Trustpilot reviewers rate them 1/5. They say customer service and making a complaint is "a shambles", but there are a few happy customers in and amongst the critics who say their problems were dealt with quickly. They're in a minority though.
Reviews.co.uk reviews are similar to Trustpilot, but Smart Money People reviewers are more mixed. Customers are commenting across the range of Santander products, with some saying their needs are taken care of and others have had problematic experiences in-branch and over the phone.
On Which?, Santander scores 4/5 customer service, communication, transparency of charges, online banking, and mobile banking. They also scored 3/5 for handling complaints, service in-branch, and benefits.
Santander ranked 2nd in a list of the 14 largest business current account providers for SME overdraft and loan services in an independent survey. They also ranked 3rd for overall service quality, online mobile banking services, and relationship/account management. Santander ranked 6th for service in branches and business centres.
Trustpilot –  1.5/5 (based on 2,516 reviews)
Reviews.co.uk – 1.64/5 (based on 136 reviews)
Smart Money People – 4.04/5 (based on 1,476 reviews)
Which? – 70% Which? Customer Score
Pros
Decent choice of cards, loans, and finance available.
Finance suitable for sole traders and small businesses.
Ranks very well in an independent survey of business banks (nearly at the top!)
Cons
Majority of online reviews are critical.
No commercial mortgages or property loans available for businesses.
Website: Santander Business Finance