One of the UK's 'Big Four' banks, Lloyds Bank has a 250+ year history. Lloyds Bank offers business finance for small, medium, and large corporate businesses, as well as business bank accounts, savings, and debit and credit cards.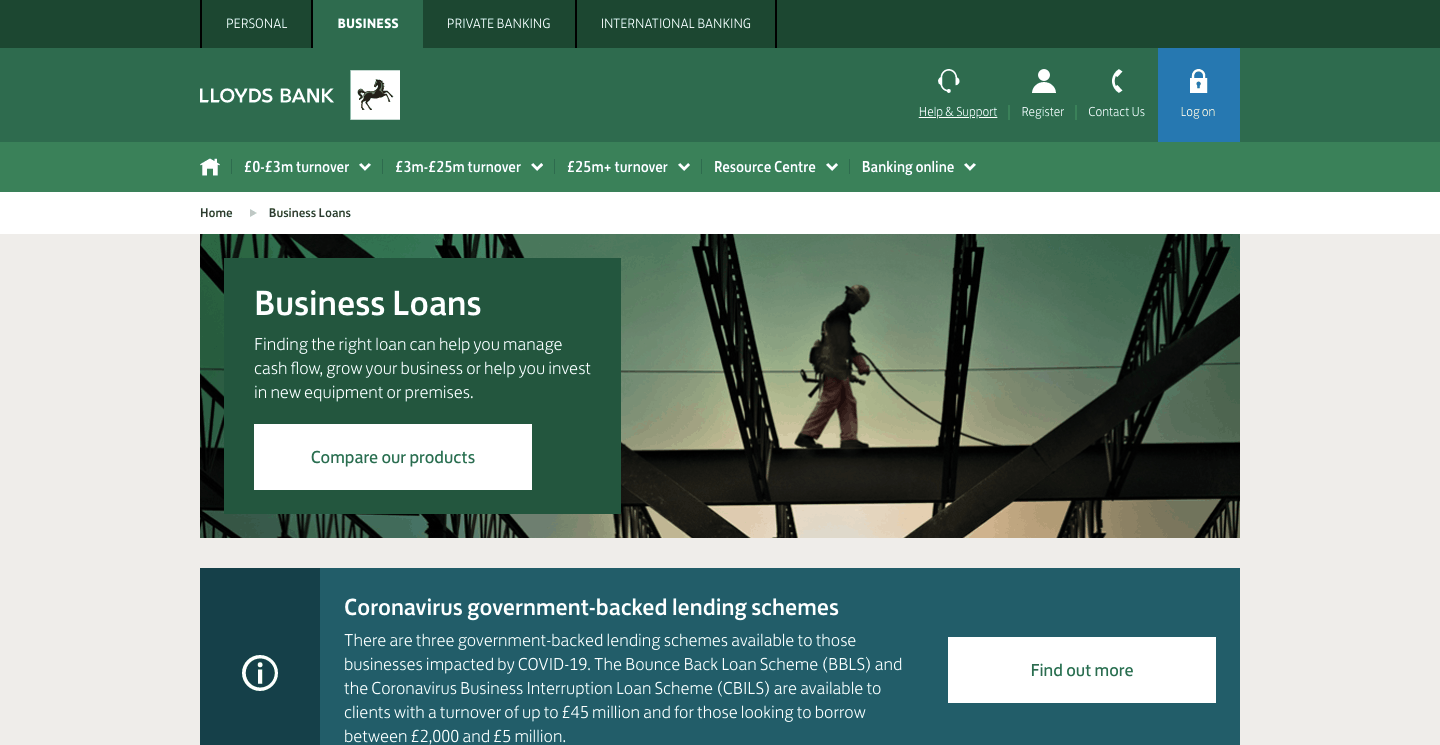 Lloyds Bank Business Finance
Business loans
Loans are available up to £25,000 and from £25,000 to £1 million. The terms vary depending on the amount and repayments can be fixed or flexible. Businesses can borrow from £1,000 to £25,000 over 1 to 25 years fixed or variable at 7.1% APR. Larger loans of £50,000+ can also be repaid over 1-25 years.
Business overdrafts
Business overdrafts are available to existing business current account customers at 11.52% EAR representative from £500 to £25,000. Overdrafts are unsecured and you only repay interest on the amount you use. There's a £12 fee per month for overdrafts of £5,000 or less, otherwise, it's 1.99% of the amount borrowed with a minimum fee of £120.
Business credit cards
Lloyds Bank offers a choice of a credit card or charge card that are available with a limit of up to £10,000 with up to 45 days of interest-free credit if the balance is paid off in full.
Commercial mortgages
Mortgages are available from £25,001 over a loan term of 3 to 25 years. Lloyds will fund up to 70% of the property value but will fund more if the circumstances and terms are right.
Asset finance
Lloyds Bank can provide hire purchase and lease agreements on various business assets, including vehicles, with fixed monthly payments. You can choose whether you want your business to own the asset when you've finished paying for it, or rent it for the duration of the lease and trade it in for something newer when you've finished making payments.
Invoice finance
Lloyds Bank offers invoice finance that can help businesses to unlock cash from unpaid invoices up to 90% of their value.
Asset-based lending
Businesses with a turnover of over £10 million can release cash through their debtor book, stock, machinery, equipment or property. To be eligible, your business must already be using a Lloyds Bank Invoice Discounting facility, trade business-to-business, and have a healthy balance sheet.
Lloyds Bank Reviews and Ratings
Reviews for Lloyds Bank are mainly critical. 76% of Trustpilot reviewers rate the bank 1/5 for customer service and general account management. Many customers say call waiting times have been very long, particularly during the Coronavirus crisis, and basic account management has been problematic. Reviews on Smart Money People are still mixed but more positive, with some customers stating they're impressed with Lloyds' efficiency and others struggling to navigate bad customer service.
Which? gives Lloyds Bank a 69% Which? Customer Score in a ranking of the major business banks. Which? rates Lloyds 4/5 for online banking and mobile app, and 3/5 for customer service, communication, transparency of charges, complaint handling, service in branch and telephone banking.
Lloyds Bank ranked 9th in a list of the 14 largest business current account providers for SME overdraft and loan services in an independent survey. Lloyds also ranked 7th for overall service quality, 5th for online and mobile banking services, 7th for relationship/account management, and 3rd for service in-branches and business centres.
Lloyds won Moneyfacts Business Startup Bank of the Year in 2015.
Trustpilot 1.8/5 (based on 2,212 reviews)
Reviews.co.uk 2.76/5 (based on 838 reviews)
Smart Money People 2.44/5 (based on 105 reviews)
Which? 69% Which? Customer Score
Pros
Range of finance products with fixed and flexible repayment terms.
Excellent Which? rating for mobile banking.
Ranks well for SME overdraft and loan services in an independent survey.
Cons
Most online reviews are negative.
Website: Lloyds Bank Business Finance