HSBC Invoice Finance User Reviews
Review Summary
0.0 out of 5 stars (based on 0 reviews)
Recent Reviews
There are no reviews yet. Be the first one to write one.
Submit a Review
HSBC is a world-renowned international banking provider that has been established in the UK for many years and has a large branch network. They provide a variety of banking and financial services products to individuals and businesses. Their business products include bank accounts, credit cards, loans, asset finance, invoice finance and mortgages.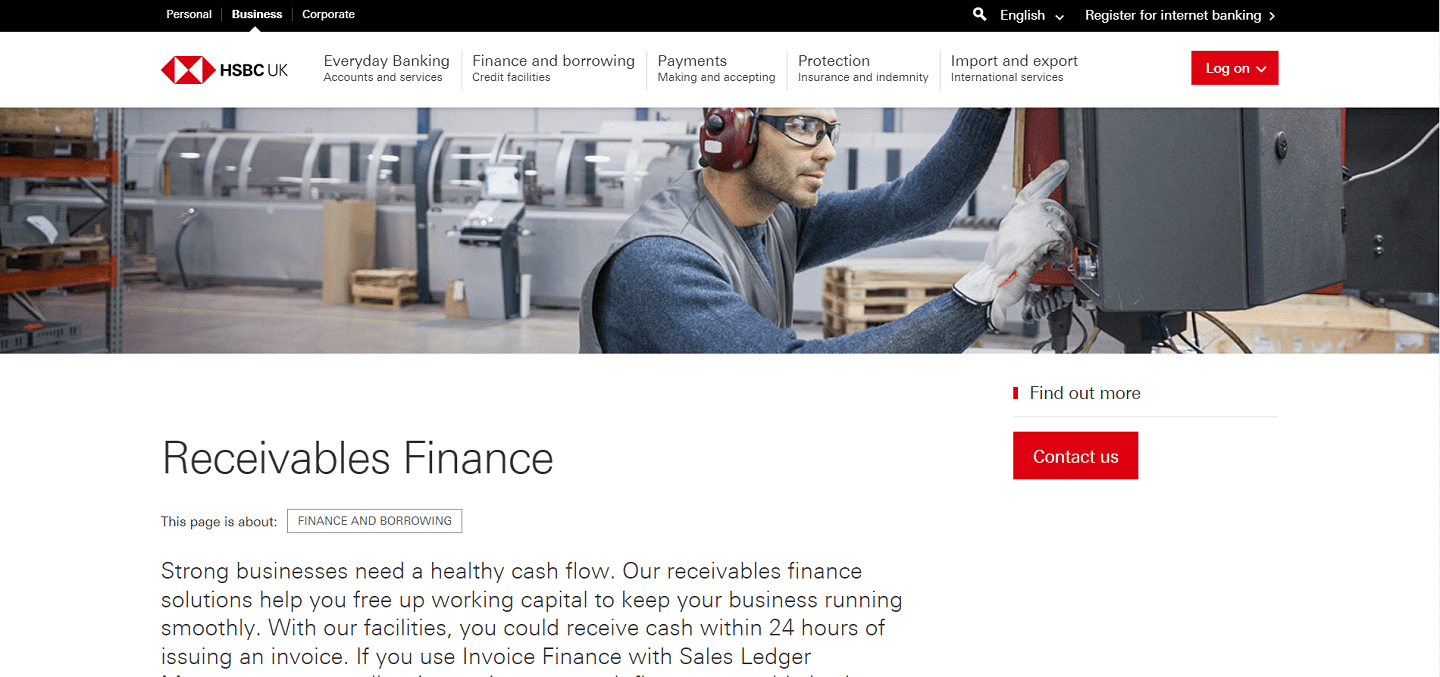 HSBC Invoice Finance Options
HSBC offers a range of receivables finance products (also called invoice finance) that help businesses to release working capital from their unpaid invoices. They offer invoice finance products that allow you to receive funds within 24 hours of issuing an invoice and the funds are repaid when your customer pays your invoice. Features of invoice finance are:
Release up to 90% of your invoice values
Quick and easy process
Online management
A facility that can grow with your business
Option to add credit protection for late payments or debt debts
Arrangement fees apply
Available to new or existing customers
Invoice Discounting
Invoice discounting is a type of invoice finance that provides a confidential service and allows you to retain control of your sales ledger.
Invoice Factoring
Invoice factoring is an invoice finance service that also includes a sale ledger management service which means that their dedicated sales ledger team will manage your credit control and ensure that invoices are paid.
Export Invoice Finance
Export invoice finance is designed to help release funds from international invoices that are issued in other currencies and guard against currency exchange risks. They provide the expertise of trading with over 200 different countries and support from a sales ledger team that can assist in a number of different languages. Offers a choice of currency in sterling, euros, US dollars or any other major currencies.
HSBC Invoice Finance Eligibility
HSBC's invoice finance is available to businesses that sell to other businesses and have a projected turnover above £500,000 per year. You don't need to be a HSBC customer to be eligible for their invoice finance products. Invoice discounting is also available for start-up businesses.
HSBC Invoice Finance Rates
HSBC doesn't include the rates for invoice finance on their website.
HSBC Invoice Finance Calculator
HSBC doesn't have an invoice finance calculator.
HSBC Invoice Finance Reviews
The majority of the leading customer review sites have reviews for HSBC and most of these are not very positively rated. The reviews cover both individual and business banking and are probably weighted more towards personal banking.
Trustpilot has the greatest number of reviews and the lowest overall score, and reviewers predominantly rated them as bad with 89% scoring them as this. Most reviewers' comments were negative, and these included stating that the bank is unreliable and unprofessional, issues with money transfers, low staff numbers in branch, long wait on telephone banking, and general bad customer service. There were some positive reviews and the comments include useful app, good loan rates, helpful staff in branch and good with data protection.
Review Centre and Reviews.co.uk have similar ratings and review comments to Trustpilot. Smart Money People reviews are a little more positive with an average overall score although the feedback is still rather negative and similar to Trustpilot.
A Which? customer survey on banking providers also supports the customer reviews with HSBC performing poorly as they were the 2nd lowest. HSBC received an overall customer score of 57% and only receive 4 out of 5 for their telephone banking. They received 3 out of 5 for handling complaints, communication, customer service, online banking, mobile app and transparency of charges. They only received 2 out of 5 for their in-branch service and benefits.
Trustpilot – 1.3/5 (based on 5,753 reviews)
Google Reviews – no reviews
Reviews.co.uk – 1.4/5 (based on 517 reviews)
Review Centre – 1.6/5 (based on 195 reviews)
Smart Money People – 2.4/5 (based on 147 reviews)
Which? – 57% Which? Customer Score
How To Apply For A HSBC Invoice Finance?  
If you want to apply for HSBC's invoice finance you can call them to discuss it on 01903 205181 if you are an existing customer or 0800 731 8939 if you are a new customer.
Pros
Offers a variety of invoice finance products including export invoice finance
Provides support for currency exchanges and languages for international invoices
Quickly releases funds up to 90%
Cons
No rates are available
Poorly rated across most customer review sites
Website: HSBC Invoice Finance