With 600 branches in the UK, and many more on other continents, HSBC is one of the most recognisable names in global banking. The bank offers business bank accounts and other products, including business finance, insurance, and international banking services.
Click Here To Learn More About the New HSBC Kinetic Account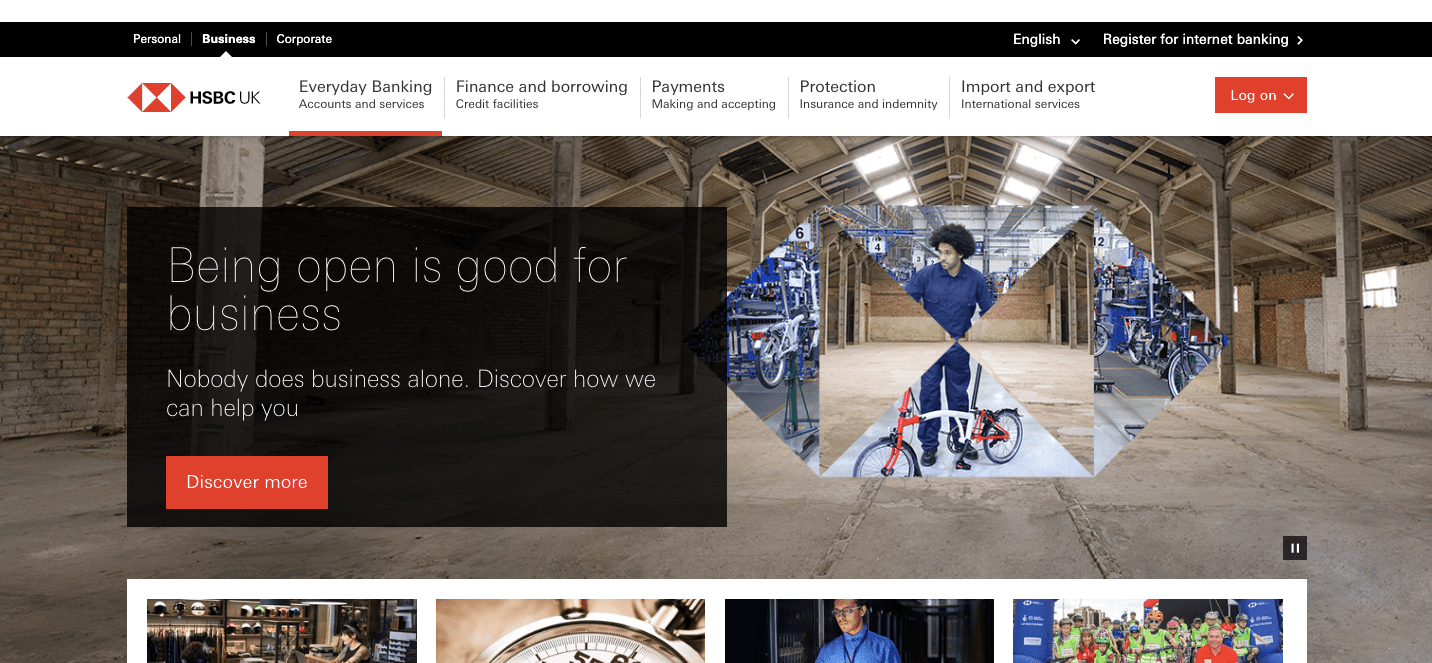 HSBC Business Banking Services
Current Accounts
HSBC offers accounts for small startups, larger businesses, charity and not-for-profits, and businesses trading in foreign currencies. Customers can manage their cash 24/7 using the HSBC app. Current accounts have a maintenance fee of £6.50 a month, not including some extra charges for transfers and withdrawals. Every 12 months, HSBC will review your account usage and advise if you need to change to a different account.
Kinetic
HSBC's latest product is the Kinetic account which is designed for sole traders or single director shareholder business. It offers No monthly account fee for the first 12 months and the ability apply for an account in minutes in the app.
Savings account
Business customers can access several savings accounts, including the Business Money Manager and the Business Money Market Account (for pots of £5,000+). Interest rates vary depending on the account type, amount deposit, and how long it's saved for.
Overdrafts
Business overdraft are arranged for 1-12 months and reviewed every year. Interest is calculated daily and only charged on the amount you use. An arrangement fee will be agreed when the overdraft is approved.
Business finance and loans
Borrow £1,000-25,000 with fixed interest rates with HSBC's Small Business Loan. Your business can also borrow £25k + over 12 months to 20 years, with either fixed or flexible interest rates. There are several other finance products available, including commercial mortgages, asset finance, an international business overdraft, and the Business Growth Fund.
More on HSBC Business Loans & Finance
Business insurance
Insurance is provided by Aviva and Marsh Commercial. There are several protection products available, including Tools, Stock, and Equipment Insurance, Business Income Insurance, and Public Liability Insurance.
HSBC Reviews and Ratings
HSBC's online public reviews are generally poor. The majority of personal banking customers (there are no separate reviews for business banking) on Trustpilot and Reviews.co.uk have complaints about communication over the phone and in-branch and unhelpful customer advice.
Smart Money People shows reviews from business account holders specifically, scoring a slightly higher average. Some are very pleased with the quick set-up and customer service, others are less impressed with how HSBC supports new businesses, and some claim service can be very slow.
On Which?, HSBC scores 3/5 for most of its services assessed – customer service, application process, communication, transparency of charges, mobile app, service in branch and telephone banking. 4/5 for online banking and 2/5 for complaints and benefits.
HSBC ranked 9th in a list of the 14 largest business current account providers for overall service quality in an independent survey.
In the same list of 14 business current account providers, HSBC also ranked 9th for online and mobile banking services, 9th for SME overdraft and loan services, 13th for relationship/account management, and 10th for service in branches.
HSBC has a 5-star Moneyfacts rating for its Business Current Accounts, and was also awarded Moneyfacts Best Online Banking Provider in 2018 and 2019.
Trustpilot –  1.3/5 (based on 5,334 reviews)
Reviews.co.uk – 1.41/5 (based on 498 reviews)
Smart Money People – 2.51/5 (based on 137 reviews)
Which? – 65% Which? Customer Score
Pros
HSBC's Best Tariff Promise – you'll never pay too much for your everyday banking.
12 months' free business banking when you switch.
HSBC approved 92% of small businesses for loans in 2018.
Competitive monthly account fee.
Cons
Not many branches in Scotland and Northern Ireland.
Poor reviews of customer service.
Average scores from Which?
Some reviewers think the business app is glitchy when making transactions.
Website: HSBC Business Banking