With branches in the UK and throughout the world, HSBC is one of the biggest names in global banking. The bank offers business finance products, business bank accounts, insurance, and many other domestic and international banking services.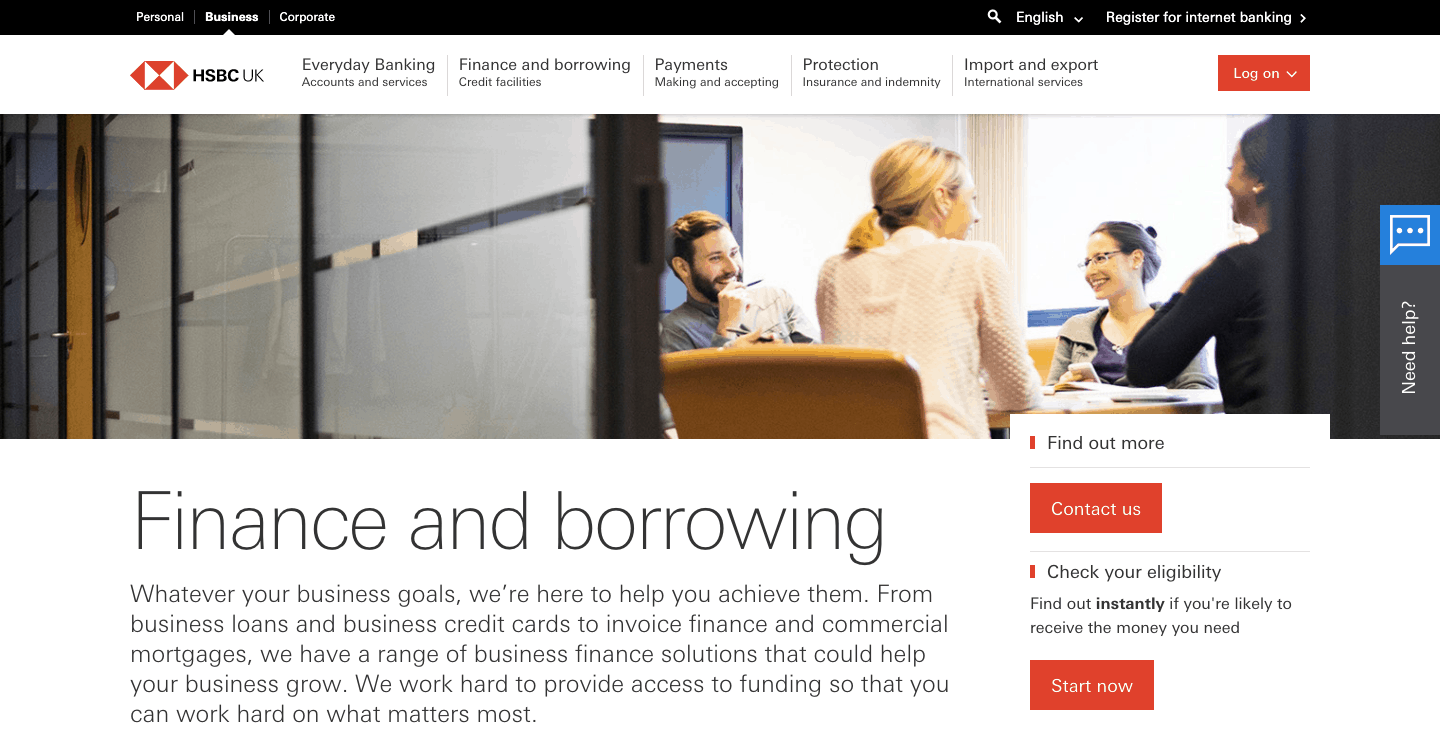 HSBC Business Finance
Business loans
Small business loans with fixed repayments are available from £1,000 to £25,000 at 7.1% APR Representative. Repayment terms are between 12 months and 10 years and a repayment holiday is available for the first 3 or 6 months of the loan.
A flexible business loan is available if you need to borrow over £25,000. You can choose to pay interest monthly or quarterly, over 12 months to 20 years, and you can choose a capital repayment holiday for part or all of the first 24 months.  You don't need an HSBC business current account to be eligible for either loan.
Business overdrafts
HSBC business current account customers can access an overdraft facility for between 1 and 12 months at a representative EAR of 10.36% variable. You pay interest only on the amount you use, which is calculated daily. An arrangement fee also applies, as well as a renewal fee every 12 months. A multi-currency international overdraft is also available for HSBC International Business Account customers.
Business credit cards
HSBC offers a Commercial Card with a 22% APR representative variable based on an assumed limit of £1,200. It provides up to 56 days' interest-free credit and no annual fee for the first year, then it's £32 each year.
Commercial mortgages
HSBC offers commercial mortgages with loans from £25,001 with no maximum limit for up to 75% of the purchase price or professional valuation.
Asset finance
Tailored finance is available for a range of assets, including vehicles, IT equipment, industry equipment, and more. This includes hire purchase, lease agreements, operating leases and more.
HSBC Reviews and Ratings
Reviews are poor across the main review sites. 89% of Trustpilot reviewers are so unhappy they give HSBC 1/5 and Reviews.co.uk and Smart Money People comments are similar. On the whole, customers are unimpressed with waiting times, the quality of customer service, and think processes are too complex.
Which? gives HSBC a Customer Score of 66%. HSBC business accounts score 4/5 for online banking, 3/5 for customer service, application process, communication, transparency of charges, service in-branch, telephone banking and mobile app, and just 2/5 for complaints handling and benefits.
HSBC ranked 9th in a list of the 14 largest business current account providers for SME overdraft and loan services in an independent survey.
In the same list of 14 business current account providers, HSBC also ranked 9th for overall service quality, 13th for relationship/account management, 9th for online and mobile banking services, and 10th for service in branches.
HSBC is one of the British banks lending to businesses during the Coronavirus crisis. It was reported in July 2020 that a "glitch led to thousands of small business loans in the wrong name". HSBC say the error only affected a small percentage of applications and details will be amended for customers affected.
Trustpilot –  1.3/5 (based on 5,334 reviews)
Reviews.co.uk – 1.41/5 (based on 498 reviews)
Smart Money People – 2.51/5 (based on 137 reviews)
Which? – 65% Which? Customer Score
Pros
Repayment holidays and interest-only payment options are available across business finance products.
Ranks well for SME overdraft and loan services in an independent survey.
Business loans can be fixed or flexible.
Cons
Poor online reviews, particularly when it comes to customer service and waiting times.
Average rating on Which?
Website: HSBC Business Finance