Bibby Invoice Finance User Reviews
Review Summary
0.0 out of 5 stars (based on 0 reviews)
Recent Reviews
There are no reviews yet. Be the first one to write one.
Submit a Review
Bibby Financial Services is a business finance provider that specialises in invoice and asset finance products internationally. They operate in 14 countries and have 18 branches in the UK. They offer a range of services to businesses in the construction, transport, wholesale, export and manufacturing sectors.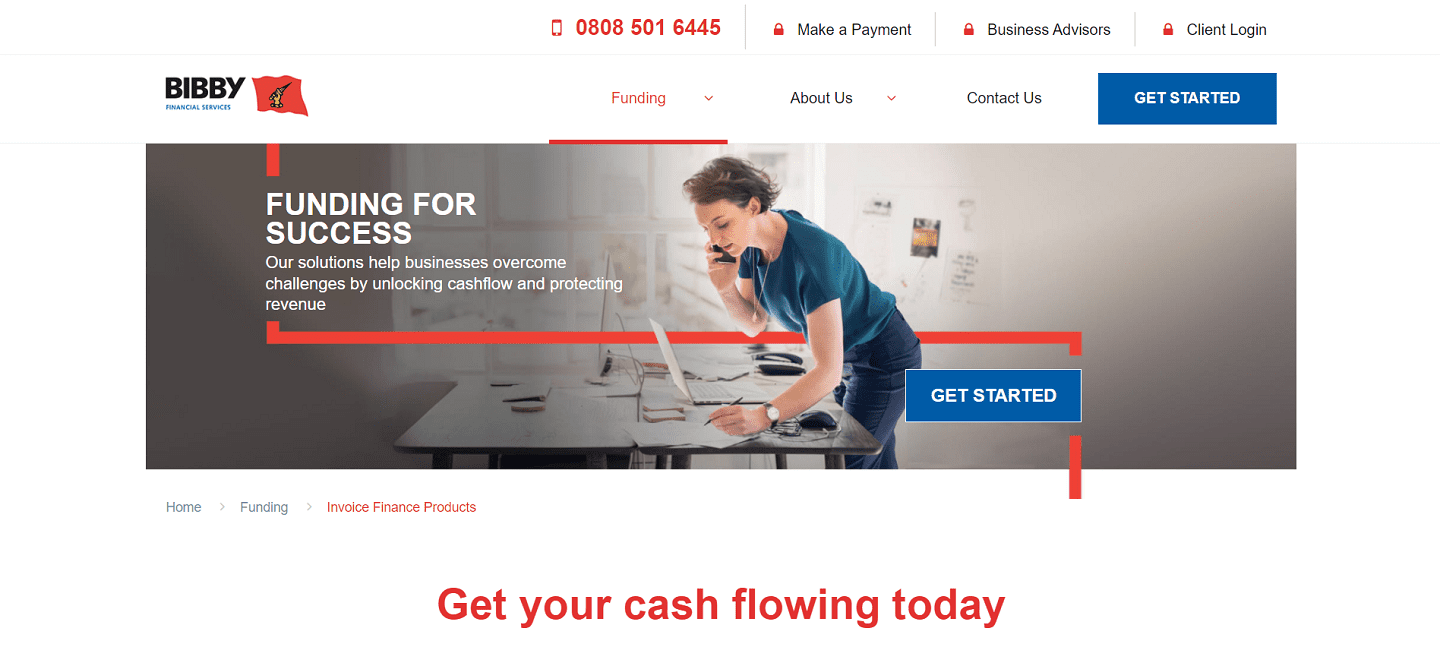 Bibby Financial Services Invoice Finance Options
Bibby Financial Services offers a choice of invoice factoring and discounting that allows businesses to access cash tied up in unpaid invoices and repay the funds when the customer pays the invoice.
Release up to 100% of invoice values
Request funds through a secure online portal
Access funds within 24 hours
Suitable for credit terms between 30 and 90 days
Can combine with Bad Dept Protection
Invoice Factoring
Invoice factoring is a type of invoice finance that also provides credit control services which include collecting and chasing payments. The service is traditionally a disclosed service which would mean that customers may be aware of the service, however, they do offer a confidential factoring service.
Invoice Discounting
Invoice discounting is similar to invoice factoring, but it allows you to retain your credit control and maintain existing relationships with customers and keep the use of the service confidential. They offer a flexible rolling contract with a 30-day notice period.
Bibby Financial Services Invoice Finance Eligibility
Bibby Financial Services doesn't detail any eligibility criteria on its website.
Bibby Financial Services Invoice Finance Rates
Bibby Financial Services doesn't list any of its rates or fees for its invoice finance products.
Bibby Financial Services Invoice Finance Calculator
Bibby Financial Services doesn't have any invoice finance calculators.
Bibby Financial Services Invoice Finance Reviews
There are only reviews available for Bibby Financial Services on Trustpilot and these reviews are positive with 76% of reviewers scoring them as excellent. The review comments include providing excellent service, helpful staff and easy to use service. Negative reviews include poor treatment of customers when collecting invoice payments, issues with communication and problems receiving funding.
Trustpilot – 4.5/5 (based on 572 reviews)
Google Reviews – no reviews
Reviews.co.uk – no reviews
Review Centre – no reviews
Smart Money People – no reviews
How To Apply For Bibby Financial Services Invoice Finance?
You can apply for invoice finance products from Bibby Financial Services by calling them on 0808 501 6448 or requesting a callback through their website. One of their team will discuss your needs and then arrange a face-to-face meeting with one of their Business Development Managers.
Pros
Offers a choice of invoice factoring and discounting
Provides the option of confidential factoring
Can release up to 100% of invoice values
Positively rated in customer reviews
Cons
No details about rates are available
There is no eligibility criteria provided
Website: Bibby Financial Services