Bank of Scotland Invoice Finance User Reviews
Review Summary
0.0 out of 5 stars (based on 0 reviews)
Recent Reviews
There are no reviews yet. Be the first one to write one.
Submit a Review
Bank of Scotland is part of the Lloyds Banking Group which it joined in 2009 but its heritage goes back a long way as it is one of the oldest banks in the UK. Bank of Scotland is a high street bank that offers personal and business banking as well as financial products. They offer a variety of business products that include bank accounts, debit and credit cards, overdrafts, loans, asset finance and invoice finance.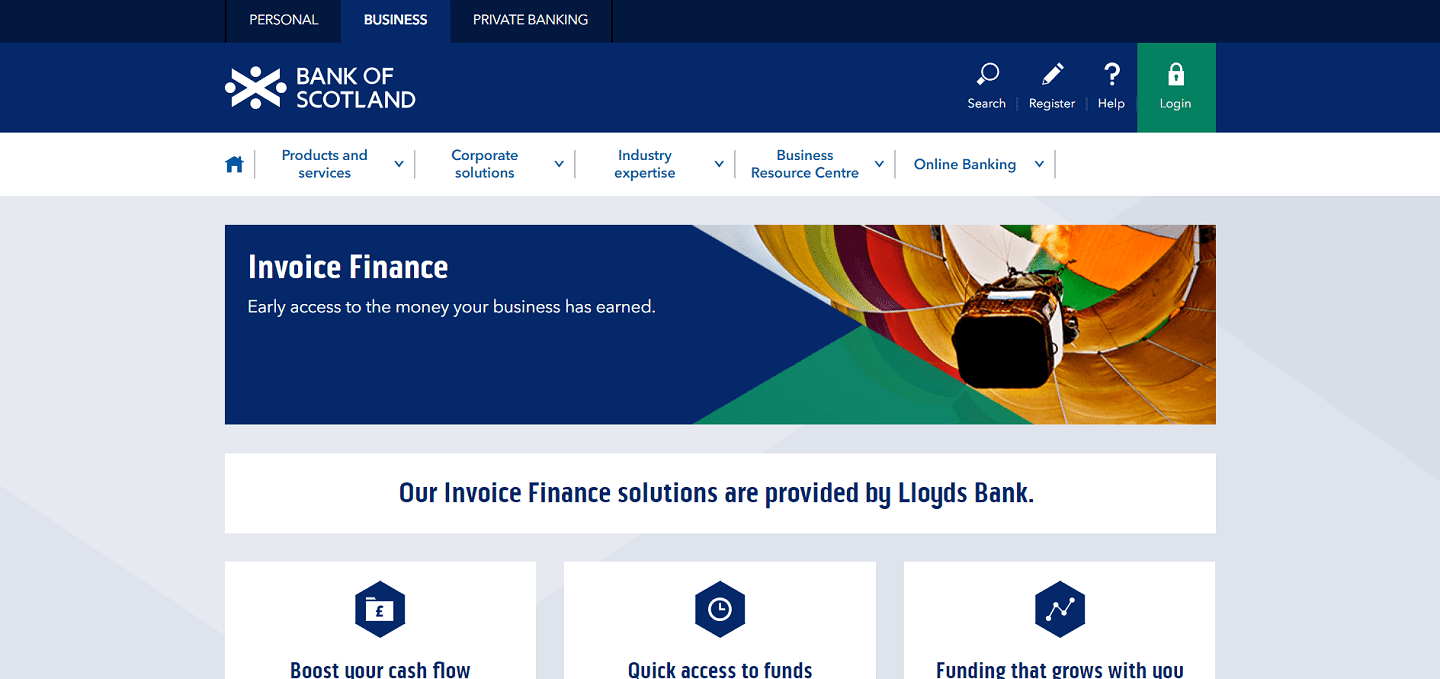 Bank of Scotland Invoice Finance Options
Bank of Scotland offers a range of invoice finance options through Lloyds Bank that enables businesses to access the money owed to them early through releasing up to 90% of unpaid invoice values. The funding can be released within 24 hours of the request and the amount you can borrow is linked to the amount owed to you by your customers which means that the facility can grow with your business. The loan is repaid once the customer pays the invoice.
Bank of Scotland offers several types of invoice finance which are:
Single Invoice Finance
Single invoice finance is designed for occasional cash flow needs and allows you to select the invoices that you want to fund without a long-term commitment. They offer this service through Invoice Service Manager.
Invoice Factoring
Invoice factoring funds your entire sales ledger and provides sales ledger management support in collecting your payments for you and chasing debts.
Invoice Discounting
Invoice discounting also funds your entire sales ledger, but you will retain control of your sales ledger and the service is confidential.
Bank of Scotland Invoice Finance Eligibility
Invoice finance is offered to new and existing customers who sell to businesses on credit terms.
Single invoice finance through Invoice Finance Manager is available to UK businesses that have been trading for over 6 months and have a minimum turnover of £100,000 and each funding request must be over £7,500.
Invoice factoring is available to businesses with a minimum turnover above £50,000 and invoice discounting to those with a turnover above £250,000.
Bank of Scotland Invoice Finance Rates
Bank of Scotland doesn't detail their invoice finance rates on their website.
Bank of Scotland Invoice Finance Calculator
Bank of Scotland doesn't have an invoice finance calculator.
Bank of Scotland Invoice Finance Reviews
Bank of Scotland features on many of the review sites but there is not a large volume of reviews given its customer base. These reviews will cover the broad range of products that the Bank of Scotland offers which includes personal and business banking and financial products.
The reviews across all sites are fairly critical of the Bank of Scotland. Trustpilot has the largest number of reviews and 78% of reviewers scored them as bad with the comments expanding on them finding their customer service levels low and account management systems difficult or frustrating to use.
Reviews.co.uk, the Review Centre and Smart Money People reviews are very similar to the Trustpilot reviews with high levels of negative feedback but some of the positive comments included ease of managing their account and convenience.
Bank of Scotland is included in Which? Best and Worst Banks and they ranked 16 with a customer score of 64%. They received 4/5 for online banking, communication, customer service and complaint handling, and 3/5 for service in-branch, mobile banking, transparency of charges and benefits.
Trustpilot – 1.7/5 (based on 375 reviews)
Google Reviews – no reviews
Reviews.co.uk – 3.0/5 (based on 30 reviews)
Review Centre – 1.4/5 (based on 159 reviews)
Smart Money People – 2.88/5 (based on 8 reviews)
Which? – 64% Which? Customer Score
How To Apply For Bank of Scotland Invoice Finance?
To apply for Bank of Scotland's invoice finance products you will need to contact one of Lloyds Bank's invoice finance specialists on 0800 169 4356 as they provide these products on their behalf.
Pros
Provides a choice of factoring and discounting
Offers a single invoice finance product
Fairly broad eligibility criteria
Cons
Not provided by them but by Lloyds Bank
No pricing information is available
Low customer ratings on review sites
Website: Bank of Scotland Invoice Finance