Aldermore has provided small businesses with business finance products and commercial mortgages for over 10 years. Based in Peterborough, they lend to small businesses and SMEs throughout the UK. Aldermore's finance products include asset finance, invoice finance, commercial mortgages, and property development finance.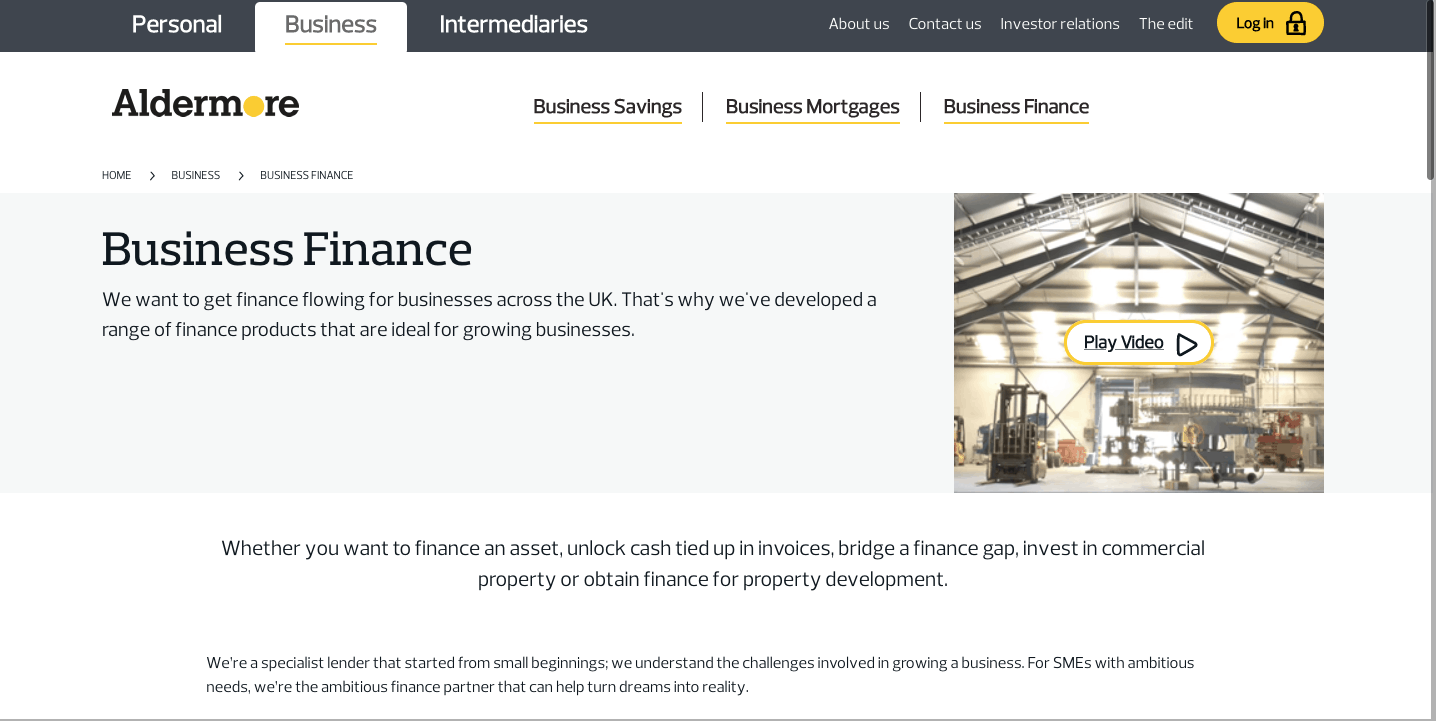 Aldermore Business Finance
Asset finance
This includes hire purchase and lease finance. You can spread the cost of assets and equipment with Aldermore instead of paying for expensive items in one go. Funding is available for a wide range of assets, including manufacturing equipment, energy, and IT resources.
Invoice finance
Convert the value of unpaid invoices into cash flow for your business. You can access up to 90% of the value of your outstanding invoices.  You can chase the invoices yourself (invoice discounting) or Aldermore will do it for you (invoice factoring).
Commercial mortgages
Business mortgages are available for commercial enterprises and buy-to-let from £50,000 to £25 million. A range of variable and 3, 5 or 7 year fixed rates are available, as well as lending up to 75% loan-to-value.
Property development finance is also available, from £1 million to £25 million.
Aldermore Reviews and Ratings
Trustpilot reviews are positive on the whole, with 80% of customers rating Aldermore 'Excellent'. Many are pleased with the ease of customer service, clear products, and simple applications. There are some critics though – a few reviewers have commented on slow lending, online account troubles, and problematic customer service.
There aren't very many reviews on Smart Money People, but they're positive. Comments on Reviews.co.uk are mainly critical.
Aldermore won UK and Europe SME Finance Provider of the Year 2019 at the International Asset Finance Network.
In October 2019, Aldermore's net lending reached £10 billion, growing by nearly 18% compared to the previous year.
Trustpilot –  4.7/5 (based on 1,712 reviews)
Reviews.co.uk – 1.26/5 (based on 35 reviews)
Smart Money People – 3.91/5 (based on 11 reviews)

Pros
Range of business finance products available.
Positive online reviews on the whole.
Award-winning for SME finance.
Cons
Some critical reviewers, particularly on the topic of commercial mortgages.
Lack of specific information about business finance rates and terms on the website.
Website: Aldermore Business Finance