Aldermore has offered savings accounts, mortgages, and business finance to business and personal customers for 10 years. Businesses can save their extra cash and gain a higher interest rate than they might with a conventional business savings or current account. You can check on your money online 24/7.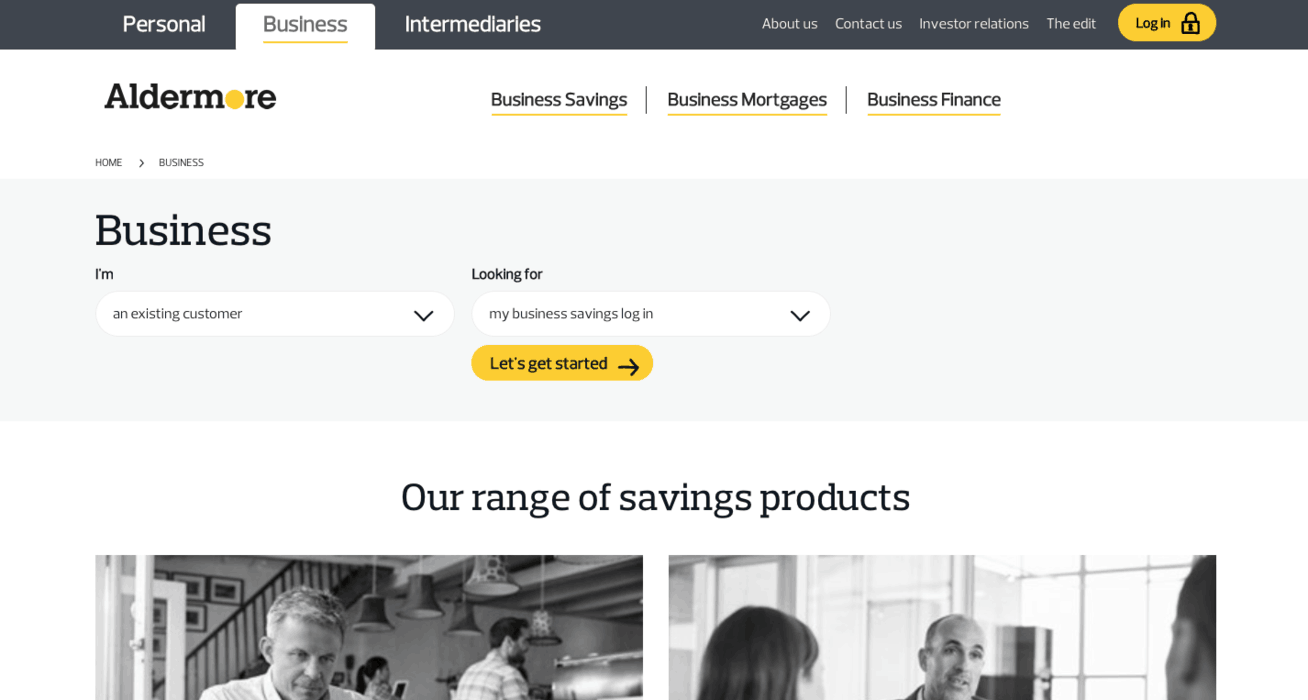 Aldermore Business Banking Services
Current Accounts
Not available.
Savings account
Start saving with an opening balance of £1,000 up to £1 million. Accounts are open to UK-based Limited Companies, Limited Partnerships, Limited Liability Partnerships, and Sole Traders. There are no fees for standard account services, but Aldermore might charge for non-standard services.
Easy access account
Save your money in an accessible account and earn up to 2.15% AER. Interest is calculated daily and paid monthly or annually into your existing savings or business current account.
Fixed-rate account
Save your money for a fixed period and earn up to 3.00% AER. The Aldermore fixed-rate account gives you the option of saving for 6 months or 12 months.
Overdrafts
Not available.
Business finance and loans
You can apply for invoice finance, asset finance, commercial mortgages, property development loans, and other industry-specific finance through Aldermore. Interest rates and specific terms vary depending on the finance product.
Aldermore Reviews and Ratings
Trustpilot reviews are largely positive with 80% of reviewers rating Aldermore 5/5 and 8% scoring them 1/5. Happy customers say interest rates are competitive and account management is easy. Unhappy customers claim their customer service is tough to deal with and there can be frustrating delays.
There are fewer reviews on Smart Money People, but they're positive overall. There are fewer comments on Reviews.co.uk and they're mainly critical. Some claim it's easy to set up an account but much harder to access their funds later.
Aldermore isn't included in the Which? list of 'Best & Worst Banks'.
Aldermore has won a range of awards for its different products, including UK and Europe SME Finance Provider of the Year 2019 at the International Asset Finance Network, Best Business Savings Provider 2019 at the MoneyComms Awards.
In October 2019, Aldermore's net lending reached £10 billion. Net lending grew by nearly 18% in 2019.
Trustpilot –  4.7/5 (based on 1,712 reviews)
Reviews.co.uk – 1.26/5 (based on 35 reviews)
Smart Money People – 3.91/5 (based on 11 reviews)
Which? – not included
Pros
Competitive interest rates.
Range of business finance products available.
Easy access and fixed accounts available.
Cons
Some reviewers say they've found it difficult to access their cash.
Lack of specific information about business finance on the website.
Website: Aldermore Business Banking