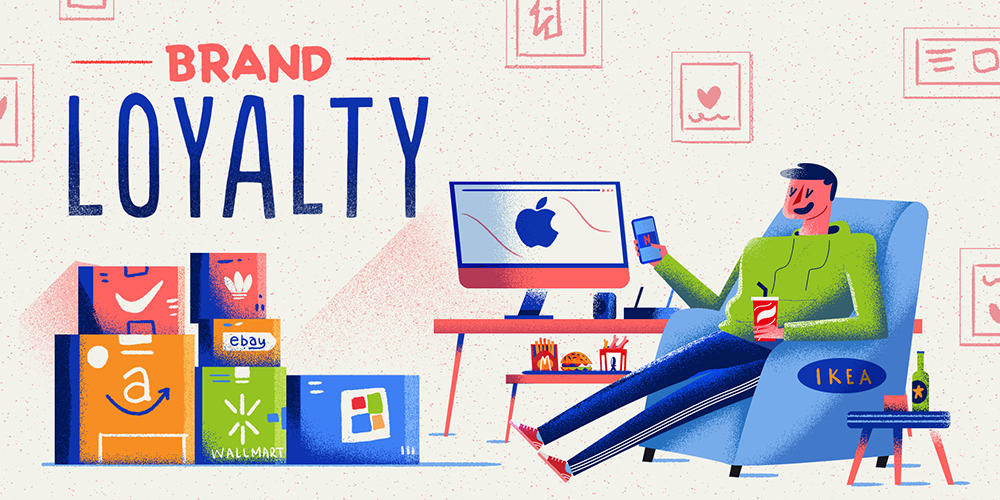 The world of commerce is dominated by a handful of big brands. In the fashion industry alone, 20 major companies control 97% of global retail profit. And five familiar names account for more than 20% of the value of the entire S&P 500 stock market index. You can probably guess what those five names are. (Read on for the answer).
The situation is calcifying thanks to the pandemic. Bigger companies look like a safer bet to investors right now. Unfortunately, these "superstar companies" have a tendency to "gouge consumers, underpay workers and invest too little."
But there's good news for smaller businesses: these big companies tend to move slowly. Just think how online brands have outgrown department stores that failed to move with the times. And modern entrepreneurs are also measuring 'success' by nobler metrics: community engagement, staff satisfaction, and philanthropic impact. You don't need to be the most-searched company for what you do to have value.
Still, here at BusinessFinancing.co.uk we wondered which are the most popular consumer brands around the world right now. The go-to companies that small businesses should have their eye on. We used Google Keyword Planner tool to measure search volume data for top brands over the past year, and figured out the most-searched consumer brand in every country. Then we did the same sector-by-sector for a range of industries such as fashion and fast food. Scroll on to see our results mapped, and the data in full.
Oh yeah, and you'll see plenty of those five, stock market-dominating companies mentioned above: Microsoft, Apple, Amazon, and Facebook (the fifth is Alphabet, Google's parent company). How many did you guess?
Key Findings
Google is the most popular brand in the highest number of countries (100).

Amazon is the most popular brand by global search volume (192,548,485 searches – versus 97,471,370 for Google).

Epic Games is the most popular brand in 141 countries, making it the most dominant brand in an individual sector (gaming).

Apple is the most popular phone manufacturer by search volume, even though it recently dropped from third to fourth most popular by sales.
The Battlefield of Global Brand Dominance
The world's most popular consumer brands are overwhelmingly online companies, and overwhelmingly American. Indeed, the top four brands (measured by number of countries in which they are the most searched brand) are American web services: Google (100 countries), Netflix (45), Amazon (30), and eBay (11). All the more remarkable considering Amazon is only present in 18 countries. The fifth most popular brand, however, is the Swedish furniture company IKEA. Like the top four companies, the brand name itself has become synonymous with its product/service.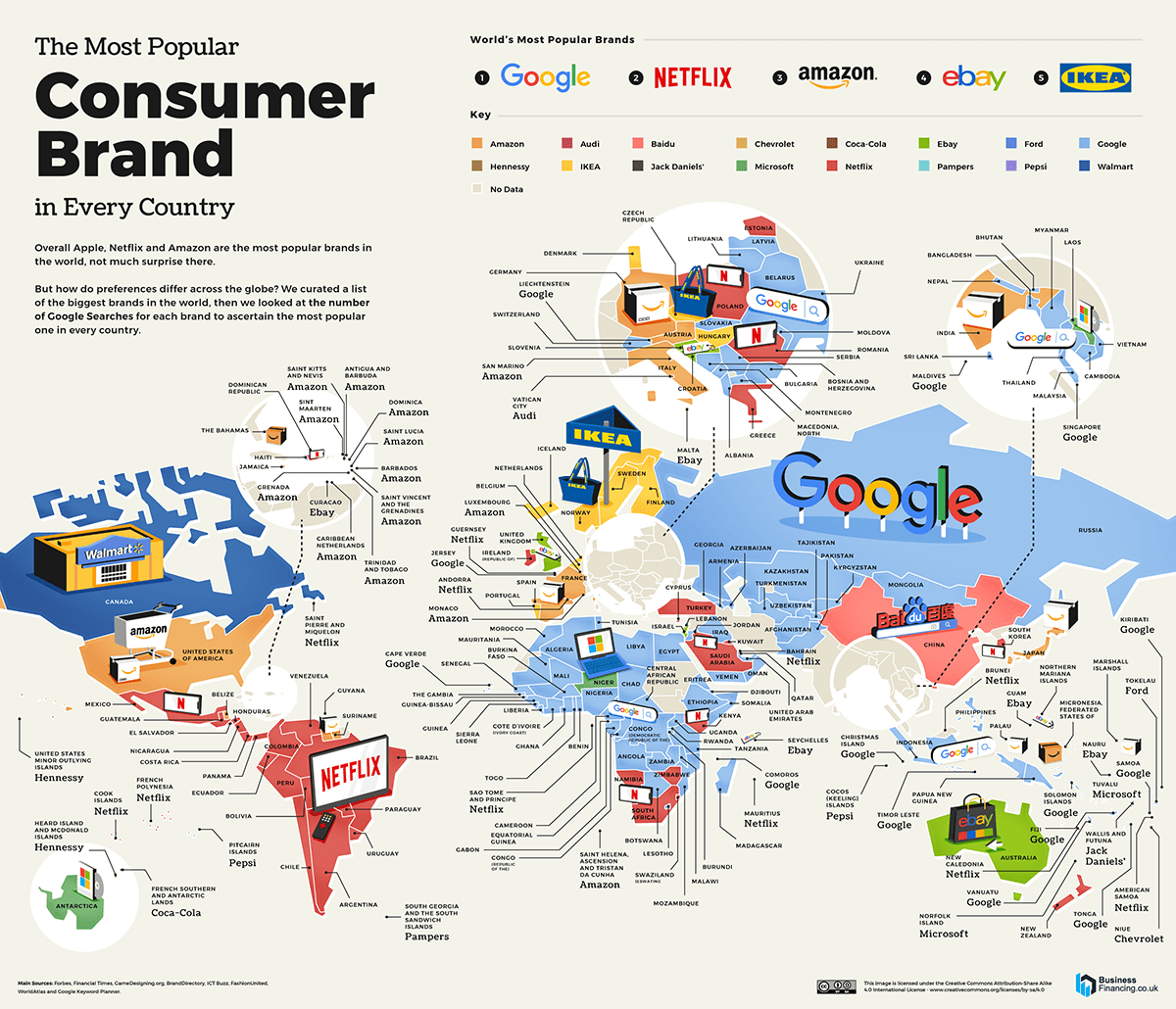 Tap on the map to see it full size
Even to be top brand in just one country is notable – although it may say just as much about the country. Pampers (South Georgia and the South Sandwich Islands) and Audi (Vatican City!) are brands you might not expect to dominate a culture's interests.
Europe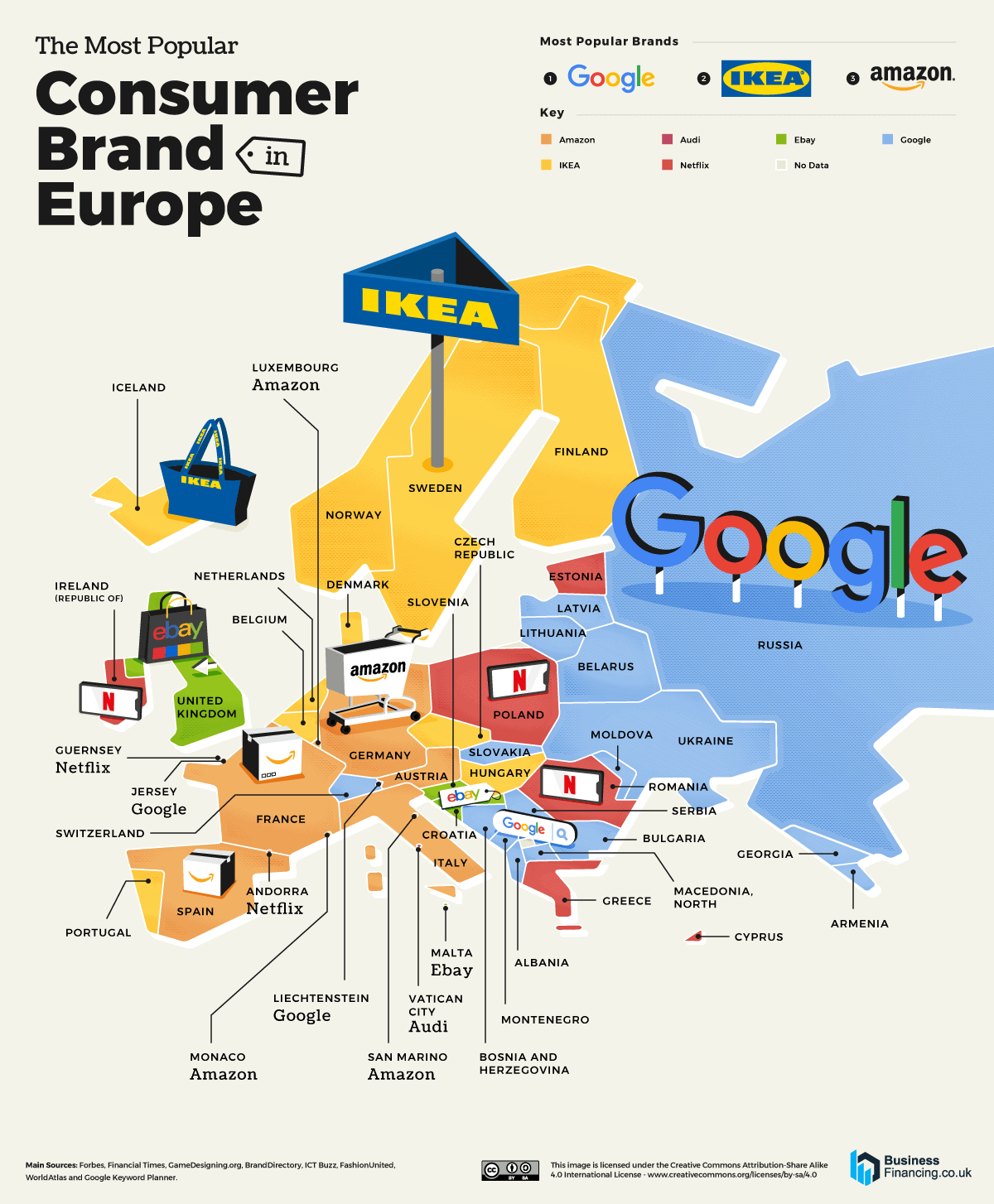 Tap on the map to see it full size
How tall the IKEA sign stands over Europe! The furniture brand operates on every continent except South America, but has nearly twice as many stores in Europe as the rest of the world put together. Like other popular European brands, it is curious how territorial IKEA's search volume is. IKEA dominates Scandinavia, Amazon takes the south-west of the continent, and Netflix and Google are big out east.
It's interesting to see Google as the top brand in Russia as it still lags behind Yandex as the most popular search engine. However, this may be because we used Google Keyword Planner to find out what brands are popular in each country and that could bias the data in this country specifically.
North America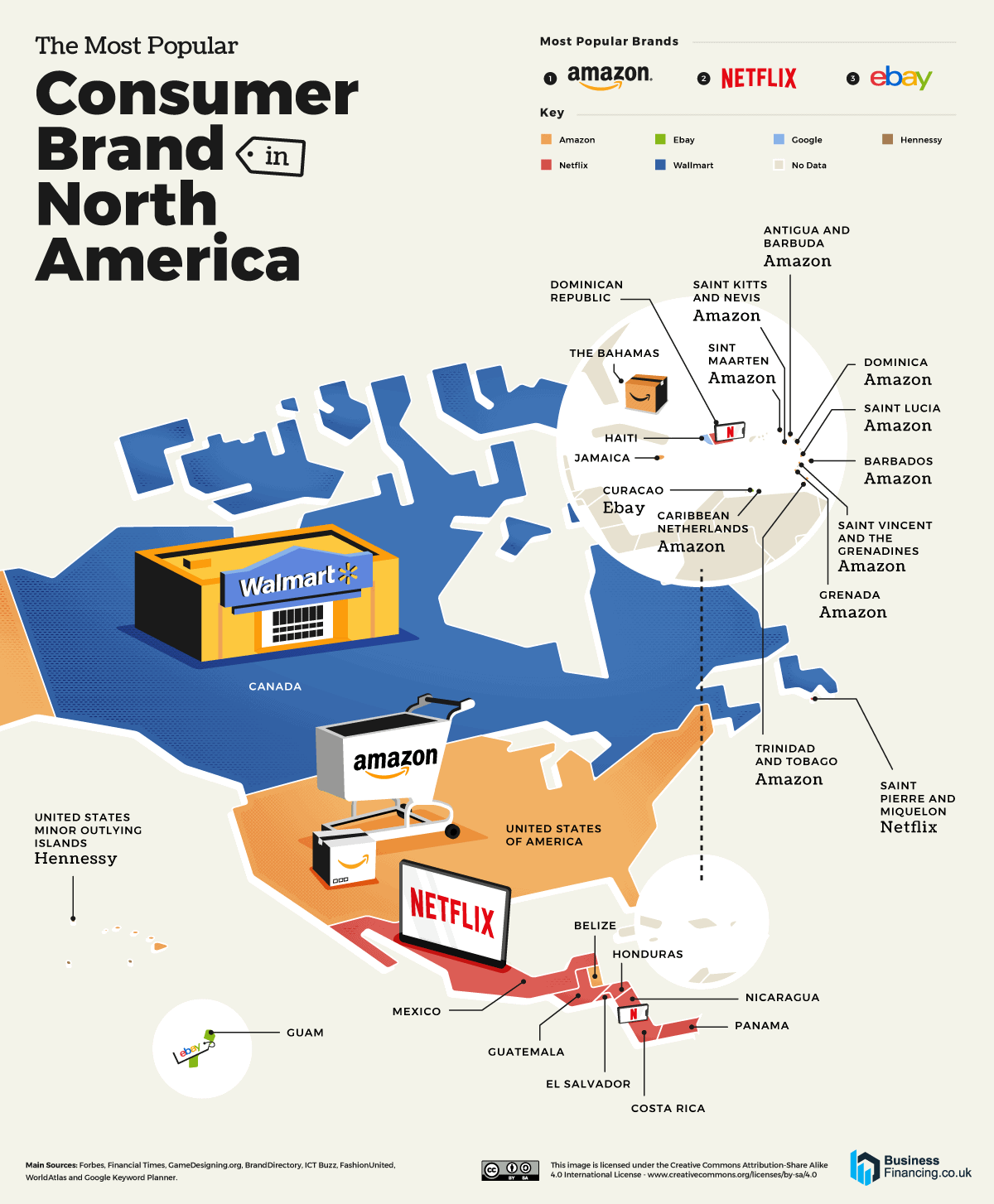 Tap on the map to see it full size
North America is split fairly neatly in two. North-north Americans love to shop, Central Americans love Netflix. Caribbean islanders can't stop Googling Amazon, although often their search results are disappointing – there are significant limits to what you Amazon will ship beyond its official territories.
South America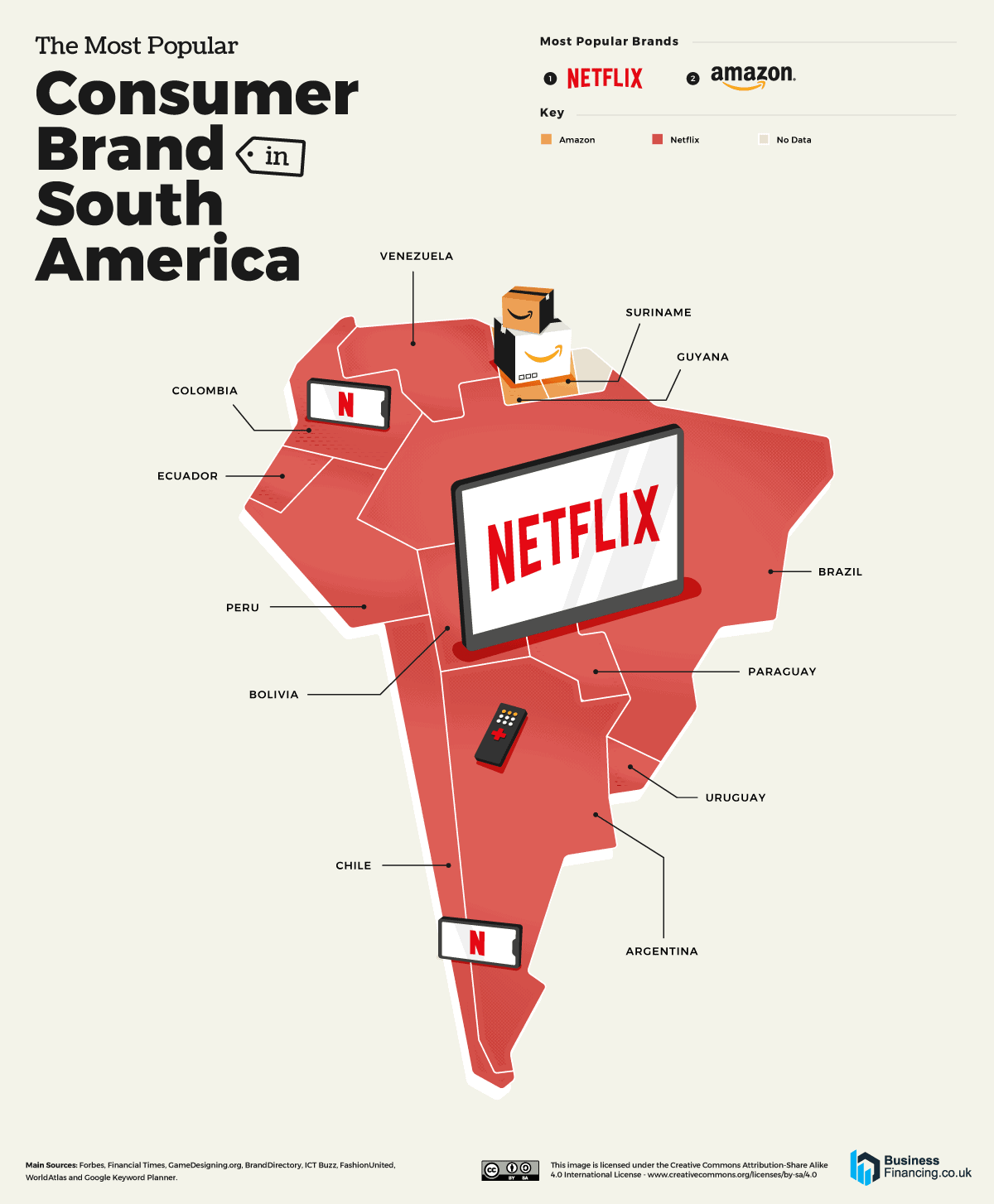 Tap on the map to see it full size
So, from Central America on down through South America, people are searching for Netflix. More than one in ten Latin Americans use Netflix at least once a month, and the region's viewership is likely to swell by 54% to 48 million subscribers by 2025. Netflix signalled its devotion to Latin America by opening an HQ in Mexico in 2020 – and Latin America is reciprocating by searching for Netflix more than any other brand.
Middle East and Central Asia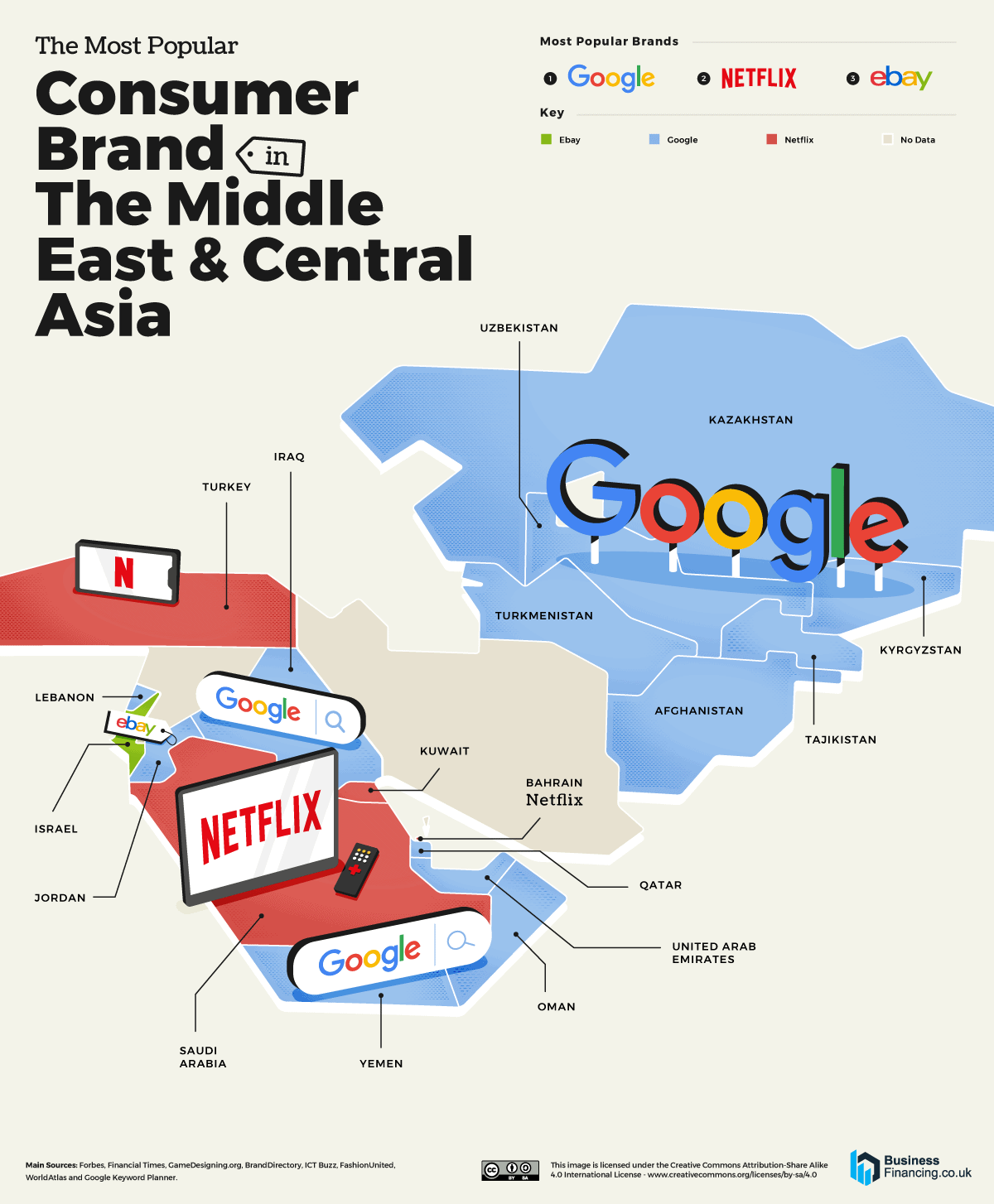 Tap on the map to see it full size
It's a tale of two brands for this region: Google vs. Netflix. And while Google got into the global domination game early, you have to hand it to Netflix for becoming the people's television choice all around the world – opening in 190 countries in just seven years. The only regional exception to Google/Netflix dominance in this region is the popularity of eBay in Israel. Traders in Israel export a lot of goods using eBay – and it also became a key place to shop when services such as Amazon ceased delivery during the lockdown.
Rest of Asia and Oceania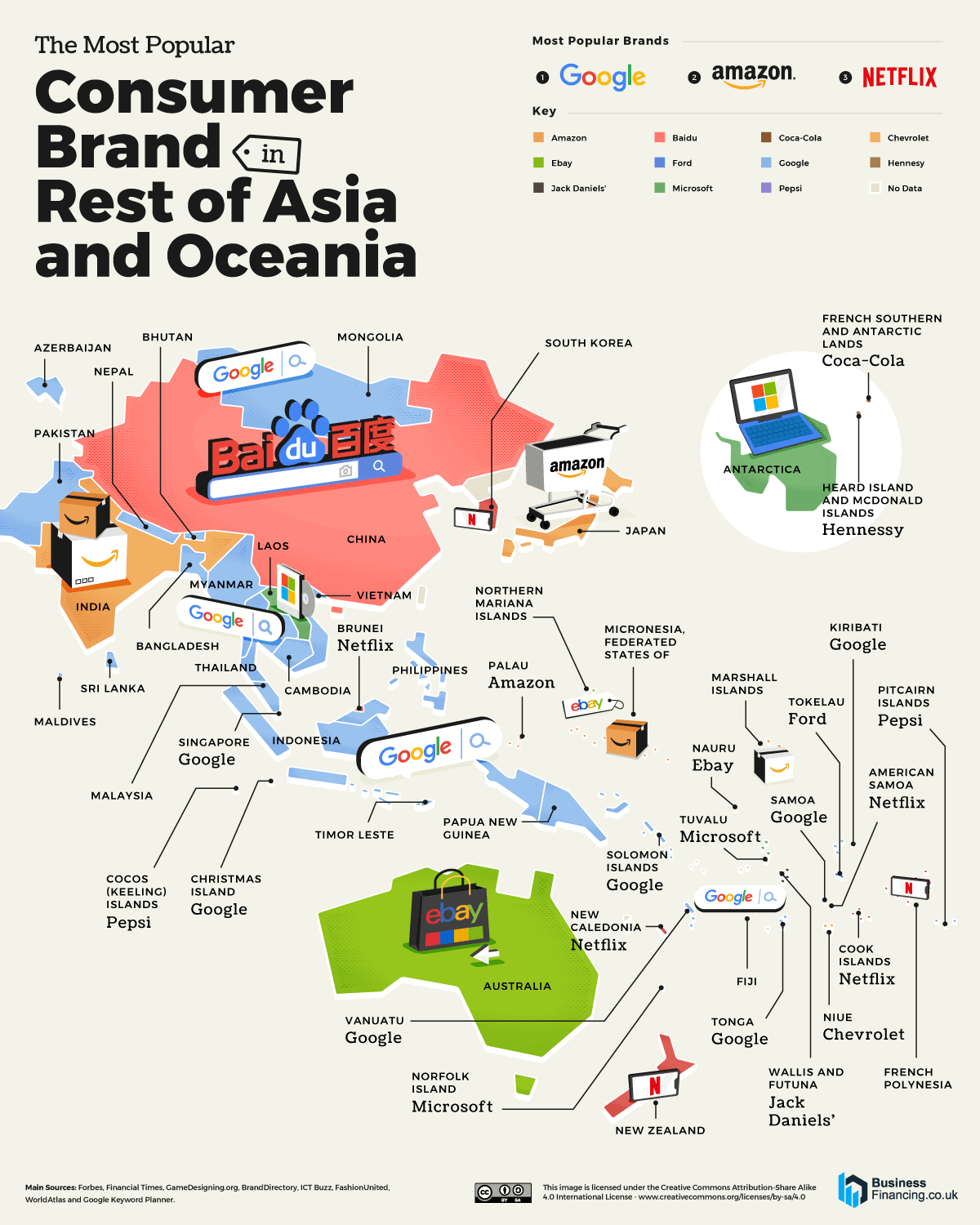 Tap on the map to see it full size
There are some refreshing alternatives to the dominance of Google and Amazon in Oceania. South Pacific islanders turn to their search engine when thirsty, demanding to be quenched with Pepsi (Pitcairn Islands) or Jack Daniel's (Wallis and Fatuna). And Baidu takes Google's place in China, where Google is banned. In fact, Baidu is the second most-used search engine in the world.
Africa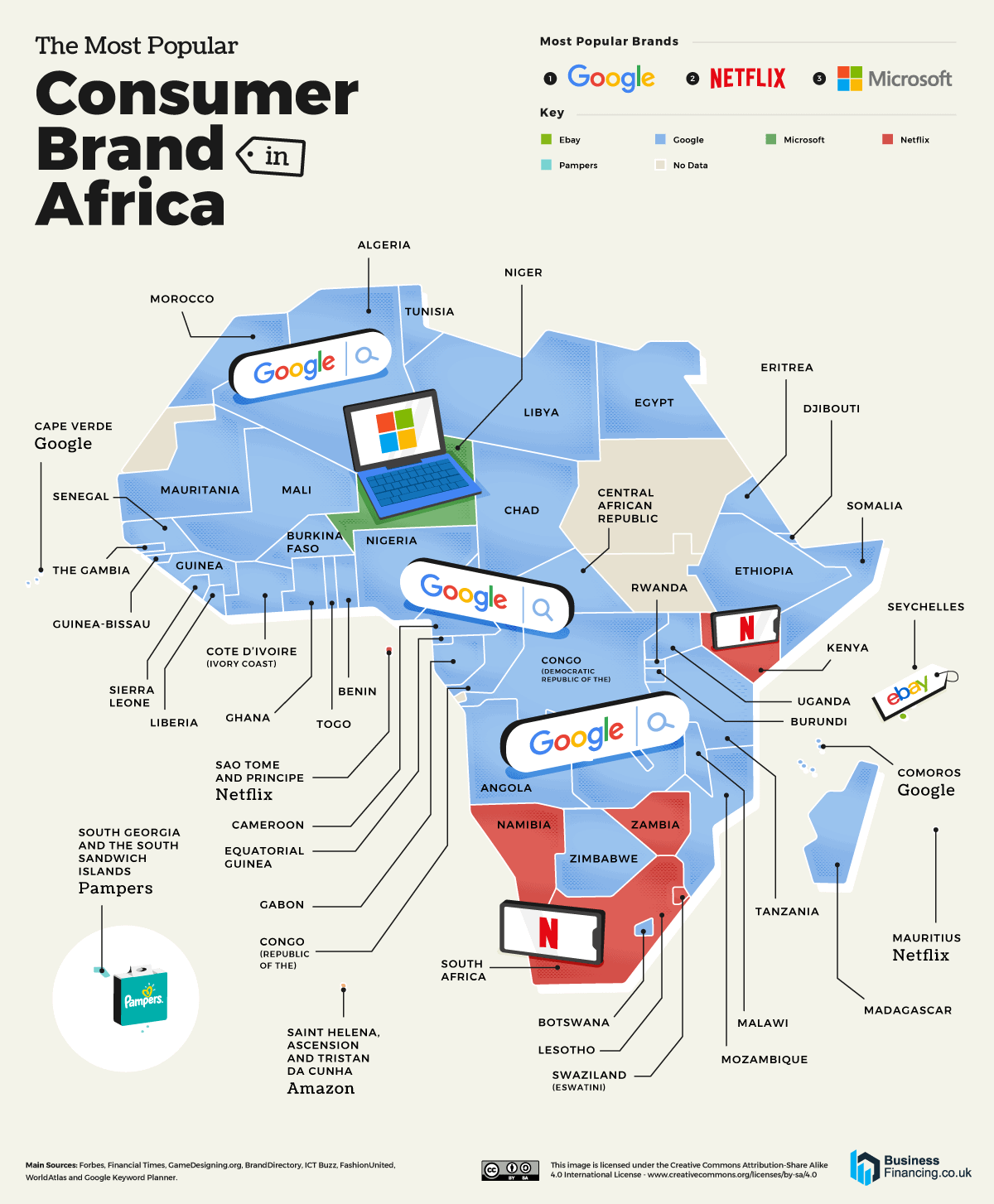 Tap on the map to see it full size
The biggest players from our study are even more prominent in Africa than elsewhere. One outlier, however, is kicking up a stink: Pampers are big in South Georgia and the South Sandwich Islands. However, the islands' most-searched term was searched only 10 times in a whole year, reflecting the fact that there are no permanent residents in the territory. In fact, those 10 nappy-themed searches could all come from the same desperate parent/ British Antarctic Survey researcher.
The World's Most Popular Consumer Brands by Sector
Perhaps it should be no surprise that from one country to the next, the all-out most popular brands are not so different. But there are a few more surprises when you look at the data by sector. The following series of world maps shows the most-searched consumer brand in every country for the fashion, fast food, gaming, household appliance, and smartphone industries.
Apple Gets More Searches, Sells Fewer Phones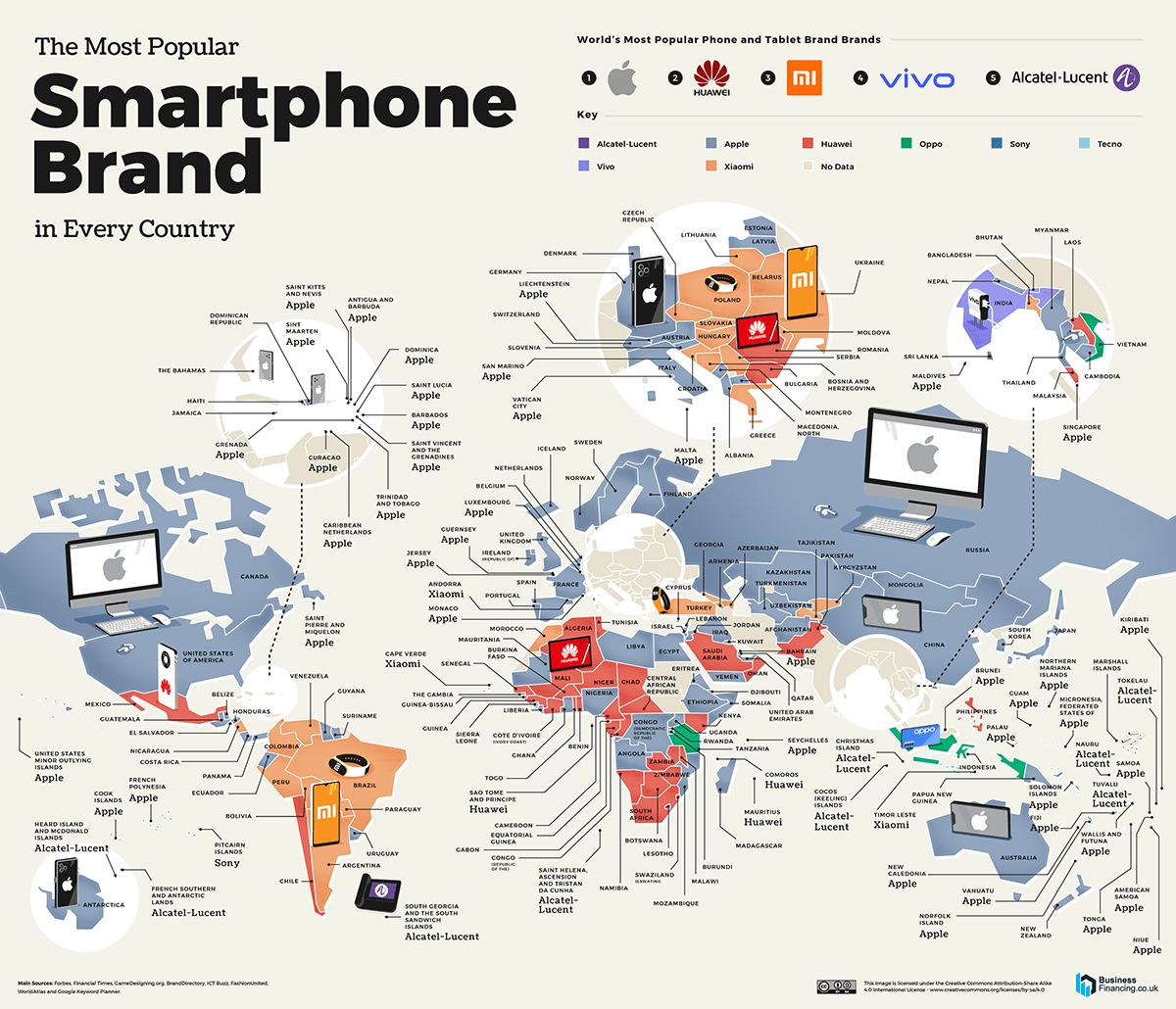 Tap on the map to see it full size
'iPhone' isn't quite synonymous with 'smartphone,' but Apple's pocket computer set the bar for internet-fuelled camera-phones – and it remains an aspirational purchase. And Apple is the most-searched smartphone brand in the world, as number one in 127 countries. With 11,308,825 global searches, it is searched more than Huawei and Xiaomi combined, even though the two Chinese brands both sell more phones than Apple.
Nintendo Beaten to Number One Spot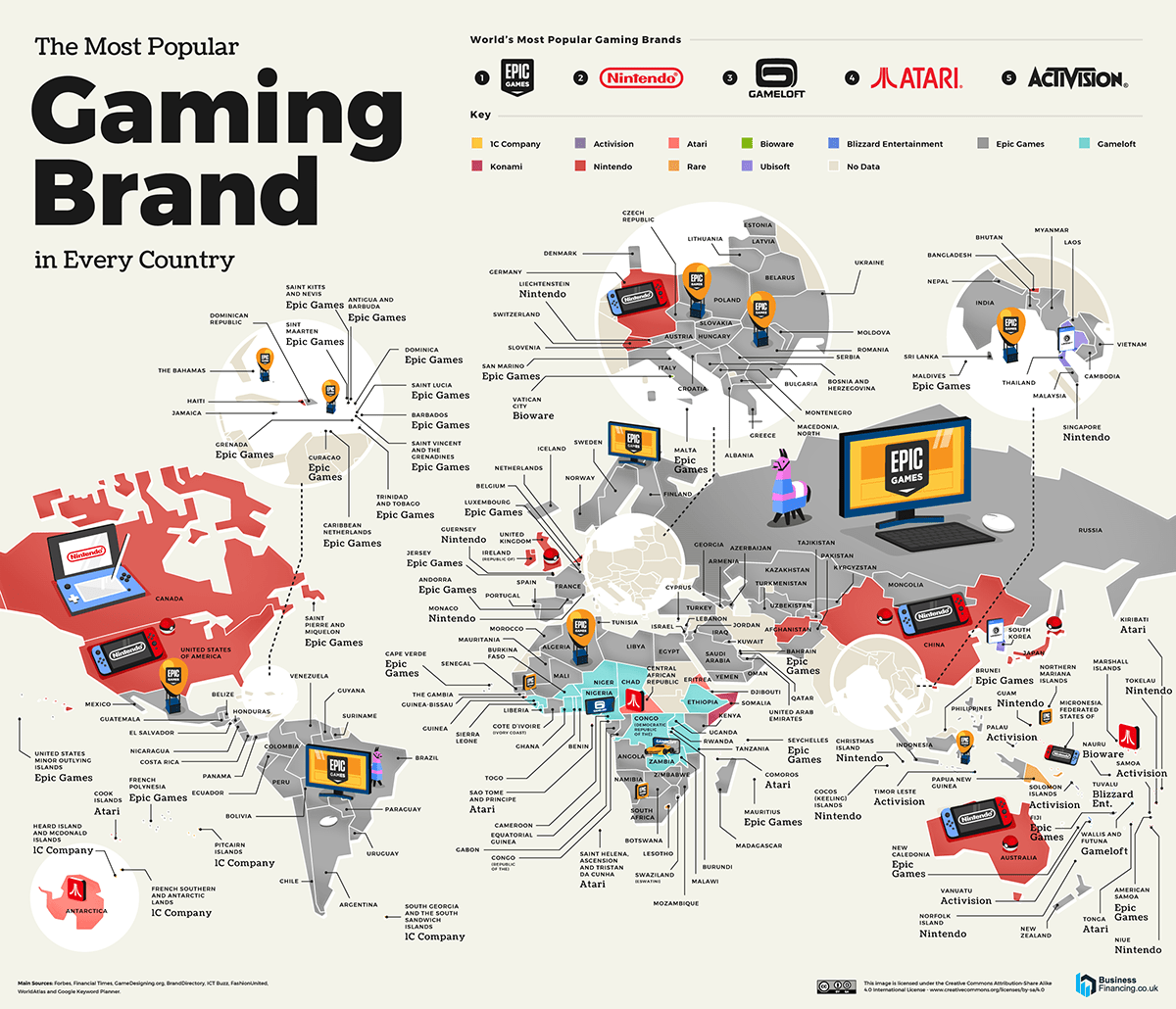 Tap on the map to see it full size
The popularity of Epic Games is, well… epic. Gamers know what they're looking for, so the American video game and software developer gets more searches than more famous names such as Nintendo. Epic is number one in 141 countries with a total of 4,716,375 global searches; Nintendo is top in 24 countries with 3,120,010 searches.
Nike is First Past the Fashion Finishing Line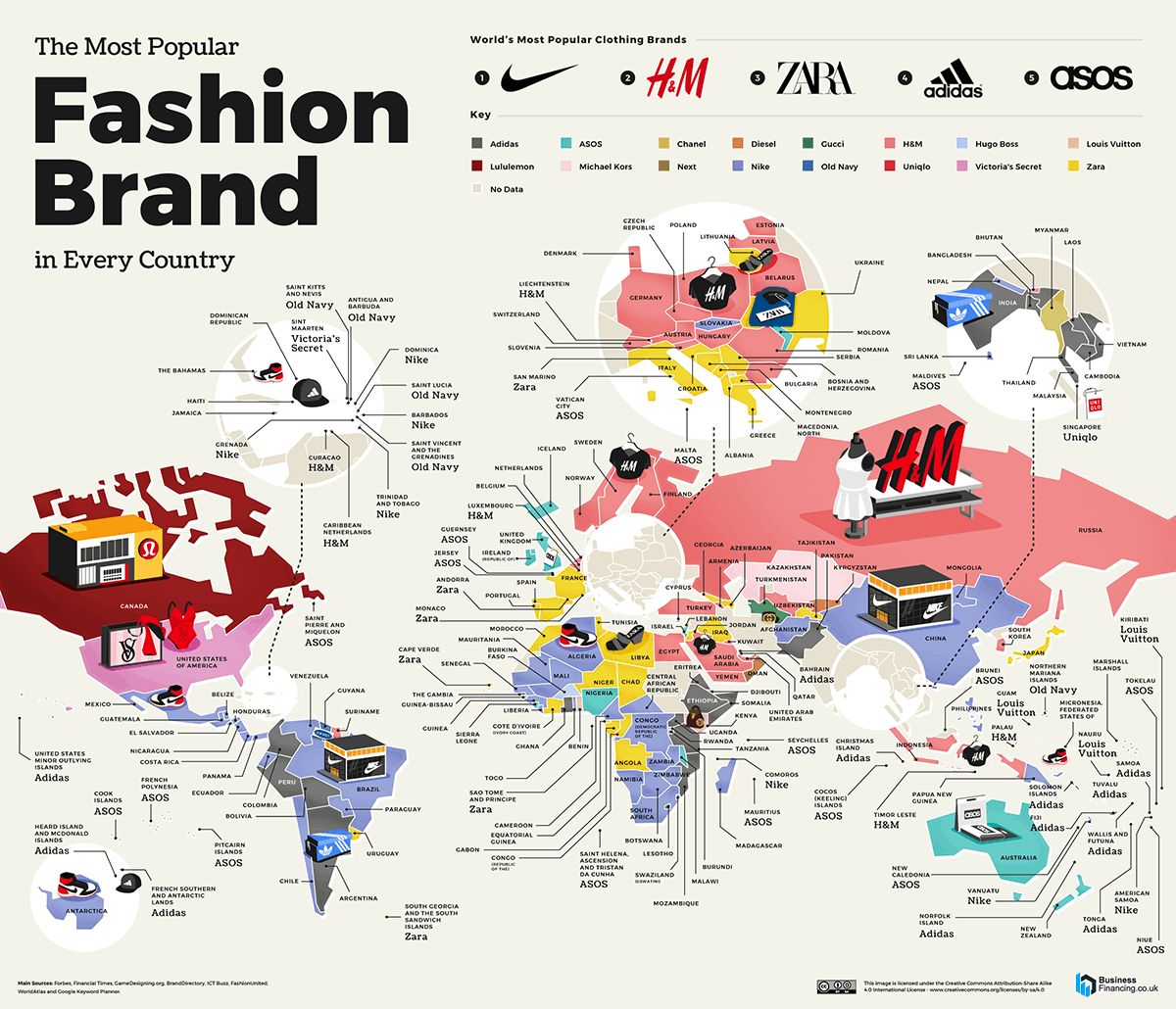 Tap on the map to see it full size
Nike is a household name around the world and is the most popular fashion brand in 49 countries, putting it top of the table in our study by that metric. However, H&M received more searches altogether. The fast-fashion retailer was searched 34,026,650 times in one year, next to 23,435,140 searches for Nike. Zara (28,798,130) was also searched more times than Nike. H&M and Zara are the most-searched fashion brands in 38 countries each. 
The World Still Loves McDonald's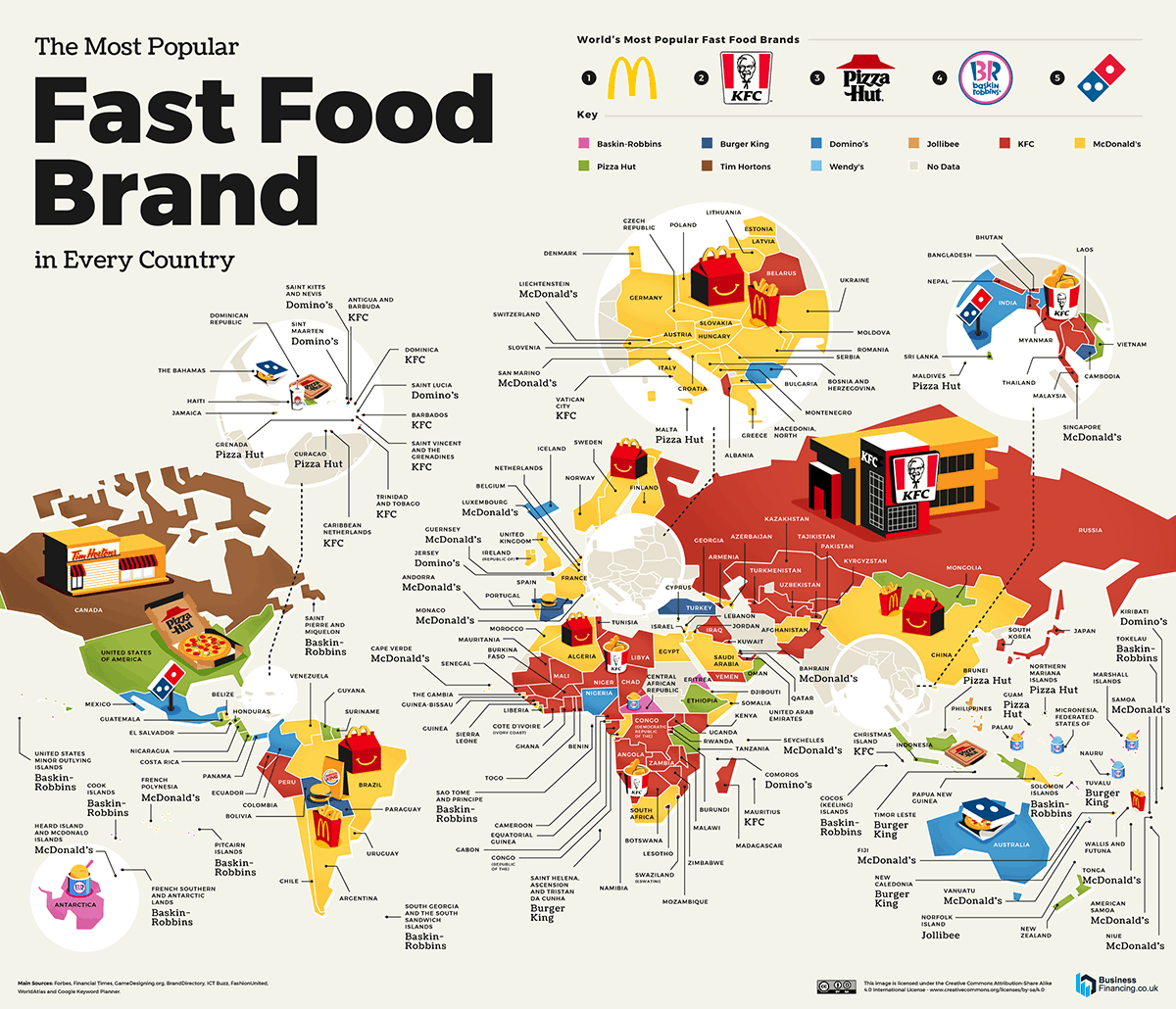 Tap on the map to see it full size
The golden arches dominate the global fast-food-quaffing public's imagination: McDonald's is the most-searched fast food brand in 75 countries. McDonald's search volume (27,090,830) eclipses KFC (9,601,550) which is most popular in 65 countries, and Pizza Hut (18,111,090) which is most popular in 28. Patriotic Canadians favour searching for Tim Hortons, a name little-known outside North America – although the coffee-and-bagel specialists could soon be a feature on every major UK high street.
A German Household Appliances Brand is the World's Most Popular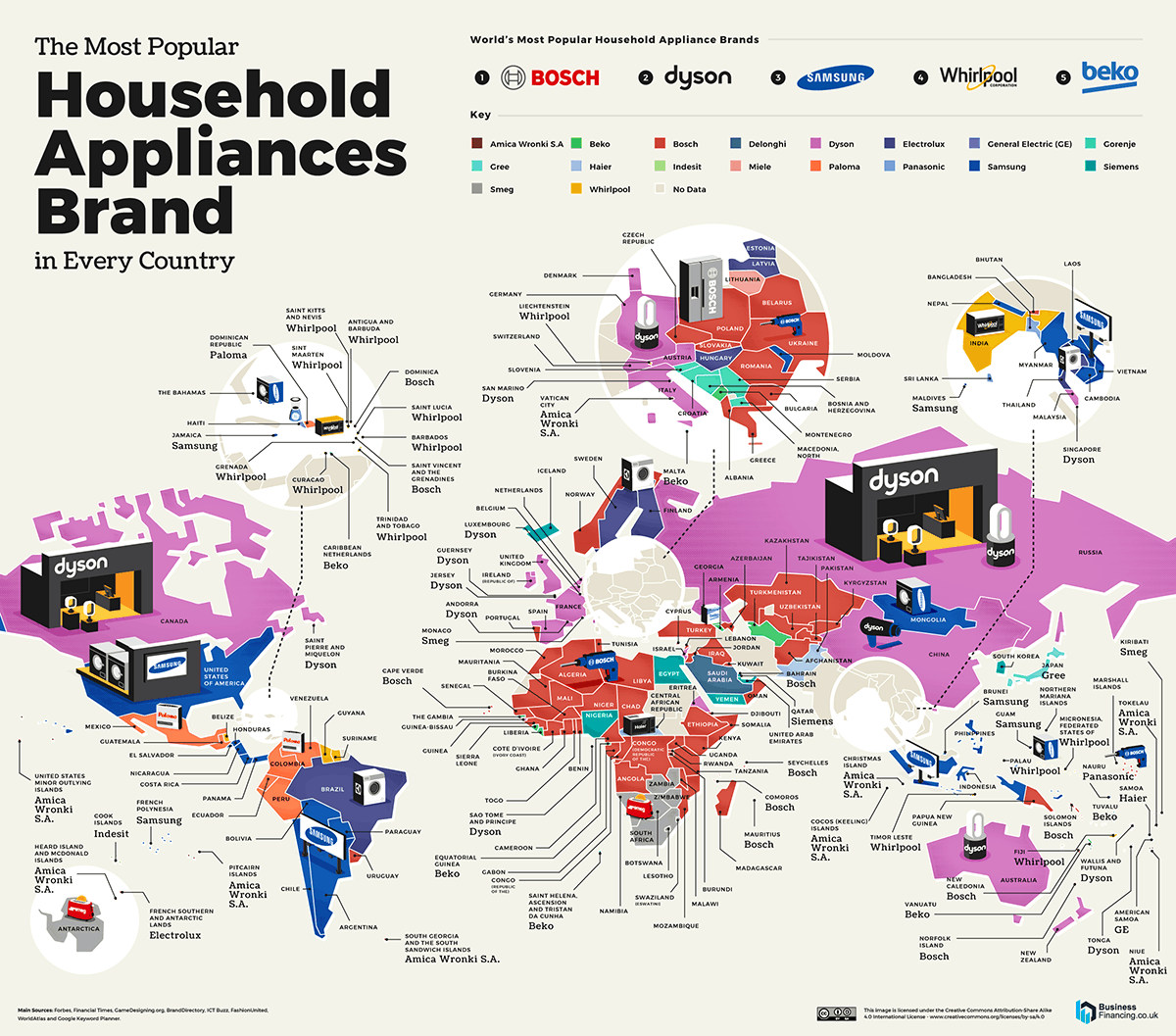 Tap on the map to see it full size
The German appliance manufacturer Bosch is the most-searched brand for this sector in 69 countries. However, second-placed Dyson (30 countries) gets a higher search volume (1,142,285 vs. 883,085). Perhaps surprisingly, Samsung comes in a poor third, as number one appliance brand in 26 countries.
A Global Popularity Contest
The world's most popular brands perpetuate their success with a predictable quality that means you always know what you're getting. It is intriguing to see how these consumer brands have captured the public imagination – and how that differs from country to country. However, consumers and small businesses alike know that being "number one" isn't everything. How you shop, how you make and sell your product, how you interact with the people in your market defines who you are as a customer or an entrepreneur.
There's still lots to learn from these figures – especially if you have an interest in marketing, SEO, or business statistics. So why not check out our original data set in full?
METHODOLOGY & SOURCES
To produce these maps, we curated a long list of consumer brands using existing rankings on the world's most valuable and popular brands from sources such as Forbes, Financial Times, GameDesigning.org, BrandDirectory, ICT Buzz, FashionUnited and WorldAtlas.
We then used Google Keyword Planner tool to gather global monthly search volume data (over 12 months) for each brand. We did this to establish the most searched for consumer brands in each country across the different sectors. When determining the most searched brand in a given country, adjusted search volumes were used.
Most Popular Guides