Shawbrook Bank is a specialist lender and savings provider, founded in 2011. There's no current account available. The bank offers working capital loans, asset finance, savings accounts, and commercial mortgages for a variety of different businesses in different sectors. There are no UK branches, but you can service your account online and over the phone.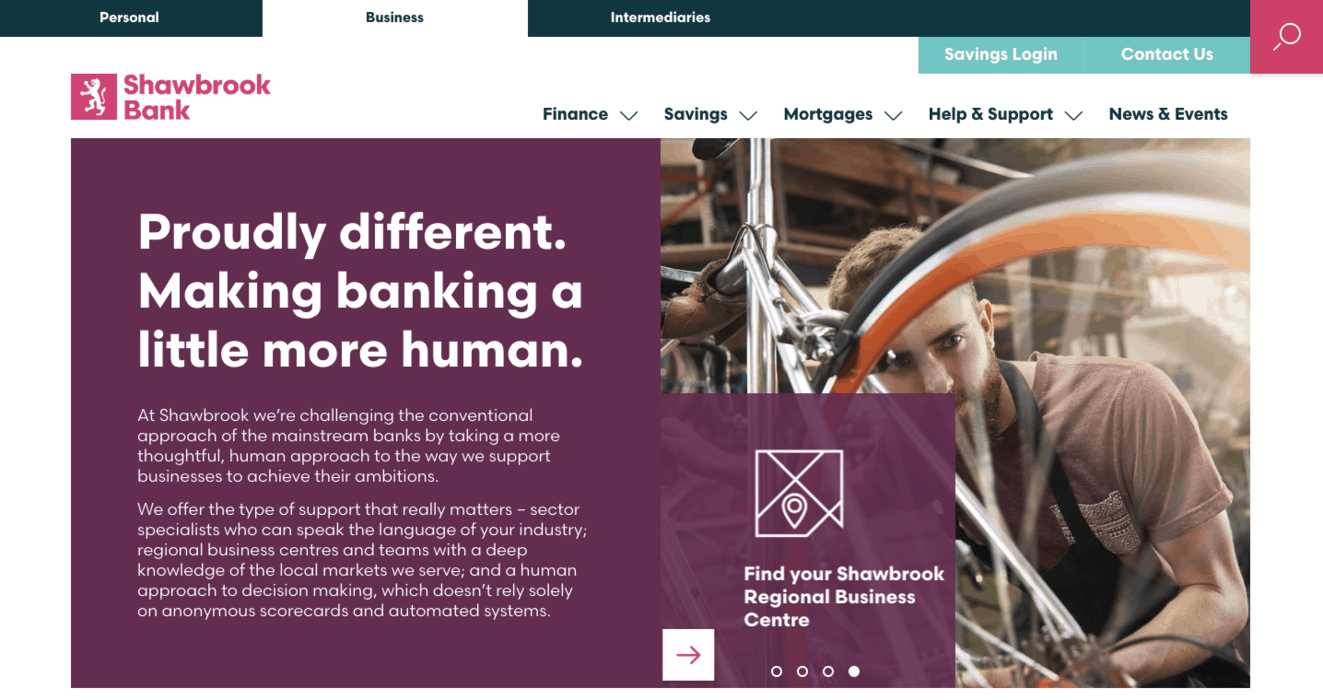 Shawbrook Bank Business Banking Services
Current Accounts
Not available.
Savings account
You can deposit £5,000 to £2,000,000 in a Shawbrook Bank savings account. There are fixed-rate and notice accounts available.
Fixed-rate bond
Earn 1.00% AER on your savings. Your money will be locked away for a year before you can withdraw it.
45 day notice account
Earn 0.55% AER on your savings. You can access your money anytime if you give 45 days' notice.
100 day notice account
Earn 0.75% AER on your savings. You can access your money anytime if you give 100 days' notice.
Overdrafts
Not available.
Business finance and loans
Finance is available for specialist sectors, as well as asset finance, point of sale finance, and structured finance. Working capital loans are available from £250,000 to £25 million.
Business customers can also apply for commercial mortgages, buy-to-let, and property renovation. Interest rates aren't published online. Businesses should get in touch for more information.
Shawbrook Bank Reviews and Ratings
Reviews on Trustpilot, Reviews.co.uk, and Smart Money People are largely very positive. Customers are very happy with the service, interest rates, and fast application. Some of the most recent reviews are very critical though, with a few customers claiming interest rates have been charged unfairly and poor customer service.
Shawbrook Bank isn't included in the Which? list of 'Best & Worst Banks'.
Shawbrook Bank is planning to launch new business savings products for sole traders, partnerships and limited companies, including an easy access account. The bank is also revamping its application and account management process so it's "a digital end-to-end experience".
In November 2019, Shawbrook Bank's site was cloned by scammers offering false interest rates, which tricked some customers into depositing money.
According to Property Reporter, Shawbrook is simplifying and improving its range of Buy-to-Let finance products, "reducing rates by up to 0.49%" and introducing 3-30 year repayment terms.
Trustpilot –  4.6/5 (based on 2,243 reviews)
Reviews.co.uk – 4/5 (based on 4 reviews)
Smart Money People – 4.9/5 (based on 679 reviews)
Which? – not included
Pros
Competitive interest rate on the savings accounts.
Choice of business finance products available.
Excellent online ratings across the review sites.
Cons
No branches, so you'll have to be comfortable banking online and over the phone.
Not a huge amount of choice when it comes to savings. Might be worth waiting for the easy access account to launch.
Website: Shawbrook Bank Business Banking