Satago is an invoice finance and credit control platform based in West London. Satago launched in 2012, originally as a credit control system that integrated with cloud accounting tools. The platform was developed into "an all-in-one cashflow solution", including credit control and invoice finance. Satago Connect integrates with cloud accounting tools including QuickBooks, Sage, FreeAgent, Xero, and more.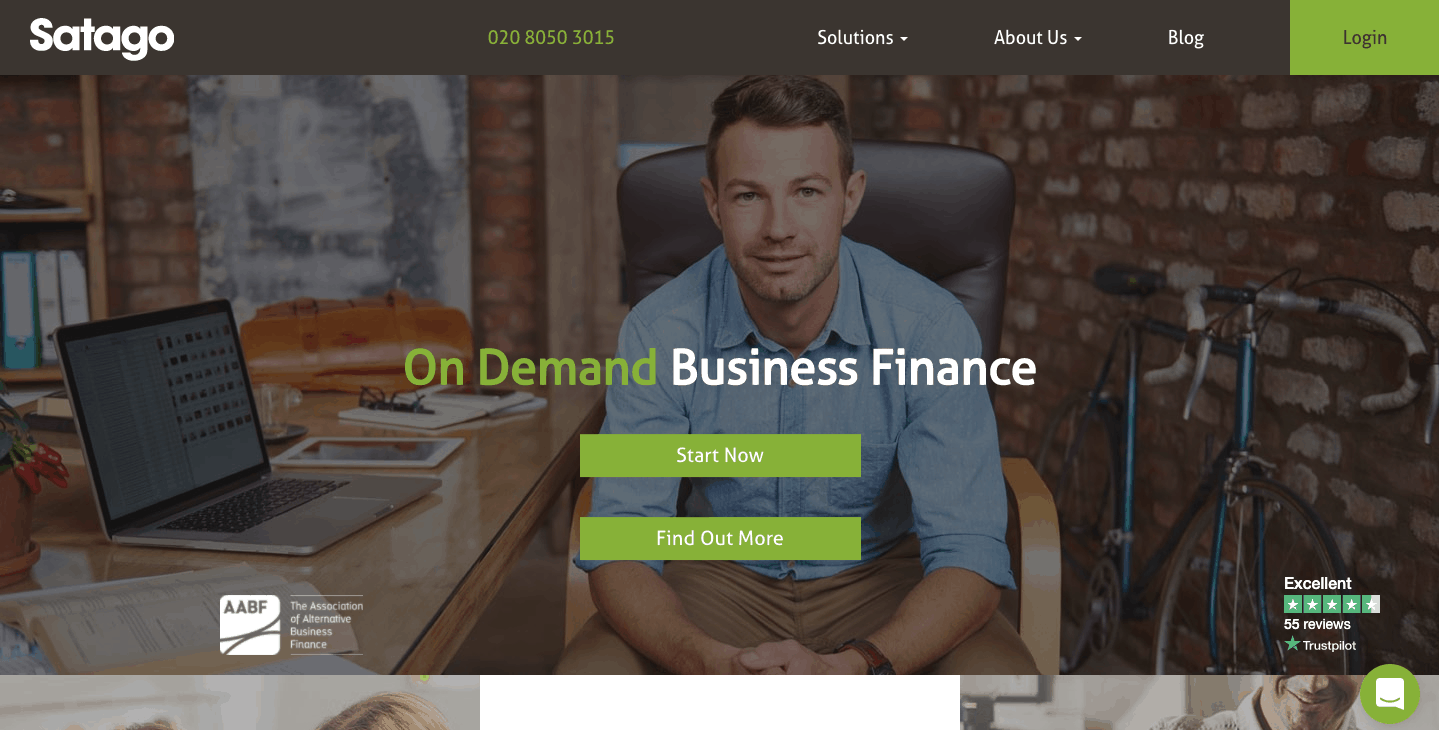 Satago Business Loans & Finance
Invoice finance
Satago invoice finance can be accessed through its online tool – Satago Connect. You can upload your open invoices instantly and see how much credit your business can access on the simple dashboard. Choose an invoice to finance, sign the credit agreement online, and you'll receive 85% of the invoice value upfront. Your client or customer will pay the invoice directly to Satago who will then send you the remaining amount minus their fee.
They offer a choice of single invoice or full invoice finance. Single invoice finance allows you to choose which invoices and there is no contract just pricing per invoice, this is a disclosed service so your customer will be aware of their involvement. Full invoice finance funds all invoices and is a confidential service on a minimum 12 month contract.
To be eligible for full invoice finance, your business must have been trading for at least 1 year and have a turnover above £400,000 and require a facility of £100,000. For single invoice finance, you need an annual turnover of at least £100,000 and have been trading for at least 6 months and need finance from £5,000.
The Satago platform also includes credit check and credit control tools, so you can check and manage your customer and clients' creditworthiness.
Satago Reviews and Ratings
Reviews are written by businesses using Satago for various purposes, not just invoice finance.
Trustpilot reviews are positive – 85% rate Satago 5/5. Reviewers think the platform is efficient and easy to use, and has helped them tighten up their credit control. There are a handful of Google reviews which are mixed. Smart Money People reviews are also very positive and have similar comments to Trustpilot about easy of use and integration of software as well as good customer service and support.
Oxygen Finance Ltd acquired Satago in 2017 to build an 'all-in-one' cashflow solution for SMEs.
Satago was shortlisted for Best Alternative Finance Provider and Best Business Finance Provider at the British Bank Awards 2020.
Trustpilot – 4.6/5 (based on 63 reviews)
Google Reviews – 3.4/5 (based on 5 reviews)
Reviews.co.uk – no reviews
Smart Money People – 4.96/5 (based on 55 reviews)

Pros
Receive 85% of your invoice value upfront.
Satago takes care of chasing invoices for you.
Part of a smart online credit control platform.
Cons
Only a few online reviews.
Other invoice platforms will provide more than 85% upfront.
Website: Satago Business Finance