NatWest has been part of the Royal Bank of Scotland Group since 2000. It's one of the nation's biggest banks, with 960 branches across the UK. As well as business finance and loans, NatWest offers business bank accounts, savings, and other business services.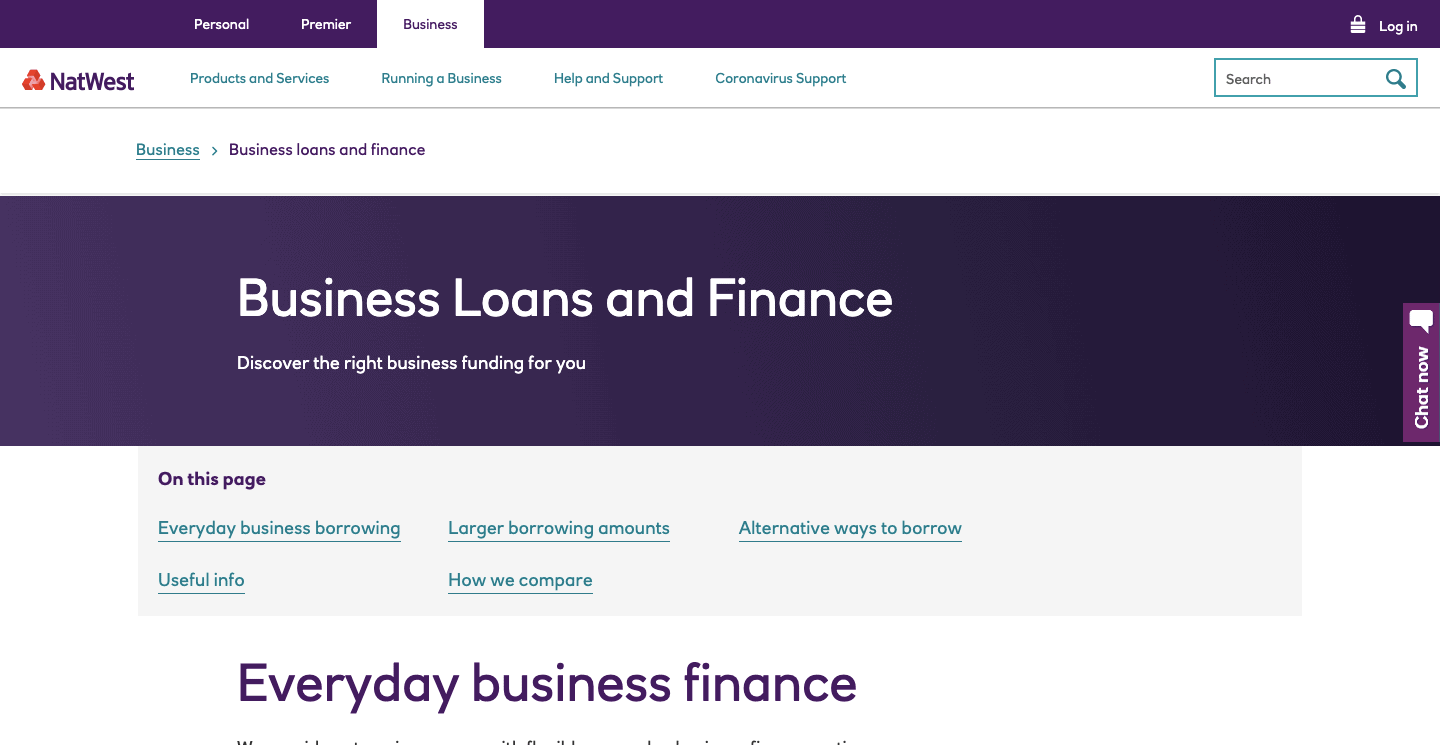 NatWest Business Finance
Business loans
Businesses can borrow from £1,000 up to £50,000 through either the NatWest Small Business Loan or the Bounce Back Loan Scheme, for UK businesses affected by Coronavirus. With the Small Business Loan, your business can borrow over 1-7 years (sometimes up to 10 years) with a fixed interest rate. The Bounce Back Loan is repaid over 6 years with a 12 month capital repayment holiday at the start of the loan.
Larger loans of £25,001 to £10 million are available too with fixed or flexible terms. Terms can be from 3 months to 25 years and there are options to take a replacement holiday. There are no early repayment charges.
Business overdrafts
Existing NatWest business customers can access an arranged overdraft of up to £50,000 unsecured. An arrangement fee of £100-150 fee is applied. Fees and interest rates for larger overdrafts will be confirmed on application. There's no set minimum to repay each month, it's a flexible overdraft that can be used as and when your business needs it. The amount will be reviewed every 12 months.
Business credit card
NatWest offers 3 business credit cards that cater for businesses of different sizes with a range of fees and benefits including cashback.
Commercial mortgages
NatWest offers businesses mortgages with borrowing from £25,001 with no upper limit on a variable interest rate, or up to £10 million on a fixed interest rate.
Real estate finance
Real estate finance from £50,000 is available to fund residential and commercial developments. Loans can be fixed or variable and repaid over up to 3 or 5 years.
Working capital finance
NatWest has a range of working capital products for businesses to release cash tied up in invoices or assets, including Invoice Discounting, Invoice Factoring, Asset Finance, Rapid Cash, and Asset Based Lending.
Trade finance
Financing options are available to businesses trading internationally and importing and exporting, including:
Bonds, Guarantees & Standby Letters of Credit
Letters of Credit
Documentary Collections
NatWest Reviews and Ratings
NatWest reviews vary quite a lot across the review sites. Trustpilot and Reviews.co.uk comments are more critical, with the large majority criticising the bank for long waiting times, poor customer service, and complicated account management. Smart Money People ratings are a bit more positive across NatWest's range of products. Like all the big banks, NatWest customers have been particularly critical of customer service during the Coronavirus crisis.
NatWest ranked joint 6th in a list of the 14 largest business current account providers for SME overdraft and loan services in an independent survey. NatWest also ranked joint 5th for overall service quality, 4th for online and mobile banking services, 6th for relationship/account management, and 8th for service in branches and business centres.
Which? gives NatWest a Customer Score of 69%. The bank gets an average rating of 4/5 for online and mobile banking, 3/5 for customer service, application process, communication, transparency of charges, telephone banking and in-branch service.
NatWest recently introduced Apple Pay to its business credit cards in August 2020 so customers can pay contactless in more places.
In July 2020, the Guardian reported that some business customers had had their NatWest current accounts closed when they applied for Coronavirus loan support. Several customers contacted the Guardian to say their money had been blocked with no notice or explanation. NatWest responded to say the reasons for closing the accounts were valid.
Trustpilot 1.4]5/5 (based on 3,410 reviews)
Reviews.co.uk 1.57/5 (based on 326 reviews)
Smart Money People 2.71/5 (based on 78 reviews)
Which? 69% Which? Customer Score
Pros
Decent choice of cards, loans, and finance available.
Finance is suitable for small and large businesses.
Which? scores are average or above.
Cons
The majority of online reviews are critical.
Website: NatWest Business Finance