Metro Bank is a relatively new high street bank, opening its first branch in 2010. Currently, Metro offers business current accounts, deposit accounts, and business finance. In an independent survey of business current account providers, Metro Bank scored higher than all the major UK banks for service quality.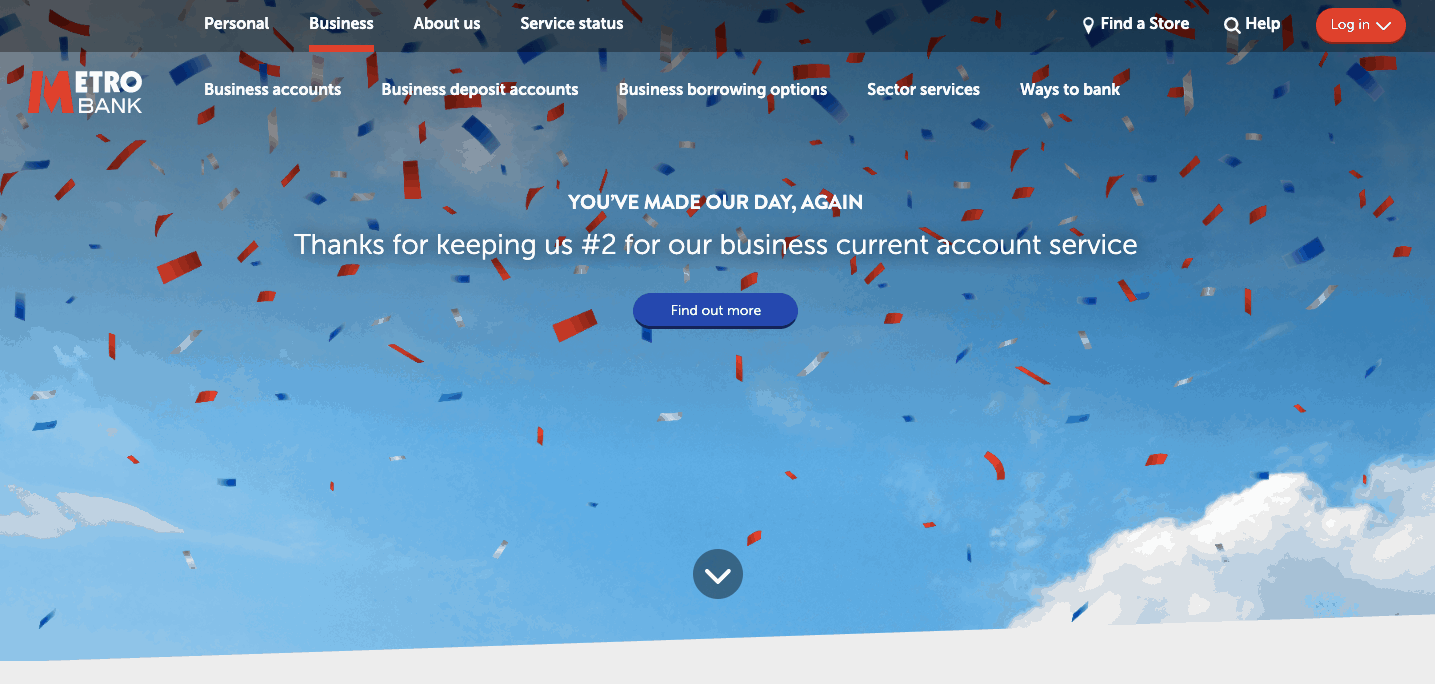 Metro Bank Business Banking Services
Current Accounts
Current accounts are available for brand new startups as well as large corporate businesses. If your balance stays above £6,000, there's no monthly account fee including 30 free UK transactions. Otherwise, it's £6 a month plus £0.30 UK transaction fees. You can open and manage your account online, on the phone, or in a branch (open 7 days a week).
Savings account
Instant access, fixed-term, and notice accounts are available to Metro Bank business customers – you can open your account with a minimum balance of £5,000, although no minimum applies to the instant access. Interest rates vary from 0.01-0.30% AER, depending on how much you save and how long for. Fixed-term accounts are available with a term of 1 or 2 years. They offer a choice of notice accounts with 35, 60 or 95 days' notice.
Overdrafts
Customers only pay for how much of the overdraft they use. Arranged overdrafts up to £25,000 have a variable interest rate of 10% EAR, and an arrangement fee of either 1.75% or £50, whichever is higher. Overdrafts over £25,000 are also available and rates will be agreed on application.
Business finance and loans
Borrow between £2,000 and £25,000, and repay over 1-5 years. For loans under £25,000, interest rates are 9.6% APR fixed. For loans over £25,000, interest rates vary depending on the loan, and fees apply for arrangement and other admin.
More on Metro Bank Business Loans & Finance
Metro Bank Reviews and Ratings
Trustpilot reviews are mixed with 54% of reviewers rating them 5/5. Customers seem particularly impressed by the service they get in-branch, and how easy it is to set up an account. Negative reviews focused on poor customer service, transaction issues and a drop in interest rates.
Reviewers on Smart Money People and Reviews.co.uk are also mixed but more positive overall on Smart Money People. Many business customers find them to be efficient, as long as account set-up is simple, and others found the service problematic and unhelpful.
On Which?, Metro Bank scores 4/5 for every part of its service – customer service, application process, communication, transparency of charges, complaint handling, etc, except for mobile app which received a score of 5/5.
Metro Bank ranked 3rd in a list of the 14 largest business current account providers for overall service quality in an independent survey.
In the same list of 14 business current account providers, Metro Bank also ranked 1st for service in branches, 3rd for online and mobile banking services and relationship/account management.
Trustpilot –  2.8/5 (based on 3,227 reviews)
Reviews.co.uk – 2.26/5 (based on 23 reviews)
Smart Money People – 4.62/5 (based on 462 reviews)
Which? – 78% Which? Customer Score
Pros
Competitive monthly account fee and charges.
Branches are open 7-days a week.
Scores 3rd in an independent survey of 14 business current accounts.
Cons
There are many branches in the south of England and the midlands, but none in other regions.
In-branch service is hit and miss according to reviewers.
Limited products compared to bigger banks.
Website: Metro Bank Business Banking