Metro Bank is a fairly new name in high street banking, opening its first branch in 2010. The bank now has branches throughout England. Metro Bank offers business finance, business current accounts, and deposit accounts with easy online account management.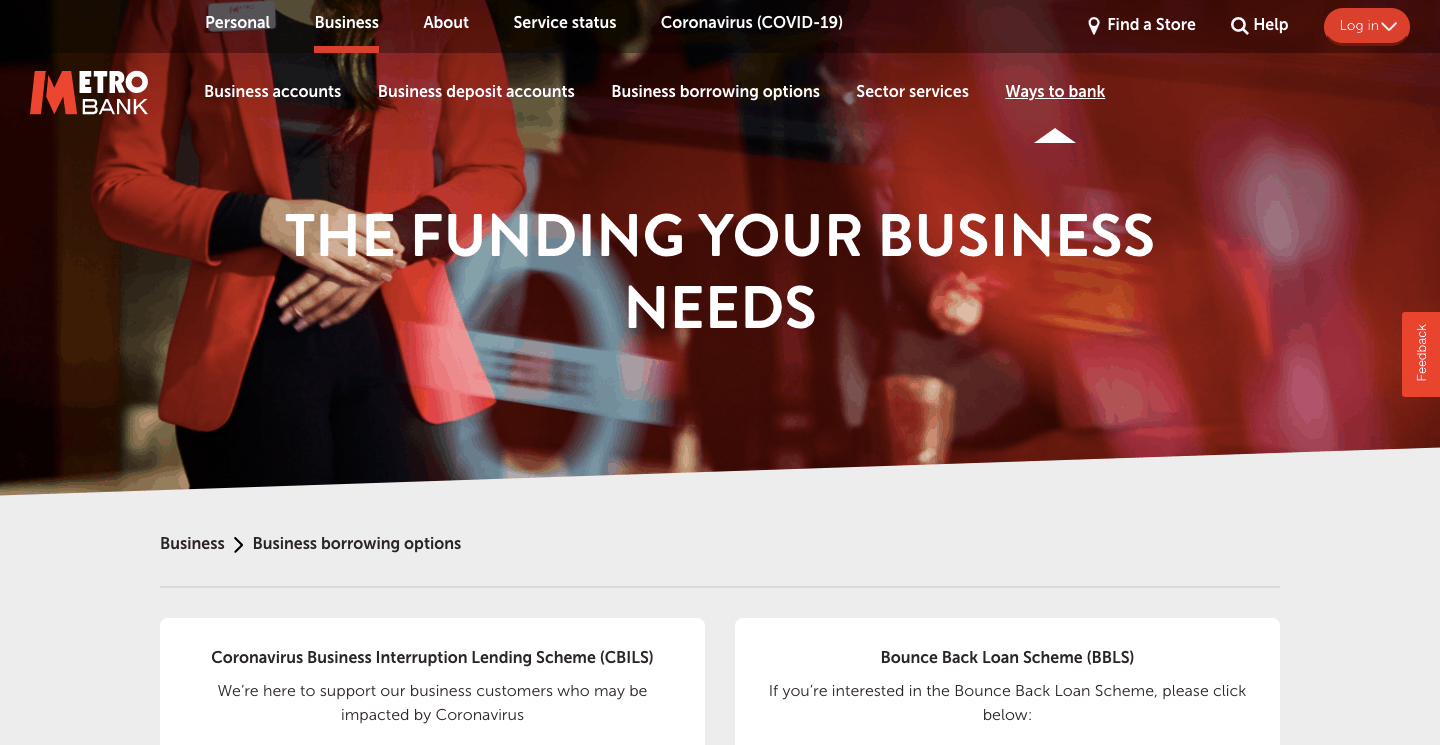 Metro Bank Business Finance
Business loans
Businesses can borrow between £2,000 and £25,000 from Metro Bank over 1 to 5 years. The annual interest rate is currently 9.6% APR (fixed) and there are no arrangement fees. Loans of £25,000+ are also available with an interest rate tailored to the amount borrowed. A maximum arrangement fee of 1.75% will also apply. Security is usually needed and your business will need a Metro Bank business current account to be eligible.
Business overdrafts
Metro Bank business current account customers can access arranged overdrafts up to £25,000 with a variable interest rate of 10% EAR. There's also an arrangement fee of 1.75% or £50, whichever is greater. Overdrafts of over £25,000 are available with either a fixed or variable margin that's above the Metro Bank Base Rate.
Business credit card
Business current account holders are eligible for a Metro credit card at 14.9% APR. There's no annual fee and customers will receive up to 56 days interest-free on purchases.
Invoice finance
Metro Bank offers a flexible invoice finance facility. Your business can access part of its invoices within 24 hours instead of waiting for customers and clients to pay.
Asset finance
Spread the cost of new assets or refinance up to 75% of the value of existing assets. A deposit of 10% + VAT of the asset value may be required. There's a documentation fee of £295, the interest rate is fixed in advance depending on the asset and its market condition, and repayment terms are up to 5 years.
Metro Bank Reviews and Ratings
Compared to the biggest high street business banks, Metro Bank's ratings are fairly positive. Trustpilot reviews are mixed – 54% think they're 'Excellent' and 39% think they're 'Bad'. Many recent reviewers across the review sites say account management has been frustrating during the Coronavirus crisis, with a few exceptions. Happy customers say customer service is excellent, particularly in branches.
Metro Bank receives a 78% Which? Customer Score, which is comparatively high. They get 5/5 for mobile banking, and 4/4 for customer service, communication, transparency of charges, handling complaints, service in-branch, online banking, and telephone banking.
Metro Bank ranked 3rd in a list of the 14 largest business current account providers for overall service quality in an independent survey. In the same list of 14 business current account providers, Metro Bank also ranked 1st for service in branches, 3rd for online and mobile banking services and relationship/account management.
Metro Bank acquired peer-to-peer lending platform RateSetter in July 2020.
Trustpilot –  2.8/5 (based on 3,227 reviews)
Reviews.co.uk – 2.26/5 (based on 23 reviews)
Smart Money People – 4.62/5 (based on 462 reviews)
Which? – 75% Which? Customer Score
Pros
A range of finance products are available including loans, cards, and asset/invoice finance.
Better reviews and ratings than most big high street banks.
Branches open throughout England.
Cons
Welsh businesses will struggle to access a branch – there are only a couple.
Website: Metro Bank Business Finance